Before making your travel plans South Korea, check out this South Korea travel guide that will help you in finalizing your travel itinerary!
South Korea is a country of juxtaposition. You can find serene mountain valleys bumping against pulsing lights and rush of 24-hour cities. Korean tradition collides with ultra-modern fashion and design. To experience the depth and vibrancy of the country, you must see the serene countryside as well as rapidly changing cities. 
There is something for everyone in the country, whether you like city-life, mountains, beaches, or anything in between. Planning can become a bit difficult as there is so much to see and do in South Korea.
Traveling to a new country like South Korea can be very exciting. It's a whole new adventure waiting for you, but the entire planning and going to a different country can be a bit distressing. The culture, the people, and the laws governing the country are probably very different from where you are from. This is why we have compiled a guide for you of what to expect when you visit South Korea for the first time.
South Korea Travel Guide
Visas
Most travelers do not need to get a visa to travel to South Korea. You can check the visa requirements on your country's State Department website. Citizens from many countries have visa-free entry for a limited period under certain conditions. To check whether you can enter Korea without a visa issuance, please contact a Korean Embassy or consular offices in your country or visit the Ministry of Foreign Affairs to confirm.
There are some changes to visa requirements for Jeju Island in lieu of COVID-19 situation worldwide.
Language
The local language is Korean, and it script is Hangeul. But there is no need to worry! There are lots of signs in and around the city in English as well. A lot of restaurant menus also include translations of main dish ingredients. 
You can always learn a little Korean before you travel from apps like Duolingo. The locals are definitely going to appreciate your efforts!
Money Matters
The official currency of South Korea is 'Korean Won.' Most places accept credit cards too. Small stores and mom-n-pop food outlets generally accept cash only.  
Transportation
Getting around in South Korea is very easy. There are domestic airlines, trains, and intercity buses. It's easy to move around within the country. Even intercity travel is very convenient with all the available public transportation.
We have covered transportation in detail in the guide about understanding Korean culture.
Travel Apps
For first time travelers to South Korea, travel Apps are handy and can be useful as guide. The train and bus maps might look complicated, but you can use maps with English translations. Apps like KAKAO Maps and Naver Maps are especially for use in South Korea and are the preferred travel Apps. For more traveling tips, you can download the VisitKorea App. It can provide you with suggestions regarding food, tourist destinations, and many more. 
Read More: 10 Best Apps for South Korea Trip You Must Download
Hygiene
There are quite a number of public toilets wherever we go, and they are generally clean. If you can't find one right away, you can search in any of the travel map Apps "화장실," which means toilet in Korean. On the other hand, it is challenging to find dustbins around, so you may have to carry your trash for quite a distance before you find one bin.
Read More: Understanding Korean Culture: Hygiene Culture in South Korea
Weather 
South Korea has four distinct seasons — Spring, Summer, Fall, and Winter. Each season has something unique to offer visitors to the country, but depending on what you want out of your Korean experience, sometimes are better to travel than others. The best time of year to visit South Korea is generally the spring months of April, May & June, and the autumn months of September, October & November. During these two seasons, days are typically sunny and dry with comfortable average temperatures.
Read More: South Korea Travel Guide – When is The Best Time of Year to Visit South Korea?
Drinking-Water
Tap water in South Korea is drinkable. If you are not comfortable with it, you can purchase bottles of water from convenience stores or vending machines.
Accommodation 
No matter what your budget is, you will find amazing places to stay during your trip to Korea. You can stay anywhere, ranging from a youth hostel to a luxurious hotel. For a unique cultural experience, you can also arrange a homestay like hanok stay via the Korea Tourism Organization.
Tour and Travel Services
Some places are only accessible with a tour guide or a tour bus to bring you around. The added benefit is that you can relax on the bus while you are going from one destination to the next.
Internet Connectivity
South Korea is a well-connected country. Wherever you are, you will have access to mobile data and public Wi-Fi. Did you know that you can get free WiFi in most of the buses in Seoul? 
Read More: Korean Sim Card Guide for All the Travelers
Food 
Most tourists are familiar with Korean barbeque and look forward to having the authentic dish right from the source. You can find it in abundance no matter where you go in Korea! To avoid any goof-ups in restaurants, you can check out our restaurant guide. You can also check out the post on Netflix-fame street food places. 
Read More: What to Eat in Seoul – Best Korean Food
Shopping Tips
The prices are pretty much fixed in stores. Most store owners hardly speak in English, even in tourist places. You won't face such problems in popular shopping areas with big brand stores. Some of the shopping places in Seoul include Myeongdong, Dongdaemun, Common Ground, and many others. 
Read More: 10 Exquisite Handmade Gifts You Can Buy in Seoul
Travel During COVID-19
The South Korean government raised the coronavirus disease threat alert level to its highest on February 23, 2020. Many attractions have been temporarily closed, and festivals have been postponed or canceled throughout the country. Travelers are recommended to check the attractions' official website before visiting.
Korea aggressively maps and tracks infected cases. Self-quarantine is strictly monitored and enforced. The country also prohibits individuals who have been in contact with confirmed cases from exiting Korea during the day 14-day self-quarantine period. Korea provides advanced medical care to confirmed patients. The treatment is free-of-charge for both Koreans and foreign nationals.
The KCDC has urged everyone to participate in an enhanced social distancing campaign for the next 15 days (March 22 – April 5). The KCDC strongly recommended that all non-urgent international travel plans be canceled or postponed. Persons who are unable to avoid traveling for a critical reason are advised to refrain from visiting any enclosed facilities or healthcare facilities.
Starting March 22, the KCDC is conducting COVID-19 diagnostic testing for every inbound traveler entering from Europe. Asymptomatic Korean nationals (with domestic residence) will be directed into self-quarantine at home and get tested at their local public health center within 3 days of arrival. Foreigners will be quarantined at the facility and tested.
Apps to Track COVID-19 in South Korea
You can use a locally developed App like 'Corona 100m,' which, as its name implies, alerts users if they breach a 100-meter (328-foot) radius of the latest tracked whereabouts of the coronavirus patient. The person using the app can see how close they are to coronavirus patients. It also allows people to see the date that a coronavirus patient was confirmed to have the disease, along with that patient's nationality, gender, age, and where the patient visited. It was launched on February 11 and had a million downloads in the first 17 days.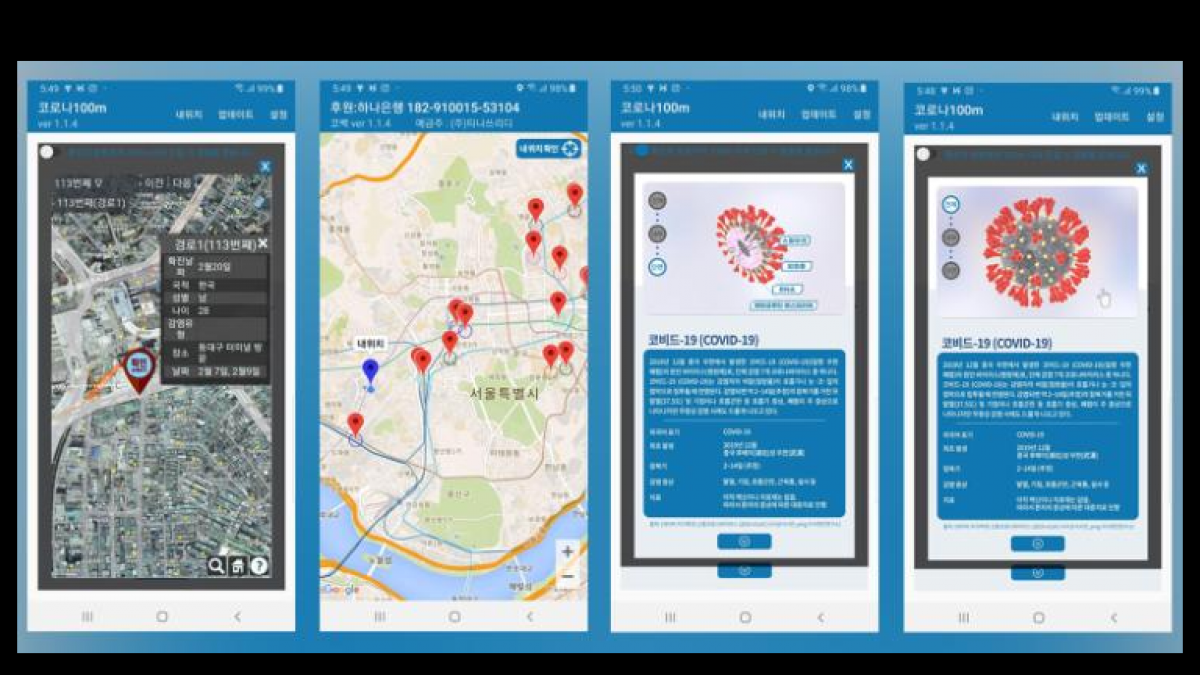 'Corona Map' is another such app that tracks the locations of people know to have COVID-19. Like Corona 100m, Corona Map plots the places where people known to have had COVID-19 have been, to make avoiding these areas easier.
These are some of the essentials that you need to know before making your travel plans to South Korea and this travel guide will be helpful in making your itinerary!