Are you thinking about a vacation in Seoul? Or if you've already arrived in Seoul, then the first thing that you need to do is experience the street food of Korea. And the best place to enjoy Korean street food is Cho Yonsoon's (Netflix's Street Food fame) handmade noodle stall in Gwangjang Market.
And specifically, street food.
Read More: 20 Must Eat Korean Street Food in Korea
The one which you find stuck in the middle of a bustling market. The kind with plastic chairs and a smoky charcoal haze. With clothes stalls on one side and dried squid on the other. And the best place to experience Korea's street food is the Gwangjang Market. 
Gwangjang Market
Gwangjang Market showcases food stalls with some of South Korea's beloved old favorites, from soy-marinated crabs to knife-cut noodles. It is the oldest and largest traditional market in South Korea and is well known as a haven for real traditional Korean food. It's the perfect spot to try and indulge in a wide variety of authentic dishes like tteok-bokki, maya kimbap, and many more.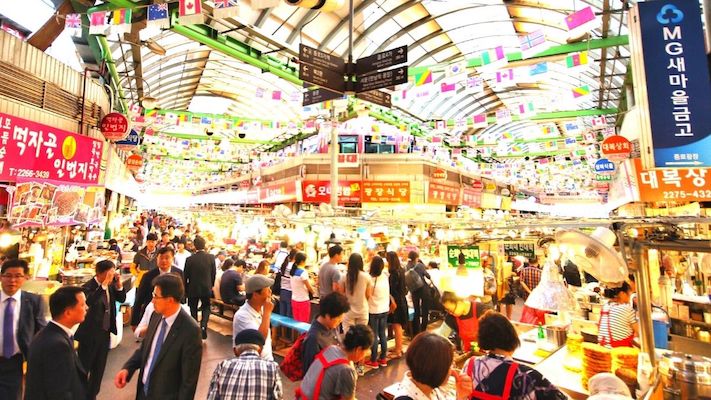 Cho Yonsoon's Korean Noodles
Cho Yonsoon owns Gohyang Kalguksu Stall, a hand-cut noodle stall in Gwangjang Market, Korea. She was featured in the popular Netflix show 'Street Food,' episode 6. You can read more about Netflix's famous Korean traditional market here.
Even before the episode, she was a popular food stall choice for locals and foreigners alike. Her popularity is not just because of the show; it is because of the delicious and yummy food prepared by Yonsoon. 
Read More: Best Korean Ramen Noodles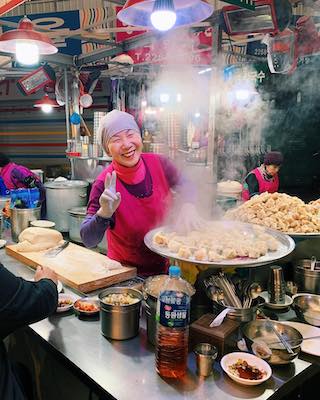 After the show, the lines for waiting sure have become longer!
There is no fancy menu. It's quite simple but mouth-watering, like most other street food from Korea. You can get handmade noodle soup, sujebi, dumpling soup, rice cake with dumpling soup, steamed dumpling – kimchi or meat, seasoned seaweed, and chilled buckwheat noodle soup or spicy mixed buckwheat noodles—mainly its noodles and soup in variation with dumplings. 
Read More: Mukbang – The Latest Viral Korean Food Trend
Cho Yonsoon serves traditional kalguksu (Korean knife-cut noodles) with a broth that is extremely rich and flavorful. The noodles are chewy and easy to slurp. According to Daniel Gray, a food journalist and restaurateur, her kimchi was "sublime." Another foodie commented, "Her dumplings melt in your mouth."
She opened the food stall to support her family when they came in hard times. She first learned to make these dishes from her mother. But she has been perfecting her recipe for over a decade.
But the best thing about eating at her street food stall is the experience; she gives you lots of smiles and genuine care for her customers. Gwangjang Market in Korea is chaotic, and there's so much good street food everywhere, but she definitely stands out. 
Street Food
Street Food is a food-centric docuseries on Netflix from the creators of Chef's Table. The show is about embarking on a global cultural journey into street food and discovering the stories of the people who create the flavorful dishes. It takes viewers on a detailed tour of the best street food spots in nine Asian cities – Bangkok (Thailand), Osaka (Japan), Seoul (South Korea), Delhi (India), Yogyakarta (Indonesia), Chiayi (Taiwan), Ho Chi Minh City (Vietnam), Cebu (Philippines), and Singapore. It highlights several different vendors of street food in these cities. Each episode explores the cities' culture and history via local food.
Check out other interesting articles from KoreaTravelPost: