If you've read about South Korea, then you know that the country is famous for its Korean street food (길거리 음식).
While earlier, you could find street vendors all around the city, but now the vendors are only in designated areas. Myeong-dong (명동) in Seoul is a popular Korean street food destination.
The list of the street food ranges from sweets like bingsu to savory dishes like tteokbokki. There are so many varieties that you'll be able to enjoy and fill up your stomach!
You can read more about What to Eat in Seoul – Best Korean Food
Here are 20 Korean street foods that you must try whenever you are in South Korea!
Tteokbokki (떡볶이)
Odeng-guk (오뎅국)
Bungeoppang (붕어빵)
Dakgangjeong (닭강정)
Gyeran-bbang (계란빵)
Hotteok (호떡)
Hodu-gwaja
Sannakji
Donuts
Banana Milk
Bindaetteok
Kimbap
Mandu
Korean Fried Chicken
Dakkochi
Korean Corndog or Gamja Hot Dog (감자핫도그)
Jeon
Twigim
Myeon
Patbingsu
Tteokbokki (떡볶이)
Tteokbokki is a stir-fried dish consisting of cylinder-shaped rice cakes, sweet chili sauce, and fish cakes. It's one of the favorite Korean street foods that you can get from vendors known as pojangmacha.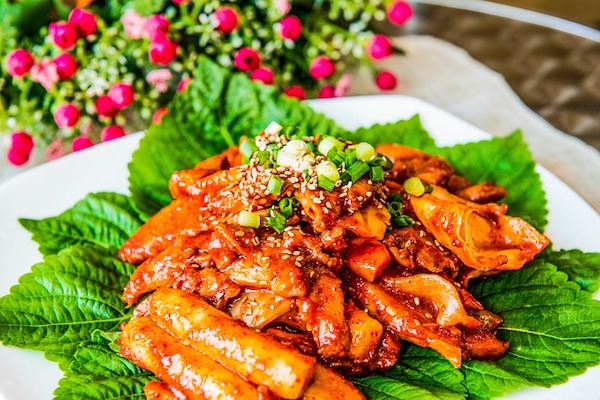 The dish has ancient origins. It comes from the Joseon Dynasty period. What was once known as a dish of royals is now one of the cheapest street food dishes in Korea.
Odeng-guk (오뎅국)
Odeng-guk is a fish cake soup that is quite popular in South Korea during the winter. It's a warm and comforting Korean street food that's tasty. It pairs well with tteokbokki, just like bread and butter.
Bungeoppang (붕어빵)
Bungeoppang is a uniquely shaped South Korean pastry. The fish-shaped pastry is filled with red beans, and the outer shell is made with a simple batter that contains eggs, flour, sugar, raising agents, and water.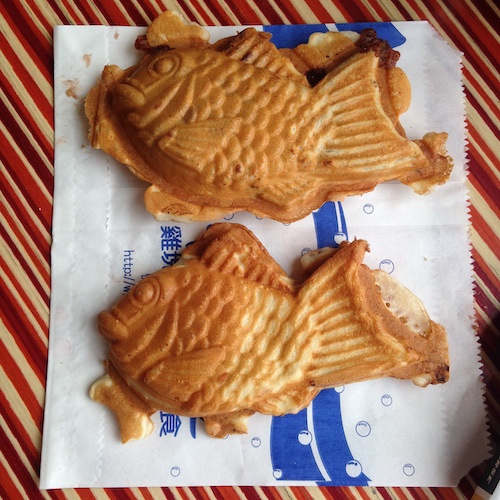 The batter is poured in fish-shaped molds and then baked on the stove. There is an even distribution of the red bean filling in the middle of the pastry.
Dakgangjeong (닭강정)
Dakgangjeong or Korean popcorn chicken is a boneless fried chicken nugget. There is a coating of Korea's unique sticky, spicy, and sweet sauce on the chicken pieces.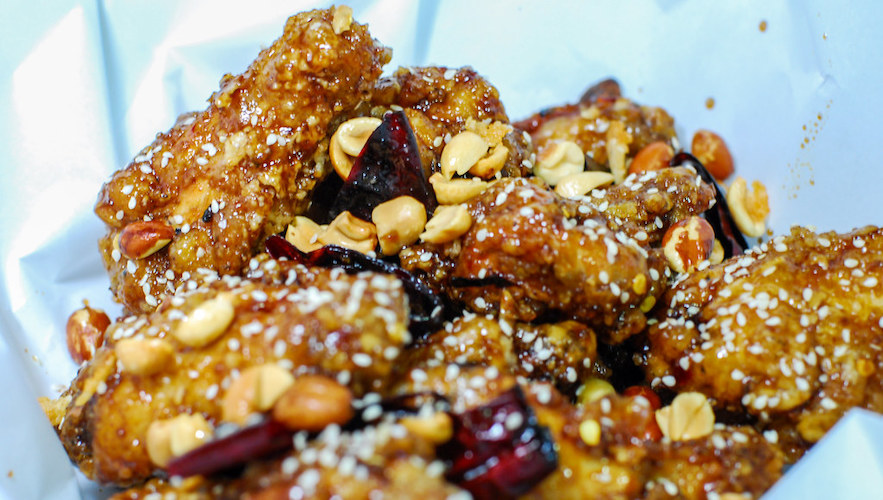 The Korean street food is crunchy and perfect finger food for when you are on-the-go.
Gyeran-bbang (계란빵)
Gyeran-bbang is a Korean street snack that consists of small bread-like loaves filled with whole eggs, ham, cheese, or parsley. The base of the dish is a simple egg batter.
They are winter snacks, best enjoyed warm and freshly baked. The finished loaves can also have toppings of nuts, tomato sauce, or cheese.
Hotteok (호떡)
It's a Korean sweet pancake with cinnamon, nuts like peanuts and walnuts, and brown sugar filling. The pancake is fried, and it can either be thick or thin. It's a typical street dish for when the weather's cold.
The hotteok was invented in the late 19th century with inspiration from the Chinese pancakes. There are many different variations of the dish, including versions with matcha and baked hotteok instead of being fried.
Hodu-gwaja
These walnut cookies are a Korean staple food in the winter season. They have a walnut shell prepared with a thin walnut-based batter and a filling that consists of walnut pieces and sweet red bean paste.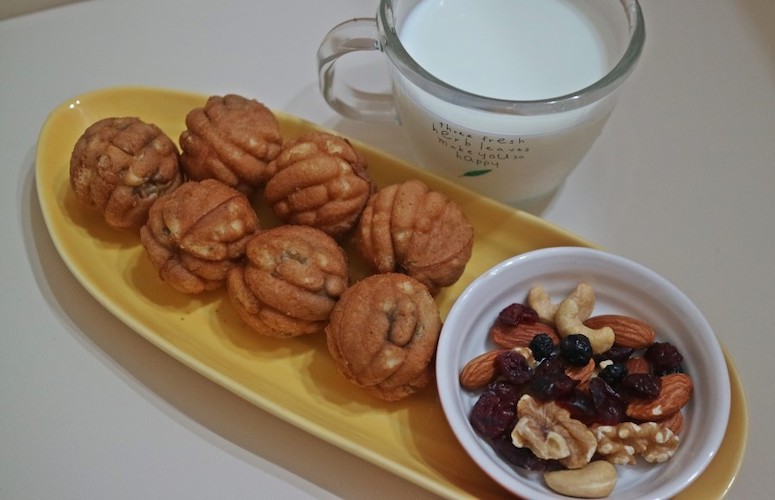 The cookies were invented in 1934 in Cheonan, and the original hodu-gwaja is a local specialty.
Sannakji
Sannakji is a salty, sticky, and chewy South Korean dish that consists of raw, chopped baby octopus. It's a Korean street food that is served drizzled with sesame oil.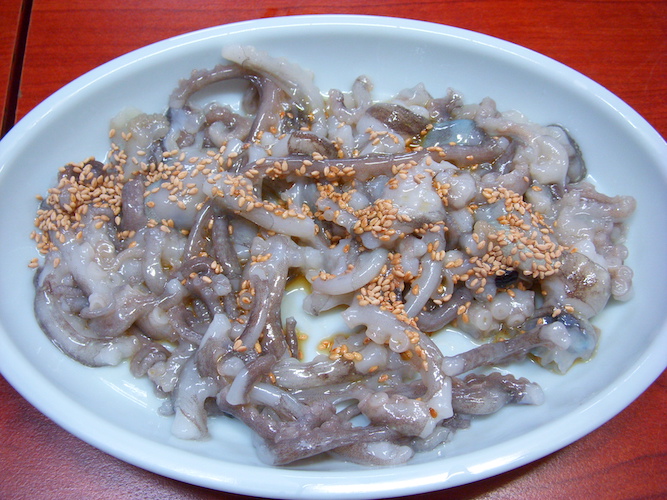 It's almost like a live octopus dish, where some of the octopus pieces are still moving and twitching. They are served instantly after cutting. The dish is traditionally paired with ssamjang and green tea.
Donuts
Chapssal donuts are deep-fried donuts made with sweet rice flour. The exterior is crunchy, and the inside is soft and chewy. It has a filling of sweetened red bean paste.
Banana Milk
Korea is a super-fan of banana milk, and you can find the tiny milk cartons of banana milk at Korean convenience stores. There are different milk flavors like strawberry and blueberry, but the banana flavor is most popular.
Bindaetteok
Bindaetteok is a savory mung bean pancake. The pancake is shallow fried so that it has a crispy exterior. Modern-day bindaetteok also includes many other ingredients like cabbage kimchi, ground pork, sprouts, or onion.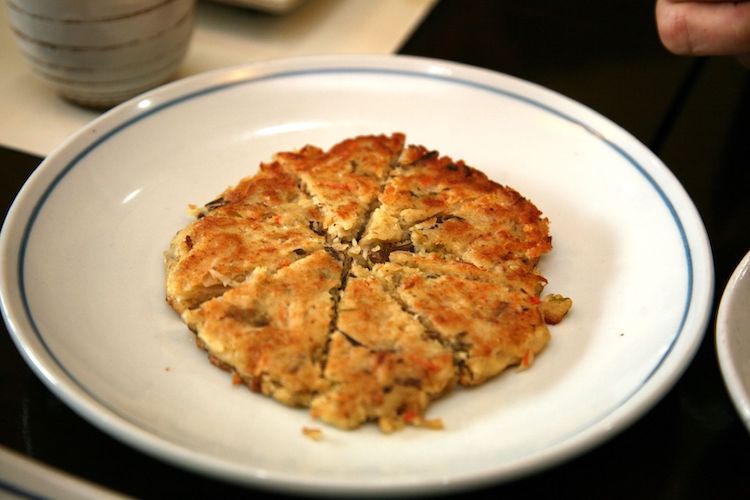 It's another dish from ancient times with its origins in sometime 1670s. Originally, it had toppings of savory chunks of pork. The dish comes with a spicy dipping sauce on the side.
It's the Korean sushi with vegetables and pickles wrapped in seaweed and glazed in flavor. There are many different variations, and all are delicious. Just like sushi, there are fillings like sushi with meat, spinach, tofu, pickled radish, and egg roll.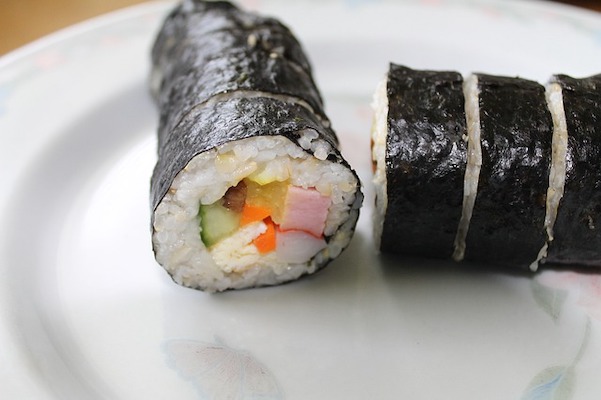 These rolls are available in street stalls, and you can even find the fresh ones in convenience stores all over the country.
Mandu
Mandu is the Korean dumpling stuffed with meat and vegetables. The dumpling undergoes pan-frying until it becomes crispy and juicy on the inside. They are also available in a boiled form with a bowl of noodle soup.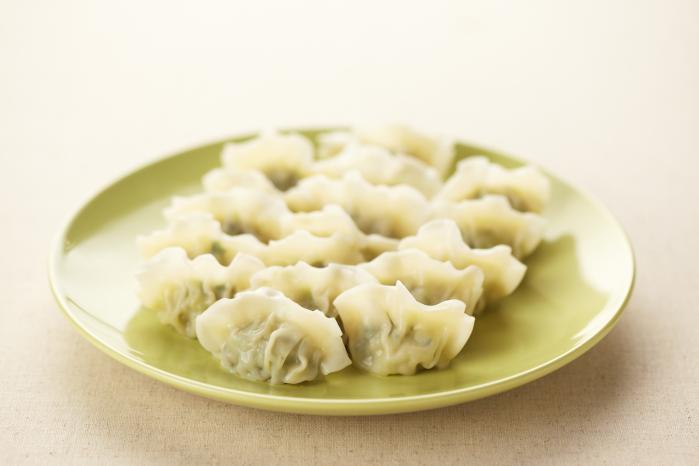 As a Korean street food snack, you are most likely to find kimchi mandu twith sweet onion, minced pork, and a load of spicy kimchi filling. In a typical serving, you get about six to seven dumplings on a plate with a soy and vinegar sauce.
Korean Fried Chicken (yangnyeom tongdak)
It's fusion food with origins in the Korean War. It consists of tender, small chicken pieces coated in spicy honey sauces, sesame seeds, garlic, peanuts, and chili flakes.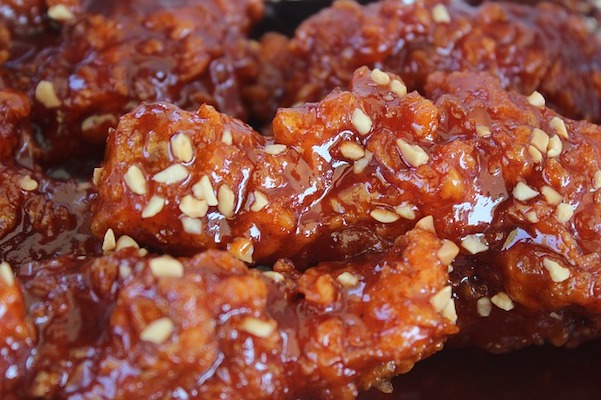 Korean fried chicken tastes even better with beer (mekju) and a side of pickles. Although you won't find the chicken with a beer in food stalls, you can still enjoy the double-fried chicken, Korean style!
Dakkochi
Dakkochi is the grilled chicken skewer dish that can serve as an introductory Korean street food dish. It's different yet familiar.
Pieces of tender chicken undergo marination with lots of sauces before grilling. Although the dish in itself has great flavors, it pairs well with other spicy sauces.
Korean Corndog or Gamja Hot Dog (감자핫도그)
Korean corndog is a variation of the traditional hot dog. The dish contains sausage in corn dog batter, dipping it into french fries, then deep-frying the whole thing in oil.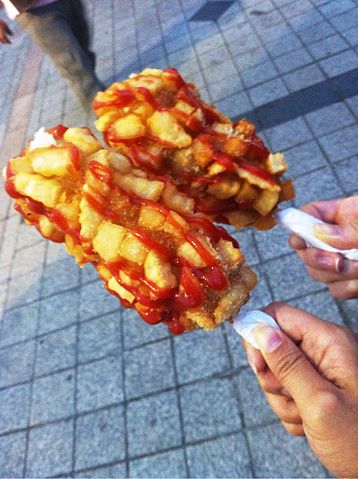 The dish is comes on a stick, and you can eat it on-the-go. There are a few variations of the dish that come in a wrapping of mashed potatoes or seaweed. Tomato ketchup is the main condiment of Korean street food.
Jeon is a Korean pancake, and there are many different types of pancake-like dishes in Korean cuisine. It can be a part of the meal as an appetizer, side dish, or it can be a snack.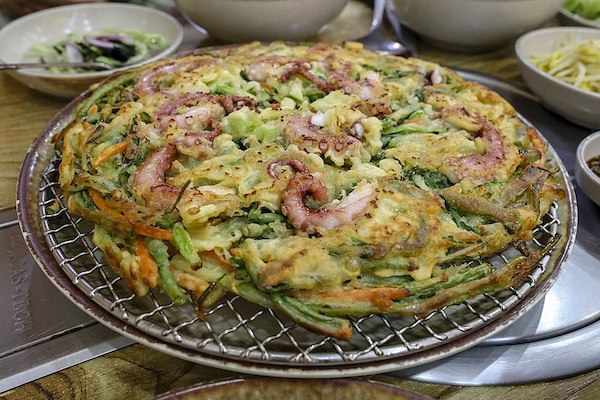 The simplest version of jeon involves frying of flour and eggs in oil. The pancake can have different ingredients like thinly shredded beef (yukjeon), poultry, seafood (guljeon), various vegetables, kimchi (kimchijeon), and green onions (pajeon).
Twigim
It consists of various ingredients that undergo frying in a batter that's like the Japanese tempura. Twigim is another Korean street food dish that reflects Korean's love for deep frying everything! You can have fried succulent squid, a hash of vegetables, sweet potatoes, and even boiled eggs!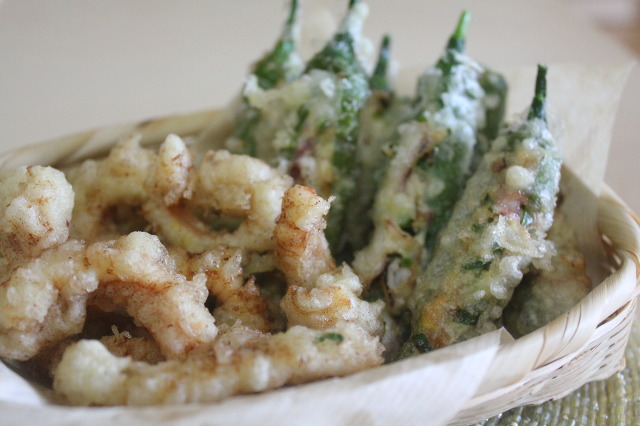 Myeon (noodle soup)
Although a noodle soup may not sound like street food, but in a fast-paced life in Korea, it's a quick meal between meals. You can enjoy a plate fo naengmyeon (cold buckwheat or sweet potato noodles) with cucumber, radish, beef, and boiled egg in an icy broth. Sujebi is another popular variant of hand-torn noodles in a clam and vegetable broth with raw green chili.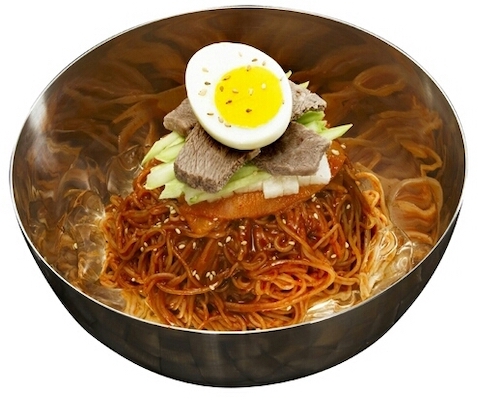 Patbingsu
Last but not least, patbingsu is a Korean street food desert made with shaved ice. Its mostly shaved ice, red beans, rice cakes, and toppings of different syrups. Although it's more of a summer dish, you can have it any time of the year.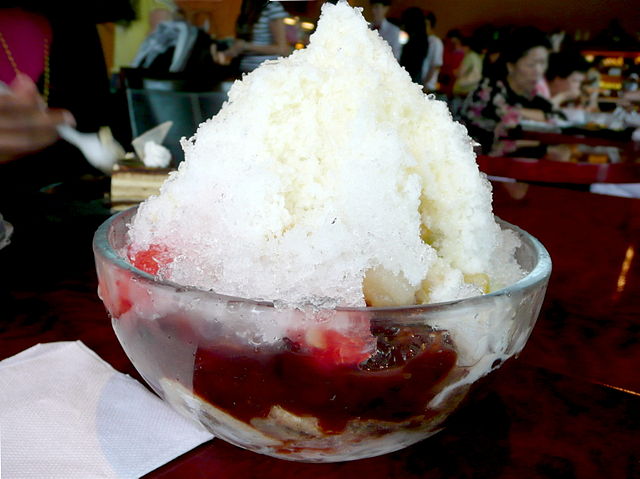 Love it? Pin it!