There are some pretty trendy and unique cafes in Seoul that are worth visiting at least once on your trip to South Korea!
There's no other country with as many brewtiful cafes as South Korea. There are a whole lot of coffee chains in Korea with some beautiful and trendy interiors.
Check out:
Seoul, a city that sits at the very center of Korean culture, is the ultimate mecca for Instagram-lovers and coffee addicts. The list of cafes in Seoul is never-ending, and new ones are always coming up. There's always something new and cool around the corner!
---
10 Trendy Cafes in Seoul
---
943 King's Cross
A café for all the Harry Potter fans out there! You gotta visit the café to enjoy the magic-themed rooms and have all the fun. The café is large and spacious with each floor decorated in themes of Harry Potter. It's not just a place to enjoy your daily fix of caffeine but rather an experience!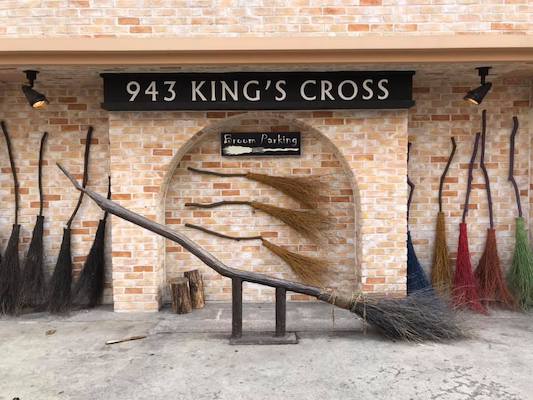 Did you know you can even dress up in Harry Potter costumes that are available on the 4th floor? If you're a big fan of Harry Potter, it is definitely worth visiting café in Seoul. 
Stylenanda Pink Pool Café
It's time to revel in all things bright and beautiful! The uber-trendy café feels like you've stepped into another world. Surrounded by neon lights, gold accents, and pastel-colored décor, the café is certainly unique and Insta-worthy.
Don't forget to take a selfie with the 'Hello Gorgeous' sign and the poolside rooftop! 
C Through Café
The beautiful café is perched on the top of a hill and its home to beautifully crafted latte art by renowned artist, Lee Kang Bin. As soon as you step inside, you'll feel relaxed. People come here to enjoy the Van Gogh Latte inspired by the namesake artist's famous painting 'Starry Night.'
It's a popular Seoul cafe, so you'll need a reservation in advance. It's not that you won't get coffee unless you reserve, but for a full experience, it is best to make a reservation. Without reservation, you won't get the Van Gogh Latte, but all others are still available. 
Café Onion Anguk
This Seoul cafe certainly offers an experience that is unique to South Korea! The café looks like it has just popped out from the Joseon Dynasty. The minimalistic interiors are hip and trendy. An amalgamation of rich Korean history and modernism is definitely reflected in the café.
The café is not only famous for its coffee and sugary treats but also delicious and savory breads.
Where: Gyedong-gil 5, Jongno-gu, Seoul
Arari Ovene
It's a minimalistic café with mugwort-themed drinks and looks just like something straight out of our Pinterest dream home boards. The café is effortlessly cool and trendy, with a beautiful front yard and foliage.
As it's a mugwort-themed café, their most popular drink, as expected, is Mugwort Milk. Mugwort is a Korean herb that is known to have healing properties. Taste-wise it's a bit refreshing and mildly bitter.
Café Tape
Galaxy cake trend is nothing new, but the cakes here are certainly gorgeous. Even though we are way past 2016 (the year of galaxy cake trend), the items on the café's menu are still impressive. 
It's a unique cafe where the desserts have a particular theme – flower pots! The desserts actually look like flower pots! The café is famous for its cake in a flower pot and Cotton Candy Latte (Somsom Latte).
Where: 739-5 Hannam-dong, Yongsan-gu, Seoul
Boulanger Maison Bukak
The cafe in Seoul is famous as a croissant bakery. As soon as you come close to the café, you'll be filled with the delicious aroma of freshly baked bread. The décor of the café is also bread-themed. You'll get to see loaves of bread and bread slices as a part of the café décor!
Dore Dore
This cafe in Seoul is the home to rainbow cake! The café is in multiple locations in Korea, but the Sinsa branch is definitely unique. It looks like it belongs in an episode of 'Saved by the Bell.' 
Monster Cupcake
Inspired by the classic horror movies, the café has some excellent monster motif décor. It feels like its Halloween every day! The cupcakes are decorated with torture devices, scary creatures, body parts, and all that you can expect from a horror theme. The detailing and icing are impressive, as is the taste! You can get a tombstone tiramisu or a regular café mocha that comes in an edible version of a bleeding finger! 
Which of the cafes in Seoul speaks most to you? Let us know where you're headed during your Seoul trip!
Related Posts