Have you ever wanted to take a respite in Gangneung and savor some delectable coffee? For two decades now, Gangneung has been the go-to spot for many Korean java aficionados. However, its distance from Seoul, situated on the southern coast of South Korea, makes it an ideal place for those seeking a quiet retreat away from city life. Come experience why Gangneung is renowned as one of the top cities in Korea for delightful coffees.
Get your caffeine fix in Gangneung – the City of Coffee!
Gangneung- located 150 kilometers east of Seoul on South Korea's coast – boasting a vibrant coffee culture, has become the nation's premier destination for caffeine connoisseurs. From the city's own Coffee Museum and Barista Academy to its renowned annual 'Coffee Festival' held in nearby Gangwondo, this charming locale offers plenty of attractions that serve up an exclusive blend of education and entertainment for avid java-lovers.
Of the 40 coffee houses peppered around Gangneung, each one serves its distinct blend of Arabica and specialty coffees from all corners of the globe. Roasted right here in town, these local cafes promise a unique experience every time you drop by.
The Coffee Museum: A Journey Through Time and Flavor
The incredible beauty of Wangsan Valley enshrouds the Gangneung Coffee Museum and offers an in-depth exploration of coffee production via five exhibit halls and three experience centers. Boasting a collection of 3,000 rare artifacts worldwide, this museum also features a cafe to enjoy some of the finest artisanal coffees.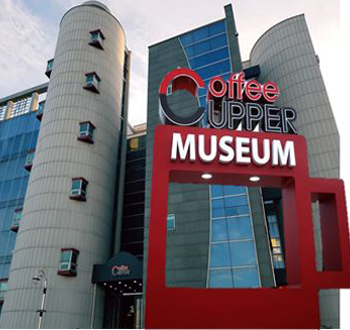 A must-experience for visitors is the interactive exhibit where you can roast your coffee beans and take them home as souvenirs. With a wide selection of origins, finding what best suits your taste buds is easy. After roasting, why not stop by the museum café to sample some of Gangneung's most delicious brews paired with traditional Korean snacks? It's sure to be an unforgettable experience.
Gangneung Coffee Street: A Street Lined With Aroma
To savor the spirit of Gangneung's coffee culture, stroll down Gangneung Coffee Street. This street has impressive cafes and coffee shops with a unique atmosphere and flavorful drinks to tantalize your taste buds.
Visiting 'Coffee Street' is an absolute delight, especially with the addition of Anmok Beach on its shoreline. June to August are particularly favorable for surfers, as the waves offer prime conditions during this time; however, even outside these months, every eatery offers a stunning view of the ocean and captivating interior decor that will leave you in awe. Anmok Beach invites you to escape into its picturesque views of blue skies, white sand, and glistening waters. Vibrant seafood eateries offer octopus dishes, fresh seaweed snacks, and barbecued squid for the perfect afternoon indulgence. Relax in this beachy paradise until the sun sets.
Where can you savor the taste of Gangneung coffee?
Experience the fullest flavor at Gangneung's renowned coffee houses, where you can treat your taste buds to something special.
Terarosa is a name that everyone can recognize, even if you are not an aficionado of coffee. It began as a factory for beans and now has the atmosphere of both a warehouse and cafe with its eclectic design. The vintage touches around add to the aura here, too. When you relax while sipping on your beverage, it will bring pleasure to all your senses!
Journey to the Wangsan coffee farm in Gangneung, Korea – home of the oldest Korean coffee tree and celebrated annual Coffee Festival. Nestled in the foothills of Daegwallyeong, this exceptional tourist attraction is a center point for all things Java-related! Celebrate its rich history between May and July each year by visiting these iconic rural grounds that will make your trip one you won't forget anytime soon.
Gangneung Coffee Festival: A Celebration of Coffee Culture
Don't miss out on the exciting annual Gangneung Coffee Festival in October if you find yourself lucky enough to be visiting Gangneung! This event is a fantastic opportunity for coffee enthusiasts to come together and appreciate their favorite drinks. Celebrate everything there is to love about coffee at this amazing festival.
Celebrate coffee in all its glory during the city's annual festival! This event has everything from delectable coffee tastings and enlightening workshops on brewing to riveting latte art competitions. Plus, don't forget the bustling coffee market, where you can find unique specialty beans or products that will make your daily cup of joe even better.
The End
For all coffee lovers out there, Gangneung is a must-visit destination. Home to the Coffee Museum, the renowned annual Coffee Festival, and the bustling Coffee Street, this city truly appreciates its java. Gangneung has something to offer everyone, regardless of whether you consider yourself an enthusiast or just enjoy your morning coffee. So don't wait any longer; pack your bags and come experience the 'City of Coffee' today.
Featured Image Credit: Coffee Geek TV
Related Posts
1,088 total views, 3 views today