Check out the amazing and fun things to do in Gangwon-do ranging from trekking in Seoraksan National Park to enjoying delicious food in local restaurants!
The popularity of Korean pop culture has crossed boundaries, with South Korea attracting tourists from faraway lands. However, there are many places that have to offer their tourists more than just trendy music.
Gangwon-do, located only one and a half hours away from the capital Seoul, is one such destination. It is incredibly scenic and features a lot of fun and interesting places to keep the tourists hooked for several days.
Here are the top 10 things you can indulge in during your visit to Gangwon-do. 
Take In the Scenic Beauty of Nami Island
Nami Island definitely is one of the top destinations in Gangwon-do. The entire place is so scenic that you won't mind spending several hours. Be it the vibrant plethora of colors during the fall or the captivating beauty of cherry blossoms during the winter, this place is a wonderland.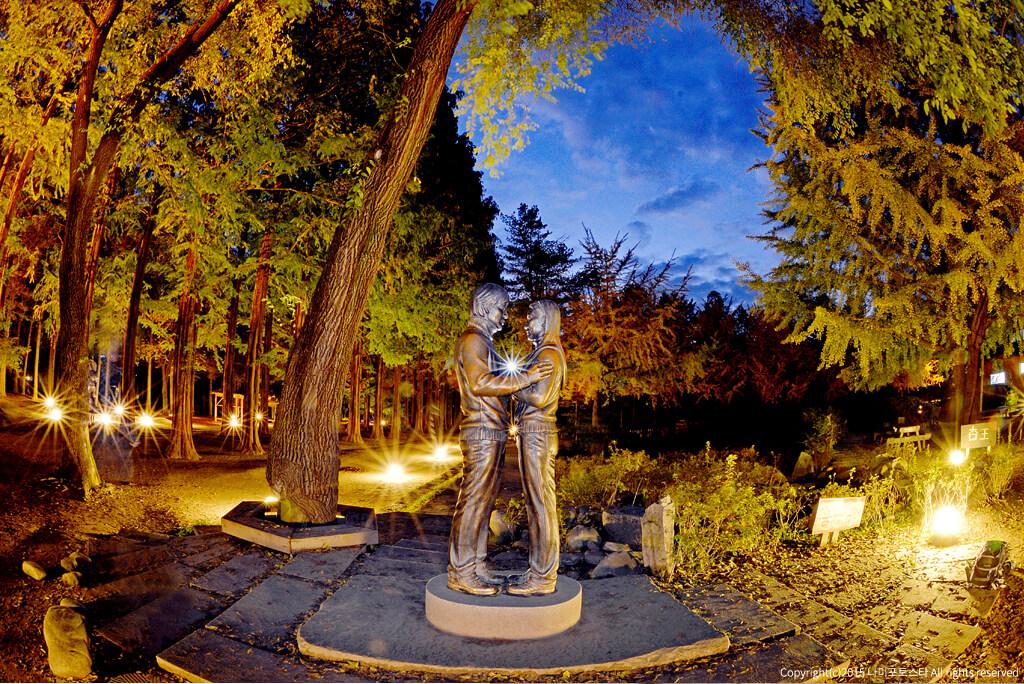 Experiencing nature on foot is the most recommended option, but rental bikes and electric cars are also available. 
No matter how you want to appreciate the place, do not forget to recreate the iconic moments from the famous drama Winter Sonata, which was filmed here.
Let your Adrenaline Flow on Sogeumsan Suspension Bridge
If you want to experience your adrenaline pumping up, Sogeumsan Suspension Bridge is the one for you. Stretching over 200 meters at 100 meters, it is the longest pedestrian bridge in South Korea. There is nothing to fear as it is completely safe. 
The bridge overlooks a majestic valley with stunning green views. You are guaranteed to get several panoramic snaps. Just do not get overly excited and avoid bending too much to get the views.
Oh yes, and do not forget to post pictures on Instagram as it is also the filming site for the famous drama It's Okay Not to Be Okay.
Stroll Around At Anmok Coffee Street
Locals love to visit Anmok Coffee Street. It is the best hangout spot for all age groups, especially the youth. The whole ambiance is vibrant, and you can feel the energy.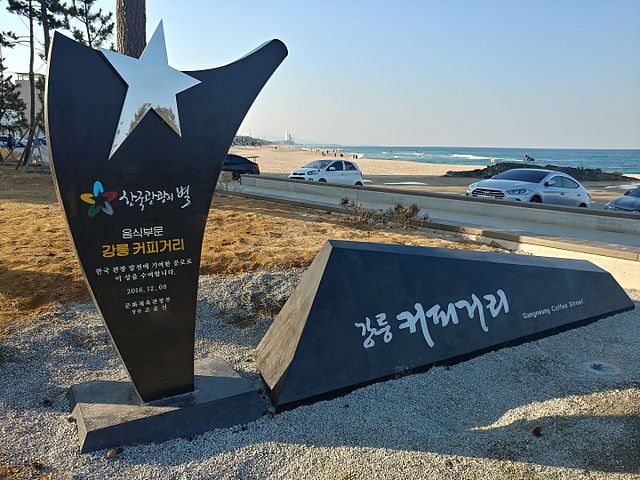 Just walk around and enjoy coffee at one of the cafes. You are sure to find plenty there. Many also have dining options, with seats overlooking breathtaking beaches and ocean views. 
We suggest you visit the place in the afternoon or evening because you can spend several hours here relaxing after getting involved in all sorts of adventures throughout the day.
Take Part In Fun Activities At Yongpyong Ski Resort
If you are visiting Gangwon-do during winter, Yongpyong Ski Resort is a must-visit destination. The entire landscape looks majestic, decked up in shiny white snow. 
So many fun winter activities are available for you and your family to enjoy. We highly recommend skiing on the snow-clad slopes and enjoying a gondola ride to appreciate the scenery. 

Balwangsan Mountain Skywalk is the latest addition to the list of attractions in this resort. Situated at the top of Balwangsan Mountain, the place will enchant its visitors with amazing mountain top views, especially during the lively spring and bright summer days.
We also suggest you visit Dragon Peak, the filming site of several dramas.
Witness the Diversity at Seoraksan National Park
This is one of the most-visited national parks in Gangwon-do, thanks to its extravagant natural wonders. You can see a wide variety of exotic flora and fauna. There are also around 2,000 animal kinds available, the most common of which include Korean goral and musk deer.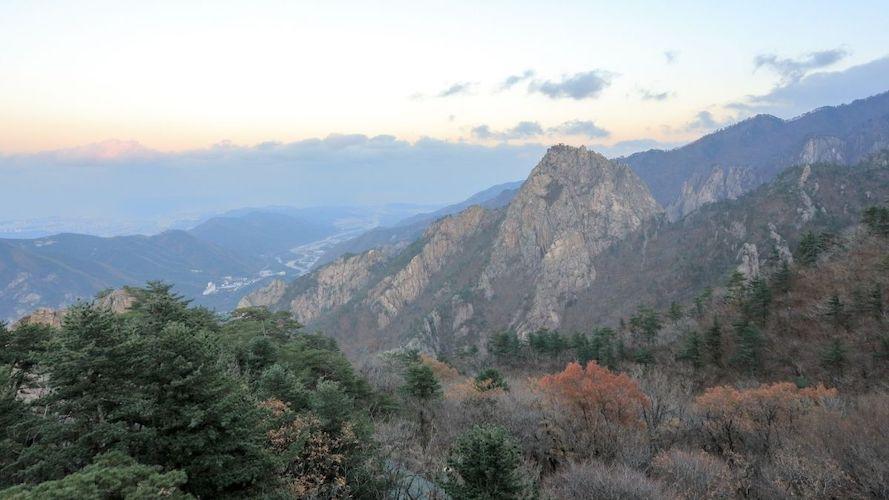 As for scenic views, they are breathtaking. You will love spending your autumn days here in the diverse colored background.
That being said, Seoraksan National Park is equally beautiful during other seasons, making it a fantastic location for hikers as well.
Delve Into Authentic Korean Cuisine
The trip to Gangwon-do will remain incomplete without sampling the classic Korean delicacies. The place has several authentic restaurants, so you will have ample options. 
Do your research on what dish you want to try, but if you are looking for our suggestion, then here are two dishes you should not miss:
Dakgalbi – For chicken lovers, this is an ideal dish. You get fried chicken on a steaming iron skillet. The aroma, together with the taste, is simply too hard to resist.
Ojingeo Sundae – This is a specialty of Sokcho. The dish basically features a squid accompanied by blood sausages. It has great flavor and freshness, making it so popular.
Experience the Traditional Marketplace
Getting the feel of a traditional Korean marketplace is highly recommended. This is because you get to know the daily lifestyle of the locals and the authentic Korean culture better. Moreover, most traditional marketplaces are bustling with energy and feel very inviting to tourists.
Not to forget the several shopping options you get where you can buy as many mementos of the place as you want at affordable rates.
Gangneung Jungang Market is one of the best places to experience the authentic feel of traditional Korean marketplaces. 
Seek Blessings at Woljeongsa Temple
Gangwon-do, being a significant culturally rich place, has many temples. They are not just peaceful places to seek blessings but are emblems of extreme aesthetic beauty.
One such temple that merits mention is Woljeongsa Temple. This ancient Buddhist temple is situated amidst the forest greenery and has the grand Odaesan Mountain in its background. 
You need to take a short hike of about 1 km among the towering fir trees to reach the temple. While fall is a great time to visit this temple, winter views are equally beautiful.
Spend Time with Alpacas In Alpaca World
If you are an animal lover, you should visit the Alpaca world as one of the things to do in Gangwon-do. This place has the most amazing alpacas. In fact, you can directly interact with these tamed animals. 
Tourists love to touch their soft fur or feed them from the food options available at the vending machines. You are even allowed to take these lovely creatures out on a scroll in the park.
Besides alpacas, you can also spend time with deer, owls, eagles, rabbits, and several kinds of birds.
Recharge your Batteries at the Osaek Hot Springs Area
This is a secret gem that most tourists are still unaware of. The hot springs were discovered during the Joseon era by a monk.
With spring water cascading down from the high elevation, the location is really attractive. The water is believed to possess healing properties thanks to the presence of sufficient iron and carbonic acid in them.
You can spend quality time relaxing by soaking in the refreshing water. This will definitely energize your mind, body, and soul for your next destination.
In the end
Gangwon-do is gaining popularity among tourists with every passing year. We hope the above experiences and things to do in Gangwon-do will make your visit to this beautiful destination truly memorable. 
Enjoy!
Related Posts
5,494 total views, 7 views today