Busan is the second-largest city in South Korea. If you are making your trip to South Korea, the economic, cultural, and educational center of southeastern South Korea, Busan should be kept on the top of your bucket list. All the numerous mesmerizing spots will make you spellbound, from the fascinating seaside beaches and bustling market to flabbergasting historic temples. There are lots of things to do in Busan. Here we have shortlisted ten things which you must try if you are going to Busan.
#1 Soaking Up The Sun At Haeundae Beach
It is the most popular and largest beach in South Korea. If you want to experience a sun-soaked trip in summer, then South Haeundae beach is the ideal place for you. Haeundae beach offers you luxury as well as untouched nature. The wide coastline and shallow bay have made the beach ideal for swimming and also for playing water games. You also can lounge under an umbrella with your fancy drink or just lie down on the beach bench. It will take only 40 minutes from Busan station and one hour from the International Airport.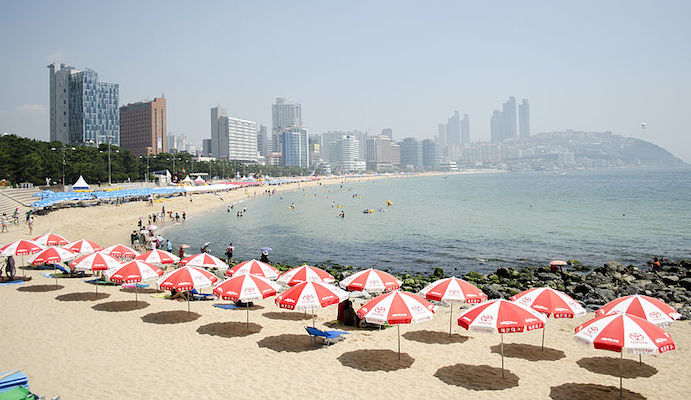 The beach is open for you all year round. Various festivals are organized throughout the year at this beach. Luxurious hotels surround the beach, and you will find the best restaurants and bars of this city around this beach. If you come here, you should not miss the mesmerizing sunset view in the evening. It will make you spellbound.
#2 Sea Life Busan Aquarium
Sea Life Busan Aquarium is an aquarium that is just around the corner from Haeundae Beach. If you are curious about aquatic life and wanna see some beautiful species with your own eyes, this is a perfect place for you. It will take you to a different world of life under the sea.


The aquarium's main tank contains 3,000,000 liters of water and near about 250 species (fish, algae, reptiles, and amphibians, including large sharks, turtles, seahorses) and up to 35,000 marine animals. You can see this massive collection of aquatic life through the acrylic windows or from the 80-meter (260 ft) underwater tunnel.
#3 Visit Busan Tower
Busan Tower, which was built in 1973, is one of the most popular places to visit in South Korea. It is located in Yongdusan Park. This 120 meters tower will surely give you a sense of this city and its layout with a kickass view. From the top of the tower, you can see skyscrapers, boats, ports, nearby mountains, and much more. It will only cost 8000 won.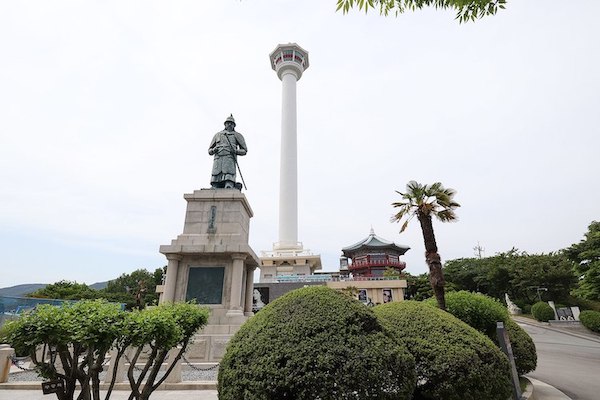 #4 Pay A Visit to Yongdusan Park
Yongdusan Park Is located in Jung-gu, Busan. The 120 meters high Busan Tower is located in this park. The statue of Yi Sun-sin, Korea's 16th-century naval hero, is one of the highlights of this park. Have you ever thought of the instruments made from fruits, human knee bones, and rat skin? Yes, the park also contains the Museum of World Folk Instruments, where you will find all of these, and if you want to play these instruments, you can.
Yongdusan Park also contains the Exhibition Hall of World Model Boats, which contains over 80 models of traditional Korean sailboats and turtle ships and the costliest luxury cruise ships also.
#5 Enjoy The Light Show At Gwangan Bridge
It is the second-longest bridge of South Korea which connects Haeundae-gu and Suyeong-gu. The main attraction of this bridge is that it offers over 100,000 magnificent lighting effects every night, which form Korea's finest after-dark scenes. This may be a great place for you to click some heart-stopping pictures. Lots of bars and restaurants are present along with the bridge.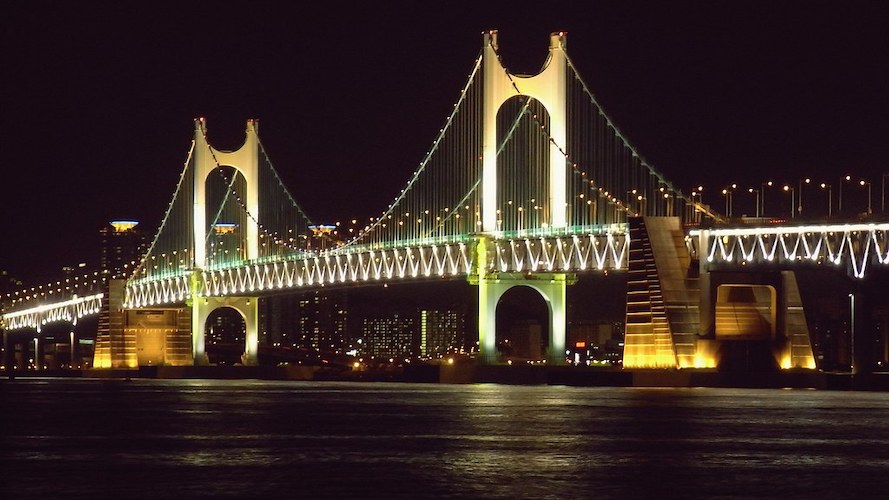 #6 Visit Gamcheon Culture Village
If you are planning for a Busan trip, Gamcheon Culture Village needs to be at the top of your list! Gamcheon Culture Village will introduce you to the creative side of South Korea. This village is decorated with countless artworks, paintings, and graffiti.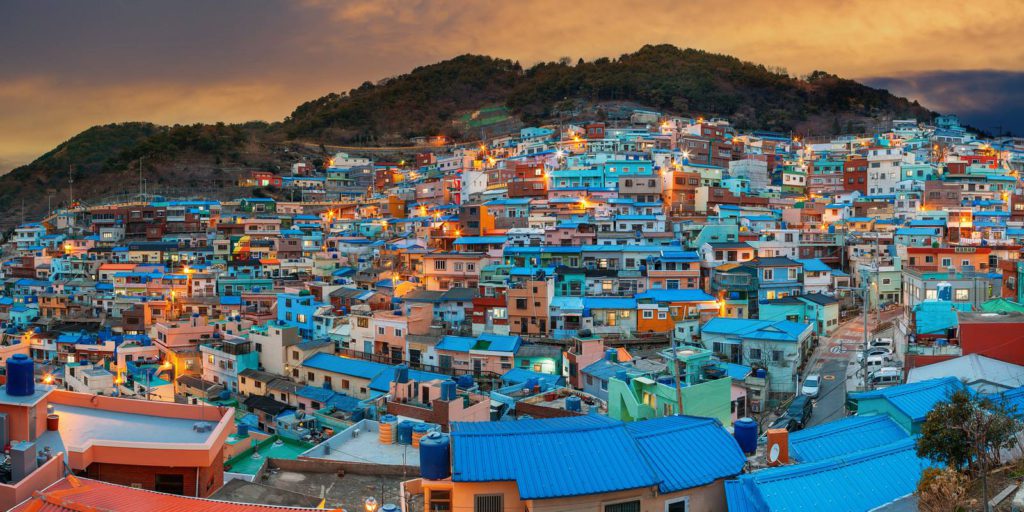 All the houses in this village are painted in different colors. Rainbow-colored background, deep blue sky, and ocean in the background have made this an ideal place for a photographer.
#7 Haedong Yonggung Temple
While most of the temples of South Korea are located in mountain areas, Haedong Yonggung Temple is one of the few temples that overlooks the sea. The mesmerizing view from this temple always attracts visitors. The temple was built by great Buddhist teacher Naong in 1376, but it was destroyed due to the Japanese invasion of Korea. It was rebuilt in 1930.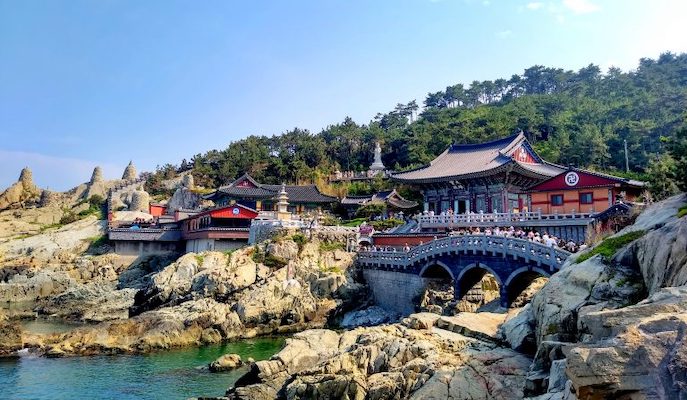 Here you will find traditional Korean religion. Many lanterns hang around during Buddha month, which gives a sense of serenity that is authentic to the Korean culture. Many people come here to watch the sunrise and to make their wishes on New Year's Day.
#8 Jagalchi Fish Market
Jagalchi Fish Market is the largest seafood market in all of Korea, which is located beside Nampo Port in the Nampo-dong commercial and shopping area. There is so much to see, and the aroma of the freshest seafood will surely make a fish lover hungry.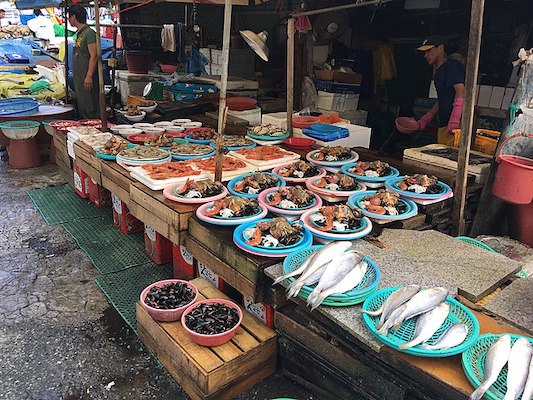 The variety of the market is beyond your imagination. If you wanna have some cooked dishes of seafood, you can get it from the vendors.
#9 Pay Your Tribute At The United Nations Memorial Cemetery
This is a burial ground for those brave soldiers of the United Nations who lost their lives in the Korean War (1950-1953). It is located at Tanggok and contains 2300 graves. The total area of the cemetery is 14 hectares, and it has 22 sites that have been designed according to the nationalities of the buried soldiers.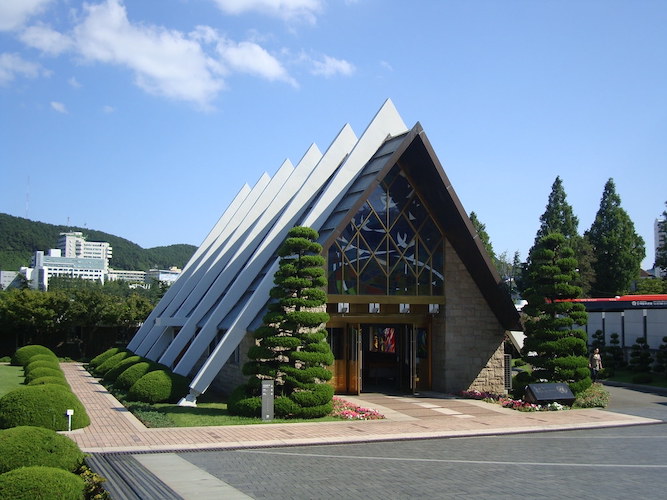 #10 Oryukdo Skywalk
Oryukdo Skywalk is one of the major tourist attractions of Busan because of its fascinating, spectacular view of the endless blue sea & majestic mountains. Its scenic view and natural beauty have made it an ideal place for nature lovers and photographers. The 15 meters long glass bridge is the perfect place for a photoshoot. The skywalk is made of 12mm glass which is coated with bulletproof film.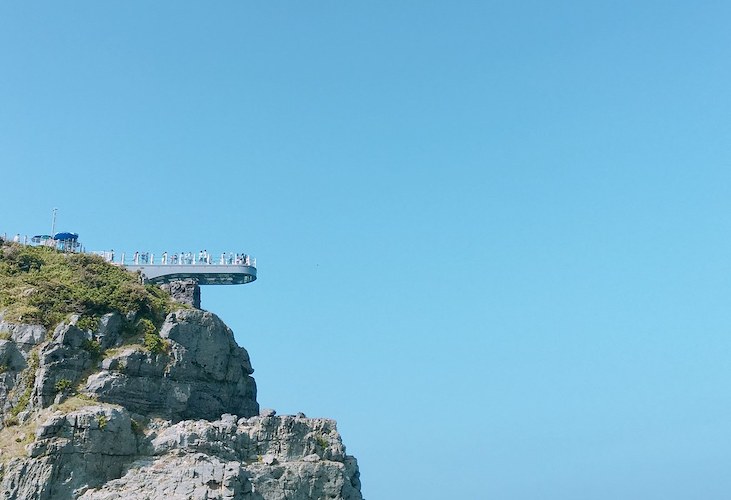 Don't forget to check out these other South Korea travel posts:
5,947 total views, 5 views today