Busan is widely famous among Koreans and foreigners due to its vibrant party culture. Though many visitors know Busan due to the famous movie "Train to Busan," it has plenty of other things to offer. Many tourists come to the port city of Busan to feel the eclectic clubbing experience and groove on beats. Both locals and foreigners love to party till they drop. You will find world-famous DJs playing with records and making people dance on hip-hop beats in some of the best nightclubs in Busan.
You don't need to follow any particular dress code rules to get an entry into the nightclubs in Busan. For the highest level of enjoyment, just come to the clubs with a good feel and zeal to have fun. The nightlife at Busan is scaling rapidly and becoming more vibrant. For the best possible experience, here are some of the best nightclubs in Busan where you can go to party all night!
Best Nightclubs in Busan
It is an epic club famous for its hip hop beats, loud electronic music, glowing, radiant red lights, and underground DJ's playing. It's the best club to go to for party lovers with pumping music playing in the background. Red-colored neon lights and chic appearance make this club one of the trendiest in Busan. Output is situated right in the middle of Seomyeon.
Output caters mainly to the young and cultural bunch of people. Here, you will find the best underground DJs across the world playing music. After entering the club, expect to hear plenty of basses and high sounds, making you groove till the early morning.
Get soaked in red lights and be a part of the crazy crowd. The thrill that you will experience here can be found nowhere else. As one of the best nightclubs in Busan, Output attracts thousands of people every night!
Club Babau
Club Babau is situated in the basement of the Paradise Hotel in Haeundae, a hotspot and trendy area of Busan. This ultra-modern club is meant for those who love to party and groove to electronic dance music. Club Babau came into existence in December 2017. Along with providing every facility, this club claims that it owns the best sound system in the whole of Korea.
After entering the premises, you will certainly feel the difference and get to dance at heart-pumping beats. Their intense sound system has brought them enough fame compared to other nightclubs in Busan. Club Babau is a crucial part of the hotel itself along with a casino. Well, if you enjoy trying your luck and the lady luck shines on you, you can celebrate in the Club Babau! So, it's a party all around!
Compared to other nightclubs in Busan, Billie Jean is quite smaller. Although the club space is smaller, it still leaves every partygoer thrilled. It is the best place for those who want to enjoy clubbing with less crowd around. Their excellent music selection varies from rocking hip-hop to jazz to funk.
The ambiance of the club reflects a western vibe. Billie Jean is situated at Haeundae's Dalmaji Hill's bottom. This club is best for those seeking fun and looking for some groovy music that's different from the usual fare. The club is serving its audience since 2011 and still standing strong. Along with clubbing, it also hosts karaoke and cocktail shows to keep the audience entertained.
Foreigners and locals highly recommend Billie Jean as it is a nice alternative to other crowded clubs where you feel like dancing in a closed space. Whether you are all alone, on a date, hanging out with friends, or looking for a place to have fun, Billie Jean is worth visiting! You can make your evening more interesting by playing bar games.
Located in the famous Pukyong National University and Kyungsung University area, REVEL is a famous hip-hop club. REVEL is divided into two portions which are called All Kind and Original. The REVEL club can hold nearly 1000 party freaks at a time.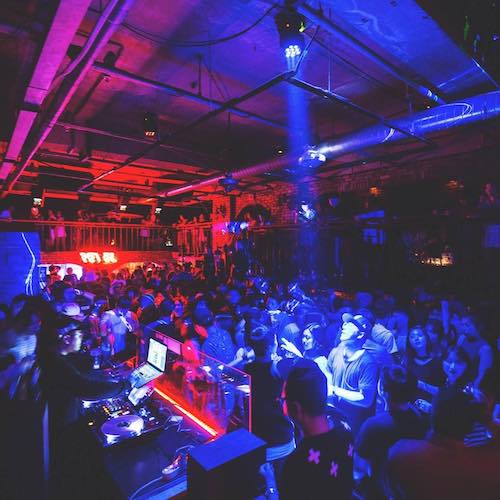 This hip-hop club is also known for its party ambiance. Their visitors are proudly called Revellers, and it charges 10,000 won, which is 6.80 euros. This city's best-known club welcomes everyone for an enthralling experience.
Some Tips to Remember for Best Enjoyment in Busan Nightclubs
Busan has an excellent public transport system. It includes the metro and the buses. The late-night service is also available, but you need to pay an extra fee for that if you were clubbing or partying at night.
Taxis are another option available to travel around. Fortunately, taxis are mostly available right outside the club and the bars at night.
When in Korea, remember not to tip anyone. It doesn't matter whether you are at the club or any restaurant, don't practice tipping. But there are few bars owned by western people who accept tips as a token of appreciation.
The famous clubs and bars here render service to all. By service, we mean free drinks and eatables for the parties containing many people. Never be surprised by the kind nature of Koreans.
Most of the clubs in the area never charge you a cover fee. Moreover, it's better to show up early or book a table for yourself if you want to attend the big party.
Final Words
Here you have the list of best nightclubs in Busan; you know where to go and how to enjoy the most. Busan is such a vibrant place that it has something unique and excellent to offer to everyone. So, whether you are a teetotaler or a hardcore party-goer who is searching for something exceptional, then Busan's Nightclubs will never leave you disappointed. 
Love it? Pin it!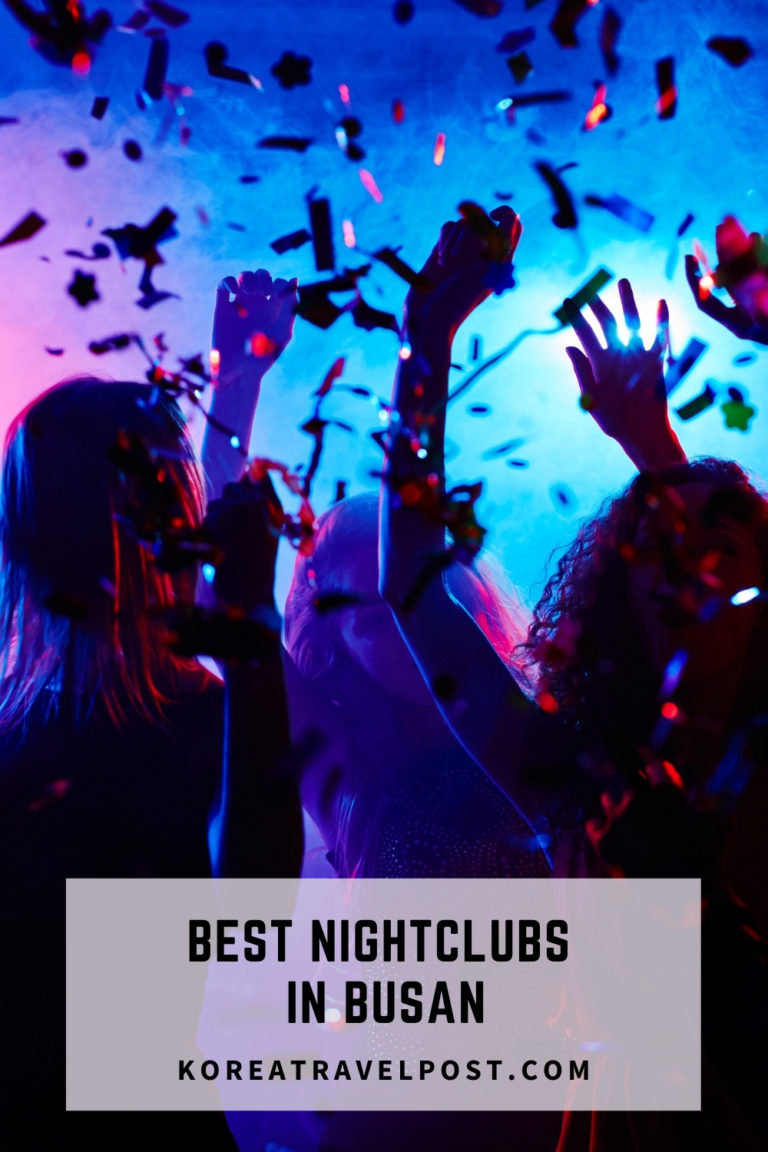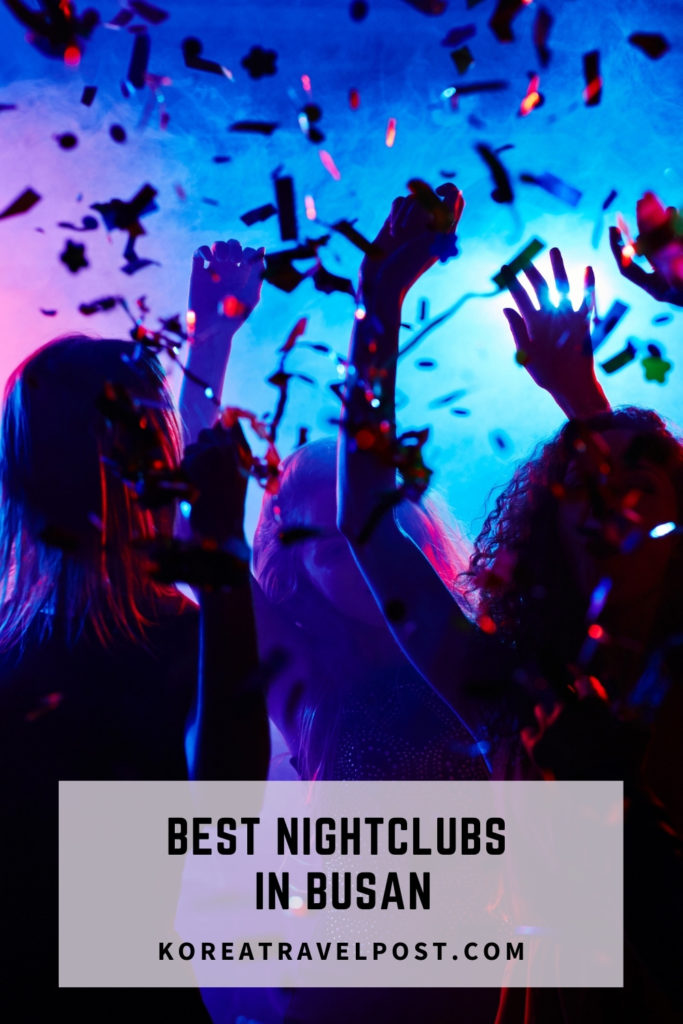 Don't forget to check out these other South Korea travel posts:
16,081 total views, 7 views today