If you are in South Korea, you must have already relished a few famous Korean dishes, but have you tried their seafood? If no, then here we are to take you on an exciting yet scrumptious journey to Noryangjin Fish Market in Seoul.
Whenever we think of fish markets, something messy and stinky comes to our mind. But here in Korea, the scene is so much different! Noryangjin Fish Market (노량진수산물도매시장) is one such place that's different from common fish markets, and it is a must-visit market to add to your South Korea itinerary.
Even if you are not accustomed to visiting fish markets, you will find Noryangjin Fish Market relatively clean and well organized. The place is more like an aquarium showing the live fishes and a host of other sea creatures. The whole place doesn't even emit a pungent smell that's usually associated with fish markets.
Let us explore the Noryangjin Fish Market and relish the fresh and local Korean seafood.
When To Visit?
Recently the whole fish market has moved to a new building which is quite appealing. The Old Building had a lot of charm with lots of open air. The new building feels more like a shopping mall. One benefit of the relocation is that the restaurants are cleaner and more hygienic.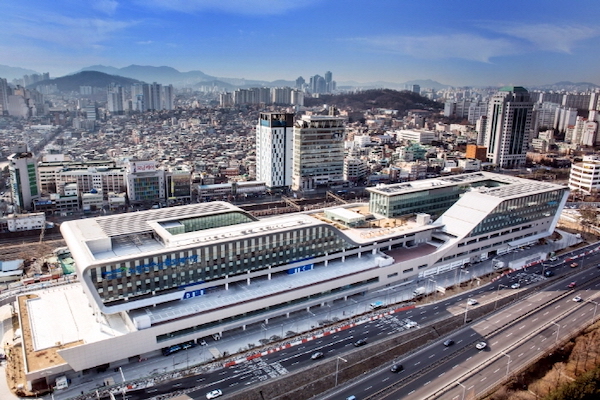 Though the market is open throughout the week, it is the busiest on Friday and Saturday. If you have never seen fish auctions, then visit near about 3 am for an exciting experience.
How to Reach Noryangjin Fish Market
Reaching the Noryangjin Fish Market is slightly confusing as there are two lines coming into the Noryangjin Station.
Just follow the Seoul Subway route leading to the Noryangjin Station. You will find two lines, i.e., Line 1 and Line 9.
If you are coming from Line 1, go out from Exit 2. Go up the stairs from the platform, where you will see several street food vendors. Head right and go out the turnstiles, where you will see a convenience store and a coffee shop with an escalator and stairs. From here, go down the stairs and continue going straight, following the road. After passing exits 8 and 7, continue walking till you come across a tunnel on your right. Go through the tunnel, and you will enter the market.
If you are traveling via Line 9, the privatized gold line of Seoul Subway, you will resurface at exit 7. From here, go straight and turn right into the tunnel. Pass through the tunnel, and you will find yourself at the main entrance of the Noryangjin Fish Market's trading floor. Isn't it easy?
If you feel lost anywhere, simply follow the signage that's in Korean and English language.
How to Dress up?
Well, you need not wear any special dress but make sure you keep your luxury items at home. Wear casual clothing and put on closed shoes or boots as the place is often chaotic and wet. It will save you from stepping into puddles of icy water in your nice dress shoes.
A Few Essential Tips and Tricks
Before proceeding further, if you are visiting the place for the first time, then remember the following codes:
Green – It denotes the fresh and dead seafood
Blue – It is indicative of alive fish
Orange – It represents shellfishes
Lavender – The color means frozen seafood
You can also keep a note of common fish names in the Korean language so you can interact with the vendors more knowledgeably!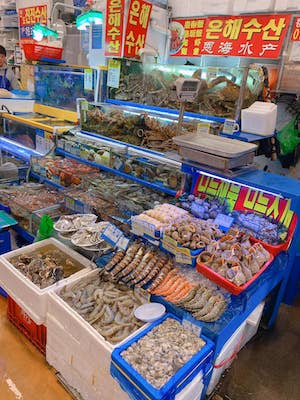 Common Swimming Fish
Flounder – Gwang-eo 광어
Rockfish – U-reok 우럭
Salmon – Yeon-eo 연어 <–not sold live
Tuna – Chamchi 참치 <–not sold live
Common Shellfish and Other Critters
Shrimp – Sae-u 새우
Oysters – Gul 굴
Clams – Jogae 조개
Scallops – Garibi 가리비
Abalone – Jeonbok 전복
Sea Worms (the penis fish) – Gaebul 개불
Sea Cucumbers – Haesam 해삼
Guide to Visiting Noryangjin Fish Market
Now, we are all set, so let's explore the famous Noryangjin Fish Market in Seoul.
Shellfishes and Rays in Abundance
Yes, you will find plenty of shellfishes here. The fish market has piles of scrumptious and healthy oysters, sea snails, shellfishes, and other items often found in shells.
Along with shellfishes, get to relish rays also. The customers here often love to have a plate of delicacy made using Rays.
Sense The Smell
You need not rush your way through the whole fish market. Instead, take your time, see the sights around, listen to sounds and sense the smell of the seafood that different vendors are selling.
Here, you will see some creatures for the first time and be flabbergasted. You can also click pictures of the tasty and fantastic seafood present on display.
Pick What You Like
The locals love to visit this famous Noryangjin Fish Market to have a fresh and variety of seafood items. If you cannot decide what to eat, the vendors love to help you decide. Moreover, after helping you select, the vendors weigh the items you bought using a calculator so as to help you with pricing if you are not a local.
Prawns To Scoop
The fish market has an appealing selection of prawns that make you want to have them right away. You can either scoop it up or have it like the steak. They have a variety of prawns in different sizes. Along with this, the market has other seafood items that seem pretty scary from far but tastes fantastic. So why not give it a try?
Get Your Food
If you have made the purchase, you can either directly take it home or have it cooked for you by any restaurant in the basement or the second floor of the Noryangjin Fish Market.
You can even tell the in-house chef about how you want to have the seafood. They often serve it with pickled onion, lettuce leaves for wrapping, green chili, raw wasabi, and more.
Billing After Eating
Eating here will not cost you a fortune. You can pick any restaurant and their seafood items from the menu directly, and it will only cost you about $30 for two people.
Moreover, the cost depends upon the items you picked. The charges are pretty reasonable and negotiable. Similarly, if you are buying directly from the vendor, they will ask for a premium price. You can always negotiate, especially if purchasing in bulk.
Final Words
You will have a great trip to this Noryangjin Fish Market if you love seafood, as it surpasses the level of freshness compared to other seafood markets.
Pay a visit and keep this place in your itinerary when visiting Seoul.
Official Website: https://www.susansijang.co.kr/nsis/miw/en/intro
Love it? Pin it!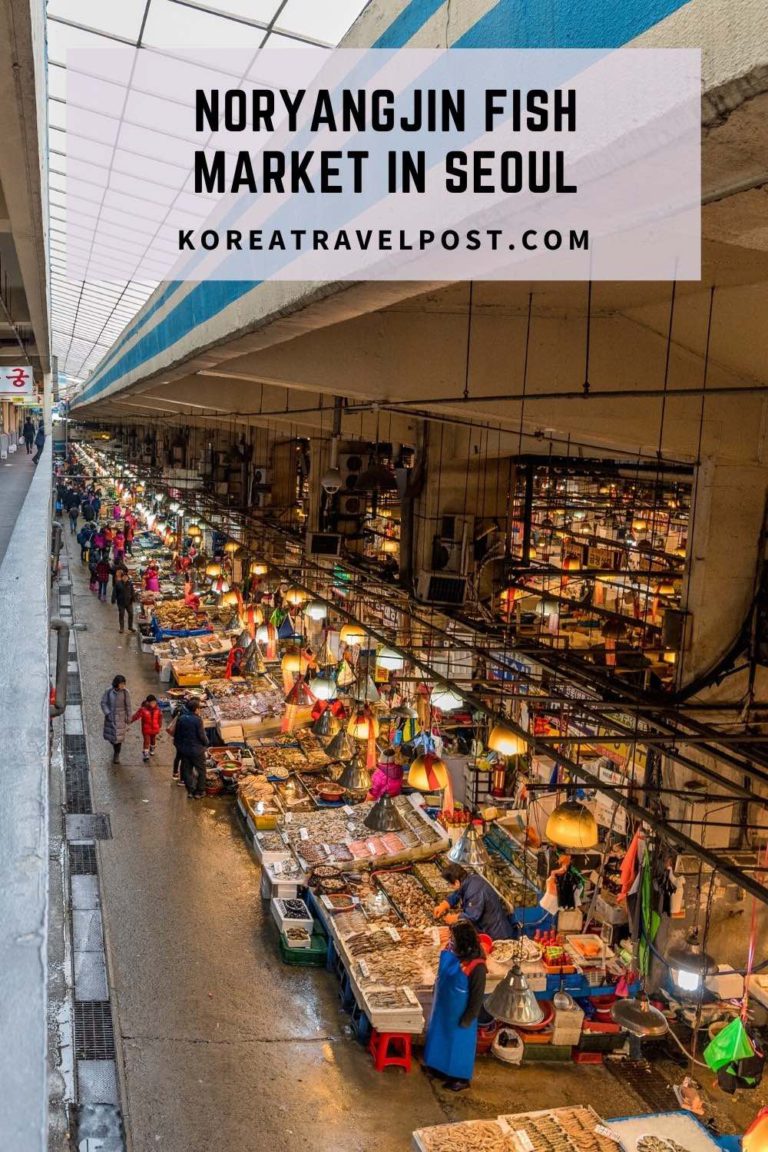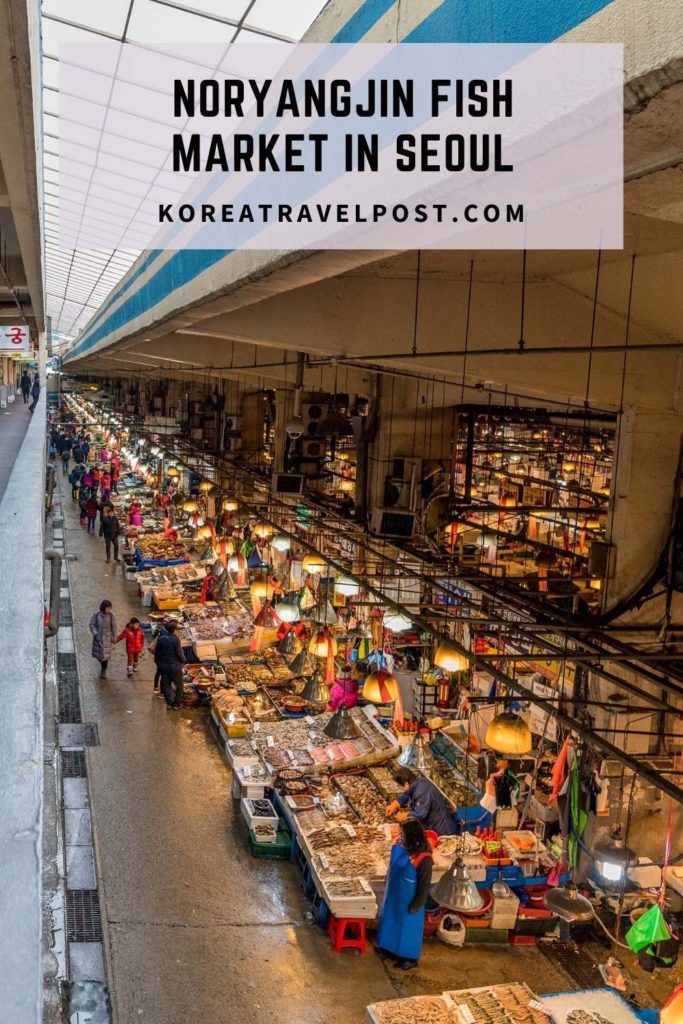 Don't forget to check out these other South Korea travel posts:
7,887 total views, 7 views today