Korea's second-largest metropolitan city, Busan, is full of lively markets and bustling malls. If you are a shopper, you will certainly find a lot of things while shopping in Busan, be it K-beauty products or designer bags. There are some of the best places where you can enjoy shopping in Busan while on your trip!
There are a plenty of traditional local markets where you can find seafood, dried herbs, and so much more! Busan is the perfect place where you can enjoy shopping to your hearts content. The city is also home to Shinsegae, the world's largest department store that covers over whopping 5.4 million square feet. It is a shopping destination in Busan that you must check out!
Travel Tip:
Another important thing to remember while you enjoy shopping in Busan is to carry your passport. This way, you'll be able to enjoy tax-free shopping in Duty Free Stores, and a variety of retail stores. You will either get instant tax refund or they will issue a VAT refund receipt that needs to be submitted at the airport.
#1 Shinsegae Centum City Department Store
As the world's largest store, it is a part of Guinness Book of World Records. You need to begin your shopping journey at the Shinsegae Centum City Department Store. The store sells everything and anything under one roof that you can think of including apparel, cosmetics, and luxury brands. There are multiple cinemas, food courts, and even a spa.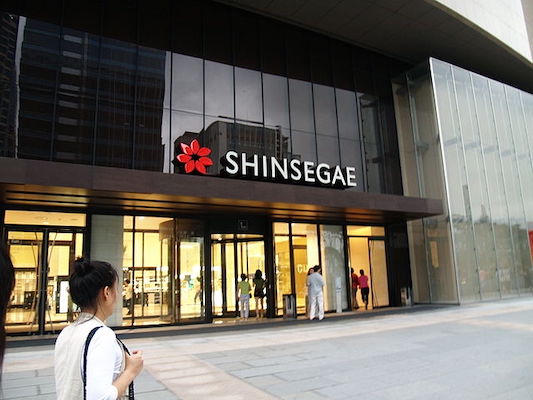 #2 Jagalchi Market
Jagalchi Market is the largest fish market in Korea and is a famed Busan destination for finding all aquatic species. It's not a traditional shopping destination in Busan, but if you're a curious traveler, you must check out this unique market. There are rows and rows of seafood delicacies that are available that you can enjoy raw or order on spot for the cooked version.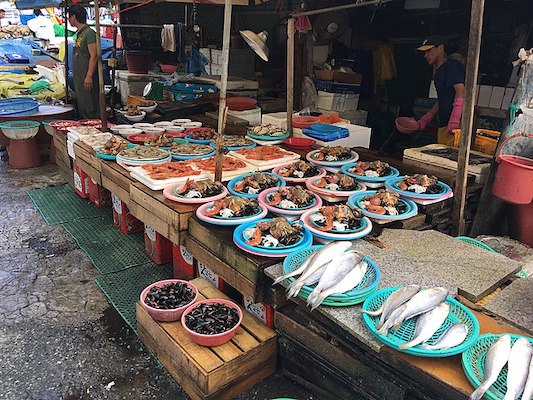 If you are visiting in October, you can enjoy the Jagalchi Cultural Tourism Festival that's all about. traditional Korean sea and fishing culture.
#3 Haeundae Traditional Market
While you are chilling at the beach, you can also enjoy shopping in Busan just across the street from Haeundae Beach. There won't be any luxury brands in this market but there'll be a lot of local souvenirs and street food vendors that you can enjoy. One important thing to remember here is to bring cash. Most shops are too tiny and small where there isn't an option of card payment.
#4 Lotte Duty Free
Lotte Duty Free store is located in the Lotte Department Store in Busan. If you are looking to enjoy shopping in Busan, you must check out the Lotte Duty Free for tax-free shopping. The stores are bustling with luxury brand products ranging from perfumes, bags, apparel, and more! If you have a long layover, you can plan the trip accordingly so you can drop by on the way to airport.
#5 BIFF Square
BIFF Square is the center point of the first Busan International Film Festival. Since its opening in 1996, it is now become the city's dynamic theatre district and a lively shopping hub. There are lots of fashion stores, cosmetic stores, street food carts, souvenir shops, and plenty of restaurants.
Along with all these, Seomyeon is another trendy and hip district where you can enjoy shopping in Busan. It's a haven for shoppers looking for the famed Korean cosmetics and skin care products.
Read more about planning your trip to Busan on KoreaTravelPost: 
3,755 total views, 5 views today