Busan is popular for its beautiful beaches, serene temples, and an array of shopping malls. However, you might not be aware of it but Busan has a super awesome food scene. There are several interesting and unique food dishes that you must try while you are exploring the city of Busan.
While street food is a draw in most Korean cities, Busan is also popular for other delectable food dishes like pork soup, fish cakes, and more. Whether you are looking for healthy food options, street food, or even pub-style food, Busan has something for everyone.
Here's a list of 10 food that you must try in Busan while enjoying the beautiful sights of the port city!
#1 Eomuk (Fish Cakes)
Being a port city, Busan is popular for its fish delicacies. Eomuk or the fish cakes are most commonly available as street food in Busan. The dish is prepared by local vendors from a variety of fishes. The local fish are crushed into the meat and then formed into flat cakes. It is a common dish when it comes to using leftover seafood.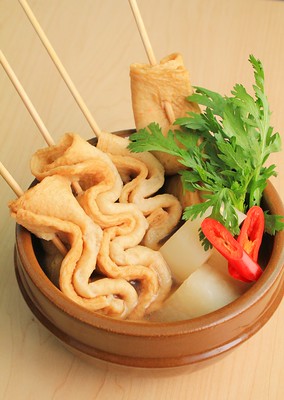 Fish cakes are popular with street vendors as well as higher end restaurants like Premium Busan Fish Cake Goraesa in Nampodong.
#2 Chimaek (Chicken + Beer)
Korea is famous for its fried chicken – and we aren't talking about the KFC. In Busan, chimaek is particularly popular. It is a fusion of fried chicken and beer and the work comes from the Korean words 'chickin' (chicken) and 'maekju' (beer).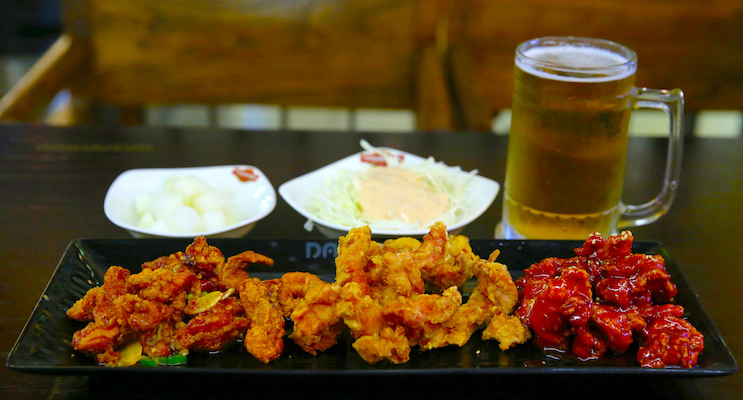 Most restaurants in the city use double frying techniques for chicken and then following up with salt and pepper seasoning. You can enjoy this delicious dish at BBQ Chicken where you will find fried chicken in olive oil.
#3 Korean Street Toast
It is a ubiquitous dish from streets in Busan. There's nothing exclusive about this one as it is a pair of toasted sandwich of white bread with a fried omelet, tomato sauce, and topped with sugar.
Korean Street Toast or Korean Egg Toast is a go-to breakfast for locals on the go! A popular chain where you can try this food dish in Busan is the Isaac Toast.
#4 Dwaeji Gukbap (Pork Soup)
Pork Soup or Dwaeji Gukbap is a Korean staple food dish that you must try in Busan. It is a bowl of comfort food especially when you are feeling under the weather and need an energy boost. Dwaeji is pork in Korean and gukbap is rice soup.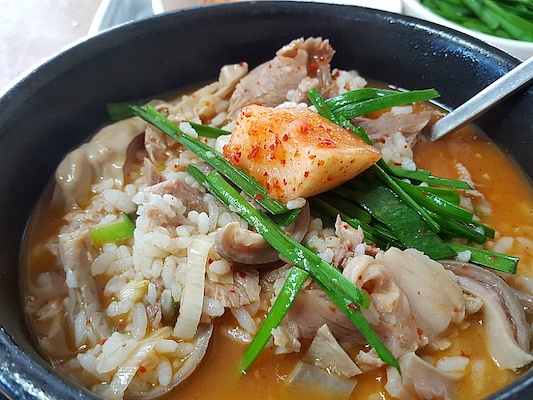 The soup preparation is with pork belly meat soaked in spicy bone broth with scallions. Preparation takes a long time which makes the broth creamy. There are additional ingredients like rice wine, sesame oil, and soy sauce. One of the top restaurants in the city where you can enjoy this comforting food dish in Busan is Masan Sikdang.
#5 Haemul Pajeon (Seafood Scallion Pancakes)
The traditional Korean pancake, Jeon, is made of rice flour, scallions, and a filling of meat or vegetables. As Busan is popular for its fresh seafood, it is obvious that the pajeon is made with a combination of seafood ingredients.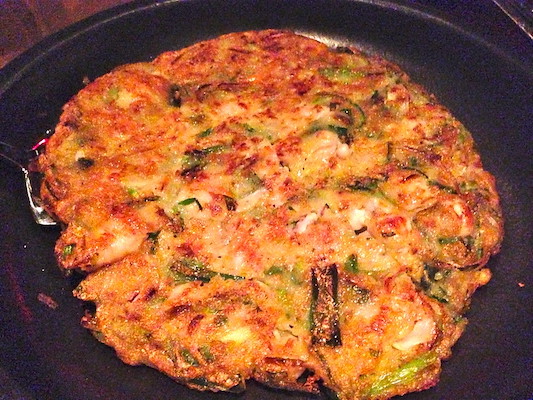 Haemul Pajeon is a favorite seafood in the city but it is also common around the city's restaurants. There are variations where seafood like shrimps, clams, squids, and oysters are a part of the pajeon recipe. You can enjoy some of the best fish pancakes near Jagalchi Fish Market in Busan.
#6 Milmyeon (Cold Wheat Noodles)
Milmyeon or the cold wheat noodles are traditionally prepared in cold broth containing beef, pear slices, and cucumber. The broth is topped with gochujang and diced hard-boiled egg. It's a traditional food dish in Busan and has been around since the Korean War days.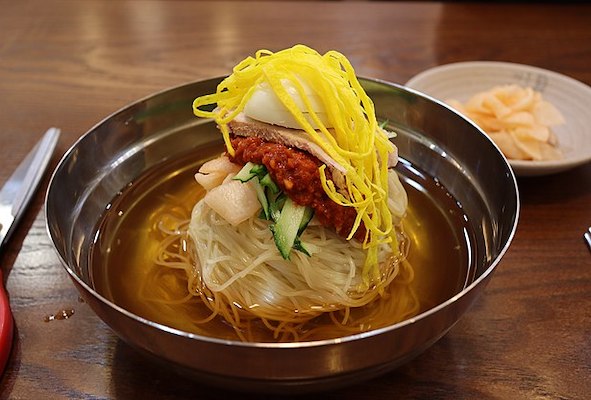 The noodles in this dish are either from wheat flour or starches like sweet potato. It is a popular summer dish in Busan that you can try at the Busan Milmyeon restaurant at the Suyeong subway station.
#7 Samgyeopsal Gimbap (Pork Belly Kimbap)
Samgyeopsal means pork belly in the Korean language and kimbap is the Korean version of sushi. Busan makes it own style of kimbap using pork belly filling that you can try at the Bupyeong Market (Kkangtong).
Usually, kimbap has different types of filling such as vegetables, meat, scallions, tuna, beef, and more.
#8 Ssiat Hotteok (Seed Pancakes)
Ssiat Hotteok is a local street food favorite in Busan that you can find in any of the markets in the city. The pancakes are rice flour pancakes with filling of seeds like pumpkin, sesame, or even sunflower.
You can get your fill of ssiat hotteok while you are on a shopping spree on the BIFF square!
#9 Moolhwe (Cold Sashimi in Broth)
Busan is famous for its local spin of the Japanese dish Sashimi. Moolhwe is a cold sashimi dish in a watery broth with vegetables in spicy soaked sauce. The broth is cooled down by using ice cubes or crushed ice.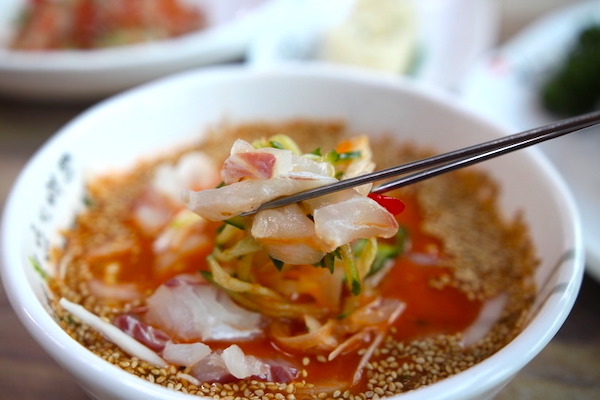 Myeongpum Mulhwae restaurant in Busan is one place you can enjoy this food dish during your trip.
#10 Busan Bibim Dangmyeon (Chewy Spicy Glass Noodles) 
Busan Bibim Dangmyeon are chewy glass noodles with topping of seasoned seaweeds, vegetables, egg, and a spicy sauce. It is different from milmyeon as the noodles in bibim damngmyeon are made with bean starch.
It is another go-to dish if you are in a hurry, especially during the lunch hour. Wonjo Kkantong Bibim Dangmyun in Jung-gu.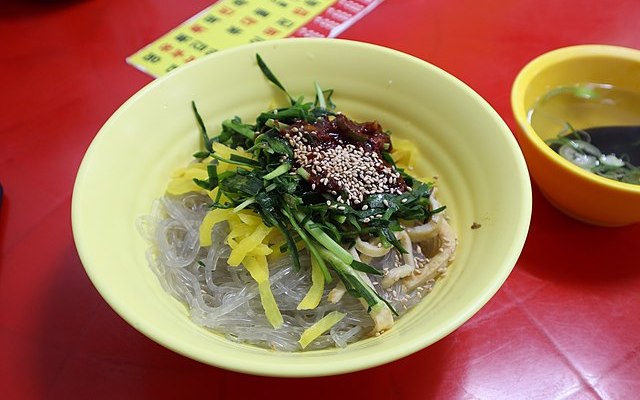 Read more about planning your trip to Busan on KoreaTravelPost:
4,291 total views, 5 views today