When it comes to South Korea, people focus on the futuristic city of Seoul. But, about 200 miles south of Seoul, the port city of Busan is full of cultural hostory. Located between towering mountains and sparkling East Sea, Busan is not only famous for its white sand beaches but also for its collection of amazing and beautiful Buddhist temples.
Here are seven of our favorite amazing temples of Busan that you need to visit to get your zen on!
#1 Haedong Yonggungsa Temple
Haedong Yonggungsa Temple is one of the world's most picturesque temple that's built into the rocky outcroppings of the East Sea. You can reach the temple via a wooden bridge that looks delicate. It was originally built in 14th century but was destroyed during the Imjin War and was then rebuilt in the 1970s.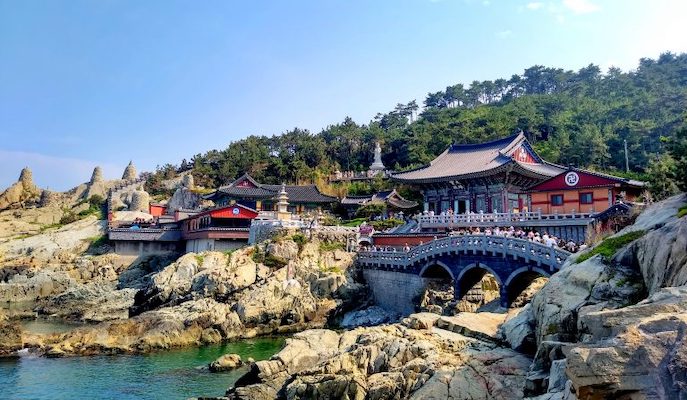 The temple is not only most beautiful but also unique in its location. It also has a great background story making it a place of spiritual pilgrimage. The Yacksayeorae Healing Buddha statue is a prominent feature that is quite popular amongst tourists.
#2 Beomeosa Temple
Beomeosa Temple is set on the slopes of Mount Geumjeongsan in Busan amongst the leafy vegetation. It is one of the three major temples of South Korea and an important hallmark of Korean Buddhism. Like a lot of places in Korea, it was destroyed during the Imjin War. Although it was first established in the year 678, the current building is a restoration from 1613. It is one of the best examples of Joseon dynasty architecture.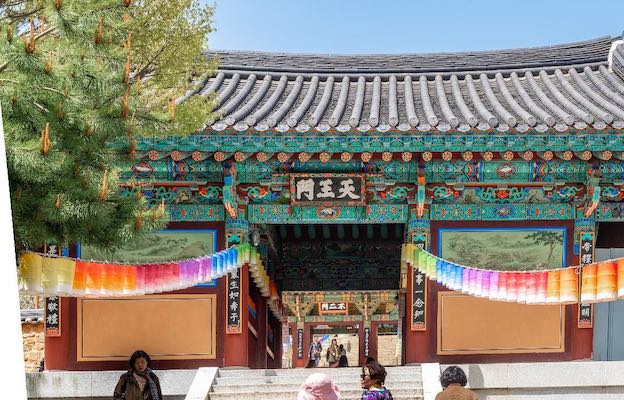 Visit to Beomeosa Temple is a must when it comes to planning a trip to Busan. It makes up for an excellent day trip from Busan where you can enjoy the magnificence of nature and find peace in the temple tranquility. You can even enjoy temple stays at the Beomeosa Temple where you can participate in activities like meditation, chanting, and tea ceremonies.
If you are an avid Instagrammer, plan a trip during Buddha's Birthday celebrations and you will see some spectacular sights! Whole temple is decorated with thousands of paper lanterns making it shine bright in the night and colorful like a rainbow during day.
#3 Seokbulsa Temple
It is one of the most secluded temples in Busan. Seokbulsa Temple is built into the sandstone cliffs of the highest mountain of Busan, Mount Geunjeong.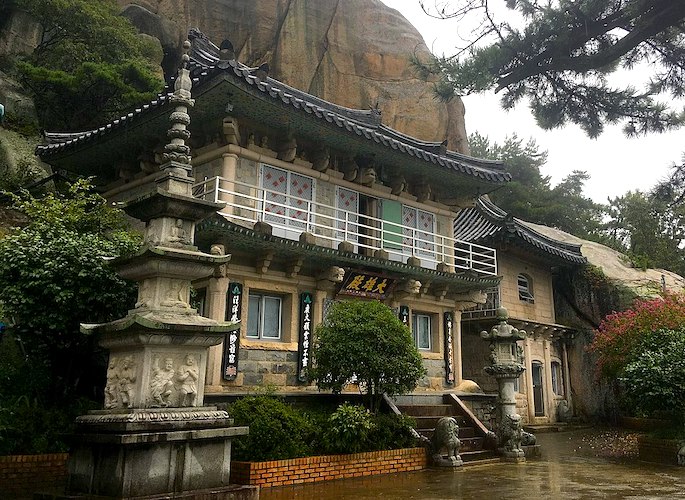 You can reach the temple after a 3 to 4 hour hike from the base of the mountain. Not only is the temple a beautiful sight, the views during the hike are worth making the trip. The temple is famous for all the assortment of Buddha reliefs carved into the cliff face.
#4 Samgwangsa Temple
Samgwangsa Temple is a colorful gem nestled against one of Busan's many towering mountains. It is famous for its annual lantern festival in spring to celebrate Buddha's birthday.


You can reach the temple via a stone staircase that is flanked on both sides with rock gardens. The main temple hall has sloping tile roof and wood rafters. This kind of architecture is the specialty of the Joseon dynasty era.
#5 Seonamsa
The quaint temple sits amid woodland on the slopes of Mount Baekyang. Seonamsa Temple in Busan shares its name with another temple that is a UNESCO World Heritage site in the city of Suncheon. The Seonamsa Temple in Busan is over 1,000 years old and was established by a monk during the Silla period.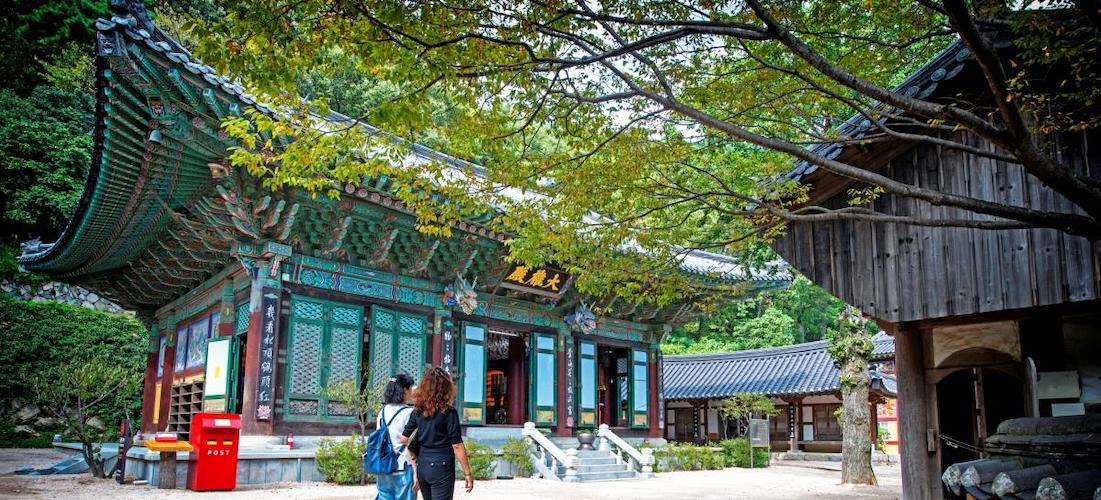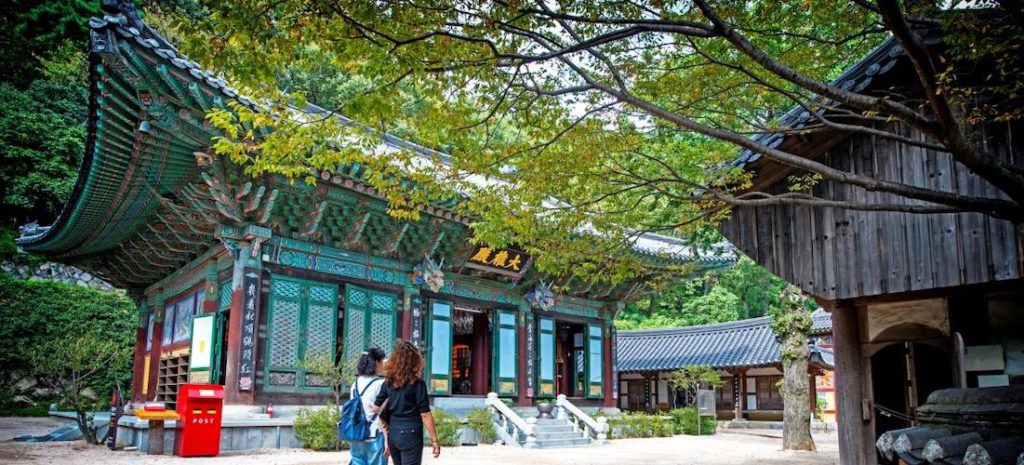 Unlike the other temple, remote location and not easily accesible makes it all the more charming. You have to take a narrow staircase to reach the first three levels of the temple. These are set against some steep and sharp stone backdrop. After reaching the top, you can simply relax and contemplate life while sitting on a bench outside the temple.
You can take a public taxi to reach the temple but it is not very popular so you might need help from a local for help in navigation. It's isolated location makes it one of the unique temples in Busan.
#6 Hongbeopsa Temple
Hongbeopsa Temple in the north countryside of Busan is home to the largest seated Buddha statue in South Korea. The Buddha statue is 69-foot-tall (21 meters) and it sits on top of a 148-foot-tall (45 meters) building. The large bronze Buddha statue is like a beacon of Buddhism for several miles around.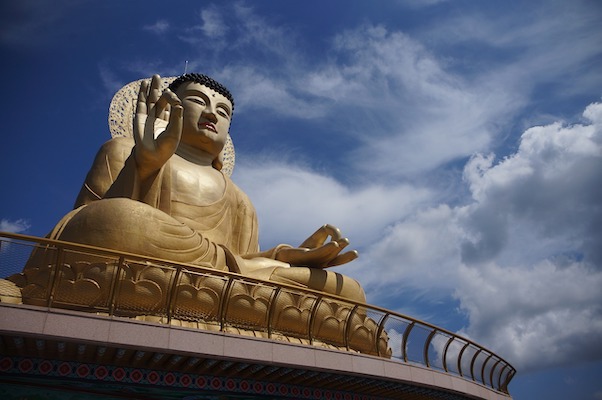 The temple is also home to a whole lot of speices of plants and flowers which are seasonal. Even the park grounds have multiple small Buddha statues, kimchi jars, and a lotus pond. Overall, the vibe of the temple is perfect for a sedate walk, a session of meditation, or even picnic.
If you are looking for a deeper connection, Hongbeopsa Temple also offers templestay program. You can get a closer look into the life of a Buddhist monk.
Read more about Busan from KoreaTravelPost:
3,628 total views, 7 views today