Solo women travelers in Busan don't really have lots of resources about tips and tricks regarding trip in South Korea. There are several guides that cater to things to do in Busan but not many focus on what will be interesting for solo women travelers.
Here's our short guide to top tourist attractions for solo women travelers in Busan that a woman would enjoy!
Busan For Solo Women Travelers
The second-largest city of South Korea, Busan, has multiple attractions to entice travelers. From hot springs to hip-art-districts, the city has it all, and you would be surprised to see what else this beautiful city has to offer. Tourists oftern ignore Busan in the shadows of Seoul and Jeju Island, but it is a city that shouldn't be missed from your South Korea travel itinerary.
Compared to Seoul, Busan has a more laid back and relaxed vibe. If you are looking for a break from the hub-bub of city life, Busan is the right place to find some peace and rejuvenation.
Being a metropolis Busan also has a subway line, which should be your primary mode of transportation if you are a solo woman traveler on a budget.
Read more: A Public Transportation Guide from Seoul to Busan
Shopping
We know exactly what makes a woman happy, and that is shopping. A solo woman traveler should head out to Dongseongo street and shop her heart out. The area is a major fashion district and is a perfect place for some retail therapy. Remember that you will most likely leave the street with a considerably lighter wallet and a hand full of shopping bags, so keep that in mind.
You can also check out Shinsegae, world's largest department store for shopping.
Beaches
Busan has one of the best beaches of South Korea. Haeundae is the most famous beach and its always crowded. So, if you plan a visit, make sure that you arrive early in the morning and pick yur spot. As you gaze along the beach, you will only be able to see the tops of sun umbrellas. Gwangali is another beach that is just around the corner from Haeundae and it is much less crowded.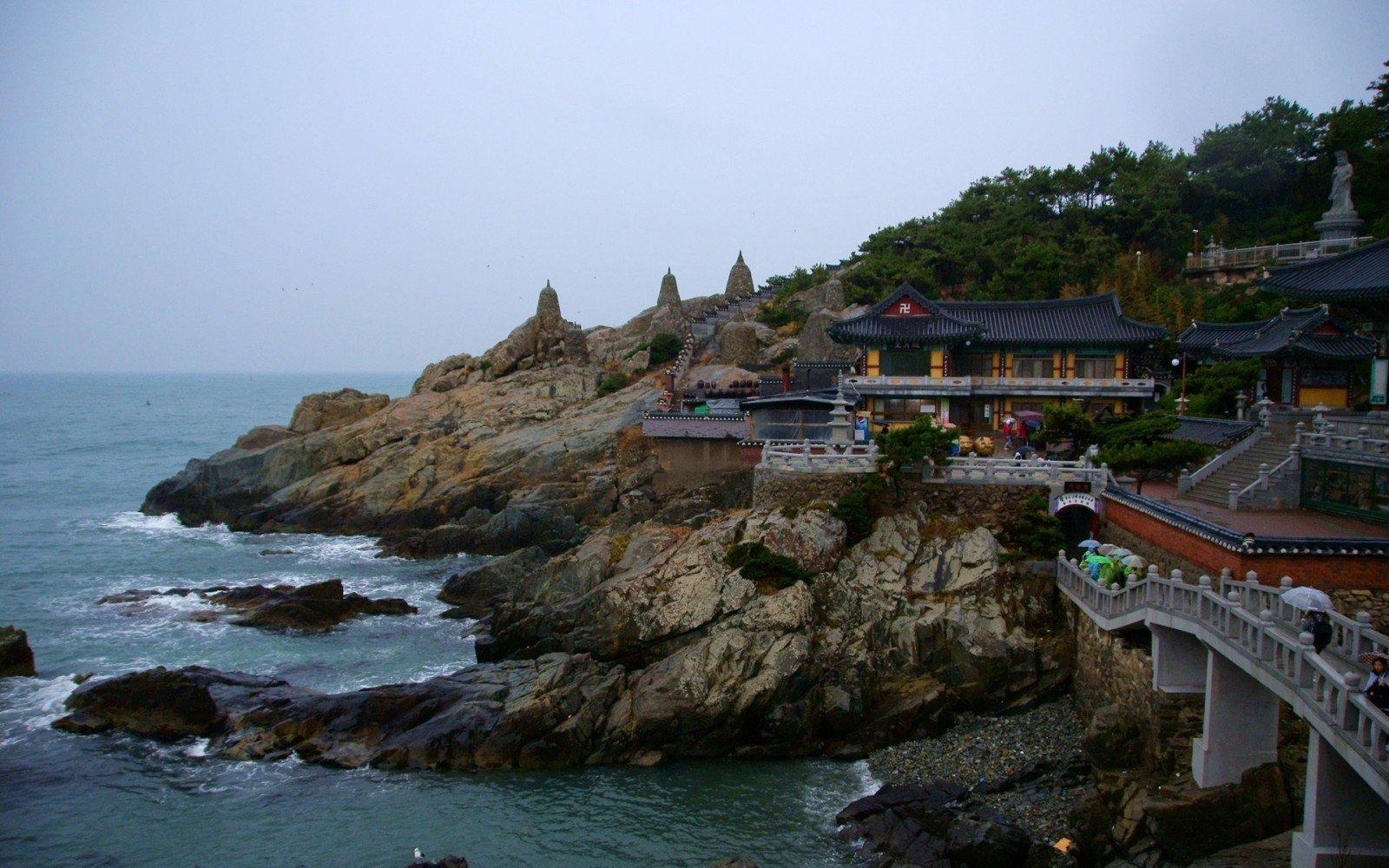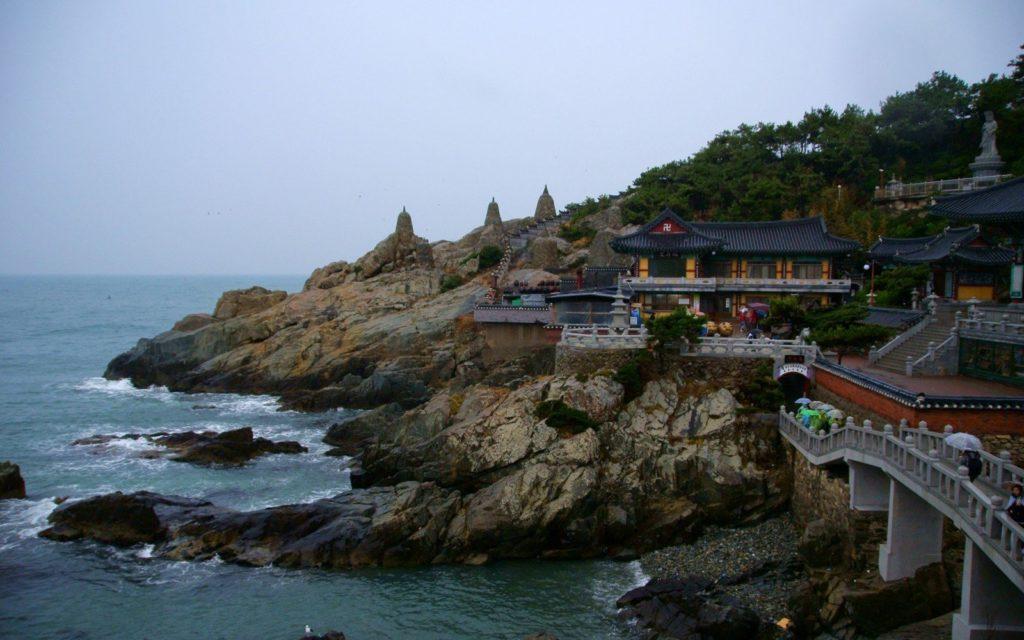 Templestays
To get the authentic Korean and Buddhist experience, try to stay in a temple if you are up for it. The Beomasa temple on the slopes of Mount Toham offers the tourists a temple stay program. It's an excellent opportunity for a solo woman traveler in Busan to experience the day-to-day life of a monk while attending various meditation sessions and tea ceremonies. It will be an experience you would cherish for the rest of your lives.
Haeundae Yongungsa is one of the most impressive temple in Busan.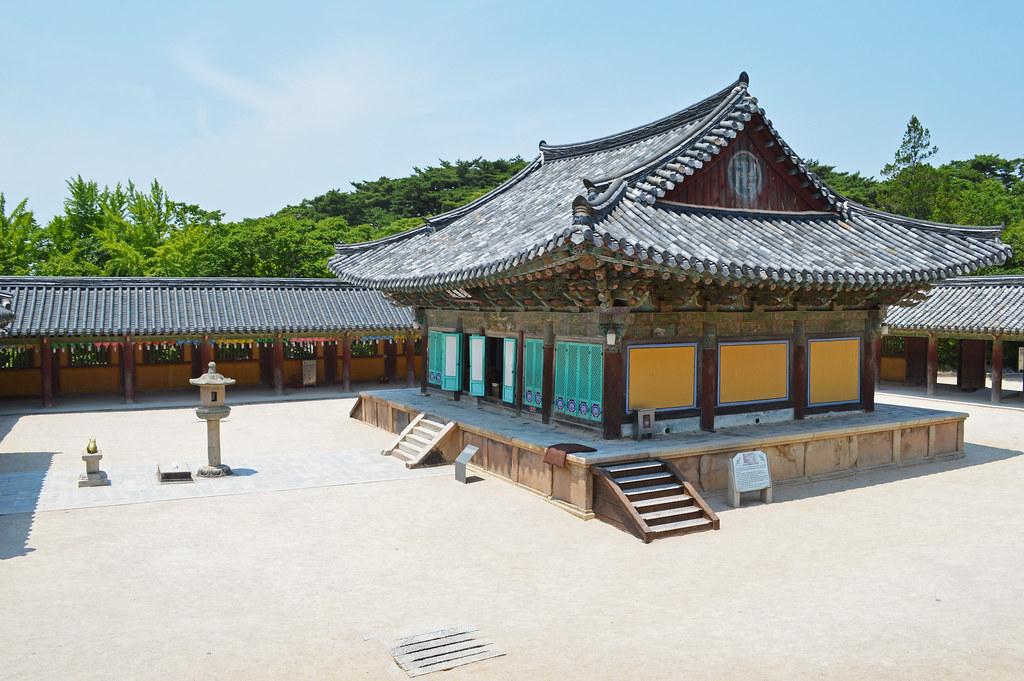 Skywalk
Want to feel like walking in the sky while on your trip to Busan, then head over to the Oryukdo Skywalk. It's a transparent glass bridge that extends over the cliffs at the edge of the ocean. The magnificent views of the ocean and the surrounding areas from the skywalk would be a feast for your eyes.
Korean cuisine
A solo woman traveler or any visitor should know one food item that is synonymous with Korea, and that is Kimchi. When in Busan head over to the Gukje market to try the authentic Kimchi, remember to pair it with other street foods in the market and make it into a satisfying meal.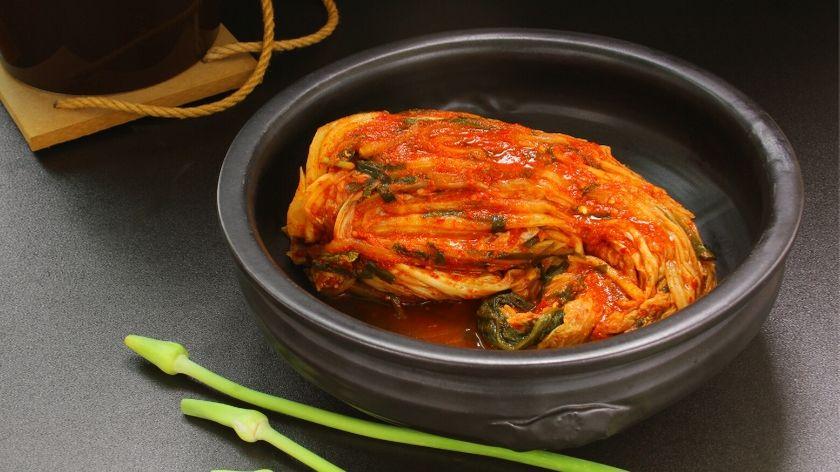 When in Busan, you cannot escape the charm of the Gamcheon Cultural Village. It is one of the most interesting corners of the city. The village provides the city with the much-needed face color, which otherwise is filled with styleless and faceless buildings. It won't be wrong to say that the village is the "Santorini of Korea." Once there, you must wander in the alleys of the village and uncover the bright wall murals, small craft stores, art galleries cafes. It's an experience you would remember for a long time.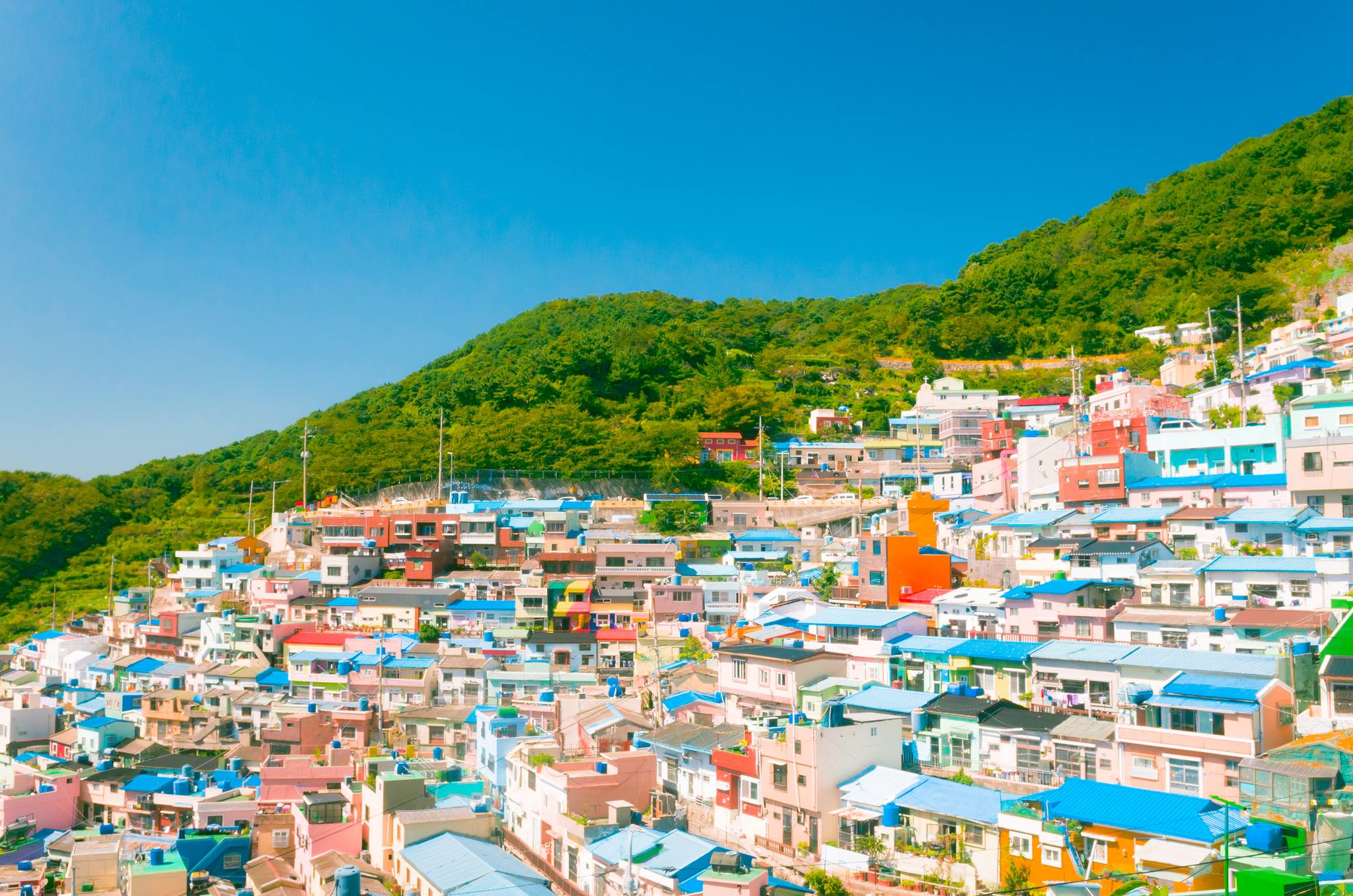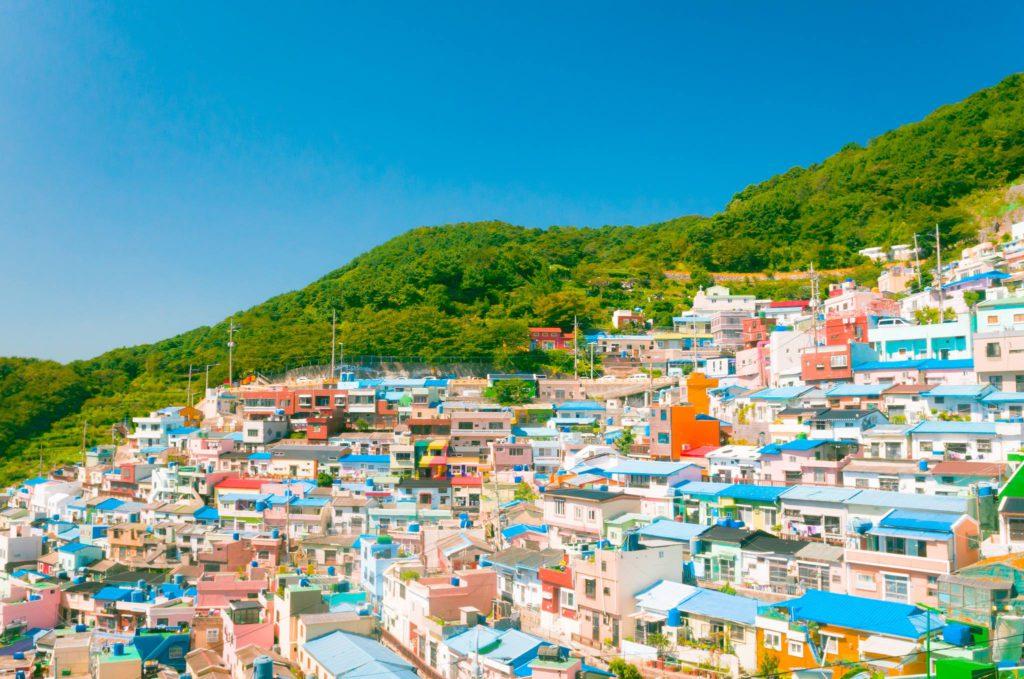 Korean Jimjilbang
One more relaxing experience a solo woman traveler could enjoy is to visit a Korean Jimjilbang or even spent a night there. Jimjilbangs are gender-segregated bathhouses where you could relax by enjoying a bath, massage, and saunas. They are open 24/7 and are a cheap accommodation place so you could spend a night there if you feel like it.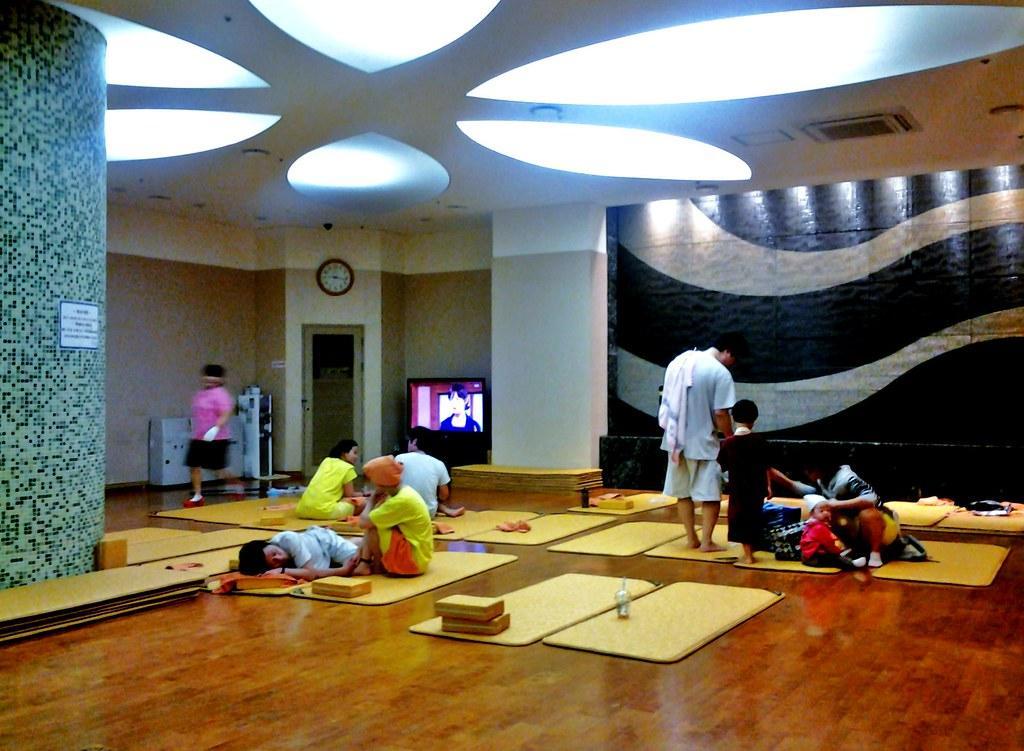 You can also check out our other guides for solo women travelers:
Which is the one that you are most looking forward to? Share in the comments below!