Asia is always a paradise for tea lovers. Although South Korea isn't world-famous for its teas and locals prefer coffee over tea. But they do appreciate their traditional tea ceremony, and many Korean tea houses keep the traditions alive.
History of Korean Tea
In its early years, tea was considered a luxury drink, and something meant for royal families to enjoy. The tea came from Buddhist monks in Hadong County who consumed it as a source of calm and refreshment of mind. 
Up until the 14th century, it was a crucial part of Korean culture with an elaborate tea ceremony. But, between then and the 16th century, it fell out of popularity. It rose back again in popularity in the late 16th century. This pattern continued over many years, and every time it became uncommon, it found a place in Buddhist temples.
Nowadays, tea is competing with coffee as the beverage of choice. And even though it is not popular amongst the younger generation, some of the best loose leaf tea comes from Korea. 
Check out: Everything you need to know about Korean tea.
Types of Korean Tea or 'Cha'
There are many different types of Korean tea, such as leaf tea, grain tea, seed tea, flower tea, root tea, and fruit tea. Every part of a plant has been used to make some type of tea or other.
Each of these teas has a unique flavor and taste. Not only that, but they also have so many health benefits ranging from detox to cooling down the body.
| Korean Teas | Made From |
| --- | --- |
| Deachu-cha | Jujube |
| Gyepi-cha | Cinnamon |
| Insam-cha | Ginseng |
| Omija-cha | Dried magnolia berries |
| Yulmu-cha | Powdered Job's tears and nuts |
| Bori-cha | Roasted barley |
Korean Traditional Tea Ceremony or 'Darye'
In Korean culture, drinking tea is not just a simple act of consuming a beverage. It is an experience to enlighten and involve all your five senses.
The traditional Korean tea ceremony is called 'darye,' which translates to 'etiquette for tea.' it's a thousand years old tradition to bring calm and peace to your mind.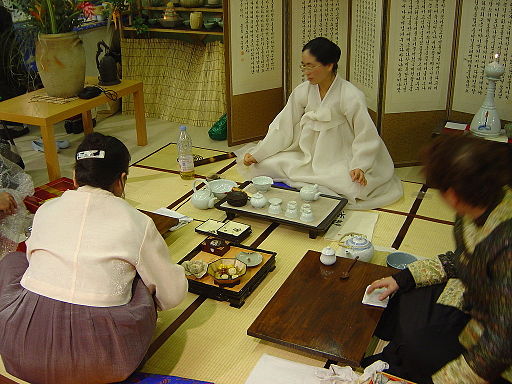 There are three different types of Korean tea ceremonies – royal darye, seonbi darye, and friends darye. Royal darye as the name suggests is meant for kings, and it can last for up to 8 hours. The second type, seonbi darye, is for Korean Confucian scholars. Friends darye is the most casual amongst all and is somewhat similar to the afternoon tea of the West.
Korean Teahouses in Seoul
While Seoul is well-known for its contemporary and Instagrammable cafés and coffee culture, the city is also home to some of Korea's charming teahouses. These teahouses pay tribute to the country's ancient tea traditions.
Whether you want to sample the different flavors of handcrafted beverages or want to experience the traditional Korean tea ceremony, these teahouses will offer a true Korean tea experience. The experience is unmatched by any other café in the country. 
Here are a few Korean teahouses in Seoul. You can check out the Top 6 Authentic Korean Teahouses in Seoul here. 
Suyeon Mountain Tea Room
The name literally translates to 'gathering house of writers in the mountain.' Suyeon Sanbang was the home of novelist Taejun Lee. Now it has been remodeled and turned into a teahouse. It's a real gem in all the seasons, with a splendid view of the garden that keeps changing.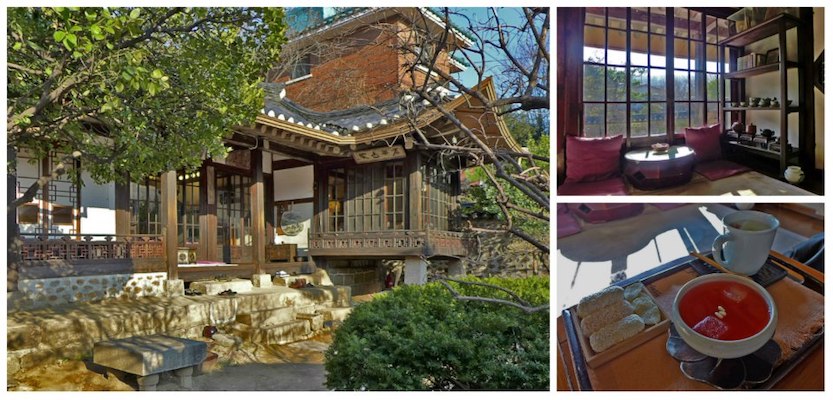 Tteuran Tea House
Gaze through the large windows of the teahouse and enjoy the serene courtyard garden. There is a certain tranquility that comes with the view that lets you forget about your worries.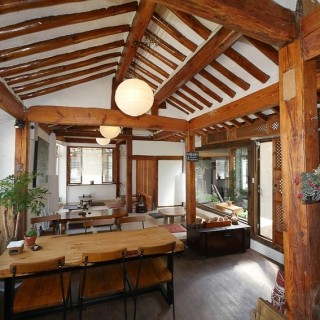 Korean Teas at Home
While you're at home, you can still enjoy a cuppa of Korean tea. You might not get the full experience of the traditional ceremony, but you will undoubtedly enjoy these teas.
Check out: Best 5 Korean detox teas available on Amazon.
It's a natural caffeine-free organic roasted barley tea with zero calories. You can enjoy the tea in either hot or cold form based on your choice. It can promote digestion, and detox, and is an effective treatment against nausea. 
The tea is made from ginseng roots and alleviates stress and fatigue. It has anti-oxidant properties that will help in boosting the immune system. 
Have you tried Korean tea before or are you looking forward to experiencing the traditional Korean tea ceremony in Seoul? Let us know in the comments below!
Love it? Pin it!