All of us have heard about 'Kimchi' at least once, especially if you are familiar with Korean food. It's a traditional side dish of Korea made of salted and fermented vegetables. Kimchi is a staple of all Korean foods and is well known among people who plan to visit South Korea. But, there's always room to learn more about the Korean food kimchi before you get to travel to South Korea. 
Overall, the texture and taste of kimchi is crunchy, sweet, tangy, and can be spicy based on the type of preparation.
For those who don't know anything about it, at its very basic level, it is like a pickled cabbage served as a side dish with any meal in Korean cuisine. 
Traveling to Korea, you might find kimchi in pizzas and hamburger!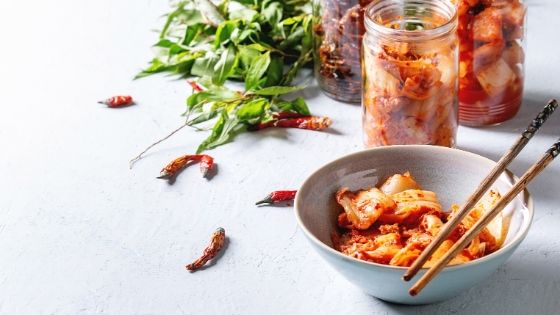 The Story of Kimchi Origins
Very few people know the origins of the kimchi side dish. It started out like most simple fermented vegetable dishes in the 4th century. During the earlier times, there were no ways to store foods for a long time, so fermentation was the way to go.
From the 5th century up until the 12th century, vegetable fermentation was most commonly done using salt or soy sauce. It was referred to as jangajji.
After the 12th century, additional ingredients like ginger and garlic were added, and kimchi separated into two types – seasoned kimchi and water kimchi.
Next came up the seokkbakji kimchi in the 15th-16th centuries with the addition of salted seafood (jeotgal).
The kimchi, as we know today, with gochu (Korean chili pepper) did not come into existence until the mid-Joseon era in the 17th and 18th centuries. Introduction of chili peppers in Korea led to seasoning being placed between each leaf of a whole cabbage, creating tongbaechu kimchi (whole cabbage kimchi), and bossam kimchi (wrapped kimchi).
The Evolution of Kimchi – Different Types of The Dish
As mentioned earlier, there are many different ways to make the tasty dish of Korean food, and they have evolved over time. According to records, there are over 300 unique types of kimchi! Each of them has a unique zingy twist in regards to flavor. They can be sorted based on the region of creation, season, ingredients, and even the presentation of the dish.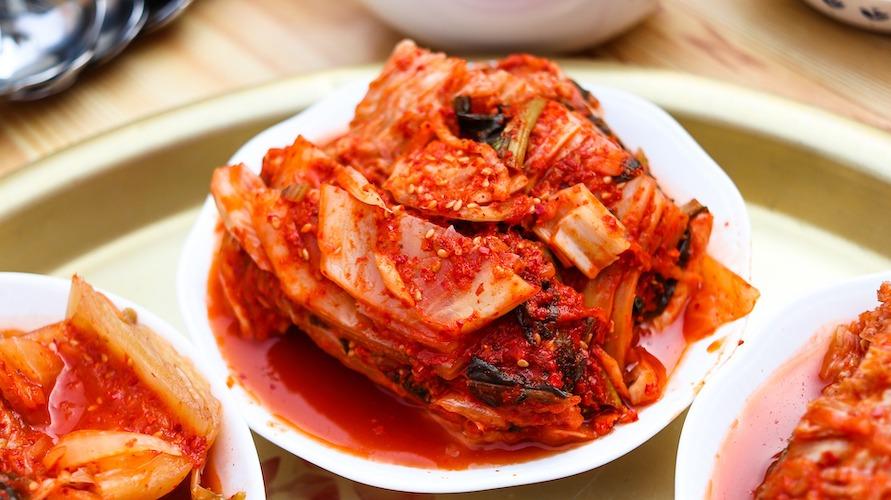 Regional Variations of Kimchi
Each region has its own way of making kimchi.
Seoul and Gyeonggi-do Area – The kimchi is neither too salty nor too bland, and uses a lot of jeotgal in the seasoning. Restaurant kimchi is similar (baechu kimchi or cabbage kimchi).
Joella Region – The kimchi is both spicy and salty. Signature Jeolla region kimchi varieties include godeulppaegi kimchi (Korean daisy kimchi), gat kimchi (leaf mustard kimchi) of Haenam, and dongchimi (radish water kimchi) from Naju.
Gangwon-do Region – Being close to the ocean, gajami sikhae (spicy fermented flounder), or squid is a part of kimchi.
Chungcheon Region – Kimchi preparation includes jogi jeot (salted yellow corvina), hwangseogeo jeot (salted yellow croaker), or saeu jeot (salted shrimp).
Seasonal Variations of Kimchi
Kimchi is a popular year-round dish, but the preparation varies based on the seasonal availability of the ingredients.
Spring – minari kimchi (water dropwort kimchi) and eolgali baechu kimchi (winter-grown cabbage kimchi)
Summer – water kimchi types such as yeolmu kimchi (young summer radish kimchi) and kimchi using cucumber
Fall – kimchi with Korean chili pepper, kkaennip (perilla leaf), and jjokpa (Chinese onion)
Winter – strongly seasoned kimjang kimchi
Benefits of Kimchi
All the ingredients used in the preparation of kimchi are not only unique because of their flavors, but also in the fermentation, preservation, food hygiene, and nutritional value of the Korean food. 
According to Health Magazine, kimchi is one of the five healthiest food in the world. It has several beneficial bacteria that aid in digestion, and the gochu garu makes kimchi a great source of vitamin C.
Kimjang Culture – The Culture of Sharing Kimchi
Kimjang refers to the time when Korean families get together to make large quantities of kimchi, which they share with relatives or people in the community.
The traditional Korean culture of Kimjang has continued for generations. It allows people to feel a sense of belonging, and to put Jeong, a Korean feeling of attachment and social collectiveness, into practice.
Kimjang was also recognized as an Intangible Cultural Heritage of Humanity by UNESCO in 2013.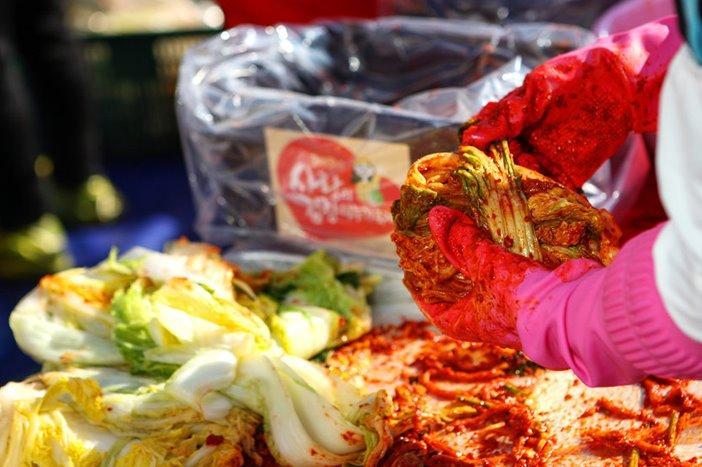 Eating Kimchi In Korea
Well, if you haven't tasted kimchi before your trip to South Korea, knowing more about this Korean food is definitely gonna be helpful. 
The first thing that you will notice about kimchi is that it is spicy. Once you get used to the level of spiciness, you can appreciate the taste and deliciousness of the dish.
The texture of kimchi should always be crunchy – like eating a carrot. If it is mushy and soft, then it is not a good kimchi. It's not all bad, but it definitely isn't the best you can get.
Although you can't travel right now, but if the post got your mouth watering for trying the dish, you could probably find kimchi at your local Asian supermarket.
Typical Korean Kimchi That You Will Get Across in Korean Restaurants
Baechu Kimchi (배추김치)
The whole cabbage kimchi is one of the most popular kimchi on the list. It is served with all meals. Favour-wise, it's not very spicy but rather mild. Baechu Kimchi is made with salted napa cabbages with spicy seasonings such as gochujang (red pepper paste) and chili pepper powder.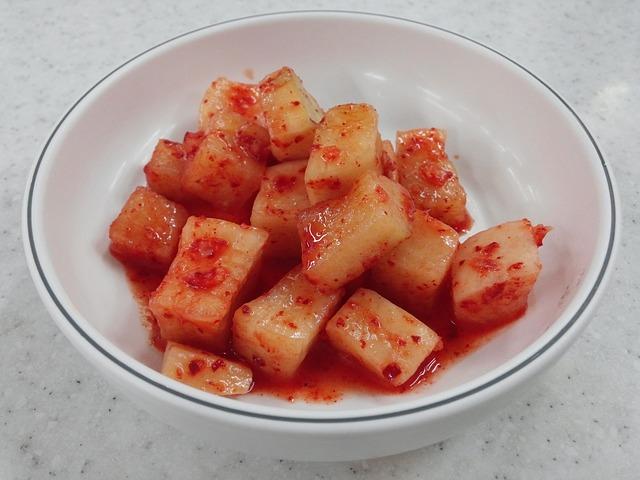 Ggakdugi Kimchi (깍두기)
Ggakdugi is made of cubed white radish. It's the next common kimchi in Korean after baechu kimchi and is usually served with soups. Overall, the color of the kimchi is red, but it's not too spicy. It is generally quite sweet and crunchy.
Yeolmumul Kimchi (열무물김치)
Green water kimchi is perfect for hot and humid Korean summers. Yeolmumul kimchi is made of yeolmu radishes, and it is not too spicy since it is watery. When the dish is combined with thin white noodles, it's a delightful dish for hot summers.
Chonggak Kimchi (총각김치)
Chonggak kimchi is also known as ponytail radish kimchi. It is made of salted and fermented young radishes. If you love spicy food, then the chonggak kimchi is perfect for you.
Want to Know More About Kimchi?
Did you know there is a Korean museum dedicated to the iconic Korean food, kimchi? Museum Kimchikan is the first museum where you can learn more about the story of kimchi and how it has evolved over the years. Plan a trip to Museum Kimchikan to see how the dish has evolved with more t
Museum Kimchikan
The museum is located in the center of the popular area of Insa-dong. Museum Kimchikan features many exhibitions and experiences to learn about kimchi. It is the only museum in Korea that is included in CNN Travel's list of 11 of the world's top food museums.
You can freely explore the exhibitions and also use an audio guide device to learn more about all the different exhibits.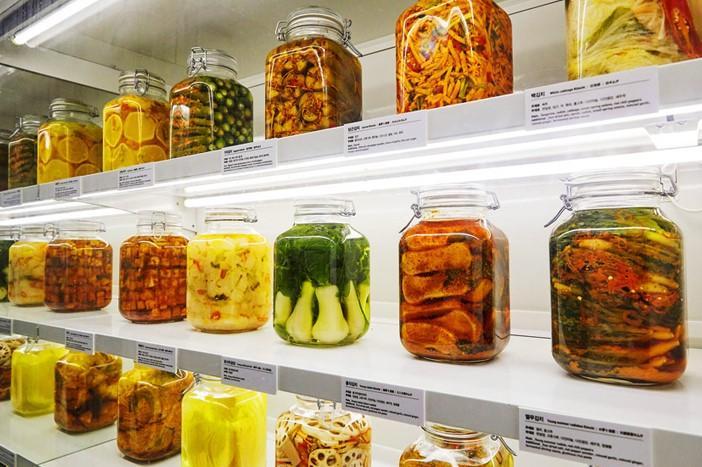 There is a unique space in the museum that shows different types of kimchi or fermented food from across the world. The room, known as kimchium, is temperature-controlled like a walk-in refrigerator with long shelves lined with glass jars.
There are kimchi-making programs for international visitors who want more hands-on knowledge. You can choose to make either spicy baechu kimchi or the non-spicy baekkimchi (white kimchi). And the best part, you can take the kimchi you made back home.
Museum Kimchikan
Address: 4-6F, 35-4, Insadong-gil, Jongno-gu, Seoul
Directions: Walk for approx. 5 min from Anguk Station (Seoul Subway Line 3), Exit 6 or Jonggak Station (Seoul Subway Line 1), Exit 3 or 3-1
Operating hours: 10:00-18:00
Closed Mondays, January 1, Seollal (Lunar New Year's Day) & Chuseok (Korean Thanksgiving Day) holidays, Christmas Day
Admission: Adults 5,000 won | Children 3,000 won | Preschoolers 2,000 won
Hands-on programs: Baekkimchi 20,000 won | Tong baechu kimchi 20,000 won | One-day kimchi 6,000 won | Kimchi craft (tote bag) 6,000 won
Website: www.kimchikan.com
Tell us your thoughts about kimchi. Does it sound appetizing? Does your local Asian supermarket have kimchi? Have you ever tried kimchi before?
Let us know by writing your comments below!
Image Credits: Pixabay and Korea Tourism Organization – VisitKorea
What's your thoughts?
+1
+1
+1
+1
+1
+1
+1