Gamcheon Culture Village, Busan, is one of the best Instagram spots in South Korea with its colorful and artistic stacked houses.
Gamcheon Culture Village sits atop the hillside of coastal Busan, South Korea. It is quintessentially, beautiful, and quirky, and it feels like you are somewhere in Europe.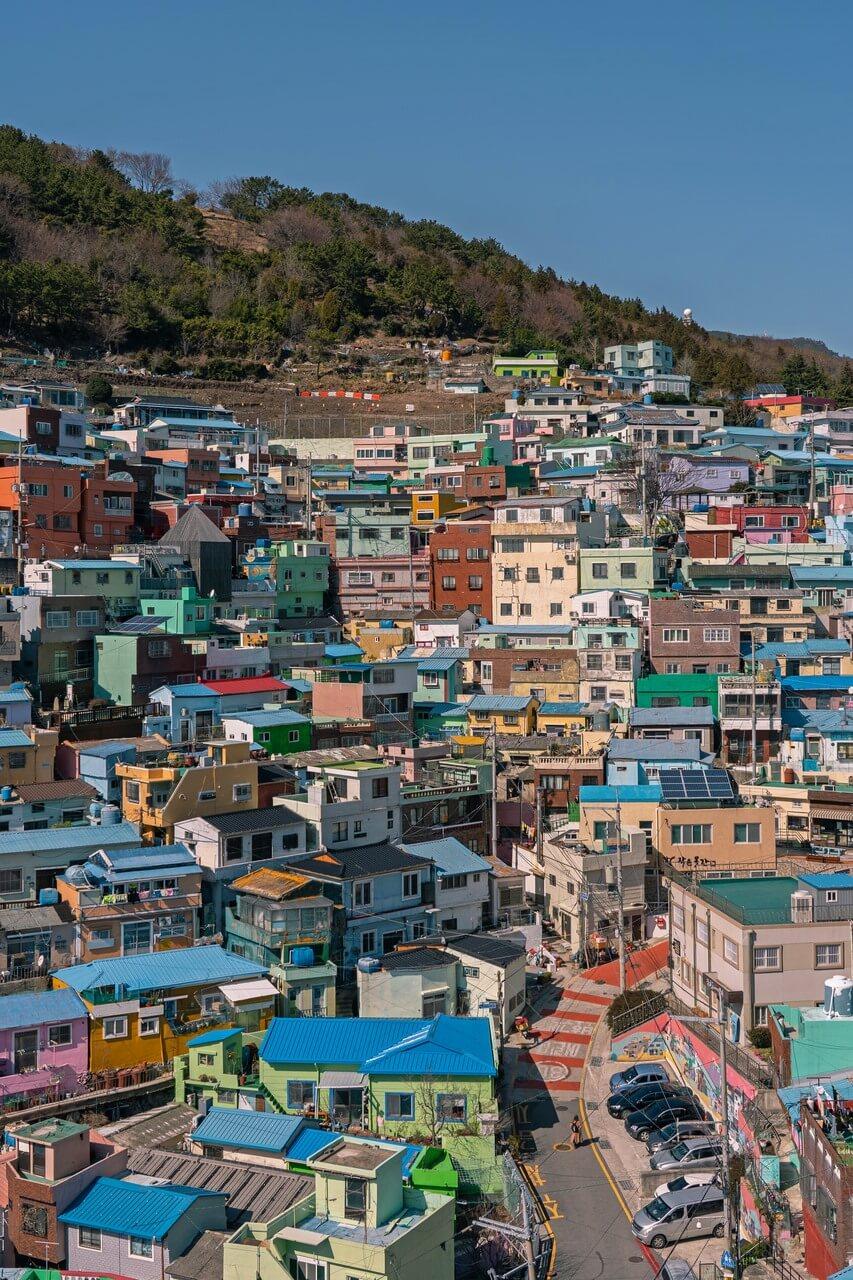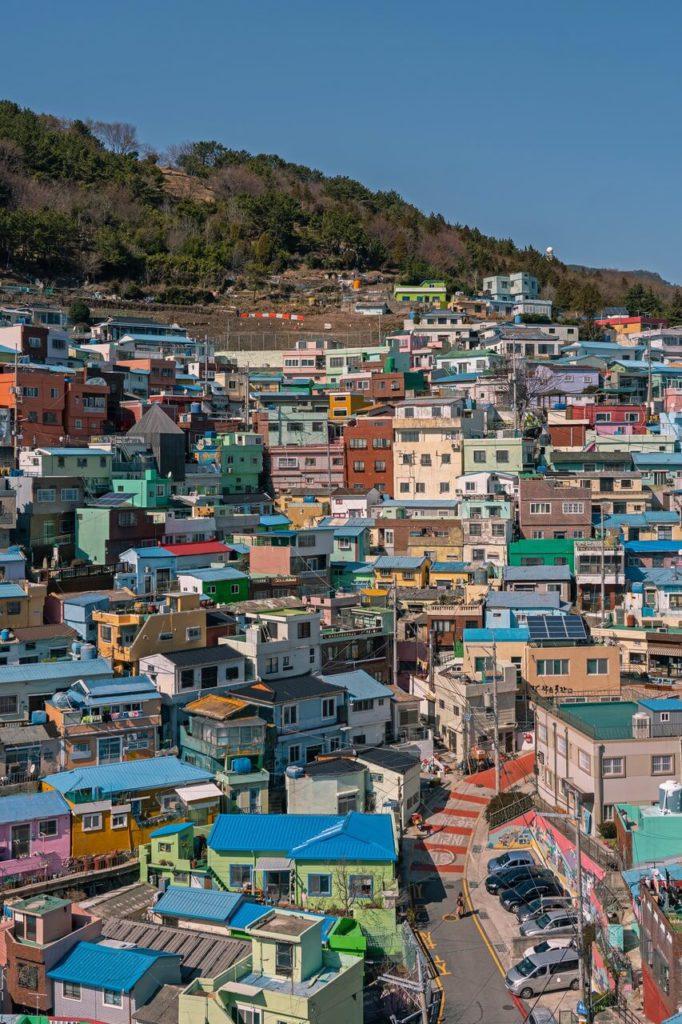 Visiting the pastel-colored houses is a must for every tourist in Busan. Whether you like arts and culture, cute or quirky things, Gamcheon Culture Village will definitely have something for your enjoyment. It will become a definite highlight of your South Korea trip.
Busan, the second-largest city in South Korea, is well known for its long beaches, delicious Korean food, and many hiking and trails opportunities. But, the Gamcheon Culture Village is still one of the top attractions in Busan.
About Gamcheon Culture Village (부산 감천문화마을)
It has quite a fascinating history. It started as one of the poor shantytowns in 1950 and then later became a refuge during the Korean War. Since 2009, Gamcheon Culture Village has been transformed into a popular touristic, artistic, and creative community hub. The "Gamcheon Village Art Project" initiative was taken by the Ministry of Culture, Sports and Tourism. Local artists and entrepreneurs revamped the area to create an incredible and colorful community. They added artistic vibe to everything – streets, houses, and even shops.
As the village is perched on the Busan hillside and it faces the sea, it has earned several nicknames – "Santorini of South Korea," "Korea's Machu Picchu," or "Lego Village."
Houses in the village are built in a staircase-fashion on the foothills of a coastal mountain. It looks like tiny Lego houses stacked like a staircase.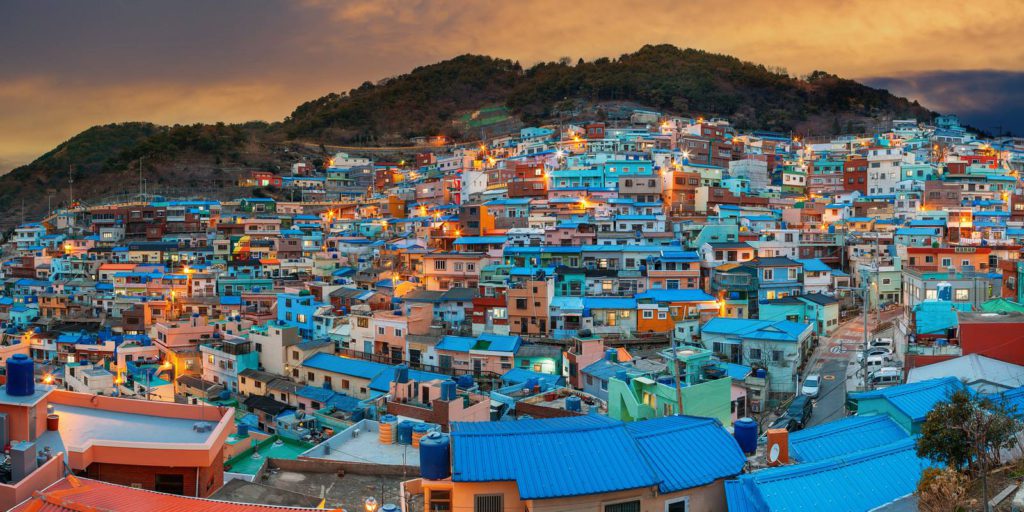 Plan Your Visit to Gamcheon Culture Village
It's a beautiful and artistic village that is a perfect Instagram worthy attraction. You need at least 2 to 3 hours to walk through the village and enjoy the sights.
How to Reach to Gamcheon Culture Village
Getting to the Gamcheon Culture Village is simple and easy.
Goejong Station ( Line 1, Exit 6). Take bus Sakha 1 and 1-1 to Gamcheon Culture Village.
Toseong Station (Line 1, Exit 6). Walk straight, then turn right onto Kkachigogae-ro and walk towards the bus stop. Take local bus Saha 1-1, Seogu 2, or Seogu 2-2 to Gamcheon Elementary School (감천초등학교).
Jagalchi Station (Line 2, Exit 3/5/7). Walk towards the right and turn right onto Bosu-daro. Walk a bit, cross to the road and walk towards the bus stop on your right. Take local bus Saha 1-1, Seogu 2, or Seogu 2-2 to Gamcheon Elementary School.
Entrance Fee & Opening Hours
There is no entrance fee to the Gancheon Culture Village, and it is open 24/7. As it is a village inhabited by local people, it is open daily. Though, from a tourist's perspective, most cafés and shops open between 9 am to 6 pm.
The best time to visit Gamcheon Culture Village
You should visit the village either in the morning or in the evening, close to sunset. During the say, the village gets pretty busy, and it might feel too overcrowded. And, during the summers, the temperatures can get very high in the middle of the day.
Things to Do in Gamcheon Culture Village
There are so many things to do in Gamcheon Culture Village. Even the streets of the village are like an open art museum with beautiful murals and sculptures everywhere. The best way to explore is via walking; that way, you won't miss out on anything! It'll be like mini-hiking as the village is built between the mountains.
Collect Stamps and Win a Prize
As soon as you enter the village, you can purchase a map of the village from the Tourist Information Centre. If you are thinking, "why would I need a physical map when I have everything on my phone?" The map is very artistic, and it's also something that can get you a prize! A map costs 2000 won ($1.75), and if you collect six stamps on the map, you get a FREE postcard. And if you collect 12, you get two postcards. Who doesn't love some free stuff, and the map just costs less than $2!
The map also shows you recommended routes and all the places of interest, including cafés, art installations, restaurants, museums, and so on.
Stamp Locations on the Map
Little Museum, Haneul Maru, Asteroid B612 Souvenir Shop, Ocean Photo Zone, House of Peace, Modern Man, House of Hope II, Gamnae Eoulteo, House with Puppies, Happy Power Station, Gamcheon Loess Salt Company, Message of Hope
Wander and Get Lost in Labyrinth of Alleys
While the map is certainly helpful, one of the best ways to explore Gamcheon is to wander about in its labyrinth of alleys. You can get an idea and feel about what the local life is like as it is very much a residential area.
"Not All Those Who Wander Are Lost"

JRR Tolkein
Most people are friendly, but you should respect their privacy and not be disruptive and loud.
Marvel at the Exquisite Street Art
Art is not just housed in museums in Gamcheon. You can find the artistic touch of local artisans, painters, and sculptures in the streets of Gamcheon. All the art was designed under the theme of 'Dreaming of Busan Machu Pichu.' Instagram lovers indeed find themselves enjoying the brightly colored houses and murals in the village. The map you purchased, in the beginning, will help find the artworks and paintings scattered around the village.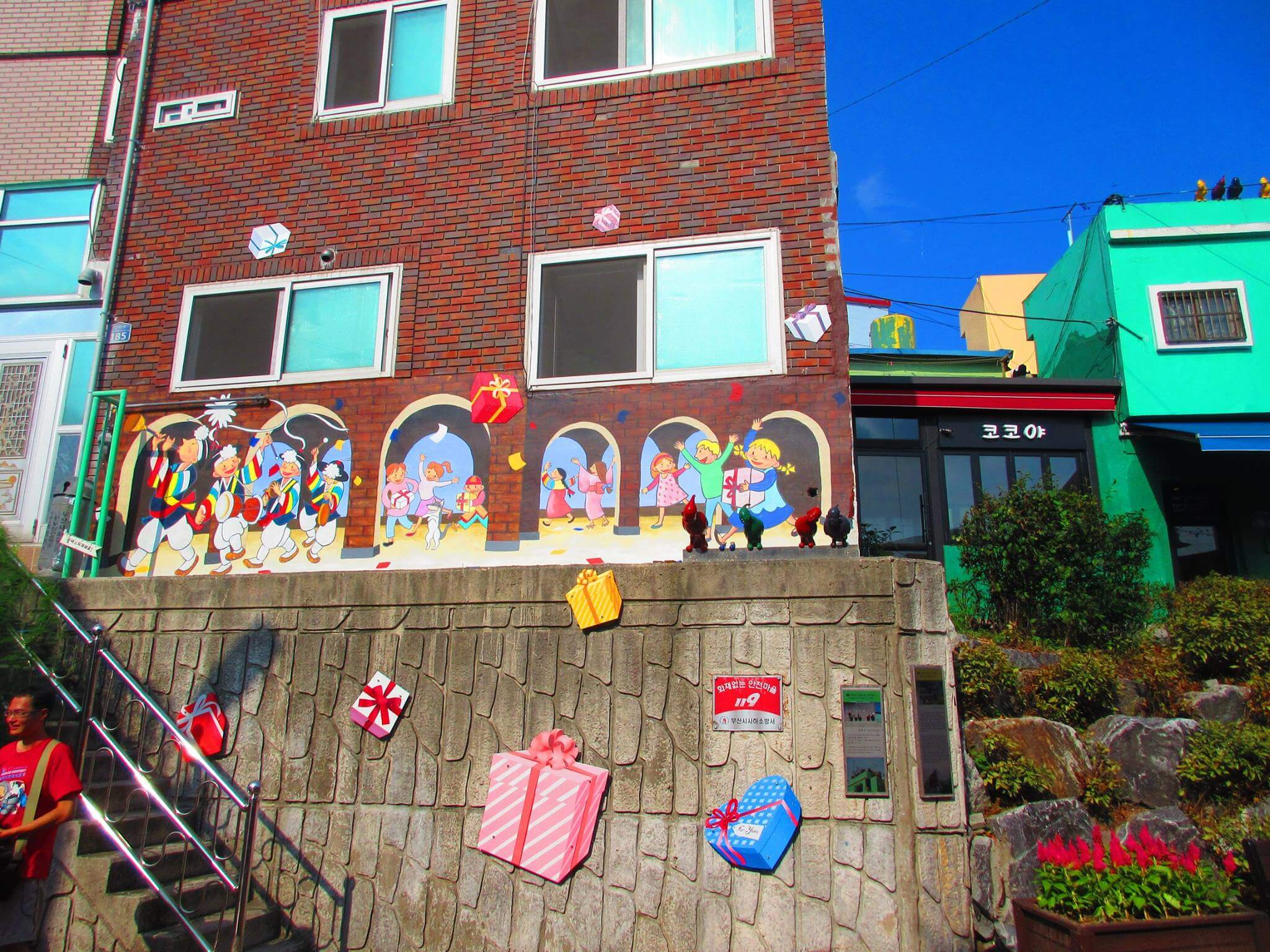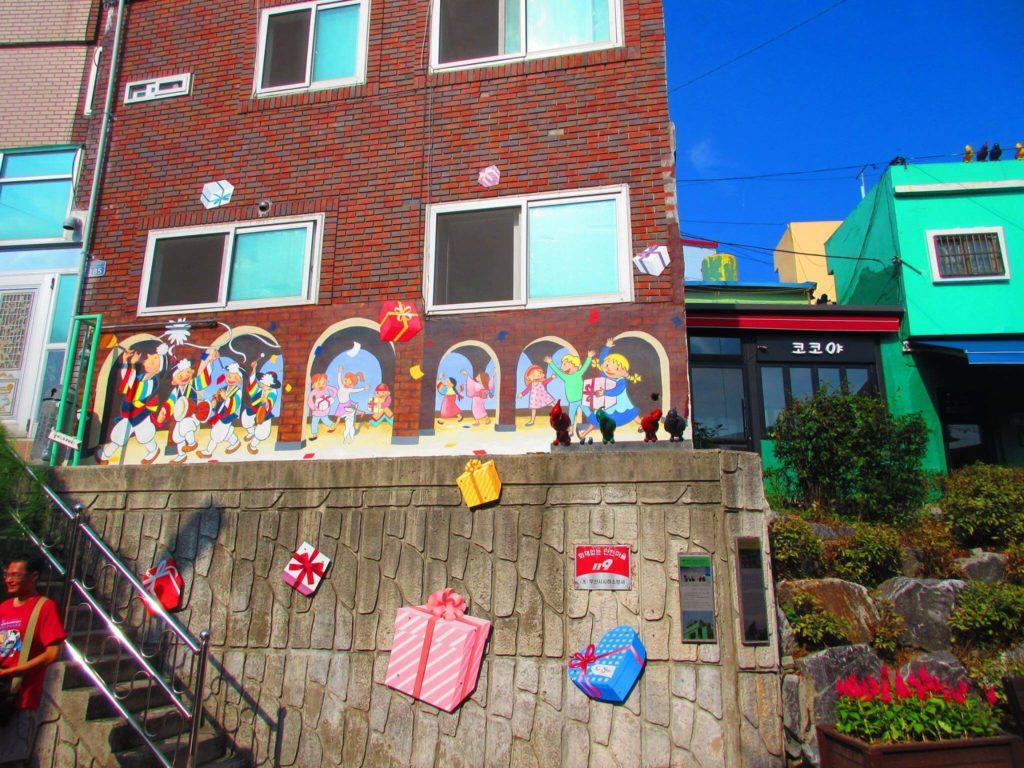 A Korean Adventure is Incomplete Without Street Food
No visit to any place in Busan can be complete without sampling the city's famous ssiathitteok. It is a delectable fried pastry stuffed with sugar, honey, nuts, and sunflower seeds. You can get this treat in most of the stalls and cafés in Gamcheon. So, make sure that you do try it; otherwise, you will miss out on something great!
Peek Into the Past
You can explore the rich history of Gamcheon at Little Museum. It has over 70 pieces of household items donated by residents over the years. You can also see the replica of the old shantytown and see its transformation into an artistic hub.
Fishes in the Alley
The wooden fish murals were created to pay tribute to the women of Gamcheon. These women took care of their families by selling fish in the Jagalchi Market, Korea's biggest fish market.
Fish in Alley
Selfie with the Little Prince and the Fox
The statue of the Little Prince (by Antoine de Saint-Exupéry) overlooking the entire village is the most popular selfie and Instagram spot. You can pose for a picture between the Prince and the Fox gazing at the picturesque views.
"Love does not consist of gazing at each other, but in looking outward together in the same direction."

Antoine de Saint-Exupéry, Airman's Odyssey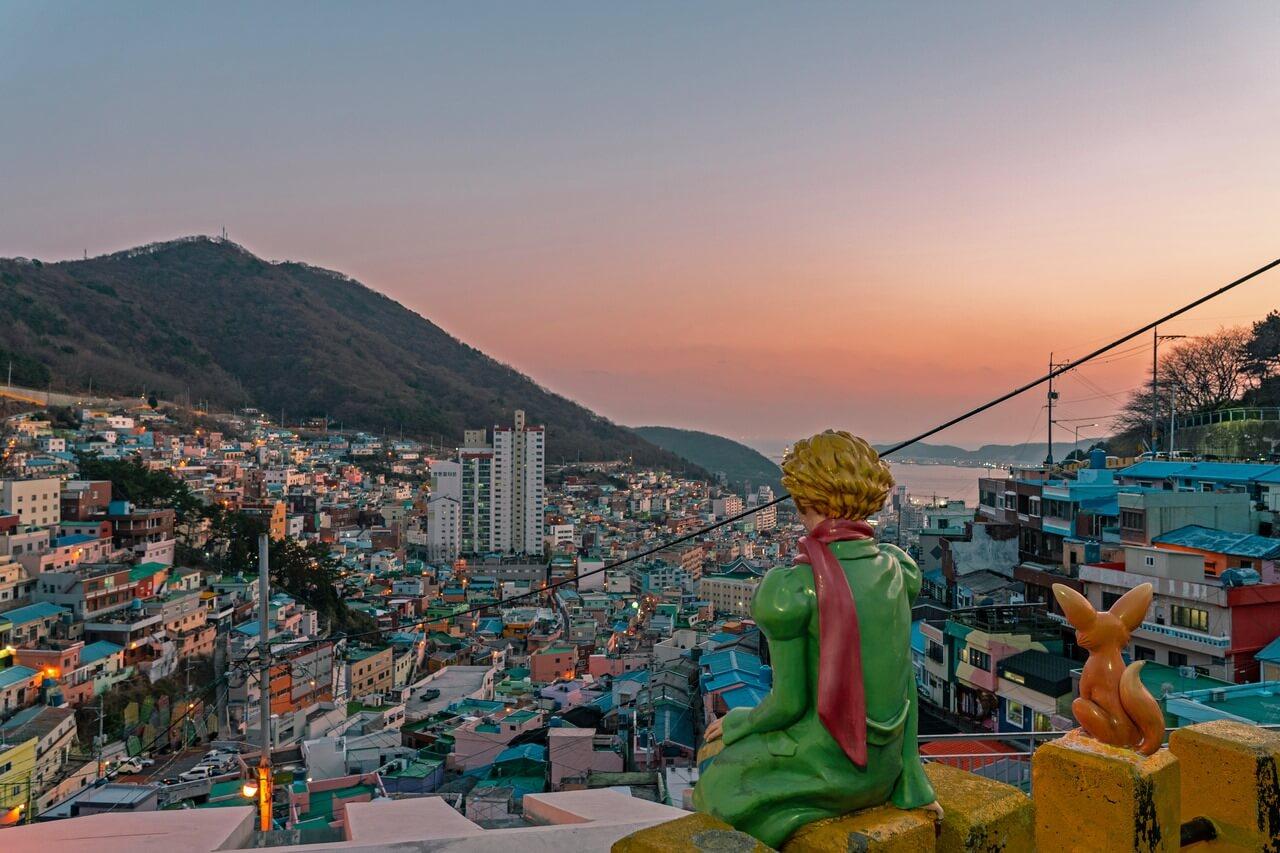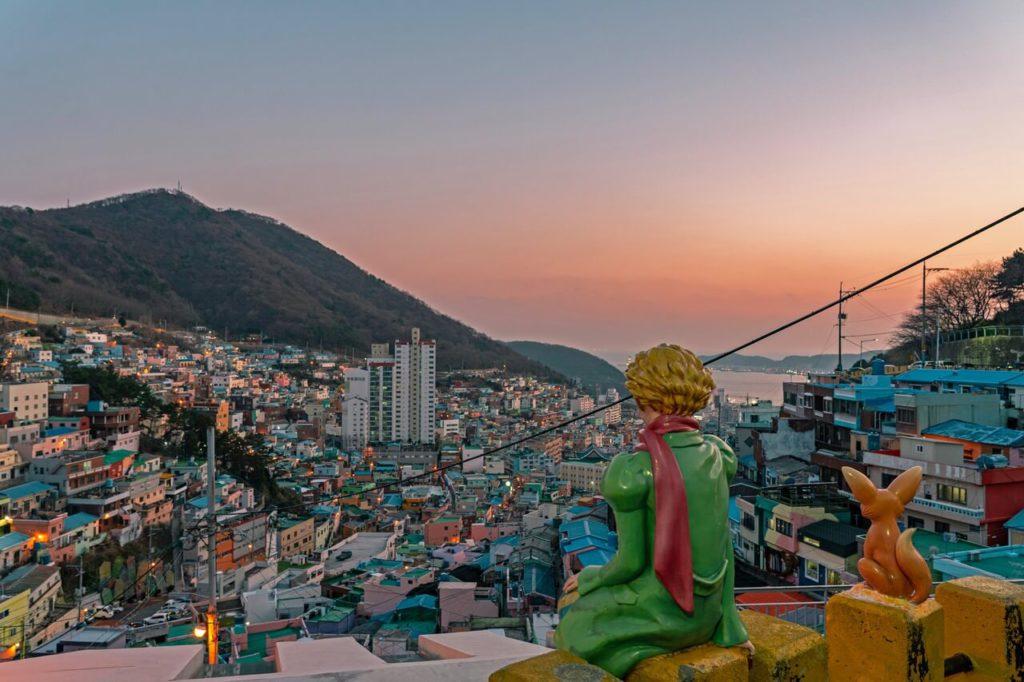 Enjoy the Views
There are many viewing platforms scattered around the village. You can find some incredible lookout points by wandering around. When you are on higher ground and looking over the sea, it will feel like you are on the Santorini, a Greek Island.
Climb the Staircases
As the village is on a hillside, it is full of staircases, and the longest one is known as "Stairs to See Stars." The 148 steps in the stairs are steep, and some people even get dizzy while climbing up, making them see stars!
Go Shopping
Now that you've explored the picturesque village, you ought to get a souvenir to commemorate the occasion! You will find many elegant handicraft accessories and unique handicrafts.
Where to Stay
If you fall in love with the artistic vibe of the village and want to stay the night, there are a few guesthouses and hotels. You can stay in Bunga Banga Guesthouse, Eoulteo Guesthouse, or Grand Budapest Doll Hotel. Alternatively, you can also check out the hotel booking site like Booking.com for a more extensive list. 
Gamcheon Culture Village, 203 Gamnae 2(i)-ro, Gamcheon 2(i)-dong, Saha-gu, 부산광역시 韓國
More about Busan:
Picture Credit: Korea Tourism Organization – VisitKorea Facebook
4,277 total views, 6 views today