The best time to visit the port city of South Korea, Busan, depends on what you want to do there. If you are looking to chill out at the beach to beat the heat, May, June will suit you best, and if you are looking for a little hiking adventure, cooler months will be a better option.
No matter what you choose as your favorite time to visit Busan, this guide will help you to explore the seaside temples, white sand beaches, rollicking fish markets, and much more!
Best Time To Visit Busan – Seasons
Because of its unique geography, you can enjoy all four distinct seasons. The colorful foliage of spring and fall draws crowds to the gorgeous mountains and national parks. Soaring temperatures in summers make beaches an ideal getaway while the freezing cold of winter is particularly like by the winter sports enthusiasts.
As a port city set on the South-East coast of South Korea, Busan has one of the most desirable weather in the country.
Spring in Busan
Spring in Busan is from March to May and is one of the most picturesque times to visit Busan. The temperatures are mild, and trees are laden with blossoming pink cherry blossoms; mountains have a cover of vertical green carpets – what's not to enjoy!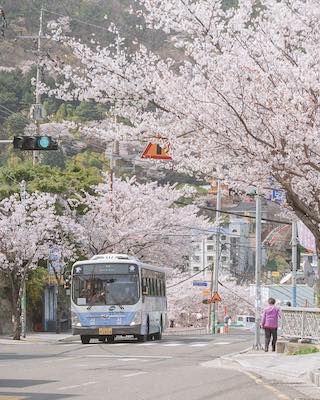 For the most part, the spring season in Busan is relatively dry, but as it is a transition period, it can have certain warm days and chilly ones too.
If you think in terms of what you want to carry if you are planning a trip during Spring in Busan, think warm coats for early spring. Later months are more summer-like, so you will do well with summer-clothes.
Summer in Busan
Summer in Busan is one of the most popular months of travel as the city is famous for its beaches. But, along with enjoying the white sand beaches, summer also brings with it a lot of humidity, rainfall, and thunderstorms. June through September is also the monsoon season, so the streets can be flooding in low-lying areas.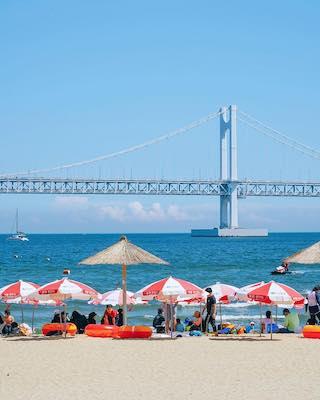 During Summers, August is the hottest month where you might want to either chill on the beach or escape in one of the many air-conditioned outlets in Busan.
As summers are swelteringly hot and sticky, you can think of lightweight fabrics and pale colors in terms of clothes. Do remember to keep an umbrella at hand as it can start pouring down cats and dogs any time!
Fall in Busan
By mid to late October, the leaves start turning gold-colored with shades of red and orange, and the morning and evening times become cooler. There is reduction in humidity and rainfall leaving fresh air all around. Although the skies are sunny even by mid-November, the temperature is little on the lower side.
Fall or autumn is the perfect time to explore the natural beauty of Busan by hiking on mountain trails, or simply wandering the city's colorful but serene Buddhist temples.
As it is transition weather, early autumn is hot and humid while late autumn can be mildly frigid. So, layering is always a good option but be sure that you carry a windbreaker especially if you are traveling in November.
Winter in Busan
Despite the frosty temperatures, the winters are clear and sunny. There is some sporadic rains and snow in Busan is quite infrequent. It is, although, quite chilly as soon as the Siberian winds start blowing.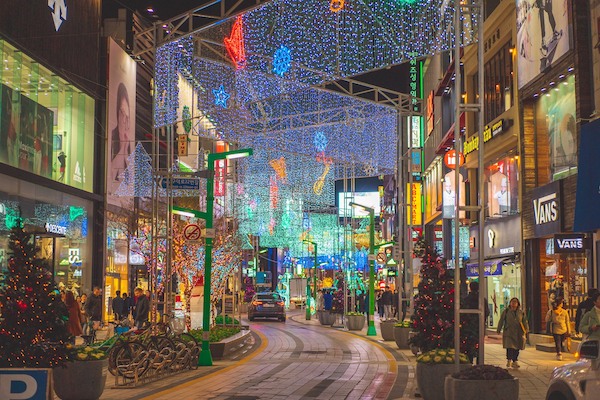 About packing for winter in Busan, everything that you would need during winter is a must including scarves, gloves, socks, warm, heavy coat, and warm shoes.
Typhoon in Busan
In addition to being extremely humid, from June to September, it is typhoon season in Korea. There are higher chances of rainfall and can lead to heavy storms.
Best Time To Visit Busan – Weather
January
It marks the winter holidays in Korea so there are local tourists around in addition to the buzzing Busan population. If Seollal falls at the end of January, Busan can be quite expensive and super-crowded.
February
It is chilly and dry but you can expect to enjoy the colorful displays in the shop windows and other performances in the city.
March
This is the time when the spring season officially begins but the temperatures are quite warm. You can even enjoy early cherry blossoms in March.
April
Officially, April marks the beginning of cherry blossom making it one of the most beautiful months in Busan. If you are not just about visiting beaches, April is the ideal time to visit Busan.
You can check out the annual Cherry Blossom Festival in Busan along the Nakdonggang River. There's also the Samgwangsa Temple Lantern Festival in honor of Buddha's Birthday on the temple grounds (it is celebrated on different dates each year and sometimes it takes place in May).
May
Month of May is the time of calm just before the summer storm and the temperatures can reach very high.
Haeundae Sand Festival is one of the fun festival that takes place in late May and you can check out hundreds of sand scupltures, street parades, and more along with the Busan Fringe Festival.
June
With a tempestuous weather, June can be a hot month with high temperatures and typhoons becoming a possibility in the country. Most beaches become open for swimming from June 1 with lifeguards on duty.
July
It is the hottest and most humid month in Busan and is one of the busier months for beaches. Finding an accommodation in July and August can be challenging.
August
August is when the summer holidays start and you will likely find families and children enjoying their off time on the beaches.
You can check out the Busan Sea Festival that takes place in several beaches across the city. There are many cultural performances, activities, and live music to enjoy.
September
It is the month of Korean Thanksgiving, Chuseok, making it a busy month in Busan. Beaches close officially on August 31 (there are no lifeguards on duty) but as the temperatures are still hot, beaches are still crowded.
October
It is a less chaotic month and famous for Busan International Film Festival where thousands of tourists come to enjoy the festival.
November
Temperatures start dropping in November and there are fewer visitors in the city except for the Busan Fireworks Festival.
December
It is the month that sees celebration of Christmas all across the city with shops and department stores decked in Christmas decor.
To enjoy the holiday spirit more, you can visit the Busan Christmas Tree Festival where the whole shopping area transforms into a winter wonderland. Haeundae Light Festival is another reason to visit Busan in December.
So How It Affects You Trip Plans to Busan?
As Busan is famous for its many beaches, summer is the most crowded time to visit the city. During this time of year, the port city is extremely congested and as it is also the time for school and college holidays. But, if you don't mind the crowds, you can enjoy the most beautiful and accessible beaches in all of South Korea.
Although spring and fall are most agreeable in terms of weather, the crowd is usual except for the Korean national holidays and the Busan International Film Festival in October. But, that does not mean that only worthwhile seeing site is the beaches of Busan. There are a plethora of museums, mountains, national parks, and other tourist attractions all across the city that will make your trip to Busan enjoyable in any season.
There isn't any off-season and most of the tourist attractions are open year-round. They might close because of extreme winter or typhoons in summer.
In terms of prices, the winter season is relatively cheaper and summer can be slightly expensive. The national holidays, Seollal and Chuseok, are the two days where the prices spike.
Check out other interesting articles from KoreaTravelPost about Busan:
6,233 total views, 1 views today