As autumn arrives in South Korea, with its pleasant sunny days and cool gusts of wind, it marks the time of Chuseok, the Korean celebration of a good harvest. Popularly known as the Korean Thanksgiving, this festival holds a rich cultural background and national value. It is one of the most important festivals in Korea, and there are many things to do during Chuseok. 
This harmonious festival is a time for families to come together, share food, and pay respects to their ancestors. It's a period marked by vibrant cultural displays, sumptuous feasts, and many activities that locals and visitors can partake in. From engaging in age-old traditions to exploring the country's lush landscapes bathed in the autumnal glow, Chuseok offers a myriad of experiences that provide a glimpse into the rich tapestry of Korean culture.
Chuseok occurs every year around the autumnal equinox. It is a three-day-long festival and one of the longest Korean national holidays. Therefore, it brings everyone home for the celebrations. Many people return to their hometowns during this time, so flights and trains are mostly booked months in advance. Every year this time, there is a major movement of Korean people who work in the big cities as they return to their homes, usually located elsewhere. People go through traffic jams and crowded transport just to spend a few days with their family.
Whether you are a lover of history, a food enthusiast, or an adventure seeker, Chuseok has something special to offer. Join us as we delve into the myriad of activities, experiences, and explorations that await you during this festive season in South Korea!
A Brief History of Chuseok
Often called Gawi and Hangawi in vernacular, Chuseok is originally known as Gabae. It is believed to date back to the Silla reign. It initiated a month-long competition of weaving between teams. The team that would weave the most amount of cloth would win, earning a feast from the team that loses.
Another narrative about Chuseok as a festival of harvest among farmers is that it has been practiced for several generations. It celebrates the fruit of their hard labor throughout the year and thanksgiving for a good harvest. 
Interesting Things to Do During Chuseok
Korean culture involves some long practicing old traditions. For Korean citizens, performing some of those meaningful traditions and customs every year is one of the most essential things to do during Chuseok. 
Traditions and Customs on Chuseok Day
One of the important Chuseok traditions is Charye. It is like a memorial rite for ancestors, paying them respect and thanking them for blessing with good fortune. As a custom, offerings consisting of traditional delicacies, fruits, and beverages are spread for the predecessors.
It is a tradition of respecting and remembering the ancestors and seeking blessings for a fruitful year ahead. These traditions differ from place to place in South Korea.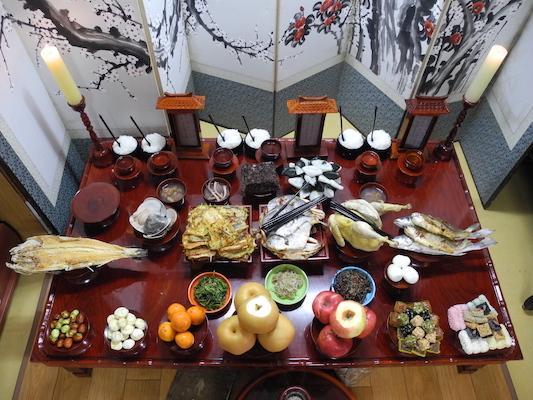 The offerings consist of fruits, vegetables, soups, rice, meat, fish, Korean rice cakes or songpyeon, and beverages like soju and makgeolli. In several places, the food needs to be arranged in a specific manner and direction, which is not easy. 
On these days of celebration, Korean people like to devote all their time to family. They make preparations together for the festival and commemorate the members who have gone beyond the mortal world. 
Some more customs are the Seongmyo and Beolcho. Beolcho is the custom of removing weeds around ancestors' tombs, and Seongmyo is the traditional visit to the graves. It is a mark of honor for the deceased. 
Traditional Chuseok Games
Korean culture does not only involve serious customs. Games and other forms of entertainment are also an important part. Because this festival calls for family time and community friendship, it calls for folk games that everyone can enjoy!
Ganggangsulae Dance
One such entertaining event is the Ganggangsulae Dance. It is mostly performed by women who dance in circles on the full moon night of Chuseok. You can watch a performance and even join in the activity! It should be at the top of your list of things to do during Chuseok.
There is an anecdote to its name, even though it is of unknown origin. Back in the Joseon era, the Korean military would make the women wear military uniforms and circle around the mountains. It would make the enemies think that there are many more soldiers and instill fear in their minds. Isn't it so clever?
This dance is also performed during Jeongwol Daeboreum or the Jeju fire festival.
Traditional Bull Fighting
Bullfighting is another exceptional event of the Chuseok festival. It is nothing gory or gruesome like the ones in Spain and other countries. The bulls are treated well and well-fed, and no one is allowed to misbehave with them. 
It is not a cut-throat competition. It is rather a display of how well the bulls are raised, their vigor and stamina. You can participate in this unique event in Cheungdo, where many stadiums host bullfighting.
Sserium
It is another traditional sport of South Korea that many participate in during the Chuseok Festival. It is a Korean wrestling competition and is quite famous among the people. The winner has to take the other competitor down on the ground to win the title. 
Delicious Chuseok Food List
Traditional holidays in Korea are a time for families to come together and prepare special foods for ancestral memorial ceremonies. These dishes hold significant meaning, symbolizing happiness, longevity, or financial success. To immerse yourself in the Korean holiday spirit, consider preparing one of the iconic Korean holiday dishes and sharing it with your loved ones.
You cannot miss the traditional heavenly delicacies of this festival! It is time to gorge on the special Chuseok songpyeon. It is a type of Korean rice cake that is specially prepared for this time. This Korean dish can have different types of stuffing, but steaming it over pine needles adds aroma and taste to the dish. 
When discussing Chuseok, songpyeon is the first food that springs to mind. Songpyeon is a type of rice cake traditionally crafted during Korea's harvest season, using freshly harvested grains from the year. These rice cakes hold a special place on the charyesang (ancestral rites table) as a symbol of gratitude for the year's blessings. While in the past, families would come together to make these rice cakes, these days, many opt to purchase pre-made ones from rice cake shops. Songpyeon is prepared by crafting a dough from freshly harvested rice and filling it with ingredients such as beans, red beans, sesame, chestnuts, or other nutritious fillings, which are then steamed. The rice cakes acquire their name and distinctive aroma from being steamed over a bed of pine needles ("song" means pine in Korean).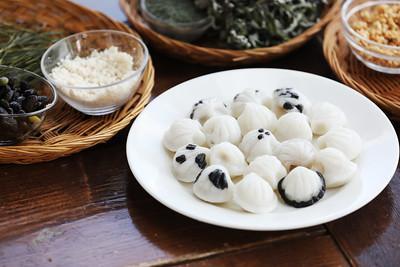 Traditions say that eating songpyeon under the full moon will bring good fortune to the family. It is also made as an offering to ancestors. Korean pancakes, known as Chuseok jeon, is another traditional dish many families like to prepare. 
Amidst other dishes of meat, vegetables, and fish, people enjoy some Korean beverages and alcoholic drinks like soju and makgeolli.
Chuseok is only a week away, which means all the delicious holiday food is also only a week away!😋Here are the 5 signature foods made for traditional Korean holidays!😃Which food is your favorite?😍
💠Travel highlights: https://t.co/B9W5jV0IX3 pic.twitter.com/weW5XJHqL2

— VisitKorea (@KoreanTravel) September 22, 2023
Other Things to Do During Chuseok
It's time to celebrate! So, you can go out and experience the grand Chuseok feast. Many events are held at the National Museum of Korea and the National Folk Museum of Korea. The famous palaces like Gyeongbukgung and Changdeokgung. The Lotte World Chuseok is also a grand affair. You can keep these places on your wish list for some entertaining games, musicals, exhibitions, and dance performances.
If you happen to be in South Korea, don't forget to tick off all our suggestions for things to do during Chuseok. We hope this will help you to enjoy everything about the festival. Happy Chuseok!
Related Posts