Museums play an important role in revealing the rich heritage, history, art, and culture of a modern city and country. Seoul is the culturally rich capital of South Korea, where traditional and modern cultures coexist. It has a variety of museums and art galleries that display the nation's past and present. These museums cover everything from traditional past to an advanced city with cutting-edge technology. You can find museums in Seoul that focus on history, art, science, and many unique topics unheard of.
These top 11 established museums, out of many located in Seoul, are worth visiting for education and entertainment. The selection ranges from spaces dedicated to the traditional museums to ones giving augmented reality experience to challenges your senses.
You can find out more about the Unique Museums of Korea here.
Explore more activities in Seoul:
Seoul Museum of History
The Seoul Museum of History is dedicated to the history of South Korea. The factors that transformed the South Korean capital to the most modern and technologically advanced cities in the world, from a traditional and slow-paced way of life, are visually unfolded before eyes through excellent exhibitions.
The era-themed permanent exhibitions, for example, the 1863-1910 exhibition focuses on a period of intense developments in Korea that provides a wealth of new insights for visitors. The Seoul Museum of History also provides opportunities for foreign visitors to learn more about the history and culture of Seoul through exhibitions and craft-making activities.
The National Folk Museum of Korea
The history and traditions of this beautiful country are on display at the National Folk Museum of Korea. This museum, located in the compound of the Gyeongbokgung Palace, presents traditional ways of life of the Korean people, from prehistory to present.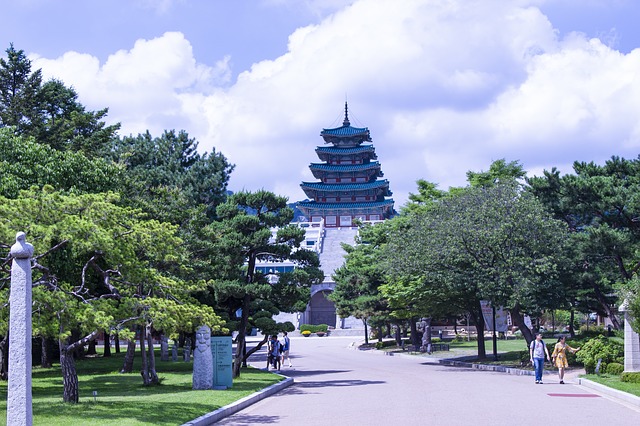 The museum hosts special exhibitions on diverse themes of folklife, illustrating traditional rural culture, handicraft, and skills. This gives a fascinating insight into the unique culture of Korea. It is a museum that interacts with the world.
The National Museum of Korea
The National Museum of Korea (NMK), is the largest museum of South Korea. It is located near the Yongsan family park in Seoul. The National Museum of Korea and the National Folk Museum, both, are located on the grounds of Gyeongbokgung Palace. The palace was built six centuries ago by the first king of the Joseon dynasty.
The museum has individual exhibition halls, a children's museum, outdoor exhibit areas, restaurants, cafes, shops, and other amenities. It has six permanent exhibition galleries, such as the Historical Gallery and Fine Arts Gallery.
Their permanent collection of over two hundred thousand pieces ranges from Buddhist sculptures to archaeological artifacts and metal arts to ceramics. This is a fantastic place to really get to know the history and culture of Korea.
Grevin Museum
Grevin Museum, Seoul, is a living wax museum with wax idols of people, including Korean celebrities' and renowned leaders of the world. Hollywood stars, inventors such Einstein and Leonardo da Vinci and people who dedicated their lives to peace and human rights such as Pope Francis, Gandhi, and Nelson Mandela are also present.
Grevin Museum has four floors where each is themed and has matching sound and light system. It makes the experience all the more realistic and engaging. It is not only full of wax figures but also has 3D figures with whom you can take selfies. They also have interactive digital experience games and a game of creating your own virtual wax image. They also had a souvenir shop and a cafe.
Gahoe Museum
The Gahoe Museum is a folk paintings museum specialized in preserving the folklore and folktales. It is a cultural space located in a village of traditional hanok houses and gardens. The museum's collection features a wide array of artifacts, including amulets, folk art and paintings, historical books, and a variety of fascinating miscellaneous pieces.
The museum systematically researches and protects the identity of traditional culture. It has an exhibition hall, folk painting studio, and a lecture hall that is used as a specialized training center for Gahoe Folk Painting Academy.
Ewha Woman's University Natural History Museum
The first natural history museum of Korea was established in 1969 at Ewha Woman's University, one of the top ten universities in Korea. It is known as "The Ewha Natural History Museum". Their exhibits include species related to the fields of Earth Science and Biological Science.
The museum's collections include specimens of Korean natural monuments, internationally protected birds, and species that are endemic, rare, or newly discovered. Museum holds natural history classes and offers both dynamic scientific experiments and close observations of nature.
Gwacheon National Science Museum
In Seoul, highly traditional and extremely modern coexist. While there are many museums for history and art, there is one that focussed on advanced science and technology, the Gwacheon National Science Museum (GNSM), just outside Seoul.
The GNSM has five main exhibition spaces for basic and high-tech science, natural history, traditional science, and an interactive children's center. The complex also has a planetarium, an observatory, and outdoor exhibition space. Here you can get an experience of augmented reality that will challenge your senses.
Seoul Museum of Art
The Seoul Museum of Art, SeMA, is near the famous Deoksugung Palace. It is a museum that focuses on art. There are six exhibition halls, a lecture hall, and a library. The museum regularly holds exhibitions of Korean contemporary talent, their art-work, and art projects of renowned local & foreign artists.
SeMa has a substantial permanent collection of art-work of emerging and contemporary fine art, both renowned and lesser-known artists from around the world as well as Koreans.
Seoul National University Museum
The Seoul National University Museum, established in 1946, has grown into a representative cultural space that nurtures talent and protects excavation sites in Korea and abroad. The numerous artifacts collected from outdoor surveys are preserved for study and displayed. The museum also has a collection of natural history, such as animal specimens.
There are many of Korea's best masterpieces of traditional art in this museum. It has the three permanent exhibition rooms, currently, to exhibit artifacts from the museum's collection of ancient history, traditional art, and human folklore.
Every year, there is organization of various special exhibitions to meet the growing cultural needs. During the same time, there are liberal arts' classes that provide high-quality lectures from experts in each field.
Daelim Contemporary Art Museum
A four-story residential house converted into museum by a French architect with a façade representing Korean traditional textile patterns is the Daelim Contemporary Art Museum. It is located in the center of Seoul and dedicated to art.
Visitors can see here cutting-edge art by renowned Korean and Western artists. The Daelim Gallery draws large crowds to its vast exhibitions.
The War Memorial of Korea
The War Memorial of Korea is like a war museum. It is located in Yongsan-gu, near Itaewon, which is the best place near Seoul to see the history of Korea. Poignant exhibits make it a perfect place to learn about Korea's history of war. War memorabilia, military equipment, fighter planes, tanks, artillery, and naval weapons used in the Korean wars all are on display.
Visit the War Memorial to explore prehistoric weapons, impressively displays from different eras of Korean history to the high-tech displays, including a 3D video about the war history. The building and grounds are beautiful and full of war relics.
Add these museums in Seoul to your travel itinerary to South Korea and make your trip fun and educational!