Best galleries are not only in European cities like Paris and Rome, but you can find some of the best art galleries and museums in Seoul too. Seoul has several spaces that are dedicated to the art of all genres across the city.
Here are some of the best art galleries and museums in Seoul that you can explore to your heart's content!
Seoul Museum of Art
The Seoul Museum of Art, SeMa, is in a large building behind Deoksugung, one of Seoul's five grand palaces. It displays not only fine art but also gives free art classes to the public in Korean traditional arts.
SeMa has a huge collection of emerging and contemporary fine art and an art reference library. The museum regularly holds exhibitions of Korean contemporary talent, the art work and art projects of renowned local & foreign artists.
The SeMa is open to the general public and it hosts art exhibitions that are worth a see! There is a souvenir shop and a coffee shop. It sponsors educational outreach programs on appreciation of art and also gives free art lessons in 'Korean traditional arts' for aspiring artists.
It also has three more branches in other parts of the country. This museum is located right next to the romantic jeongdong-gil (aka Deoksugung Doldam-gil), a road by the stone wall where you can take a quiet stroll.
Where: 61 Deoksugung-gil, Seosomun-dong, Jung-gu Seoul, 100-110, South Korea
The National Museum of Korea
The National Museum of Korea (NMK) is located near Yongsan family park in Seoul and has easy access from different parts. This largest museum of South Korea has special exhibition halls, a children's museum, outdoor exhibit areas, restaurants, cafes, shops and other amenities. It has six permanent exhibition galleries such as Historical Gallery and Fine Arts Gallery.
The huge art collection of NMK includes Asian Art and relics from India. southeast and central Asia, China, and Japan. Korean traditional paintings, Buddhist paintings & sculptures, and calligraphy; metal arts, and ceramics including Pensive Bodhisattva. Today, NMK is present in many places across the world.
Where: 137 Seobinggo-ro, Seobinggo-dong, Yongsan-gu, South Korea
Read More: Explore the Art Scene in Seoul for Free
Dongdaemun Design Plaza
It's a futuristic art space that is an art piece in itself. There are five big halls dedicated to Art Hall, Museum, Design Lab, Design Market, and Dongdaemun History and Culture Park. The focus of DDP is design and modern art, and it also supports local artists by helping them launch their careers. It's a 24-hour wonderland that you can explore any time you want. There are exhibitions, design markets, and galleries that you can enjoy. Its a great spot for Instagram-lovers with its modern architechture.
This creative space is the fashion hub of South Korea and a popular tourist destination. It has a walkable park on its roofs and futuristic retail stores.
Where: 281 Eulji-ro, Euljiro 7(chil)-ga, Jung-gu Seoul, 100-197, South Korea
Leeum, Samsung Museum of Art
Leeum Samsung Museum of Art is one of Seoul's most powerful, prestigious and famous private art galleries, founded by the Samsung Foundation in 2004.
It is a must-visit for anyone interested in art to explore dedicated areas displaying Korean traditional & modern art, international contemporary art, and special exhibitions.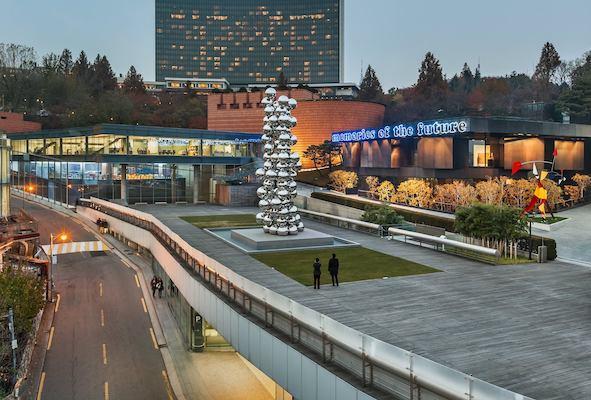 Leeum is a center of Korean and world art. The museum's architecture reflects the collection's interplay between past and present and It is also known for the architecture of three buildings of the museum. Leeum has now grown into one of the leading museums of Korea, through notable activities and accomplishments, including exhibitions of its reputable collection and special exhibitions.
Where: 60-16 Itaewon-ro 55-gil, Hannam-dong, Yongsan-gu Seoul, 140-210, South Korea
National Museum of Modern and Contemporary Art
The National Museum of Modern and Contemporary Art (MMCA) displays contemporary art in South Korea's capital, Seoul. The MMCA has four branches located at: Deoksugung (Seoul), Seoul, Gwacheon, and Cheongju. The Deoksugung Palace, one of Seoul's five grand palaces, is located in proximity to Gwanghwamun Square in Seoul and is the home to The National Museum of Modern and Contemporary Art.
MMCA, Deoksugung is housed in the beautiful annex of Deoksugung Palace. You can combine your visit to the palace and museum. MMCA, Seoul brans is located on the historic site. Built in 2013, this branch of MMCA has eight exhibition halls, a cinema, a video library, and a food court.
It's also the first museum in the country that showcases both modern and contemporary art from South Korea and all around the world.
The multiple facilities at MMCA include exhibition areas, art zone, library, reference center, Digital Book Café, project gallery, restaurant, cafeteria, food court, education building, theater and multipurpose hall, etc. Catalogues, museum products, unique Industrial & stationary design, Korean design and craft, textile and fashion are also found in these places.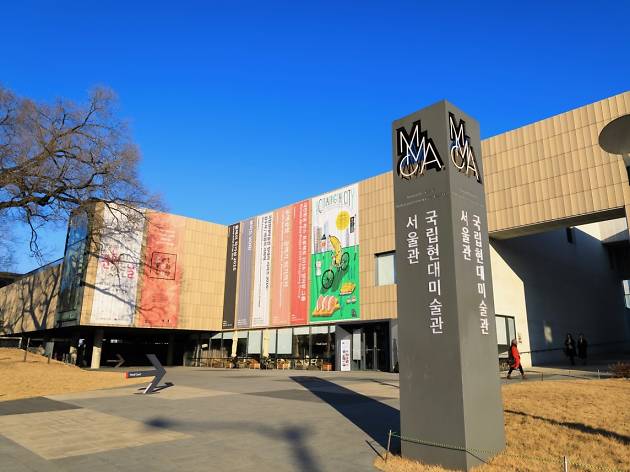 You can also check out the National Museum of Modern and Contemporary Art, Seoul (MMCA) virtually via the Google Arts & Culture. Google's virtual tour takes you through six floors of Contemporary art from Korea and all over the globe.
Where: Sejong-daero, Jeong-dong, Jung-gu Seoul, 100-120, South Korea
Read More: A Visit to Artistic Ihwa Mural Village
Daelim Contemporary Art Museum
Daelim Contemporary Art Museum is located in the center of Seoul. A normal residential four story house was converted into an art museum by a French architect with a façade representing Korean traditional textile patterns (bojagi).
Daelim Gallery mostly holds huge exhibitions that draws large crowds. Visitors can see cutting-edge art by renowned Korean and Western artists.
Where: South Korea, Seoul, Jongno-gu, 통의동 35-1 대림미술관
Read More: Fun Things to Do in Gyeongju: Museum Without Walls
Gana Art Center
Gana Art Center is a modern complex in Pyeongchang, in northern Seoul, home to some of Korea's oldest and most influential galleries. It is one of Seoul's modern architectural gems. Spread over 3,000 square meters of floor space, Gana Art Center is a complex cultural spot.
It has three exhibit spaces for exhibiting art pieces such as painting, sculpture, video art, installation, and contemporary photography. It also also holds performances and screens experimental movies. Gana Art Center is one of Korea's most prestigious and influential art institutions today.
Where: 97 Pyeongchang-dong, Jongno-gu, Seoul, South Korea
Seoul Arts Center
Seoul Arts Center (SAC) is located in the most popular cultural destination in Seoul. It provides artistic inspiration for artists and creates a memorable experience for its audience. It is a world-class art and culture complex attracting millions of visitors yearly for thousands of quality cultural & art events, performances, shows and exhibits.
The center has everything: a Hangaram Art Museum, calligraphy art museum, outdoor stage, music, concert and recital halls, theaters and opera house, cafes, wine bar, restaurants, and bookstore. SAC is dedicated to develop and promote art and culture, and to expand people's opportunities for cultural enjoyment.
Where: 2406 Nambusunhwan-ro, Seocho-dong, Seocho-gu, Seoul, South Korea
Seoul National University Museum of Art
The Seoul National University Museum of Art (SNUMoA) is a museum in Seoul National University. The SNUMoA holds regular exhibitions of students' work as well as work from international and domestic designers and artists.
The sloping design of the museum building gives an auditorium with ramped seating. The Seoul National University Museum offers weekly lectures, cinema and other art events open to all SNU members and to the public as well.
Where: Sillim-dong, Seoul, South Korea
Arario Museum
It's a haven for modern art lovers as it curates the works of a Korean art collector, Kam Chang-il. It houses Kam's best pieces along with works of artists like Tracey Emin and Koo Kang. The Arario Museum building also has a glasshouse and a traditional hanok space that houses cafes and restaurants.
Where: 83 율곡로, Gahoe-dong, 종로구 Seoul, 110-280, South Korea
Galerie Perrotin Seoul
It's a recently opened 590-square-foot gallery from a French art dealer, Emmanuel Perrotin. He has galleries in New York, Hong Kong, and Paris. Galerie Perrotin in Seoul showcases works of New York-based pop street artist KAWS and French artist Laurent Grasso.
Where: F 5 Palpan-gil, Jongno-gu, Seoul
National Folk Museum of Korea
National Folk Museum of Korea is not entirely dedicated to art, but it still deserves mention in the list of the best art museums in Seoul. The museum is located inside the Gyeonbokgung Palace complex. It showcases the daily lives of Koreans from the past, along with thousands of artifacts that represent Korean art history. You can appreciate the ancient pottery, paintings, and calligraphy artworks in the museum.
Where: 37 Samcheong-ro, Jongno 1(il).2(i).3(sam).4(sa), Jongno-gu Seoul, 110-820, South Korea
Opera Gallery
Its another French gallery with around 11 international locations. Opera Gallery is one of the most spohisticated art venues in Seoul, South Korea. The gallery features collections of artists from all over the world from Asia to Europe. It only showcases the best of the best in any form of art – be it photography or modern. Its a place where you can buy artworks if you are looking to add to your private collection.
Where: 318, Dosan-daero, Gangnam-gu, Seoul
Kukje Gallery
The gallery houses contemporary art where you can explore the Korean and international artists. It has been around since 1982, and it has become one of the leading spaces for international art exhibitions. The Kukje Gallery also promotes upcoming local artists and gives them exposure around the world.
This art gallery is a leading venue for international art exhibitions giving wide exposure and receiving much attention from the non-Korean collectors. It has an unmatched reputation in Korea for two reasons. One, for introducing many critically acclaimed international artists to Koreans, and two, for supporting and encouraging the most promising Korean artists. and give them exposure to non-commercial venues and art markets around the world.
Kukje Gallery collaborates with Art Basel for 'Online Viewing Rooms' and plays a key role in developing the domestic art market.
Where: 54, Samcheong-ro, Jongno-gu, Seoul
Gallery Hyundai
The gallery has been a leading venue for hosting temporary and regular exhibitions on modern art. It's located right next to Gyeongbokgung Palace and easy to access if you are roaming around the streets of Seoul. Gallery Hyundai also supports local Korean artists by giving them an opportunity for international success and recognition. It also exhibits works of international artists so that they can learn more about the Korean art scene.
Gallery Hyundai, one of the top commercial galleries in Korea. This is the first art gallery in Korea to open in Insadong, Jongno-gu fifty years ago, as Hyundai Hwarang. Since then, it has been a popular place for short and regular high-quality art exhibitions on contemporary and modern art. This art gallery is located next to Gyeongbokgung Palace and is easily accessible for anyone touring Seoul.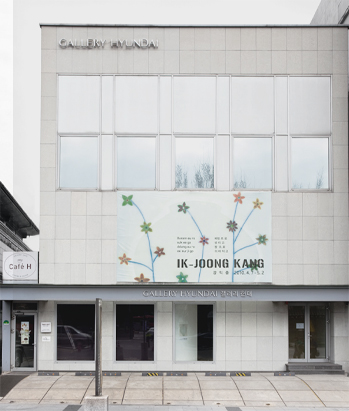 Where: 14, Samcheong-ro, Jongno-gu, Seoul
Lumas Art Gallery
Lumas Gallery at Cheongdam district, Seoul is laid out like a home with living room, kitchen and a study. This gallery is different from a regular art gallery as all exhibited and stocked art works can be purchased and gifted. You can find exquisite art pieces for sale can from few dollars to $10 million.
The Lumas started in Germany, in 2004, and today, its galleries are in many countries in major metropolises around the world. Their focus is on photo art and it gives entry into the world of art photography to enthusiastic newcomers and experienced collectors alike.
Where: 97-9 Cheongdam-dong, Gangnam-gu, Seoul, South Korea
Read More: 11 Unique Museums in Seoul for an Interesting Experience!
Have you visited any of these art galleries in Seoul? Do let us know in the comments!
Love it? Pin it!