Gyeongju is not only known for its historical artifacts, but it is also a city that offers adventures, fun things to do and excellent Korean cuisine!
After a full day of exploring the important historical sites of Gyeongju, it will be easy to imagine that you are standing back in the heart of the Silla dynasty at the heights of its power from 57 BC to 935 AD. 
But there is so much more to Gyeongju than just being a city of historical importance and be locally famous as an open-air museum. The city is not only brimming full of history and culture, but there are loads of adventures and fun experiences one can enjoy in Gyeongju.
Read more: Go on A Historical Adventure in South Korea – Things To Do in Gyeongju.
Fun Things to do in Gyeongju
Here are all the fun things to go in Gyeongju after you've explored all the famous sites in the city!
Hike on Mount Namsan (남산)
The hike to Namsan Mountain in Gyeongju National Park is a little different as the whole mountain is classified as UNESCO Site. The entire hiking experience can be refreshing and enjoyable! With Buddha sculptures in some twists and turns, history buffs can look out for the stone pagodas and the beautiful Wolji pond (월지).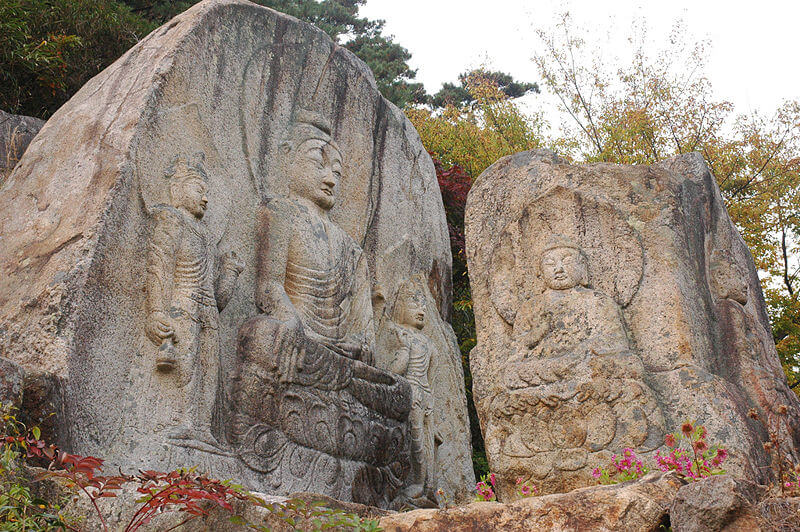 The hikes in the Namasan Mountain are some of the best in Asia! The mountain itself is often referred to as an open-air museum as it is home to over 100 temples, 80 Buddha stone statues, and 60 stone pagodas.
Visit the Wolji Pond – Best Night Activity in Gyeongju
The Wolji pond is at its best at night. With the place illuminated with lights, the experience is ethereal!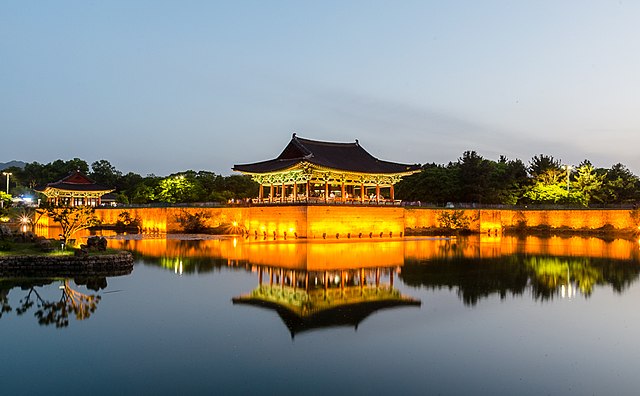 Gyeongju Bird Park (경주 버드파크)
A tour of the Gyeongju Bird Park can be another fun thing to do in Gyeongju. Walking into a big birdcage, surrounded by myriads of birds, it is unique indeed. One can even touch and play with the birds!
The two-storeyed park is one exclusive ecological experience for the nature lover. The birds occupy 90% of the park's species, while the rest 10% are reptiles, fish, and small animals.
Cheomseongdae Observatory (첨성대)
A short trip to the Cheomseongdae observatory can be very awe-inspiring and enjoyable. A National Treasure of Korea, it is the oldest existing observatory in East Asia, standing tall for about 1300 years. The tower stands tall in a vast park surrounded by fields of flowers and tombs.
During the summer, people come here with their kids to enjoy kite-flying. You can get the kites at the Tumuli park, and it can be a delightful activity for adults and kids alike.
Chill at the California Beach Water Park or enjoy thrilling rides at Gyeongju World
You can also check out the California Beach in Gyeongju World. It's a water park based on Santa Monica in California. To get your adrenaline pumping, you can also enjoy the swooping rides at the Gyeongju World Adventure Park.
Read more about the water parks of Korea here.
Enjoy Local Cuisine!
You've got to sample the traditional Korean cuisine in the city of kings.
Trip to any Korean city cannot be complete without indulging in the local delicacies and cuisine. Especially after a tiring day of sightseeing, good food certainly hits the right spot.
The famous dish of Gyeongju is Ssambap (쌈밥). It includes a vast spread of side dishes (banchan) of rice, meat, and sauces. Served with greens like cabbage and lettuce leaves to wrap it all together, it is very scrumptious and filling!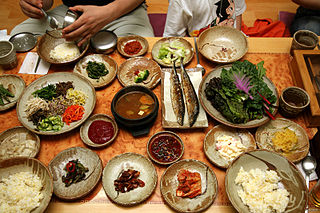 Another delicacy is the Hwangnam bread, a pastry filled with red bean paste. The dish has a long history, and it was first made in Gyeongju in 1939 and has remained much loved ever since.
Beopju is again, something that should not be missed. It's a home-brewed local wine that has been brewed for generations by the Choi family in Gyo-dong, Gyeongju. The brewing process is quite set since Young-shin Bae first made it. The wine has a unique sweet flavor and rich aroma.
Along with all these dishes, you can explore Gyeongju's largest traditional market – it's definitely a foodie paradise! There are over 300 stores and vendors selling fruits, vegetables, meat, and cooked food. You definitely won't be stepping out hungry from this market!
Relax in Gyeongju Spring Dome
After a long day of basking in the historical insights and natural beauty, a spot of relaxation with recharge and rejuvenate your spirits.
Visit the Gyeongju Spring Dome for much-needed relaxation. Although it might seem to be a basic water park, it is a 100% natural hot spring park.
The water comes from 750 meters under the ground, and it is open to the public throughout the year. Special Spa for couples and Children's Pool for kids adds to the convenience of the park, making it a perfect holiday destination for families.
How to Get to Gyeongju
No matter whatever is your base city, getting to Gyeongju is very convenient. And once you reach the city, the residents are friendly-enough to help a confused tourist!
Bus: The city is relatively close to cities like Daegu, Busan, or Ulsan. From these cities, you can take a bus that leaves/arrives at twenty-minute intervals. You will reach the Gyeongju Bus Terminal in less than an hour. If you are traveling from Seoul, the service is available every 40 minutes and takes about 4 hours. It is undoubtedly a hassle-free mode of transportation with no pre-booking required.
Train: There are half a dozen daily Saemaul trains (slow trains) to Gyeongju from Seoul, but it is a long ride. You can take the KTX from Seoul to Dongdaegu and then transfer to a slower train to Gyeongju. It will reduce the travel time.
Together with the famous historical sites of the city, a trip to Gyeongju will undoubtedly be a unique one! Are you planning to include Gyeongju in your next travel plans? Do let us know in the comments below! 
Read more travel related articles from KoreaTravelPost: