Gyeongsang provinces are usually the choice of destinations that tourists prefer when they are looking for an escape from the hubbub of Seoul. There are mainly regions – Gyeongbuk (North Gyeongsang) and Gyeongnam (South Gyeongsang). The southeast part of the country is a land of mountains, folklores, majestic sights, and heroes making them a must-visit tourist spots of Gyeongsang-do.
Gyeongsang was the base of Silla Kingdom that ruled in South Korea for over a thousand years. And, this is very apparent from the vast collection of jewelry, wonderful temples, and exquisite tombs you can find in the must-visit tourist spots of Gyeongsang-do.
Gyeongsang-do Region's Must-Visit Tourist Spots
Coming down from the top of Korean Peninsula, now we are covering the must-visit spots in the southeastern region, Gyeongsang-do.
Check out more about other iconic attractions that are in Korea's 100 must-visit attractions list: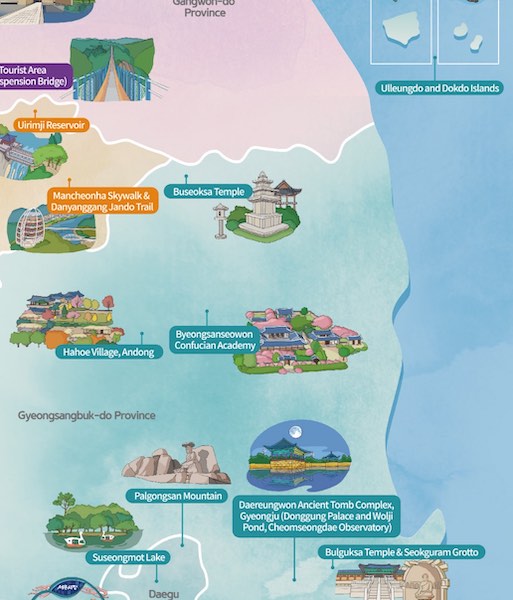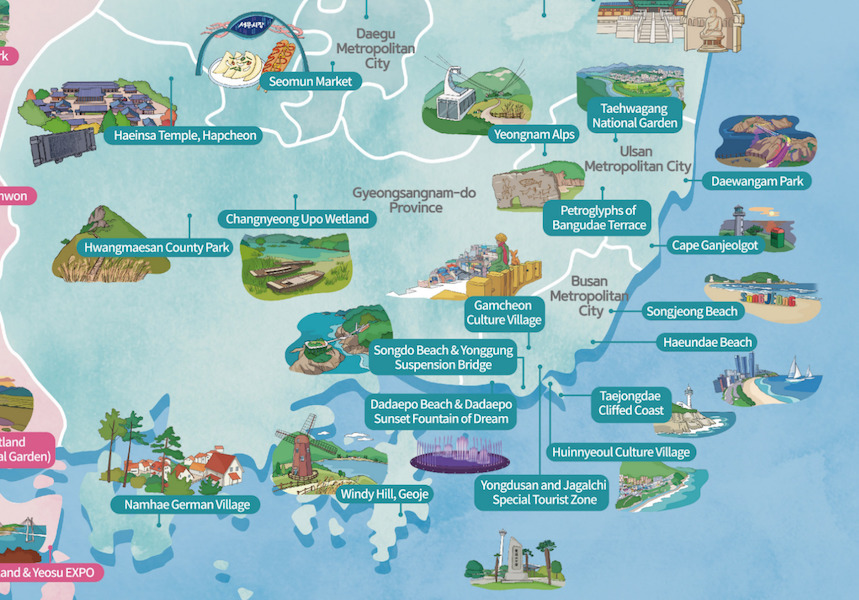 67. Taejongdae Cliffed Coast, Busan
Taejongdae Cliffed Coast is now of the Busan's most well-known sights of Yeongdo Island. Located around a 250-meters high hill, Taejongdae offers great views of the Tsushima Island. It is also home to a great variety of plants and some amazing cliff and rock formations.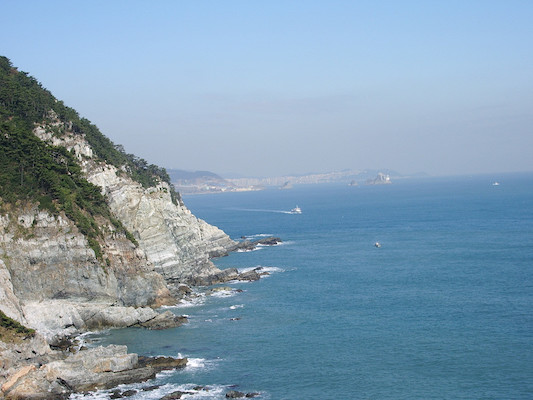 68. Yongdusan and Jagalchi Special Tourist Zone, Busan
Yongdusan is the heart of Busan's old city with some excellent markets like Jagalchi Market, Gukje Market, and Bupyeong Kkangtong Night Market. Several Korean films have used it as a filming location.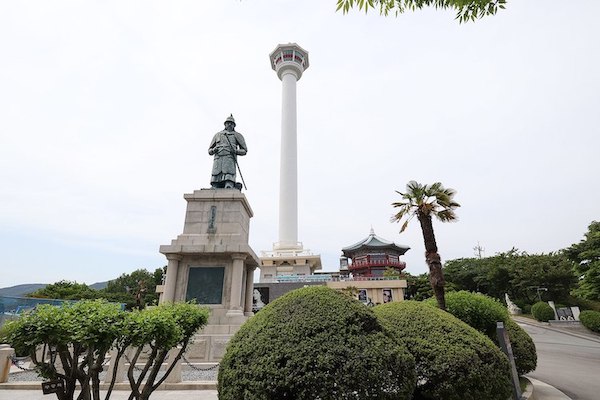 69. Haeundae Beach, Busan
Haeundae Beach is one of the most popular beaches in South Korea. It is a family favorite destination because of its shallow waters, low tidal range, and gorgeous scenery. Haeundae Beach is an all-season favorite destination with cafes, restaurants, and other five star accommodations lining the road along the beach.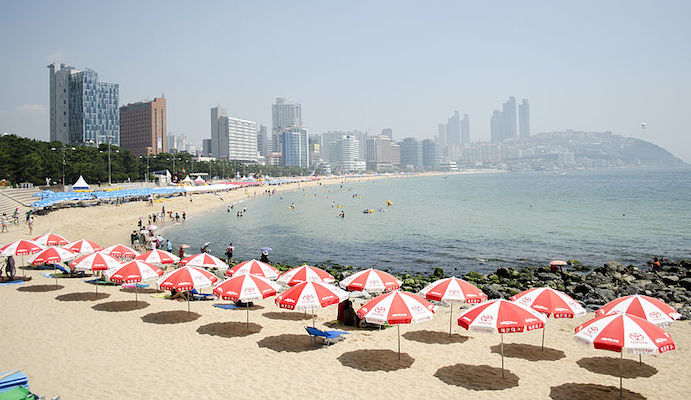 70. Gamcheon Culture Village, Busan
Gamcheon Cultural Village is a collective effort of local artists and residents for an urban regeneration project. The whole village is like an "art museum without a roof". As it is built on a mountain, there are some unique alleyways that run across the village that you must-visit on your trip to Gyeongsang-do region.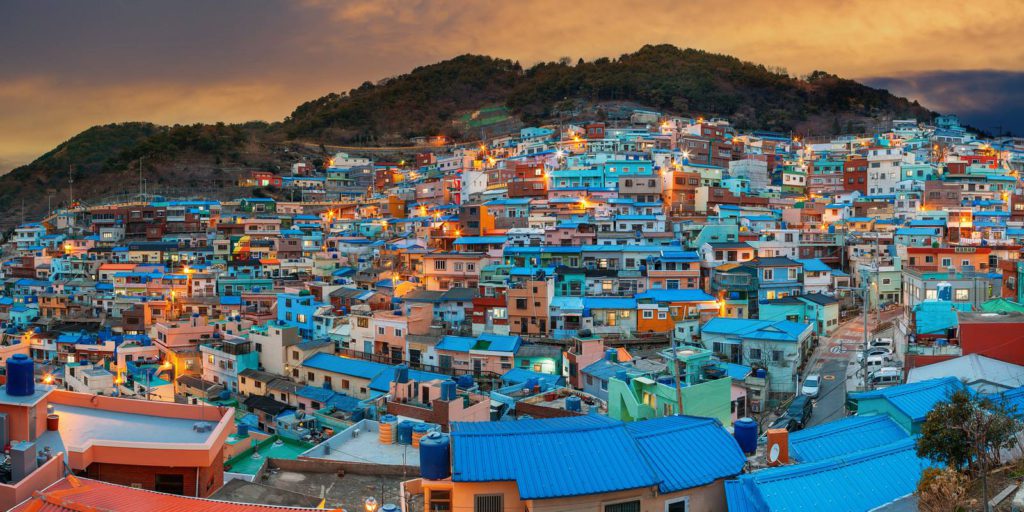 71. Dadaepo Beach & Dadaepo Sunset Fountain of Dream, Busan
Dadaepo Beach is ideal for children and water sport enthusiasts as it has a shallow slope and relatively warm waters. You can enjoy music fountain shows in the months of April to Ocober at the Dadaepo Sunset Fountain of Dream.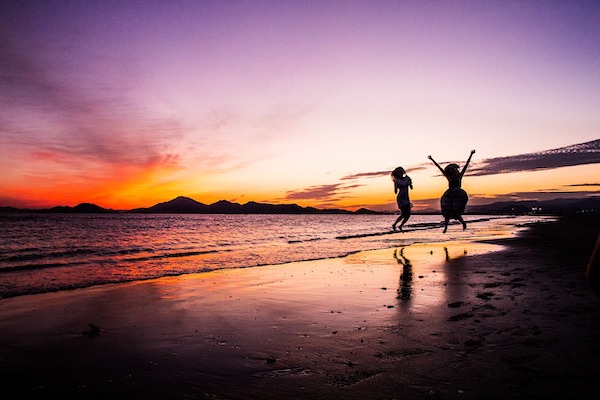 72. Songjeong Beach, Busan
It is a shallow sloping beach with lots of cafes and restaurants on the shoreline making it a summer favorite hangout destination. Surfers also like the beach as it is the best place in Korea to begin surfing.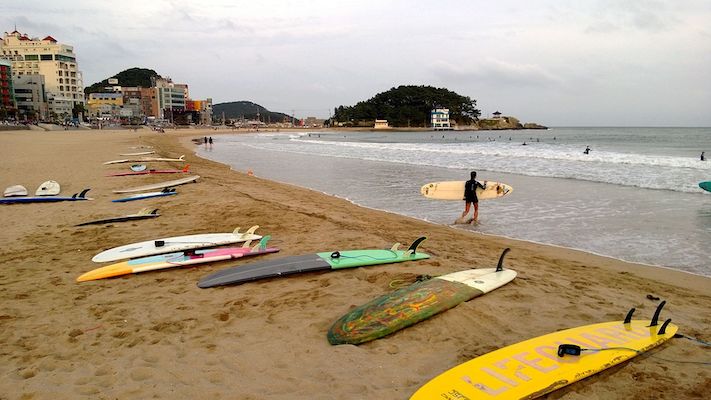 73. Huinnyeoul Culture Village, Busan
The name of the Huinnyeoul Culture Village comes from the way the brook passes through the village from Bongnaesan Mountain looking like white snow. It is also famous for its appearance in Korean films like The Attorney. In recent years, Huinnyeoul Coastal Tunnel has become one of the most popular sights in Buasn that you must-visit on your trip to Korea.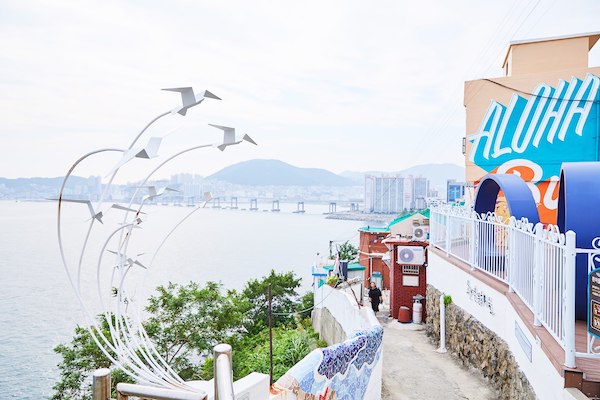 74. Songdo Beach & Yonggung Suspension Bridge, Busan
Songdo Beach is the first public beach in Korea. It opened in 1913 and since then, areas around it have developed marvellously. You can check ou the Songdo Sea Cable Car, Yonggung Suspension Bridge and others. The suspension bridge connects Amnam Park with an uninhabited island, Dongseom Island. You can enjoy the great views of the coastal cliff formations from the island.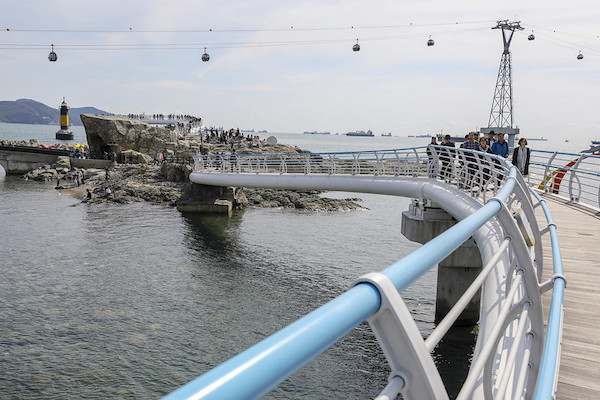 75. Palgongsan Mountain, Daegu
As one of the prominent mountains of the Yeongnam region, it offers the majestic views of Birobong Peak, Seobong and Donbong Peak, and Byeongpung Rock. There are several significant sites of Korean Buddhism like the Donghwasa Temple.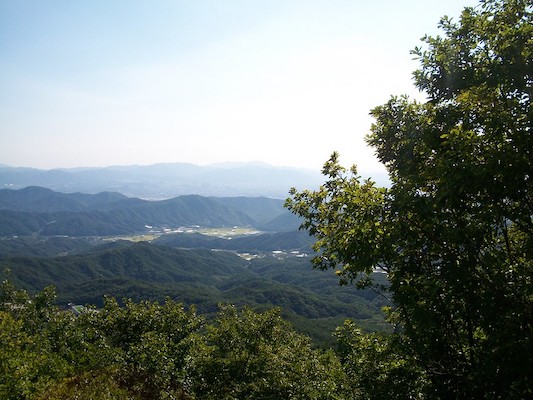 76. Suseongmot Lake, Daegu
From spring to fall, Suseongmot Lake becomes the favorite hangout spot for children and families. In winters, it transforms into a massive ice rink! It has a tiny island in the middle which was restored in 2013 through an ecological restoration project.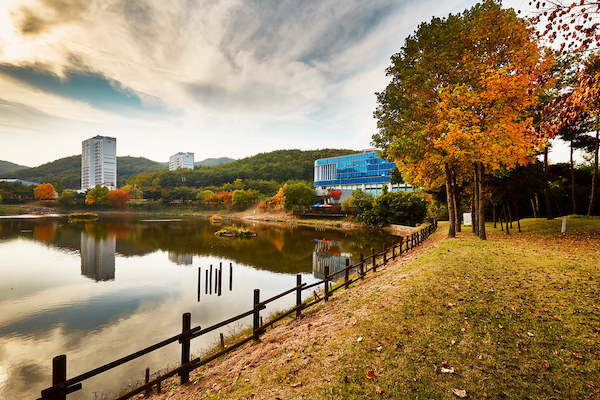 77. Seomun Market, Daegu
It is one of the three markets of the Joseon period and is the largest market in Daegu. You can enjoy the ever-favorite, Daegu-style noodles soup. There are many other attractions nearby, like Yangnyeongsi Market, Modern Culture Alley, and others.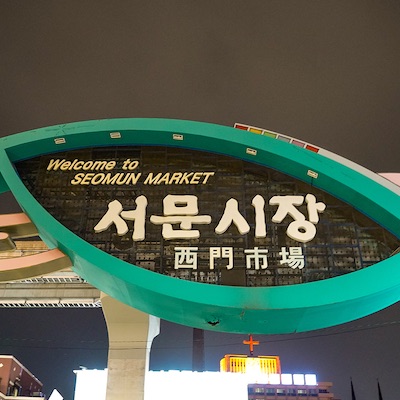 78. Petroglyphs of Bangudae Terrace, Ulsan
It is a collection of petroglyphs on a rock that lies at the Daegokcheon Stream. It depicts sea and land animals along with humans. Petroglyphs of Bangudae Terrace is one of the most significant piece of pre-historic period in Korea that provides insight about the lives and traditions of ancient humans.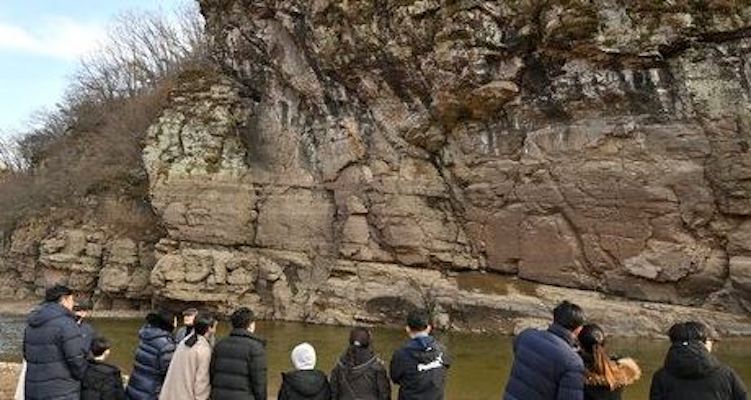 79. Cape Ganjeolgot, Ulsan
Cape Ganjeolgot is the first place in Northeast Asia where you can see the sunrise. On New Year's Day, it draws a huge crowd of people who want to welcome the new year with the first rays of the first sunrise of the year. There is a gigantic mailbox where if you write a letter and drop it off, it will actually be delivered!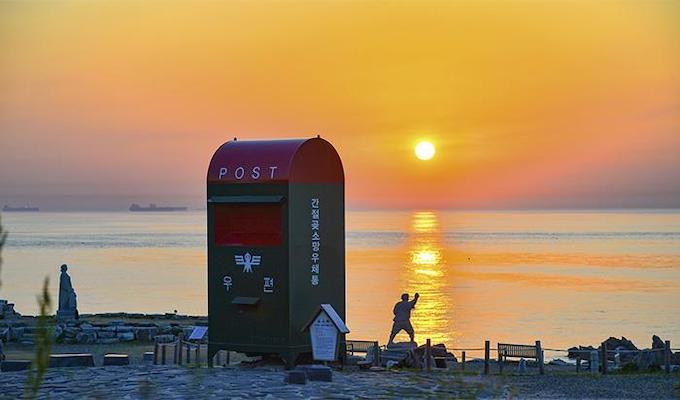 80. Yeongnam Alps, Ulsan
Yeongnam Alps is a collection of nine peaks named after the Alps of Europe as the view is quite comparable! It is one of the greatest mountain tourism destinations in southeastern Korea.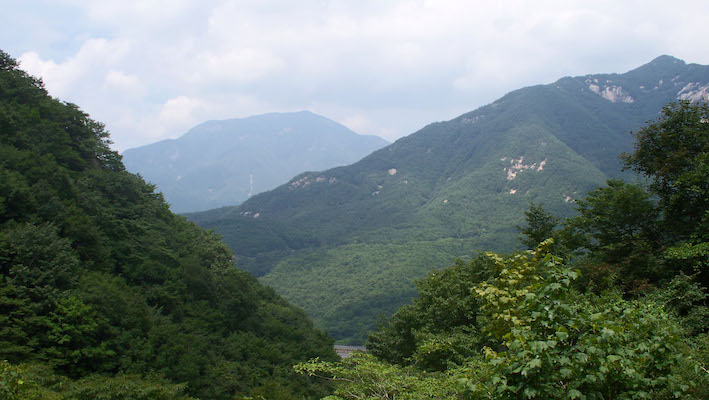 81. Daewangam Park, Ulsan
Located at the southeastern point of Korean peninsula, the park houses the Ulgi Lighthouse and is home of the beautiful seasonal flowers blossoming along the trail! The Daewanggyo Bridge connects the mainland with the Daewangam Rock which has a thousand-year history.
82. Taehwagang National Garden, Ulsan
Taehwagang National Garden is home to variety of pretty flowers along with dense bamboo forests. It was designated as the 2nd National Garden in 2019 after the restoration project of the Taehwagang River was completed.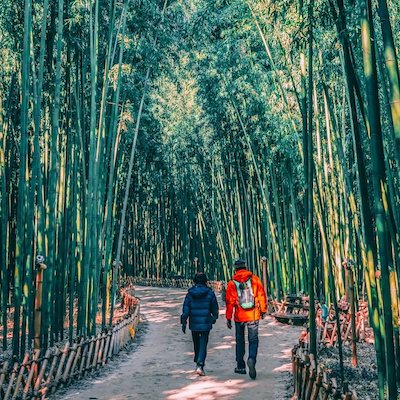 83. Haeinsa Temple, Hapcheon, Gyeongsangnam-do
Along with Tongdosa and Songgwangsa Temples, Haeinsa Temple is one of the three greatest temples in Korea. It also houses several of Korea's National Treasures of incomparable values.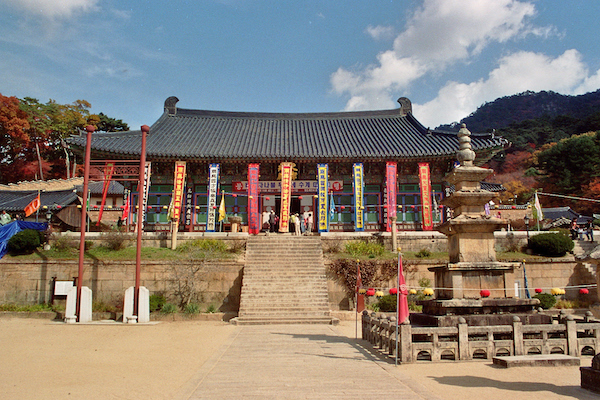 84. Windy Hill, Geoje, Gyeongsangnam-do
Windy Hill is a heart-shaped hill with wonderful views of the sea and a windmill on the hill top. It is popular as a filming site of Korean drama and films like Garden of Eve, Merry Go Round, and The Windmill Palm Grove. It is one of the most popular tourist spots of Geoje.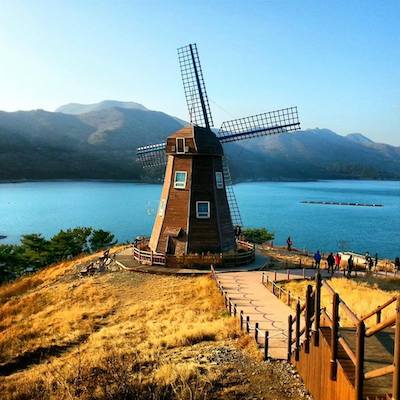 85. Namhae German Village, Gyeongsangnam-do
The German-styled houses with ornage roofs were home of Korean miners and nurses who emgrated to Germany in the 1960s. These houses offer a striking image, especially against the clear blue sea.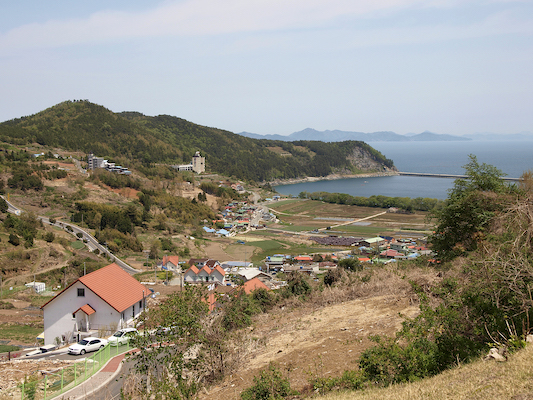 86. Hwangmaesan County Park, Gyeongsangnam-do
Hwangmaesan County Park has excellent valleys, ridges, and plains because of it's long perion of not being a tourist destination. The park offers impressive views of nature ranging from blooming royal azaleas in spring to snow-covered lands in winter.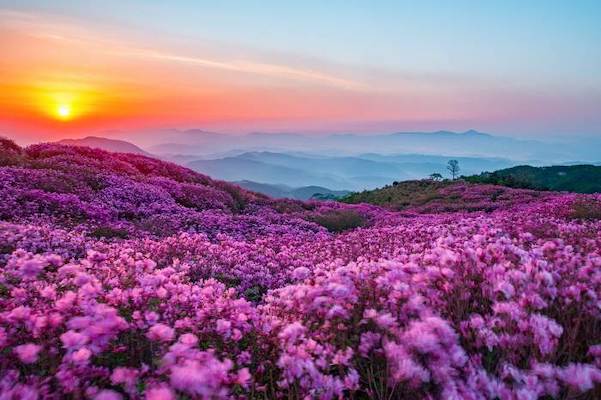 87. Changnyeong Upo Wetland, Gyeongsangnam-do
As one of the largest inland wetland, Changnyeong Upo Wetland is home to some magnificent flora and fauna. There are 800 species of plants, 28 varieties of fishes, 209 bird species, and 17 species of mammals.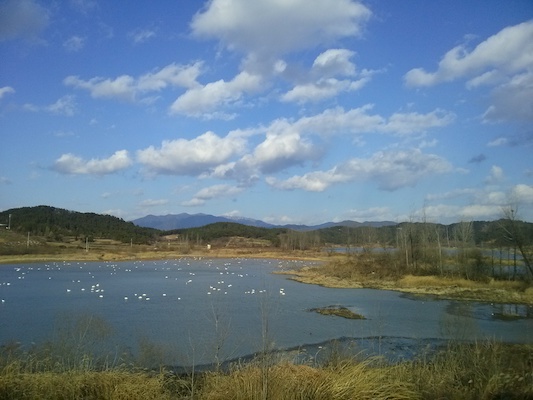 88. Buseoksa Temple, Gyeongsangbuk-do
Buseoksa Temple is the center of the Hwaeom school of Buddhism in South Korea. It is home to several cultural heritages like the Josadang Shrine, Stone Lantern, and many more. In 2018, it was classified as a UNESCO World Heritage.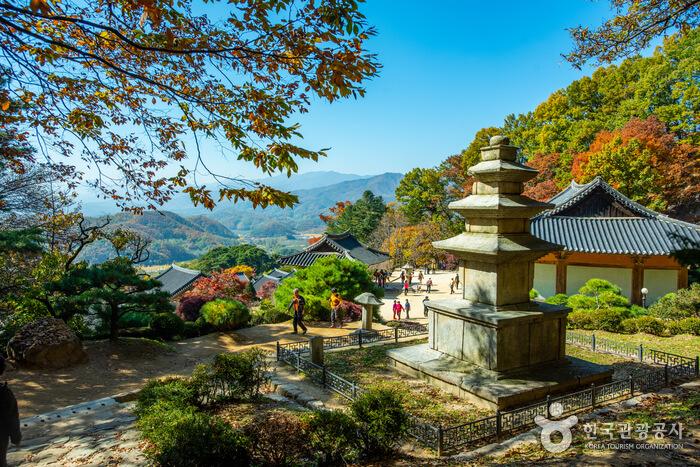 89. Hahoe Village, Andong, Gyeongsangbuk-do
Hahoe Village in Andong is the village of the Pungsan Ryu clan near the Nakdonggang River. It is surrounded by mountains on three sides and river on another because of which the rich heritage of the village has stayed the same. You can get a feel of the Andong's traditional culture in this UNESCO World Heritage site.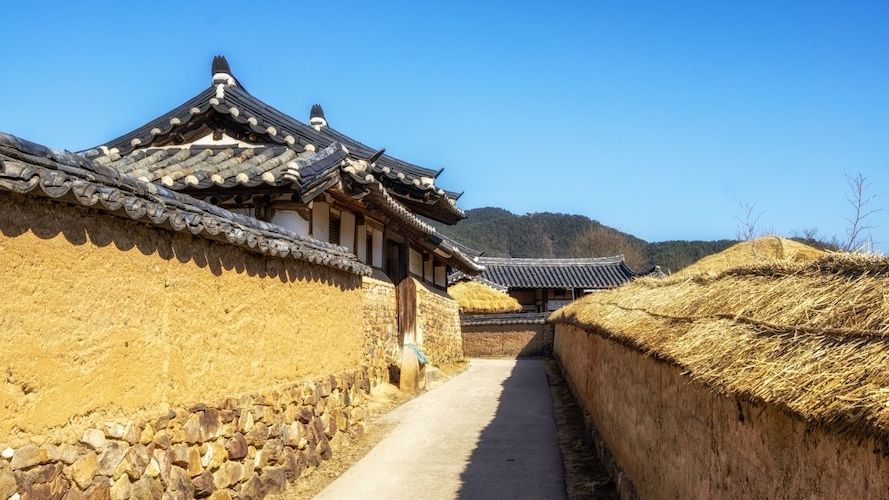 90. Byeongsanseowon Confucian Academy, Gyeongsangbuk-do
Byeongsanseowon Confucian Academy is representative of the greatest academy during the Joseon Dynasty rule. It is popular for its architectural brilliance and beautiful scenery. and you can explore the same in one of the must-visit spots of Gyeongsang.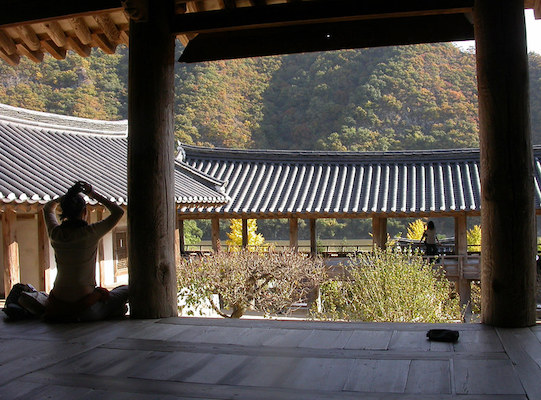 91. Ulleungdo and Dokdo Islands, Gyeongsangbuk-do
The islands are designated National Geoparks since 2012. Ulleungdo Island houses the Seonginbong Peak and Nari Basin along with dense virgin forests. Dokdo Island is further away from the Ulleungdo Island.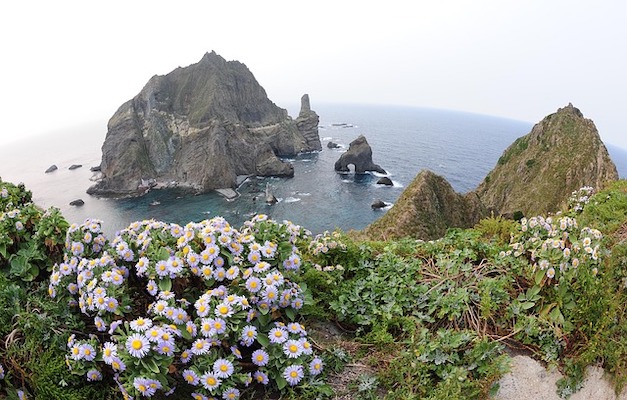 92. Bulguksa Temple & Seokguram Grotto, Gyeongsangbuk-do
Bulguksa Temple is the first UNESCO World Heritage site in Korea (1995). The Beomyeongnu Pavilion near the temple's entrance symbolizes Mt. Sumeru. The staircases to Buddhist enlightenment is through the Cheongyungyo and Baegungyo Bridges.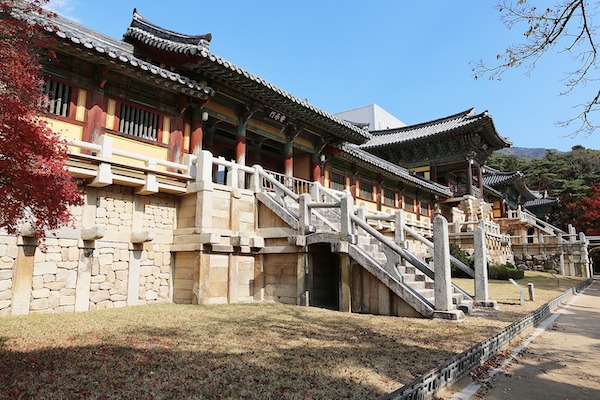 93. Daereungwon Ancient Tomb Complex, Gyeongju, Gyeongsangbuk-do
Daereungwon Ancient Tomb Complex is a collection of Gyeongju's historic sites from Silla period. There's the Donggung Palace, Wolji Pond, and the Cheomseongdae Observatory. The observatory is made from 365 stones reflecting the number of days in the year, and 27 stone terraces, referring to the 27th queen of Silla.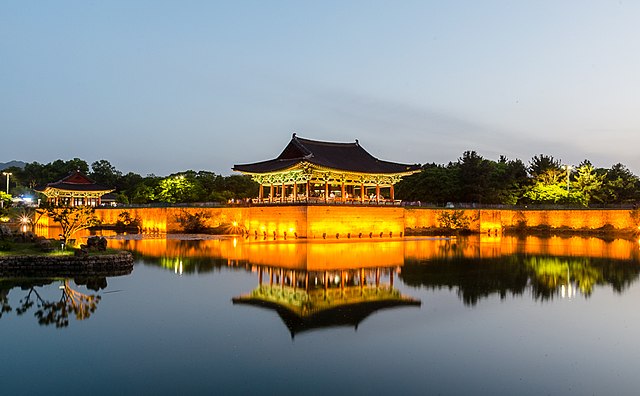 These are some of the beautiful sights in the Gyeongsang-do region that you must-visit in your trip to South Korea!
In the upcoming and last post covering Korea's 100 must-visit tourist spots, we will cover the 'Hawaii of Korea', Jeju Island.