Chungcheong-do is one of the Korea's principal regions with an exciting mishmash of ginseng fields, rice paddies, islands, and national parks. It is one of those places that foreign tourists skip out on while rushing to popular destinations like Busan or Gyeongju. But, in doing so, they miss out on some of the best, must-visit spots in the heart of the country that Chungcheong-do has to offer!
While visiting the region, you will surely feel the difference in the vibe of the place. Even the local populace is much more laid back and you will feel relaxed after the usual cacophony of other Korean cities.
Chungcheong-do Area's Must-Visit Tourist Spots in Korea
Continuing the list of South Korea's 100 must-visit tourist spots, following up on Seoul Capital region and Gangwon-do is Chungcheong-do.
Check out:
Tourist Places in Gangwon-do Area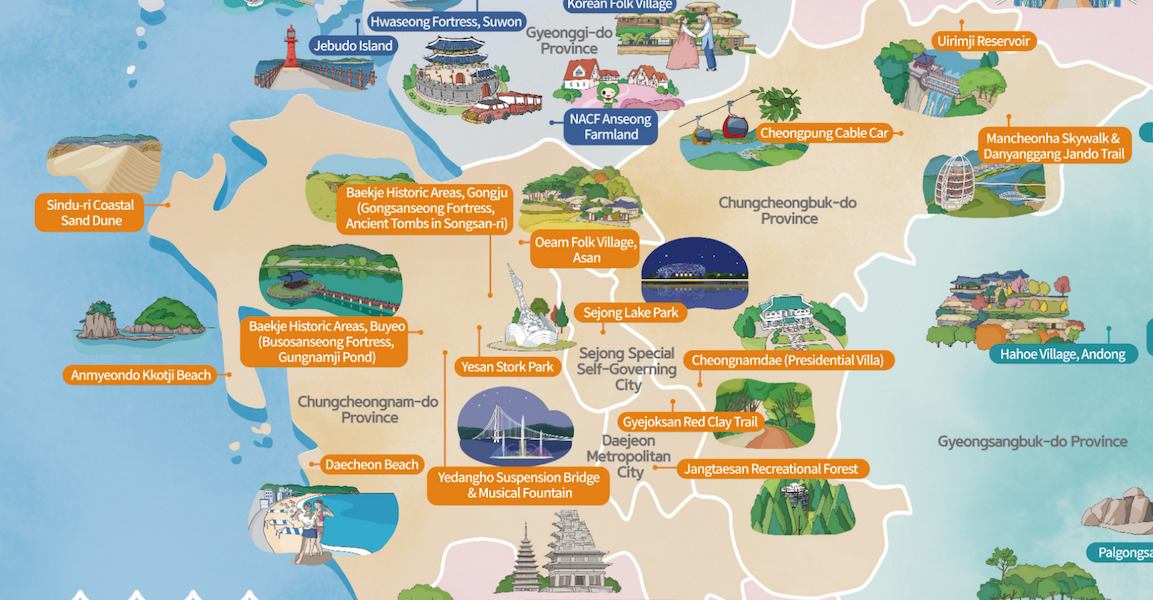 37. Jangtaesan Recreational Forest, Daejeon
It is a privately owned Recreational Forest with breathtaking Metasequoia trees. There are facilities in within the forest like forest adventure programs, campgrounds, and suspension bridges. It gained popularity after President Moon and the First Lady's visit in the summer of 2018. Two of the iconic spots in the Jangtaesan Recreational Forest are The Sky Tower and the Hyeongje Rock.
38. Gyejoksan Red Clay Trail, Daejeon
Gyejoksan Red Clay Trail is a must-visit site in Korea as you can walk barefoot here within the Jangdong Forest Park. The red clay trail is about 14.5 kilometers long and you can enjoy the walk in nature barefoot!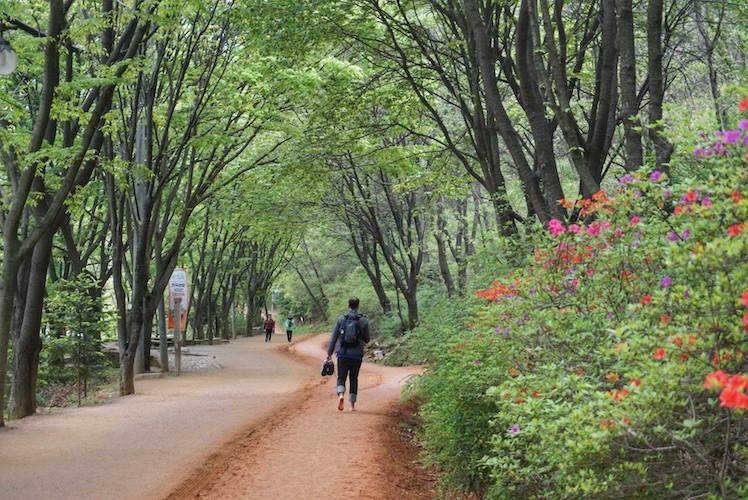 39. Cheongpung Cable Car, Chungcheongbuk-do
Connecting Multae-ri, Jecheon to Bibongsan Mountain summit, the Cheongpung Cable Car offers excellent views of Cheongpungho Lake. It is 2.3 kilometers long and takes about 9 minutes for you to enjoy the natural scenic beauty of the mountains.
40. Cheongnamdae (Presidential Villa), Chungcheongbuk-do
Cheongnamdae is the only presidential villa in the country to host six presidents of Korea. The natural environment has been well preserved, serving as a home to wildlife including over 143 species of wild flowers and 124 species of trees and several endangered species too! It is one of the must-visit tourist spots in Chungcheong-do if you want to know more about the history of Korean presidents.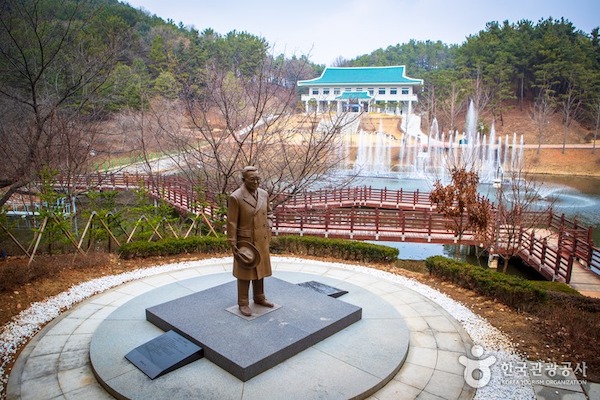 41. Uirimji Reservoir, Chungcheongbuk-do
It's a valuable reflection of the agricultural culture of South Korea as it dates back to the Three Kingdom period. Uirimji is also the first spawing grounds for smelts.
42. Mancheonha Skywalk & Danyanggang Jando Trail, Chungcheongbuk-do
Located 120 meters above Manhakcheon Peak, Mancheonha Skywalk is a round observatory deck overlooks the cliff over the Namhangang River. It has tempered triplex glass so you can look down and feel like you are walking in the air! You can enjoy panoramic views of the Baekdudaegan Mountain Range and it is a thrilling experience to overlook the river. For adrenaline-junkies, there are extreme sport activities like zip-lining and more.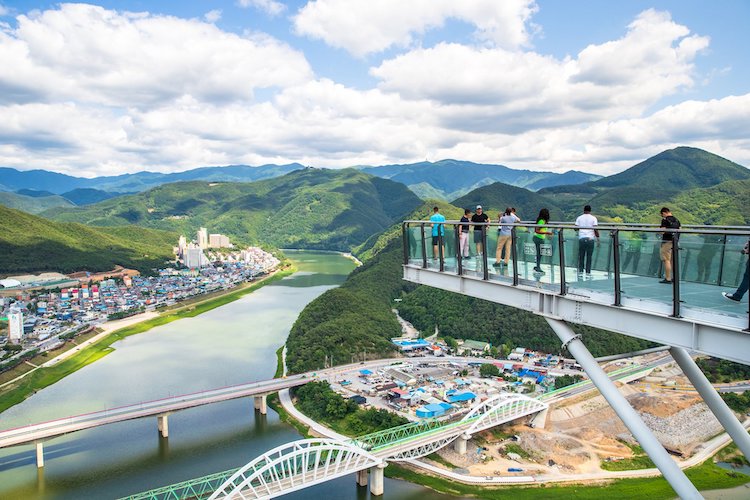 43. Daecheon Beach, Chungcheongnam-do
Made up of powdered seashell, it is the largest beach in the west of Korea. It is ideal for children and families because of its gentle slopes and low depth. The beach also hosts the famous Boryeong Mud Festival along with many others.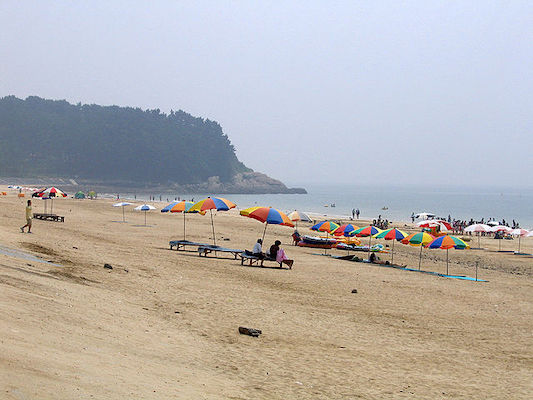 44. Yedangho Suspension Bridge & Musical Fountain, Chungcheongnam-do
This 402 meters long suspension bridge makes up for a pretty picture with the 5.2 kilometers long Neurinhosugil Trail. It is the longest suspension bridge in Korea and a symbol of the Yedangho Lake. The bridge offers quite a spectacular views when it gets dark, as it shines brilliantly in various colors with LED lights changing color in a gradation pattern. There is a floating musical fountain that lights up in the night with the bridge.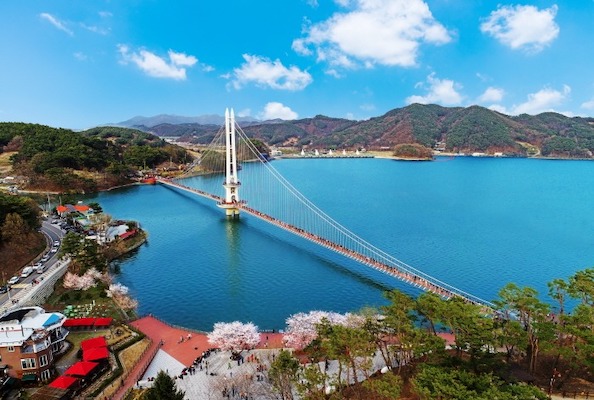 45. Anmyeondo Kkotji Beach, Chungcheongnam-do
The beach gets its name from a field of roses along the shoreline. It's a popular destination for summer vacations as it has gentle slopes and clear waters.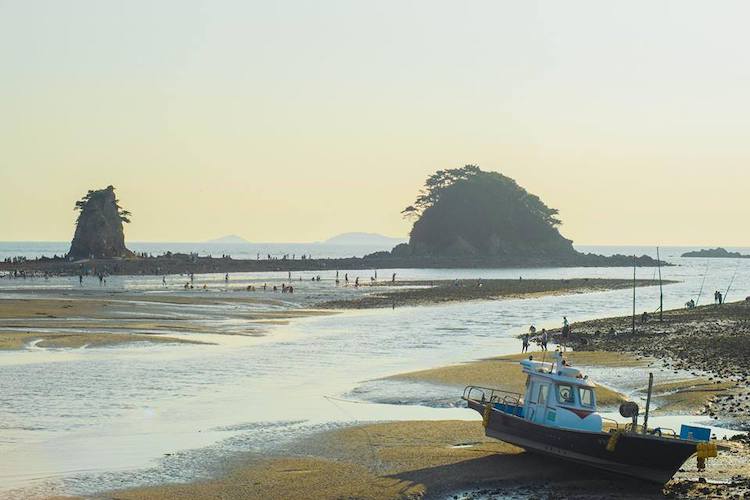 46. Gongsanseong Fortress, Ancient Tombs in Songsan-ri, Baekje Historic Areas, Gongju, Chungcheongnam-do
Baekje Historic Areas in Gongju include Royal Tombs of Baekje, the Tomb of King Muryeong, as well as Gongsanseong Fortress. The fortress was built to protect the capital of Baekje, Gonju.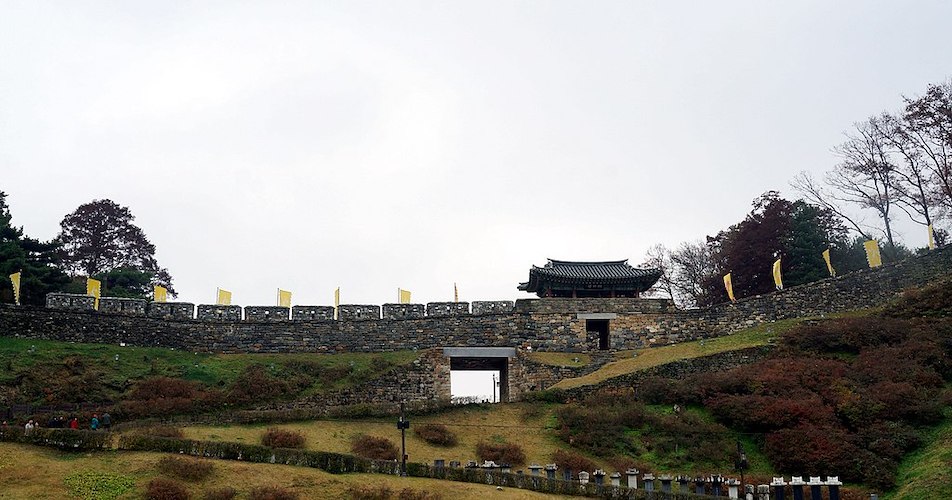 47. Busosanseong Fortress, Gungnamji Pond, Baekje Historic Areas, Buyeo, Chungcheongnam-do
Busosanseong Fortress is a mud fortress in the northern part of Buyeo located on the top of Busosan Mountain. It is home to quite a few historic landmarks from the Baekje's period.
Gungnamji Pond is Korea's first artificial pond made by King Mu from the Baekje Dynasty. The view are simply exceptional if you visit the place in evening.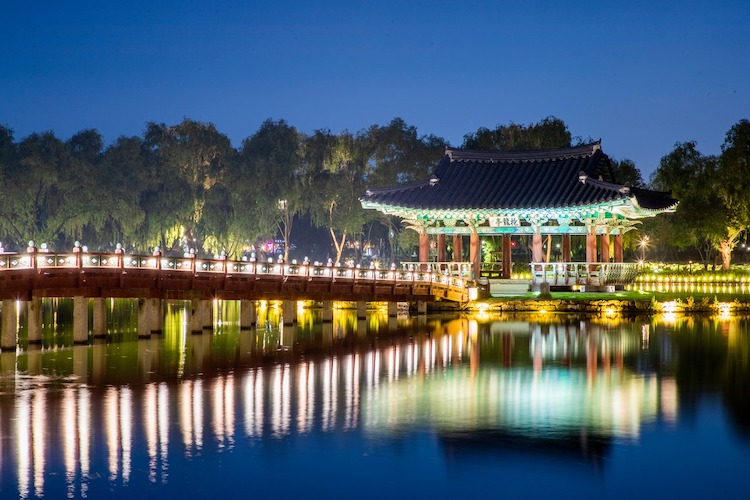 48. Yesan Stork Park, Chungcheongnam-do
Yesan Stork Park was established to help in the restoration of the endangered stork population in Korea. There is a cultural hall where visitors can explore the lives of storks. It is also one of the top 100 "Untact" tourist destinations by the Regional Tourism Organization Committee.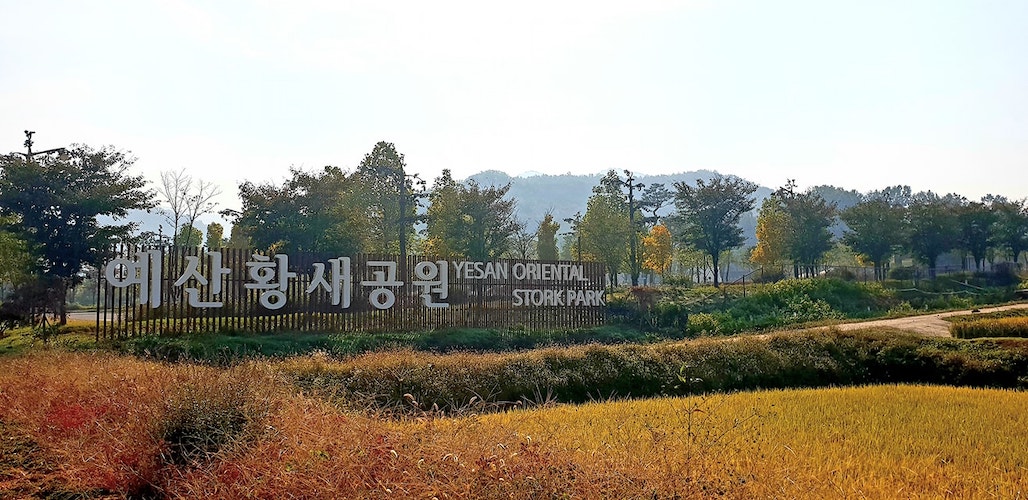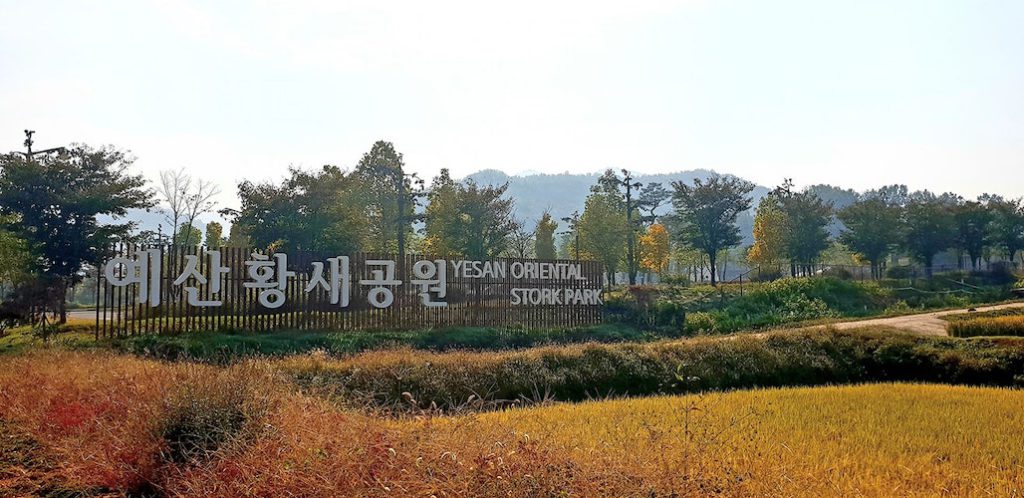 49. Sindu-ri Coastal Sand Dune, Chungcheongnam-do
It is the largest sand dune in Korea formed along a 5.4-kilometer long coast. Sindu-ri Coastal Sand Dun is commonly known as the 'desert of Korea' and believed to be formed about 15,000 years after the Ice Age ended. It is one of the must-visit spots in Chungcheong-do as you won't see the beauty of sand dunes along a coastline anywhere else.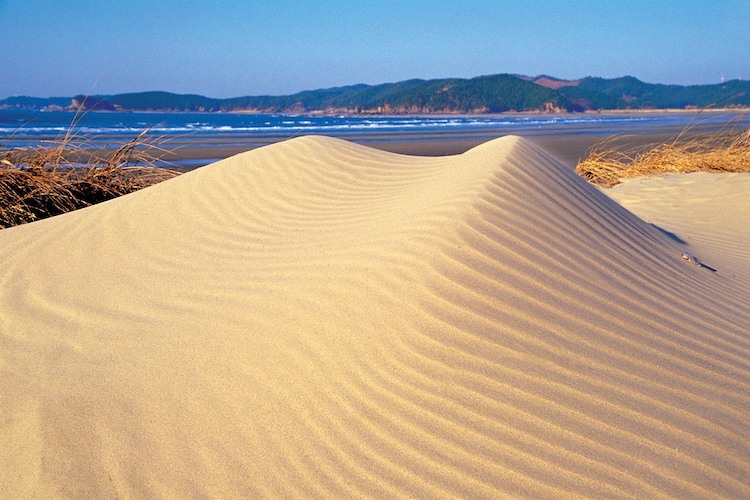 50. Oeam Folk Village, Asan, Chungcheongnam-do
Oeam Village is a 500 years old village with several intact thatched houses and yangban (aristocracy) houses. The coexistence of different classes in the same village make it more interesting. It is one of the certified Hanok Stay accommodations in South Korea.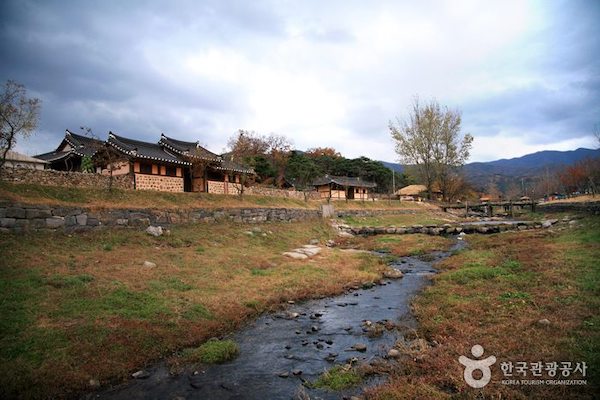 51. Sejong Lake Park, Sejong-si
It is an urban leisure and relaxation space that connects the Lake Park, Jungang Park, and Sejong National Arboretum.