The Ministry of Culture, Sports and Tourism, and the Korea Tourism Organization (KTO) have announced the 100 Must-Visit Tourism Spots of Korea for 2021-2022. Out of these 100 must visit tourist spots in Korea, 51 of the travel destinations are natural attractions and 49 are cultural attractions.
The list of 100 must visit spots was first launched in 2013 and since then, 19 out of the total have been on the list for five consecutive times. All these destinations were selected from a pool of 198 destinations in South Korea.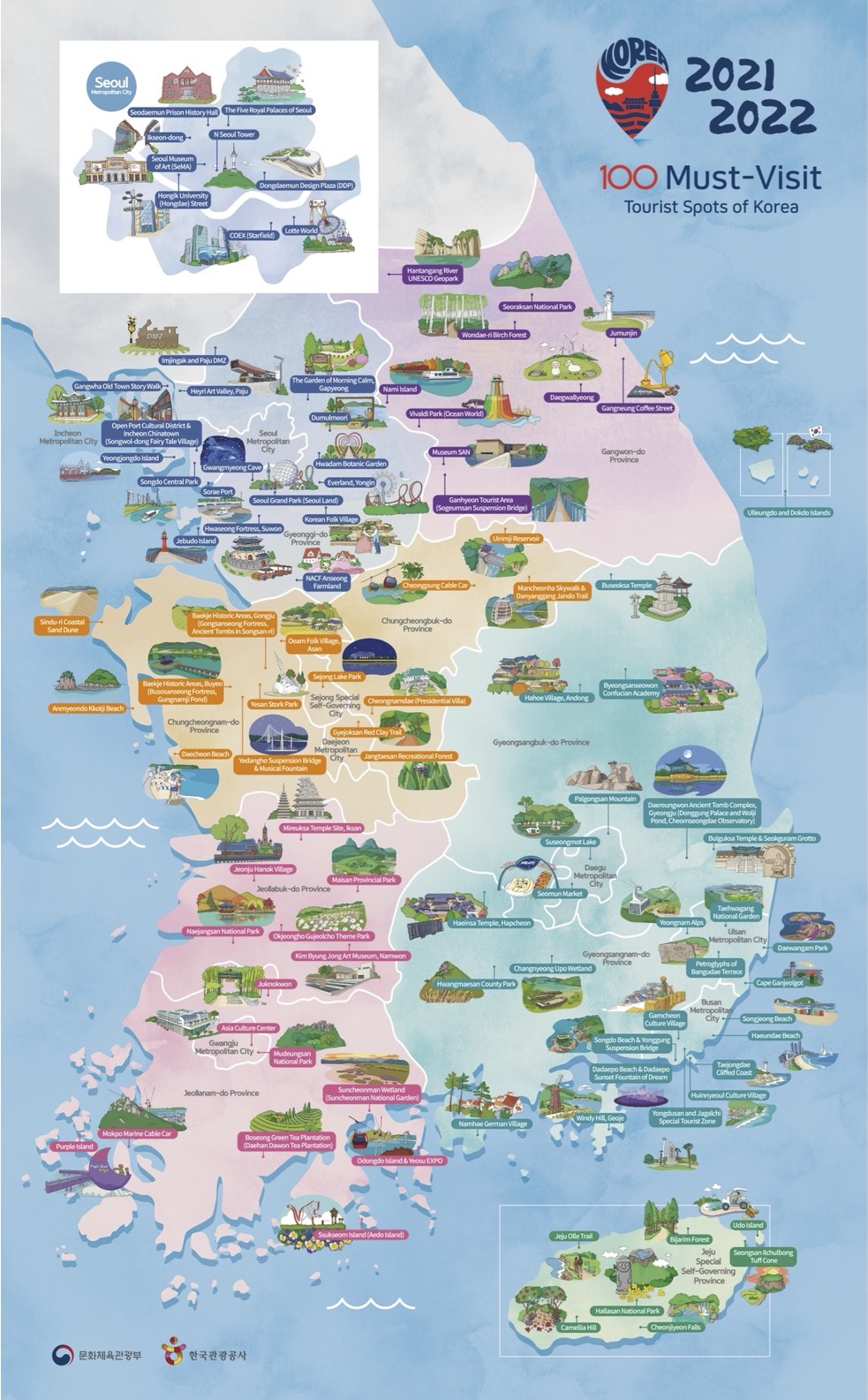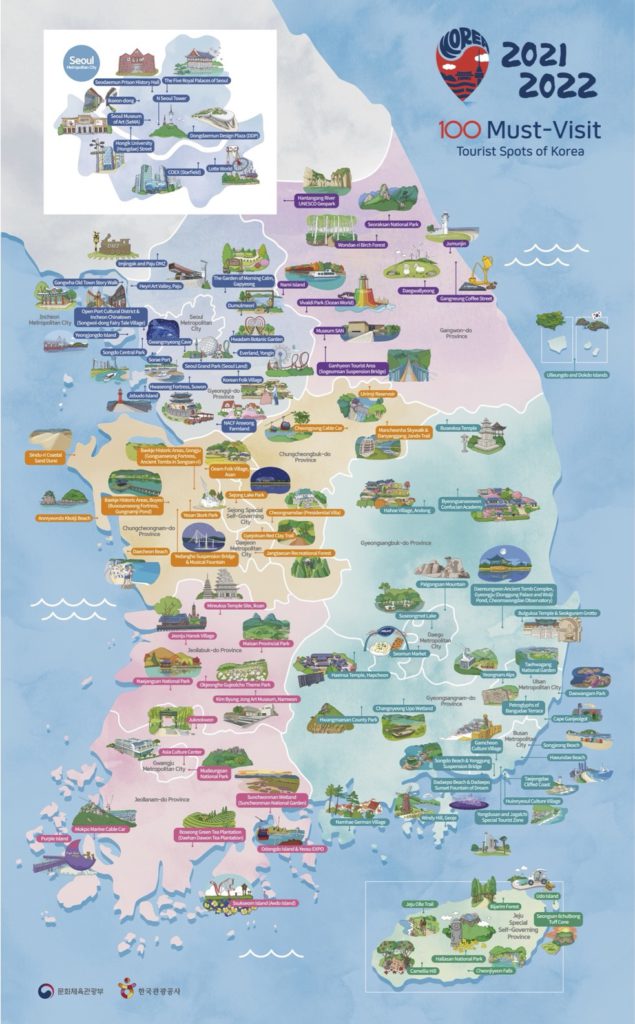 According to Choi Bo-guen, head of the Culture Ministry's Tourism Policy Bureau, "It is sad that we cannot enjoy traveling as we please as the COVID-19 pandemic continues. We hope Koreans and tourists can travel freely in the near future, visiting the 100 Must-Visit Tourism Spots of Korea".
100 Must-Visit Tourist Spots in Korea
You must visit South Korea to check out the magnificent beauty, rich history, epic landscapes, amazing constructions and architecture, and more! Let's take a look at the 100 must visit tourist spots that'll make your South Korea trip unforgettable!
---
Seoul Capital Area – Seoul
---
1. The Five Royal Palaces of Seoul
2. Seoul Museum of Art (SeMA)
3. Hongik University (Hongdae) Street
4. Dongdaemun Design Plaza (DDP)
5. N Seoul Tower
6. Lotte World
7. Ikseon-dong
8. Seodaemun Prison History Hall
9. COEX (Starfield)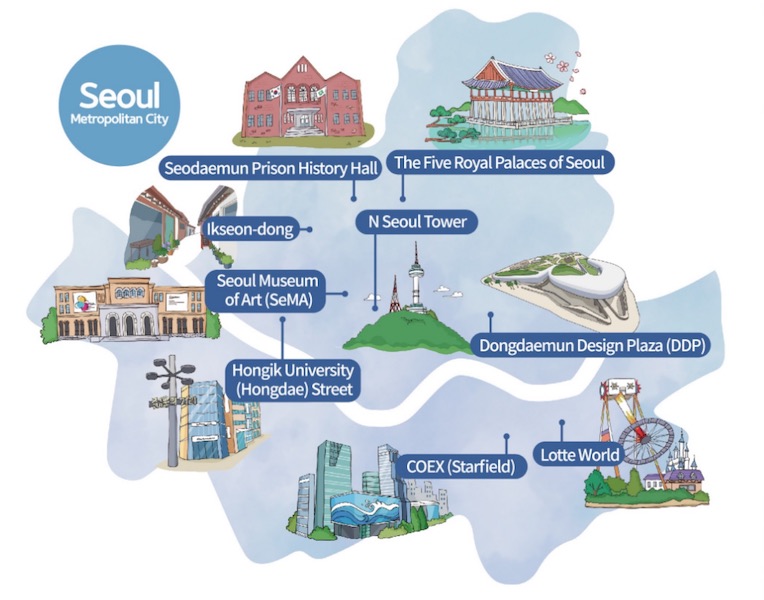 ---
Seoul Capital Area – Incheon
---
10. Yeongjongdo Island
11. Gangwha Old Town Story Walk
12. Open Port Cultural District & Incheon Chinatown (Songwol-dong Fairy Tale Village)
13. Sorae Port
14. Songdo Central Park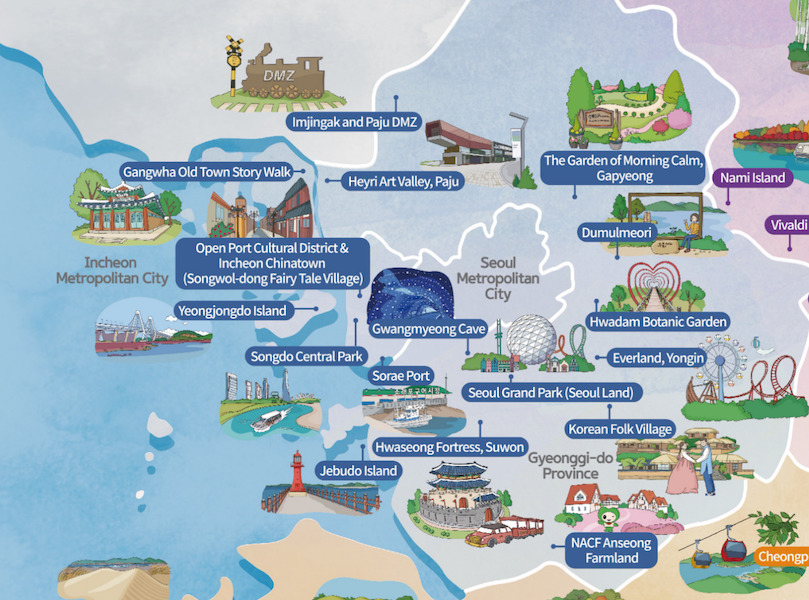 ---
Seoul Capital Area – Gyeonggi-do
---
15. Everland, Yongin
16. Hwaseong Fortress, Suwon
17. Seoul Grand Park (Seoul Land)
18. Korean Folk Village
19. Gwangmyeong Cave
20. Dumulmeori
21. Hwadam Botanic Garden
22. Jebudo Island
23. Imjingak and Paju DMZ
24. Heyri Art Valley, Paju
25. The Garden of Morning Calm, Gapyeong
26. NACF Anseong Farmland
---
Gangwon-do Area
---
27. Wondae-ri Birch Forest
28. Vivaldi Park (Ocean World)
29. Daegwallyeong
30. Seoraksan National Park
31. Hantangang River UNESCO Geopark
32. Jumunjin
33. Museum SAN
34. Gangneung Coffee Street
35. Nami Island
36. Ganhyeon Tourist Area (Sogeumsan Suspension Bridge)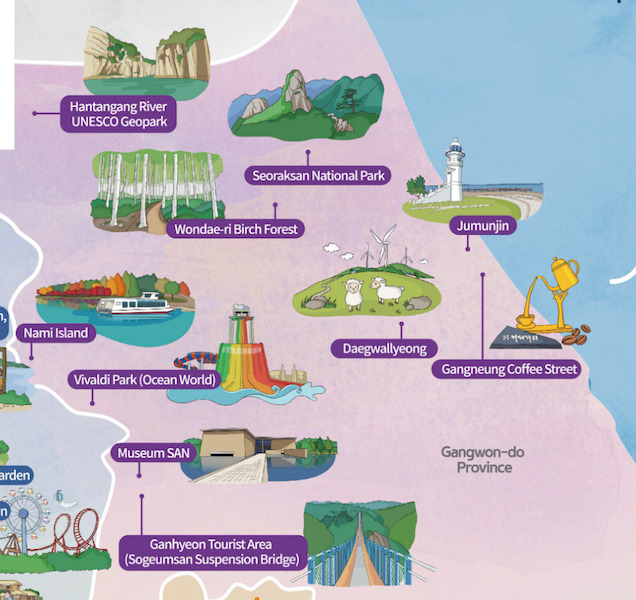 ---
Chungcheong-do Area
---
37. Jangtaesan Recreational Forest, Daejeon
38. Gyejoksan Red Clay Trail, Daejeon
39. Cheongpung Cable Car, Chungcheongbuk-do
40. Cheongnamdae (Presidential Villa), Chungcheongbuk-do
41. Uirimji Reservoir, Chungcheongbuk-do
42. Mancheonha Skywalk & Danyanggang Jando Trail, Chungcheongbuk-do
43. Daecheon Beach, Chungcheongnam-do
44. Yedangho Suspension Bridge & Musical Fountain, Chungcheongnam-do
45. Anmyeondo Kkotji Beach, Chungcheongnam-do
46. Gongsanseong Fortress, Ancient Tombs in Songsan-ri, Baekje Historic Areas, Gongju, Chungcheongnam-do
47. Busosanseong Fortress, Gungnamji Pond, Baekje Historic Areas, Buyeo, Chungcheongnam-do
48. Yesan Stork Park, Chungcheongnam-do
49. Sindu-ri Coastal Sand Dune, Chungcheongnam-do
50. Oeam Folk Village, Asan, Chungcheongnam-do
51. Sejong Lake Park, Sejong-si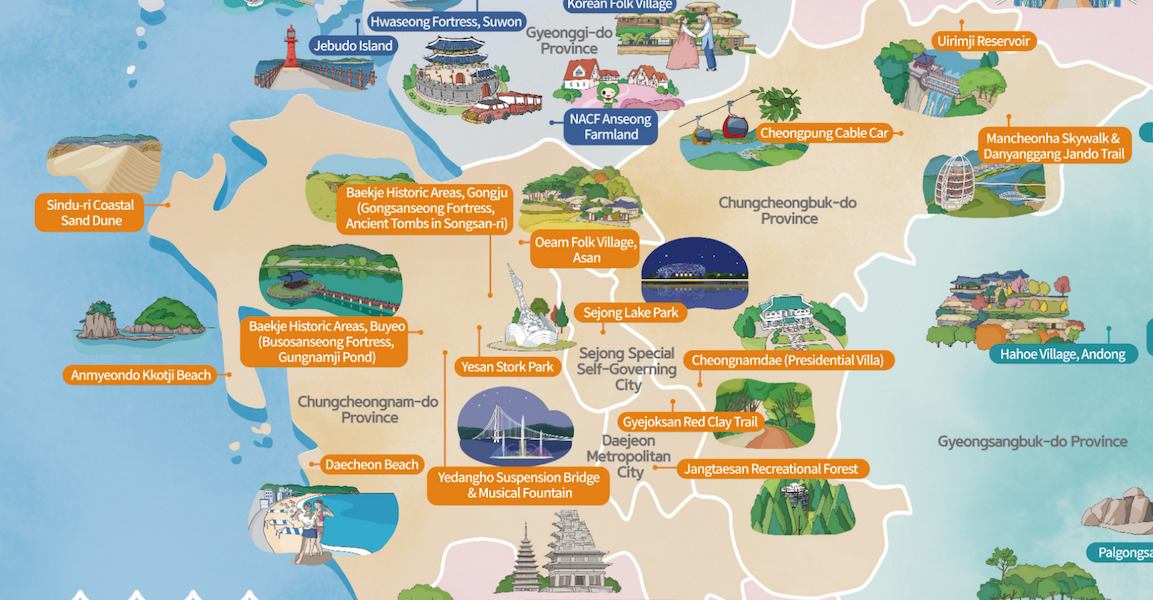 ---
Jeolla-do Area
---
52. Purple Island, Jeollanam-do
53. Ssukseom Island (Aedo Island), Jeollanam-do
54. Boseong Green Tea Plantation, (Daehan Dawon Tea Plantation ) Jeollanam-do
55. Juknokwon, Jeollanam-do
56. Odongdo Island & Yeosu EXPO, Jeollanam-do
57. Suncheonman Wetland (Suncheonman National Garden), Jeollanam-do
58. Mokpo Marine Cable Car, Jeollanam-do
59. Mireuksa Temple Site, Iksan, Jeollabuk-do
60. Jeonju Hanok Village, Jeollabuk-do
61. Okjeongho Gujeolcho Theme Park, Jeollabuk-do
62. Naejangsan National Park, Jeollabuk-do
63. Kim Byung Jong Art Museum, Namwon, Jeollabuk-do
64. Maisan Provincial Park, Jeollabuk-do
65. Mudeungsan National Park, Gwangju
66. Asia Culture Center, Gwangju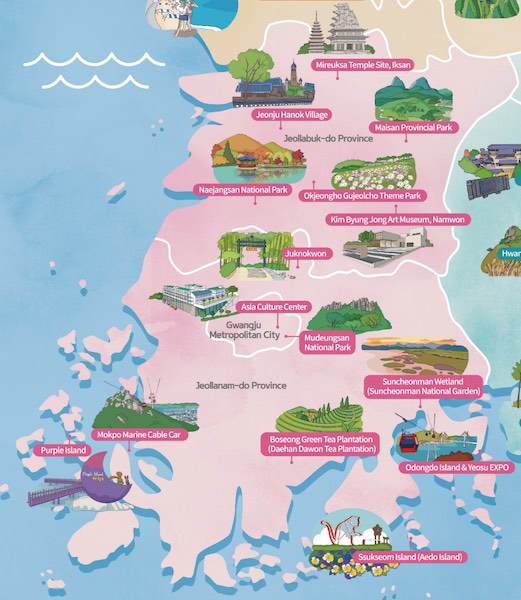 ---
Gyeongsang-do Area
---
67. Taejongdae Cliffed Coast, Busan
68. Yongdusan and Jagalchi Special Tourist Zone
69. Haeundae Beach
70. Gamcheon Culture Village
71. Dadaepo Beach & Dadaepo Sunset Fountain of Dream
72. Songjeong Beach
73. Huinnyeoul Culture Village
74. Songdo Beach & Yonggung Suspension Bridge
75. Palgongsan Mountain, Daegu
76. Suseongmot Lake
77. Seomun Market
78. Petroglyphs of Bangudae Terrace, Ulsan
79. Cape Ganjeolgot
80. Yeongnam Alps
81. Daewangam Park
82. Taehwagang National Garden
83. Haeinsa Temple, Hapcheon, Gyeongsangnam-do
84. Windy Hill, Geoje
85. Namhae German Village
86. Hwangmaesan County Park
87. Changnyeong Upo Wetland
88. Buseoksa Temple, Gyeongsangbuk-do
89. Hahoe Village, Andong
90. Byeongsanseowon Confucian Academy
91. Ulleungdo and Dokdo Islands
92. Bulguksa Temple & Seokguram Grotto
93. Daereungwon Ancient Tomb Complex, Gyeongju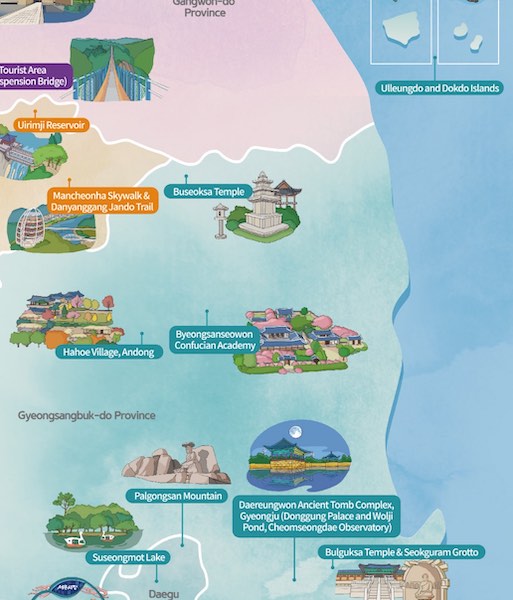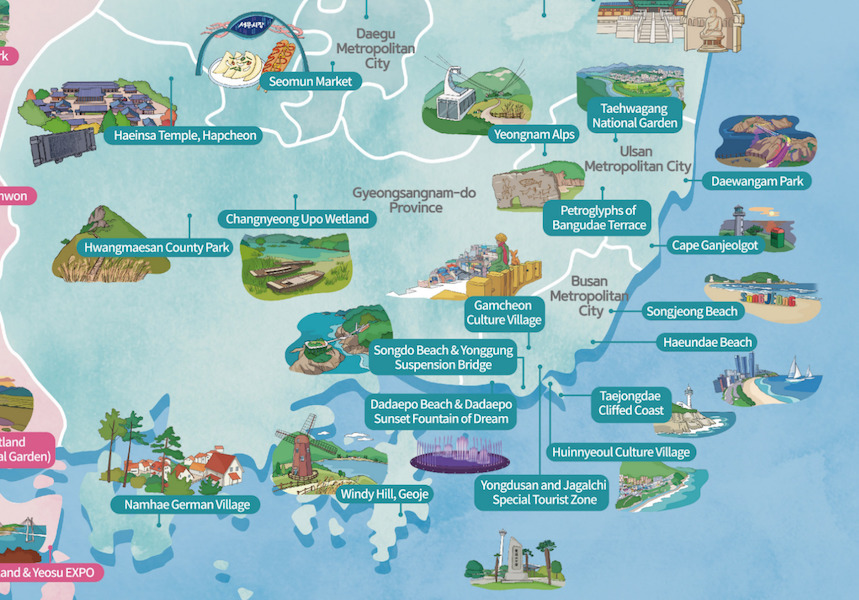 ---
Jeju-do Area
---
94. Seongsan Ilchulbong Tuff Cone
95. Hallasan National Park
96. Jeju Olle Trail
97. Cheonjiyeon Falls
98. Camellia Hill
99. Udo Island
100. Bijarim Forest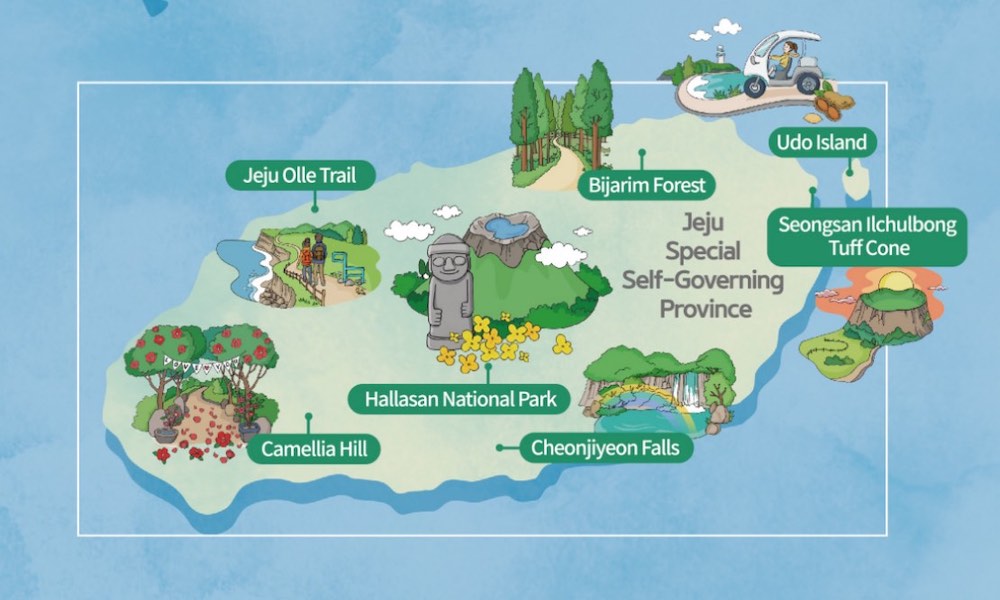 Look forward to reading more about these 100 must-visit tourist spots in South Korea in our upcoming posts during the week!
Meanwhile, check out some interesting reads from KoreaTravelPost: