No matter where you are traveling to, it is essential to know about the plug type, adapter type, and socket type of the destination country! You need a proper power connection to ensure that you don't end up with a drained phone! So, we will cover all about Korea's voltage, outlets, and the type of Korea-compatible plug adapter you need!
Korea Travel Essentials – Korea's Voltage
The standard electrical voltage in South Korea is 220 Volts and 60 Hz.
Korea Travel Essentials – Korea's Power Outlets
In South Korea, you will find round-type power outlets. These outlets are compatible with two types of plug adapters – Plug Type C (Euro plug) and Plug Type F (German Schuko). Both the plug types have round pins that are fixed 19mm apart from each other. These pins can fit into two round holes of size ranging from 4.0mm to 4.8mm.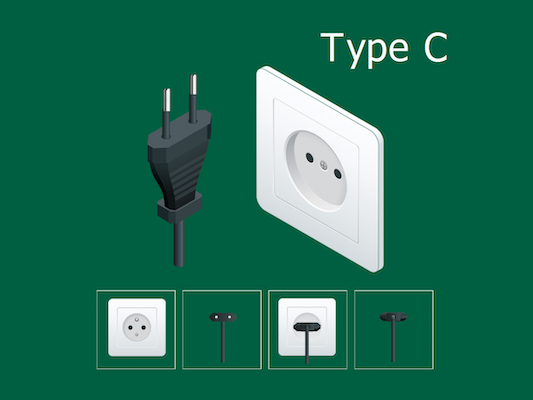 These types of plug adapters are common in most European countries. So, if you wonder if Korean and European plugs are the same, the answer is yes! But they aren't the same as American plugs.
If your electronic items' power cables do not have these Korea-compatible wall plug adapters at their ends, you must get a multi-outlet before your South Korea trip.
Using/Recharging Electronics in South Korea
It is important to remember that if your electronics have a different power rating than 220V, 60Hz, they will not work in South Korea!
So, phones, cameras, laptops, power banks, electric razors, etc. can be recharged. But electronics like heaters, hair dryers, and such, ones with motors in them, won't work. They can break down or even explode due to different voltage ratings.
Most electronic items come with a built-in power transformer (the big black box you see in a laptop power cable!). They can adapt to the local voltage no matter where you are.
If there is no power transformer, you must get a power converter to use certain devices.
Adapter Requirement
You will need a simple adapter that will convert your plugs so that they become compatible with Type C or Type F outlets.
Consider purchasing an adapter that will adapt your local plug to the Europlug or German Schuko outlet in Korea.
Or, you can purchase a universal travel adapter that will work not only in South Korea but all over the world!
In case you did not begin your travel with a Korea-compatible plug adapter, there is no need to panic! Multi-adapters are readily available in Korea!
Getting Wall Plug Adapter in Korea
#1 Hotel Front Desk
Most hotels will rent out travel adapters to guests free of cost! So, if you've not already purchased your own, you can ask the front desk if they have any travel adapters available.
Some hotels have wall outlets that can accommodate all types of plugs, but they aren't very common.
#2 Korean Convenience Stores
You can find wall adapters in Korean convenience stores such as Lotte Mart or Emart. There is a wide variety of options that you can get from these stores and they are of good quality. You'll even find some adapters with USB ports in them.
#3 Daiso
You can get Korea plug adapters at pretty cheap prices in Daiso.
Ensure you choose the appropriate ones, as some are labeled "No Domestic Use'. They are designed for use with Korean products and to be used in international wall plugs. You can use the same to adapt your international plug to Korea-compatible plug outlets.
The label just ensures that if you use it domestically, insurance does not cover any damage.
#4 Airport Convenience Store
It is the most premium option as the travel adapters are quite expensive at the convenience store in Incheon Airport. So, if you haven't got time to explore other stores like Daiso or Lotte Mart, and your phone is dying, go for it! But otherwise, wait for a while and get a cheap Korean plug adapter at other stores.
Check out other travel essential articles from KoreaTravelPost before your trip to South Korea!
Our editors independently select all products featured on KoreaTravelPost. However, we may earn an affiliate commission when you buy something through our retail links.