Lotte Mart is one of the leading discount store chains in Korea. At Lotte Mart, you can buy high-quality products, including groceries, processed foods, clothes, fashion accessories, electronics, toys, household goods, cosmetics, and more. And the best part, you can buy all of this at the lowest price with the best service.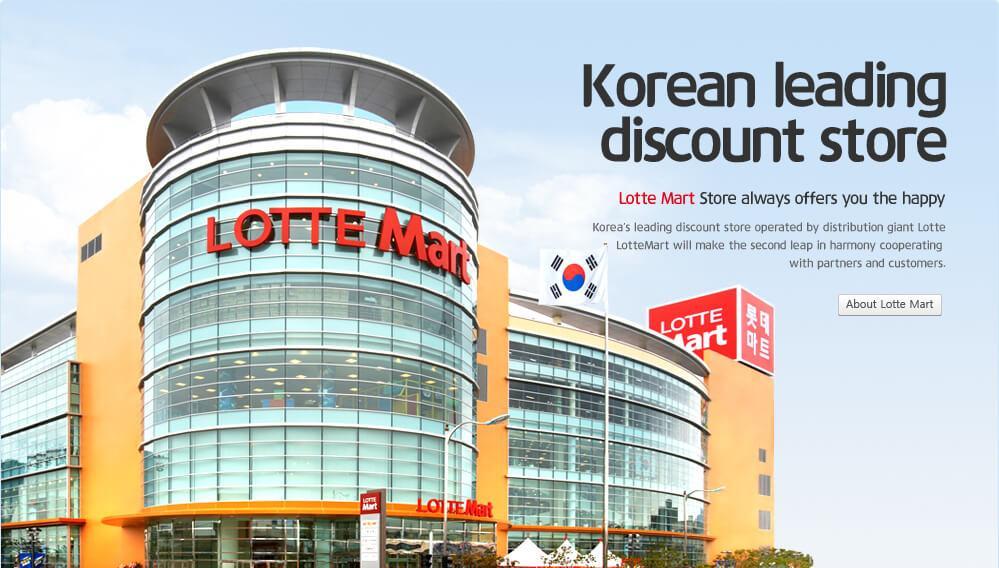 You might be thinking, "what to buy at Lotte Mart?" Well, the answer is pretty simple. You can buy anything, and everything that your heart desires and your pocket can afford. The Seoul supermarket is so huge that you might even get overwhelmed with all the shopping options.
You can buy Lotte snacks, popular Korean snacks, and some of the best Korean snacks to try. They can be excellent munching and snacking food that you can enjoy while you are doing all kinds of touristy things in Korea. You can even buy soju, the Korean drink of choice in liquor, from Lotte Mart.
If you are a fan of K-beauty and diligently follow the Korean skin care regimen, then Lotte Mart will feel like a wonderland to you. The second floor of the Seoul supermarket is full of Korean beauty brands. You will find rows and rows of cosmetics and makeup with eye-catching promotions. You will see offers like BUY 10 GET 10 FREE, 50% OFF, Buy 1 Get 1, and many more.
There is also a vast area for clothing and accessories on the same floor. It is literal heaven if you are a fan of both Korean fashion and Korean beauty!
Moreover, Lotte Supermarket also hosts many promotional sale events where you can get products at a steal price. There are some member-exclusive promotions also which you can avail by easily signing up on the Lotte mart website. The signing up is free, and you can receive member's discounts instantly.
Shopping at Lotte Mart, Korea is very convenient as they accept all overseas credit cards, including MasterCard, VISA, JCB, and Union Pay.
Lotte Mart Branches in Korea
There are eight branches of Lotte supermarket in Korea, so no matter where you are, search on Naver Map – 'Lotte Mart near me' and you'll get the directions. The Naver Map app will also tell you about the Lotte mall hours as they vary amongst different branches.
| | | | |
| --- | --- | --- | --- |
| Seoul Station | Jamsil | Gimpo Airport | Jeju |
| Cityseven | Songpa | Youngjoing-do | Cheongniyang-ri |
Lotte Mart Seoul Station Branch
Lotte Mart's Seoul Station Branch is one of the most popular ones amongst foreign tourists. Another reason why tourists prefer buying popular Korean snacks from Lotte supermarket because they get tax refunds (maximum 8%) for purchases of 30,000 won ($25) or more.
Lotte Mart Seoul Station Branch is quite popular amongst tourists as public transportation is quite convenient. The Lotte mall hours run until late night, which allows tourists to spend idle time before heading to the airport or catching a train to another city. There is an option of an EMS overseas shipping service so you can directly ship to home if something is too big to carry. You also get locker service for additional convenience and free empty boxes for packing.
It is the mothership of the Lotte Mart branches in Korea. The sizeable space covers four stories with each floor dedicated to specific items and services. The second floor is dedicated to groceries and photo processing; the third floor caters to clothing, jewelry, and beauty products. The fourth floor is for dry cleaning and seamstresses, where you can stop by for laundry services.
Tips for Shopping at Lotte Mart Korea
Plastic bags are available, but you have to pay for those. So, if you don't like to spend money on buying something you already have, bring your own bags.
You can also use the free paper boxes provided by the Lotte supermarket to carry things, but it is not exactly convenient.
Bring your passport for instant VAT Tax Refund while you are paying for the all the popular Korean snacks you will end up buying.
Must-Buy Products from Lotte Mart
Some of the products might be available in your home country also because of the wonderful thing called import-export. You should still go on a shopping spree in Lotte Mart because after all, products are cheaper and shopping itself is a fun activity! Massive selections of unique Korean foods and snacks are the main draw for foreign visitors.
Honey Butter Chips (허니버터)
If you follow any Korean trend, then you already know about seasoned potato chips. It's not a regular everyday bag of chips, but it contains a distinctive honey buttercream flavor. It is the number one best Korean snack that you should buy.
Turtle Chips (꼬북칩)
It has a very addictive strong seasoning, which you will just not be able to stop eating. The Turtle Chips are another must-buy Korean snack.
Tteokbokki Crackers
You may have come across tteokbokki in your search for Korean street food. Tteokbokki is a spicy rice cake, and the tteokbokki crackers are a more portable version of the street food delicacy. The crackers are not as spicy as the real deal, but it may work to your advantage if you can't handle too spicy stuff.
Market O Brownie
The brownie is rich, chocolatey, and very aromatic. It even has a hint of rhum aroma. These brownies come in three flavors: chocolate, green tea, and orange. The brownies are super chewy, gooey, and mouth-wateringly tasty!
Pepero Sticks
For someone who is not familiar with Pepero, they are pencil-thin cracker shafts that are half-dipped in a sweet coating. Pepero Sticks in Lotte Mart are available in a broad array of flavors, from cookies to fruity. If you've ever had Pocky in your life, then picking a box of Pepero is essential. These sticks are deeply ingrained into Korean culture, and they even celebrate a national holiday, Pepero Day on November 11.
Binggrae Banana Flavoured Milk
Korea's banana-infused milk is one of the favorite Korean drinks. And that just proves that you must try it at least once. It has a subtle banana aroma with a lightly sweet taste and is not too milky.
Lotte Yoghurt Jelly
Lotte Yoghurt Jelly is another milk-based product that is essentially jelly candy with a sweet-sour yogurt flavor.
Korean tea is interesting, and there are many unique flavors such as Barley and Corn Tea, Omija Tea, Honey Citron Tea, and many more. Barley and Corn Tea has a pleasant roasted aroma, and Omija Tea is a fruity tea with dried magnolia berries. Citron Tea is famous because of its versatility – its excellent when prepared hot or cold.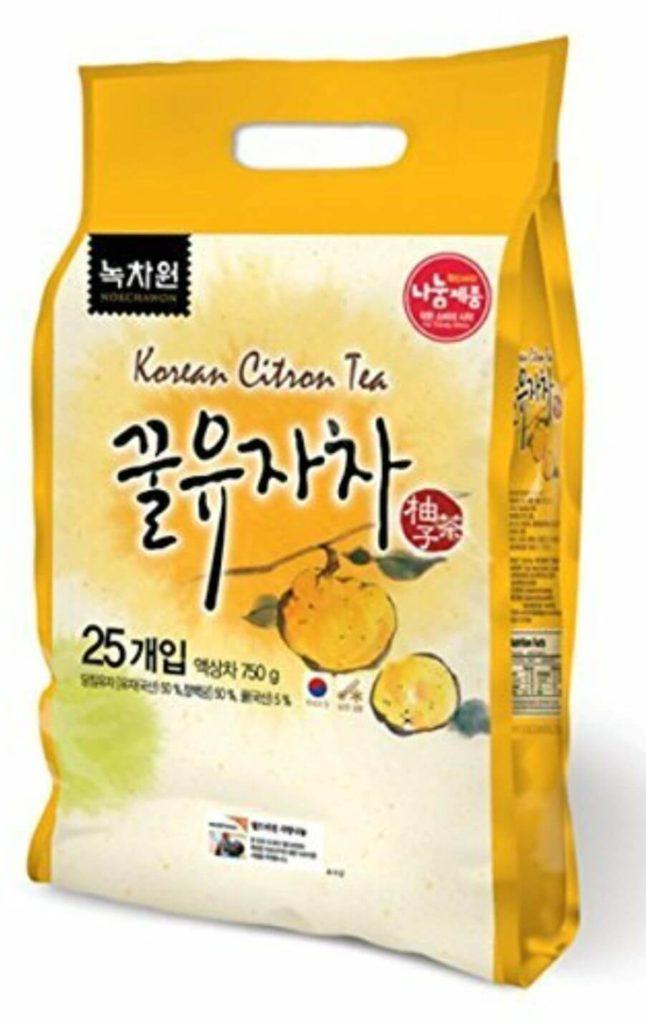 Well, we all know that Korean instant noodles are yummy! And we also know that you can eat instant Korean ramen on the go while you are in the convenience store. So, get your hands on the wide variety of instant ramen noodle brands. If you are staying at a hotel with an in-room microwave, you'll do well to pick up a pack of noodles for your meals.
Korean Alcohol
It is one of the must-buy items for Lotte supermarket. Soju is now gaining popularity abroad with K-pop stars like Jay Park promoting the drink. However, soju is exported in very limited flavors, and the pricing varies a lot based on stock availability. If you love Korean soju, then you must try all the different flavors while you are in Korea. In Lotte supermarket, you can find different flavors of soju in plastic bottles so you can easily enjoy the drink.
Makgeolli (막걸리)
Makgeolli is another Korean alcohol which is essentially fermented rice wine. It usually tastes sweet, with an alcohol volume of less than 4%. Makgeolli is one of the alcohols that you must buy when in Korea. It also comes in different flavors; you must try the regular Makgeolli.
Iseul Tok Tok (이슬톡톡)
The sparkling peach alcohol is popular amongst girls. It has cute packaging, and the alcohol volume is less than 3%.
General Information
Lotte Mart Hours of Operation – 10:00 ~ 24:00 (The business hours of each branch are different)
Holidays – Every second and fourth Sunday of the month
Baby Carriage Rentals – Yes
Lotte Mart Seoul Station Branch 롯데마트-서울역점
Address – 04509 | 426, Cheongpa-ro, Jung-gu, Seoul
Subway – Seoul Station (Line 1 or Line 4, Exit 1)
Attractions Within Walking Distance to Lotte Mart Seoul Station
Next to Lotte Mart is Lotte Outlets, which offers more than 140 famous brands at reasonable prices. Alternatively, you can walk in the sky garden, Seoullo 7017, and have a relaxing experience.
And of course, the Seoul Station is only 5 minute's walk away, where you can catch a high-speed train to Busan and other parts of Korea.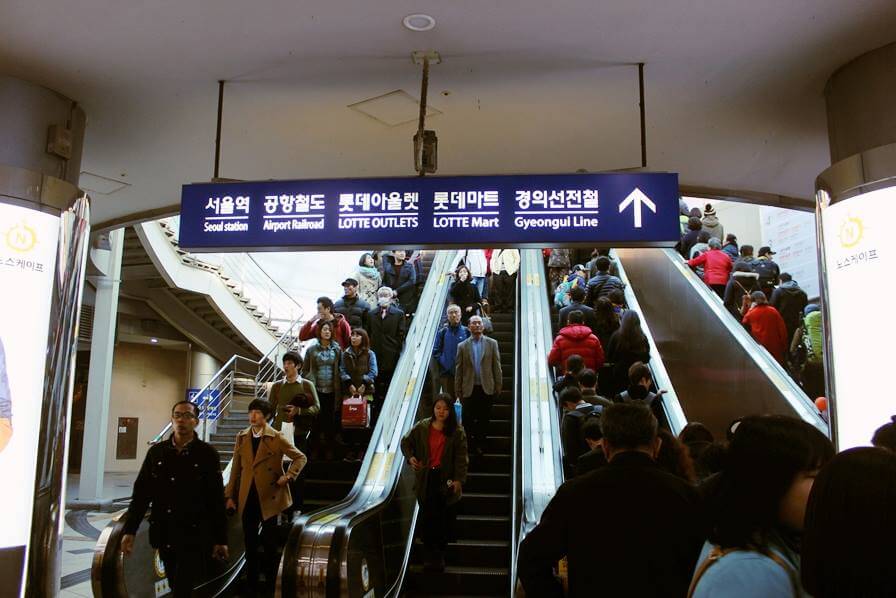 23,290 total views, 8 views today