Traveling to a foreign country is always daunting if there is a language barrier. But, in the tech-friendly age, all you need is a smartphone with some specific apps, and you are all set! You can enjoy to your heart's content without feeling lost in South Korea. Using these best apps for South Korea trip plans will make your travels comfortable and convenient.
South Korea is a beautiful place with lots of places to visit and explore, but navigating in a foreign country can be difficult because of the language barrier. As one of the most tech-advanced countries, Korea has developed an impressive number of apps that can make your South Korea travels easier. You can find an app to find a way to get a ride home, discover the best food outlet in the city, understand the local language, or even call a friend.
Read More: 10 Best Free Apps to Learn Korean Language While Stuck at Home During Coronavirus
Best Apps for South Korea Trip
Grab your smartphone and download the best apps for your South Korea trip. These apps will be useful no matter the length of the stay.
All apps are free and can be found in Apple App Store or Android Play Store.
Visit Korea
Visit Korea is a convenient app from the Korean Tourism Office. It is essentially all the information from the Korean Tourism Organization website packed in a fantastic app. The app is available in English and also provides information about exchange rates, popular attractions, special promotions, and even essential contact numbers. It also includes info on weather updates as well as route maps. There is tons of information about local transportation, vibrant shopping centers, exciting festivals, and more. As an official Korean government organization runs it, the app is more reliable as compared to other sites. If nothing else, then this is one app that you should download before your South Korea trip.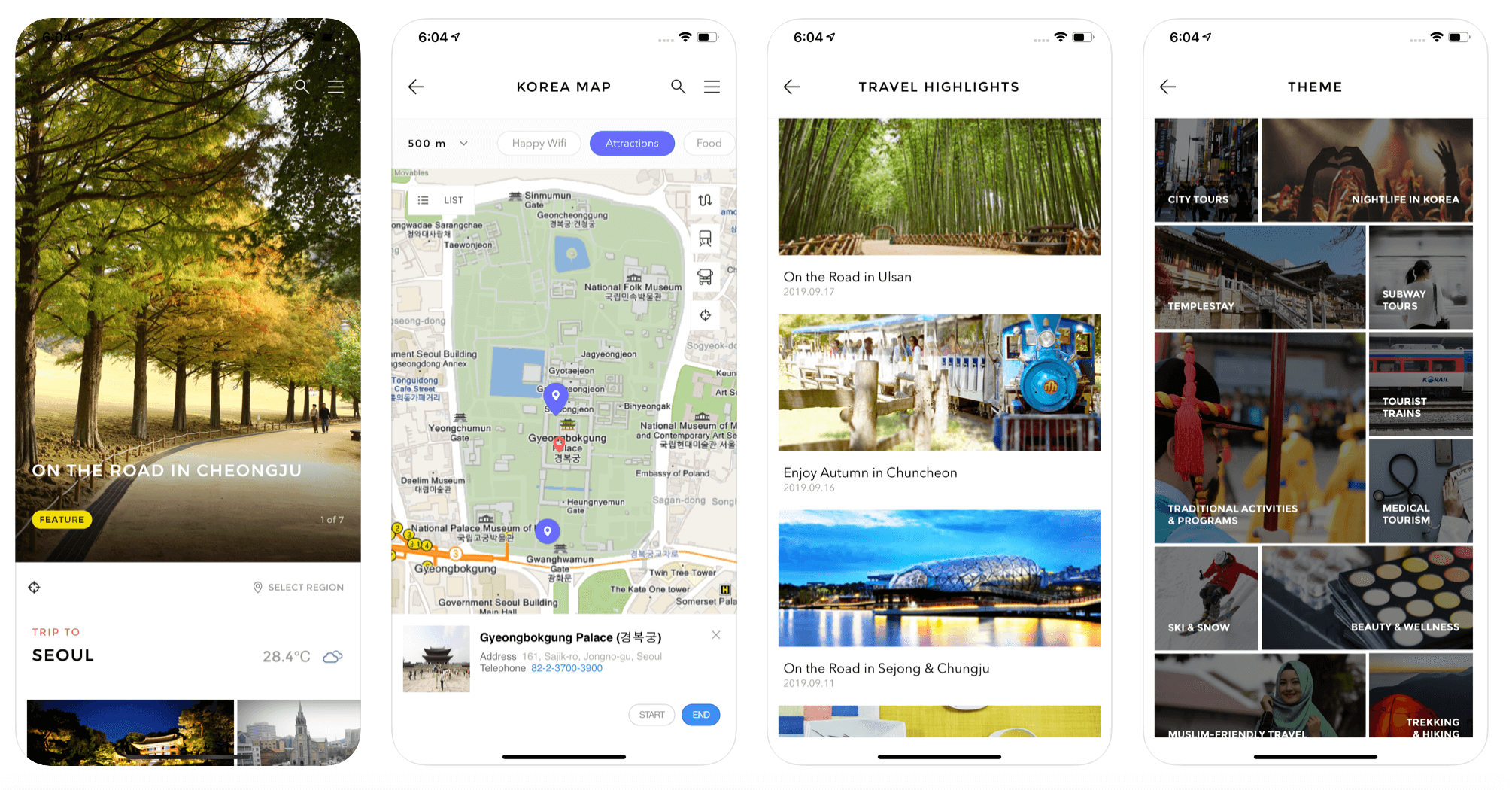 Naver Map
If you are planning to travel to South Korea, it is a good idea to set your Google Maps aside. According to local Korean law and regulations, Google Maps can't show the way to a destination. Naver Map is another must-have app for South Korea travel. 'Naver' is like 'Google' in Korea, and Naver Map is the English map service from the tech-giant. Because public transportation is excellently organized in Korea, you can reach your destination easily by following Naver Map. You can download the maps beforehand if you are going somewhere you won't have internet access. It is one of the best apps for traveling in Korea.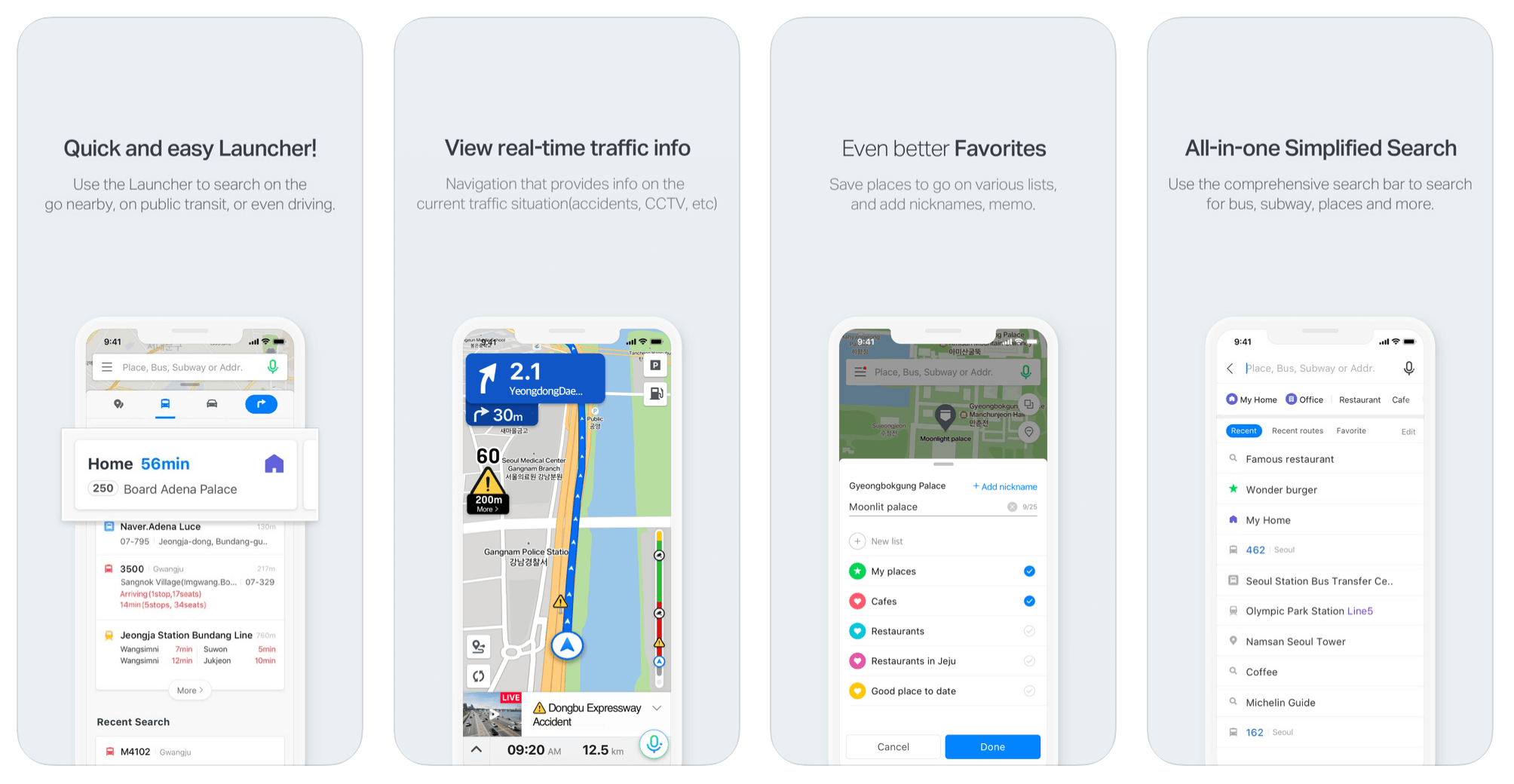 KakaoTaxi
It is the best taxi app in South Korea. The Korean taxi system is one of the best in the world. It is cheap, fast, and convenient. The taxi system is a complement to the extensive subway system during early morning hours when the subway doesn't run. But, often you might find that you are unable to find a taxi. KakaoTaxi is perfect for these situations, no matter where you are in Korea. It is like Uber, but the government operated. The system works with domestically licensed and registered drivers making it a safe travel option.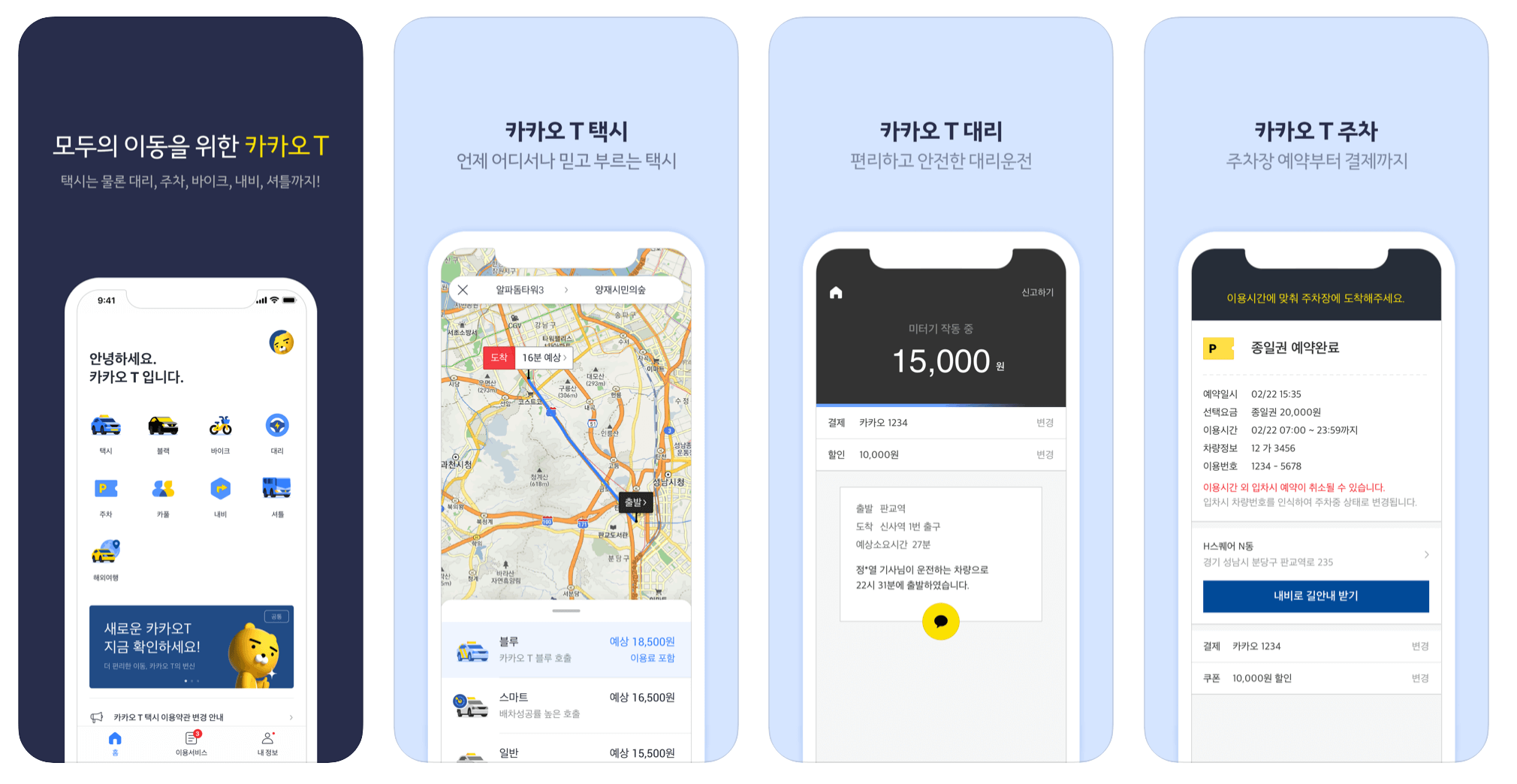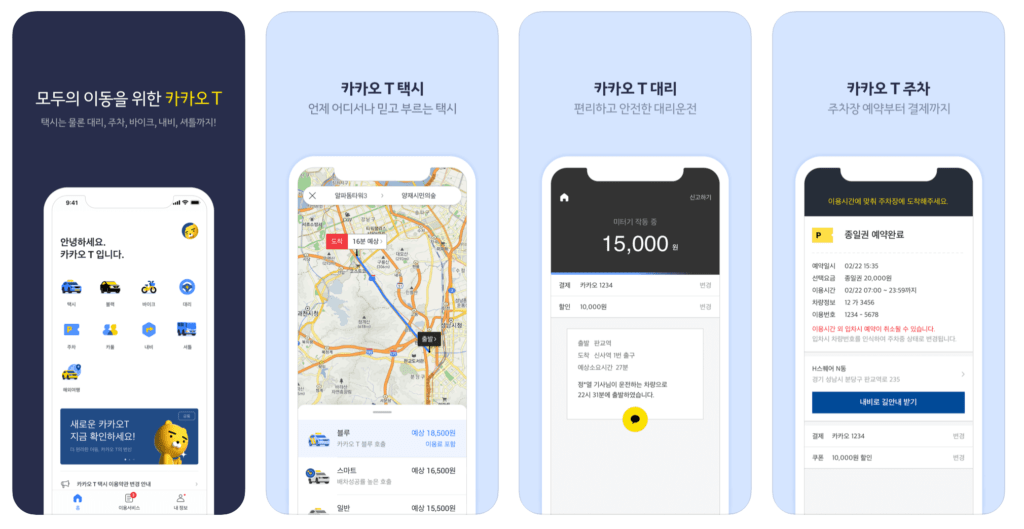 KakaoMetro
KakaoMetro is an innovative app solution that has made subway navigation much easier. The app features subway maps of Seoul, Busan Daegu, Gwangju, and Daejeon. It incorporates lots of useful information and tells you about the fastest routes to your destination at the current time. You can search for a particular station, and it will also direct you about how to reach and how much time it will take. The app also shows the timetable of each station in different cities across Korea. Well, if you plan to use public transport, KakaoMetro is another app that will work well in your South Korea trip.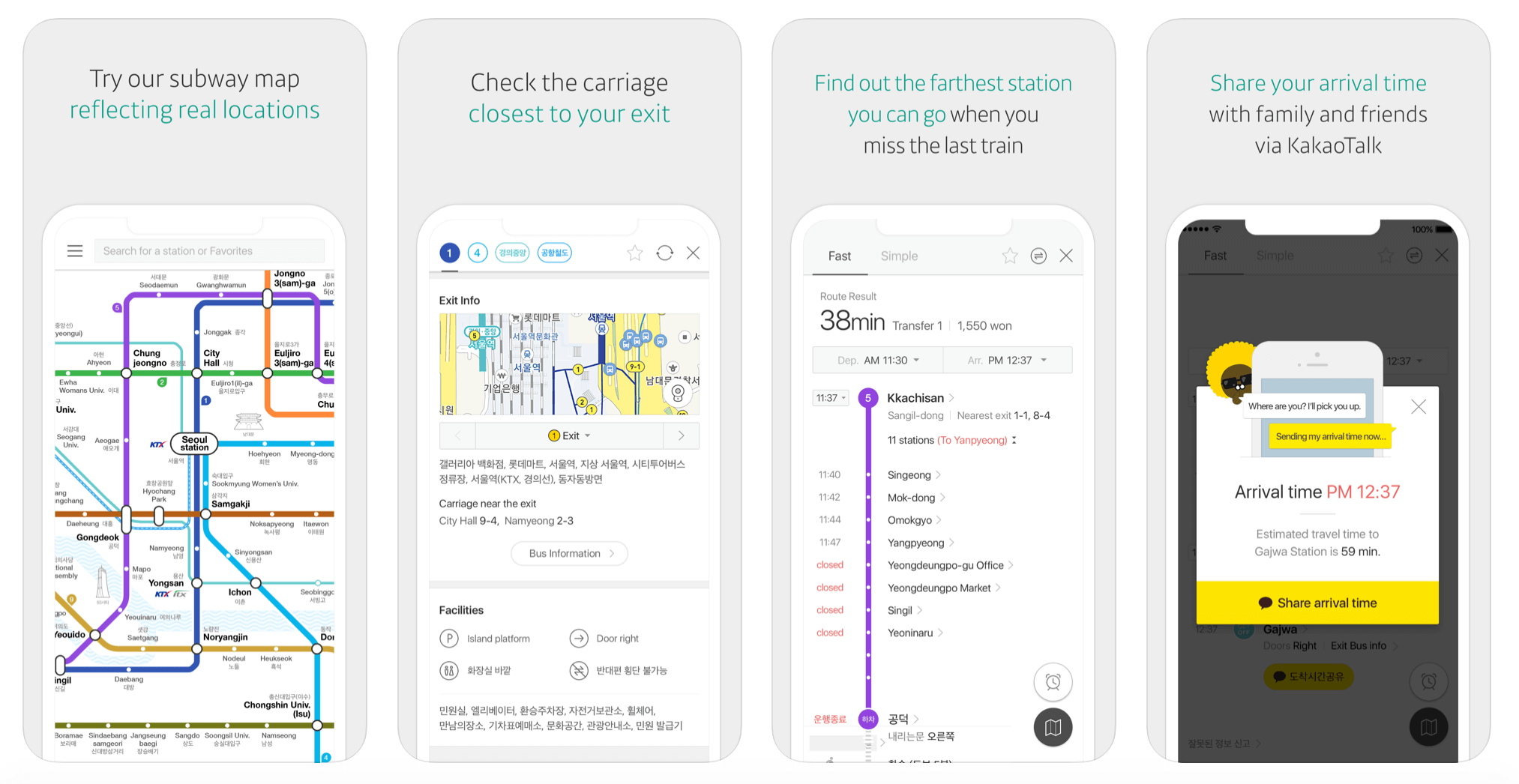 Korail
Traveling from one city to another within South Korea is very convenient via Korail. If your South Korea travel itinerary includes touring the country, then you can get a Korail Pass. It gives you a pass for an unlimited number of travels in a certain specific time period. You can always get occasional discounts and promotions on this app, which will help you travel more with less money.
Unfortunately, the app is in Korean, but it is relatively intuitive. You can always ask for help from English-speaking staff at your accommodation while booking tickets in advance.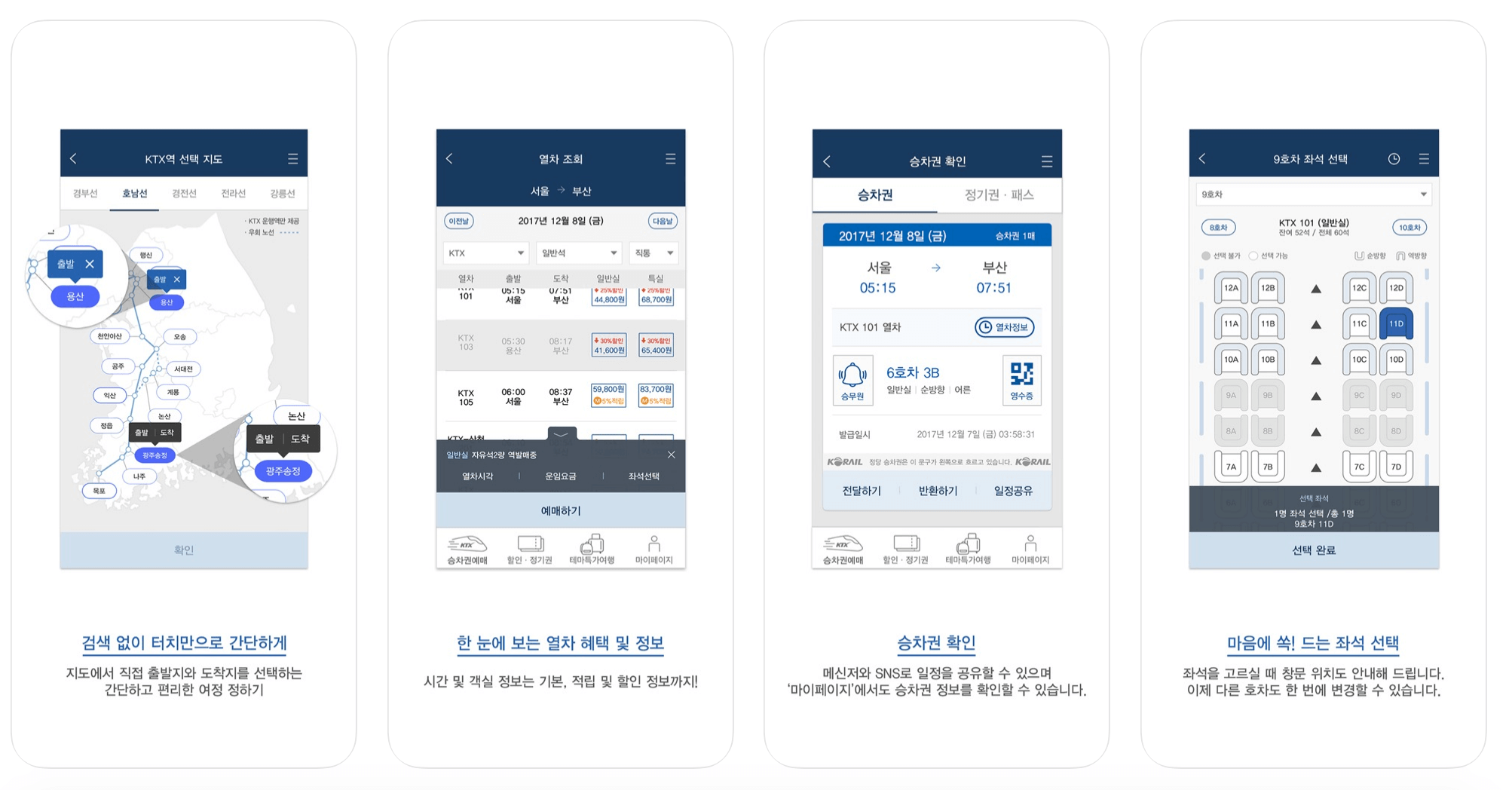 KakaoBus
Now that you have a taxi app, subway app, and even rail app, the only app left is a bus app. KakaoBus app provides you with all the necessary information related to the bus transportation system. You can search for any bus number or any bus stop. You can find similar information in Naver Map, but it is not as detailed. It also gives you estimated arrival time at your bus stop.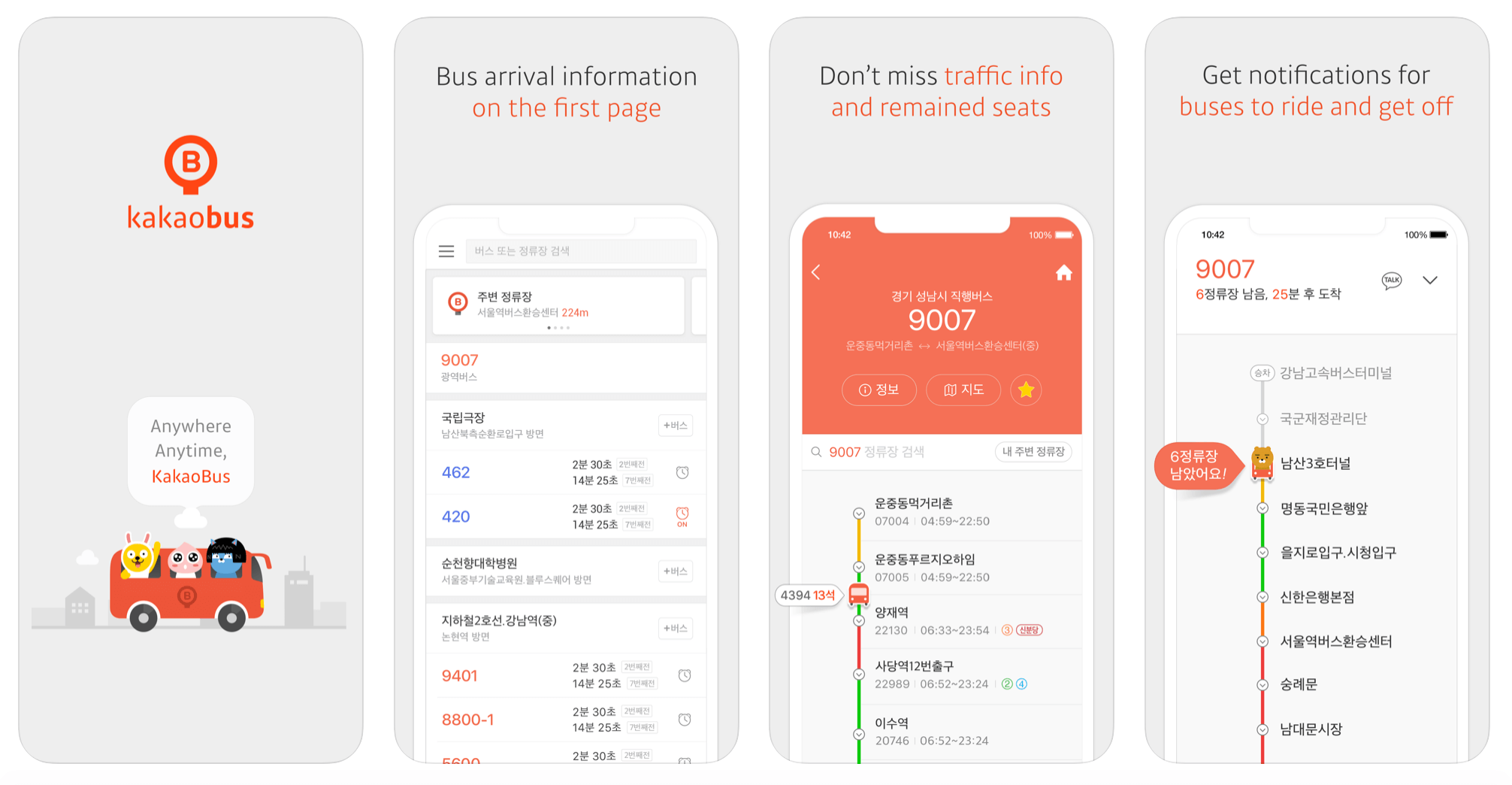 Yogiyo
Sometimes you just don't want to go out and relax in your room, but you still wish to have delicious Korean food from a particular place. In that case, a food delivery app sounds like heaven. Yogiyo is a Korean food delivery app that can deliver food to your location in 30 minutes. Did you notice the word location here? Yes, we do mean location and not a hotel or wherever you are staying. You can order and get food delivered outside, like in a park. You can have fresh draft-beer with Korean fried chicken by the river from your chosen place. So, even if you are not a foodie, you will love the convenience of this app. The only slight issue with the app is that is doesn't support English, but it is still easy to use.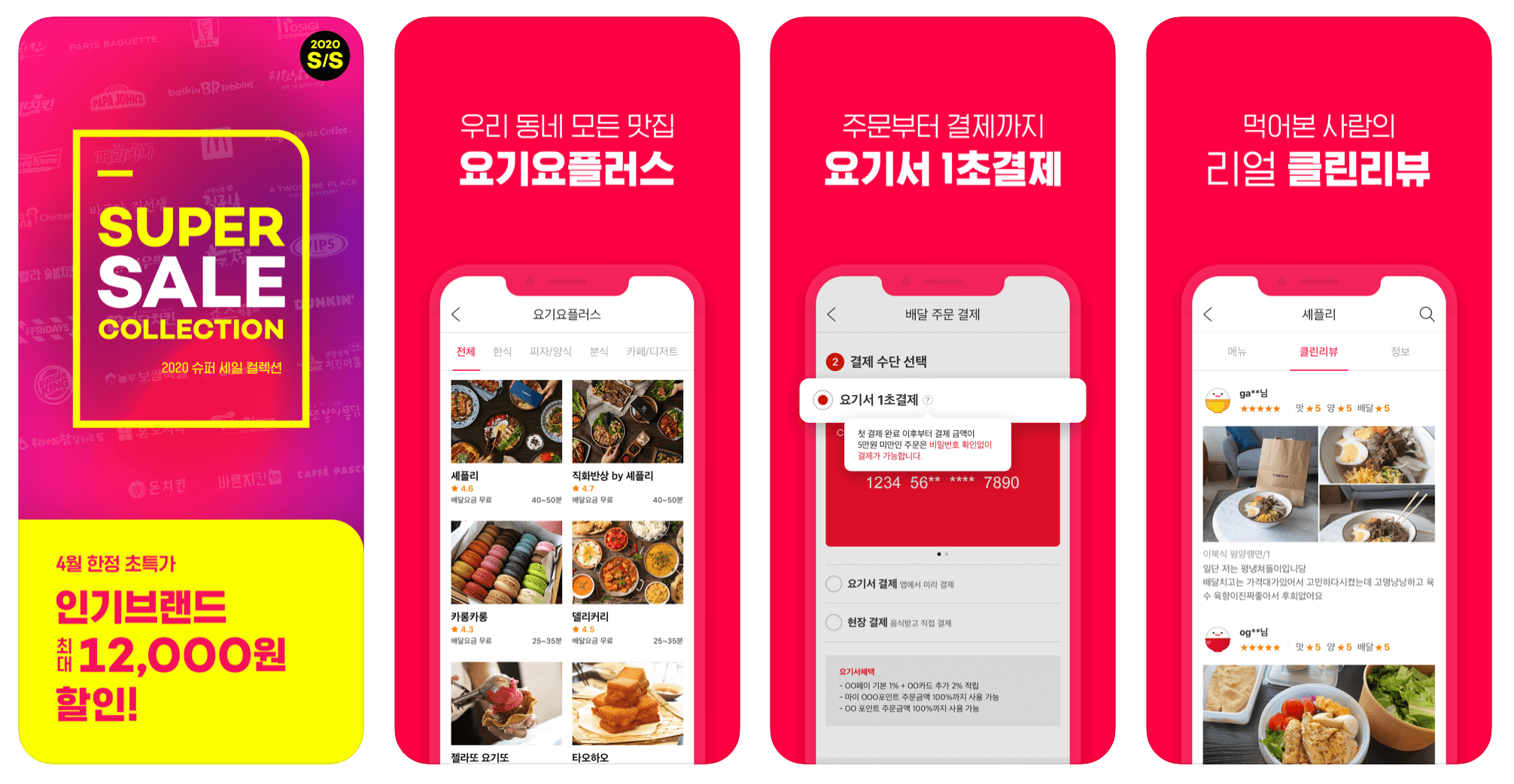 Naver Dictionary
We've all tried Google Translate many times. It is helpful at times, but it is also dangerous. It just shows you one of the possible translations, and you have no way to know if it is correct in the proper context. With Naver Dictionary, you can type anything in Korean or English, and you can choose the result that is closest to your situation. You get a lot of contextual examples with the word being used in different contexts. It also has audio, which is especially useful for tourists. You can also use the app to learn basic Korean.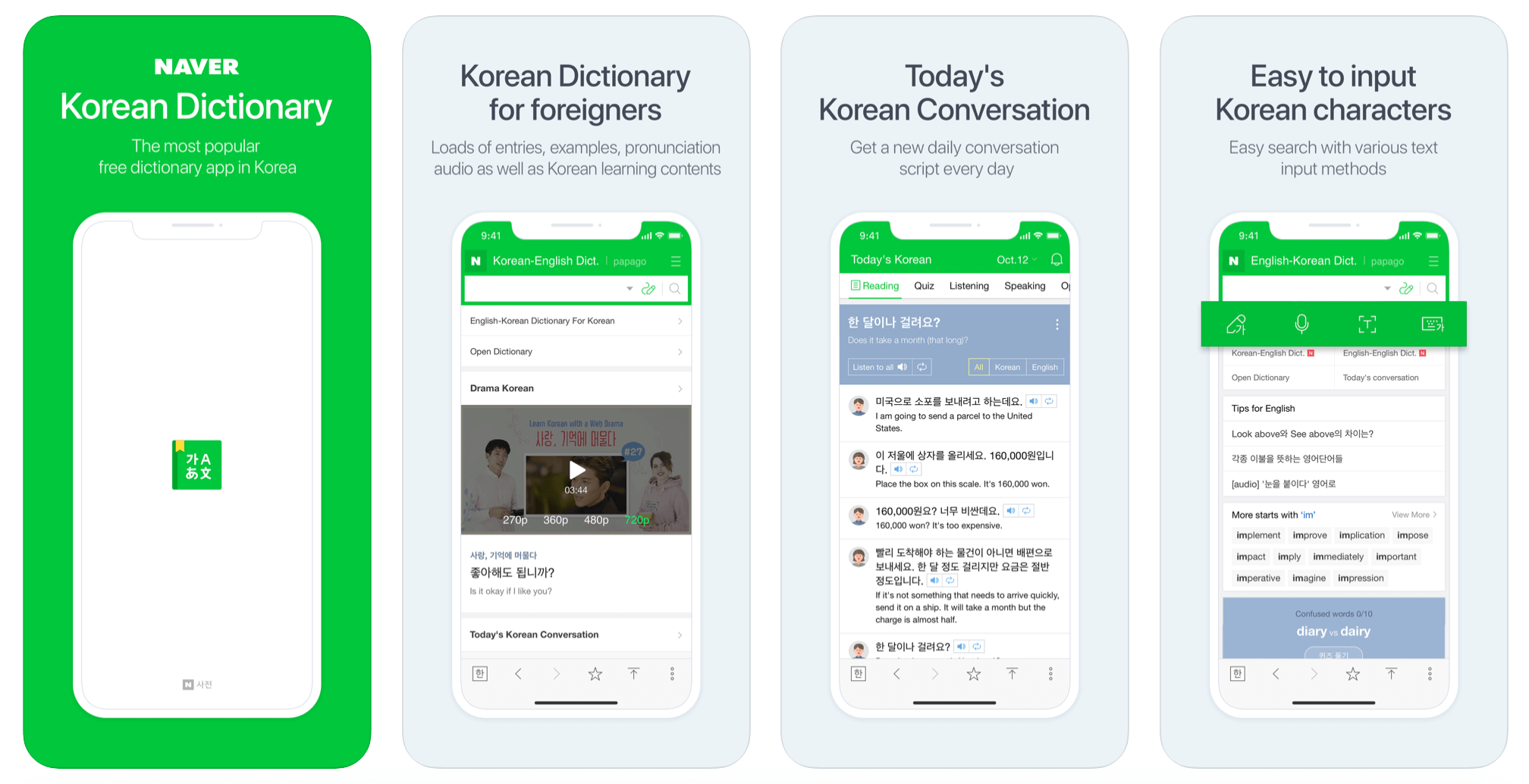 KLOOK
If you are looking for discounted tickets and tours, the KLOOK app is perfect for you. There are so many activities that you can find on the app which you can pre-book before your South Korea travel. Don't miss out on a grand adventure in South Korea just because you weren't able to book an activity. All the bookings are visible as electronic vouchers in the app, and you can also make bookings on the go. If you book via KLOOK, you also get loyalty discounts. It is one of the best apps for South Korea trip you must download.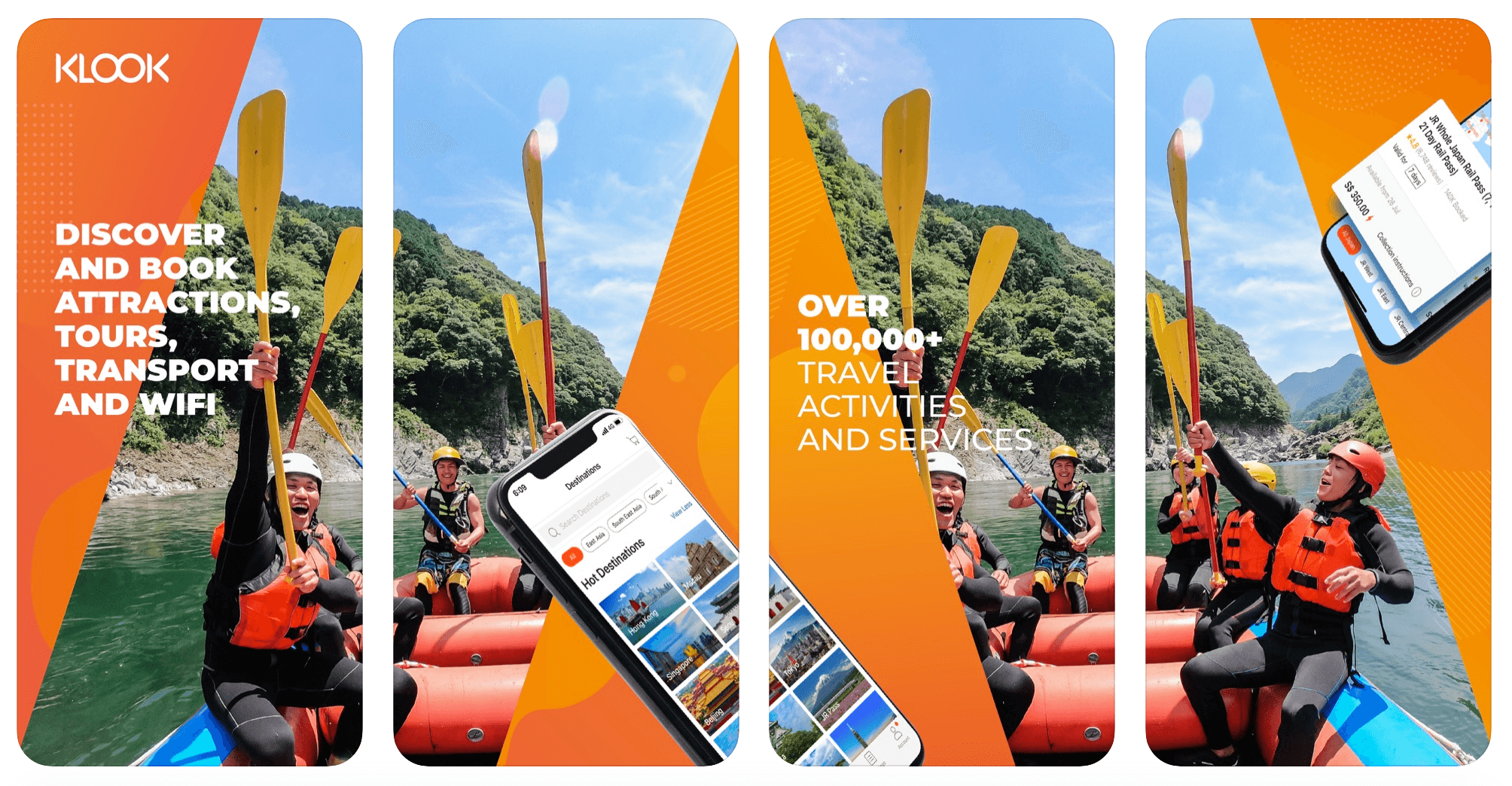 XE Currency
It is a great tool that will enable you to convert prices in Korean Won into your home currency. Using this app, you will have a better understanding of the real cost of things.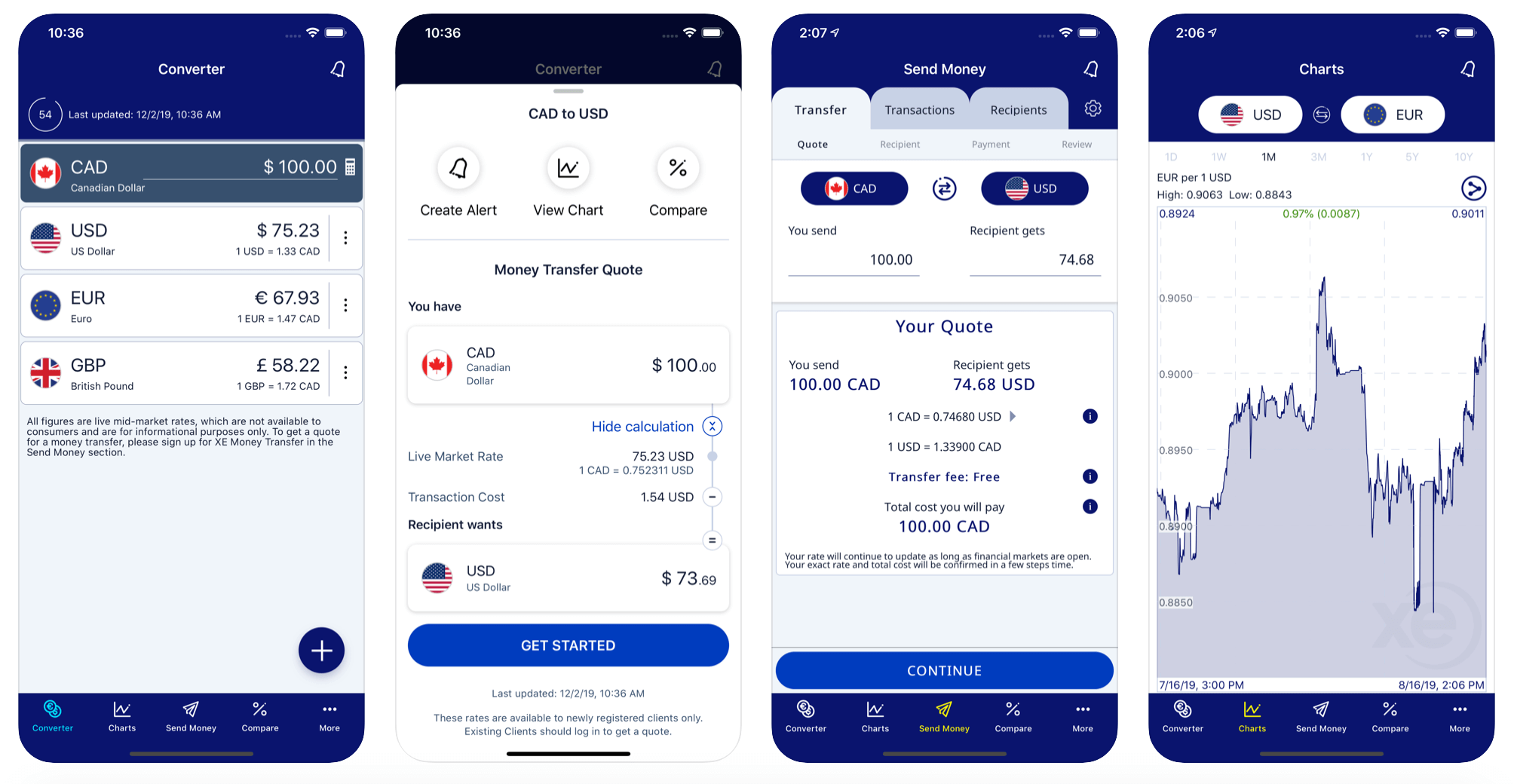 We hope that the guide is useful and you can enjoy your stay in Korea with the help of the best apps for your South Korea trip!
Read More: Most Popular Korean Selfie App of 2020
Love it? Pin it!