Soju is South Korea's most popular alcoholic drink and the world's most popular liquors. You can find it across the country in all the convenience stores and even fancy restaurants. In terms of volume, it is the number one selling liquor with ever-increasing sales all over the world.
Read further about: Iconic Korean Drinks for A Refreshing Day in South Korea
What is Soju?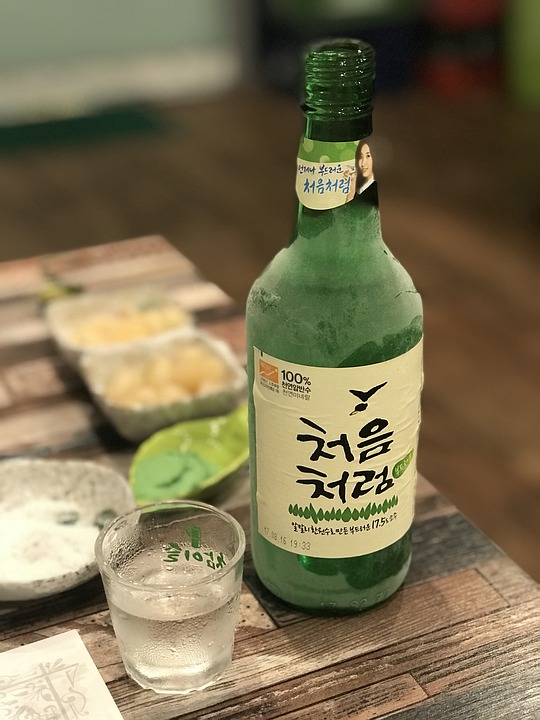 Soju is the South Korean national drink, just like Spain is famous for its Sangria and US for its Bourbon. In Korea, you will find that locals drink soju like they are merely drinking water.
There is no exact definition of soju, as there are plenty of variations. Traditionally, it is made through rice fermentation. A commercial soju is made with rice, water, and a fermentation starter (nuruk) that's unique to Korea.
It comes in distinct and signature bright green bottles made from glass that can be found in any Korean convenience store at a very affordable price. This iconic green bottle isn't the traditional representation, but it is the most common, especially in commercial sectors. There are many more varieties of soju that are traditional. You just need to know where to find them!
Soju is a clear and distilled spirit with low alcohol content. By volume, it has about 20-24 percent alcohol.
Taste-wise, it is a lot like vodka. Sort of neutral-tasting but without the harsh burn of alcohol. It is more potent than beer and wine but weaker than vodka because of its low alcohol content. It is also more viscous than vodka and a bit sweeter too. One crucial thing about the drink is there is a lot of variation in the taste because there is no fixed ingredient. The taste changes with the change in the basic ingredients.
Read More: Popular Korean Instant Food That You Must Try from Korean Convenience Stores
Soju Drinking Culture
In South Korea, soju is everywhere – from convenience stores to posh restaurants. But, if you are looking for traditional soju, you'll have to find a traditional distillery. Also, there are no 'soju bars' or anything like that. You can find this iconic Korean drink in traditional alcohol bars, and they serve many other Korean liquors like Takju, Makgeolli, and Cheongju.
How is It Consumed?
Just like wine, it is traditionally consumed with food. It is a typical companion of any type of Korean food that you drink while eating. And, it's not really selected for its quality but rather quantity. It's a good way to get to know somebody in a social setting.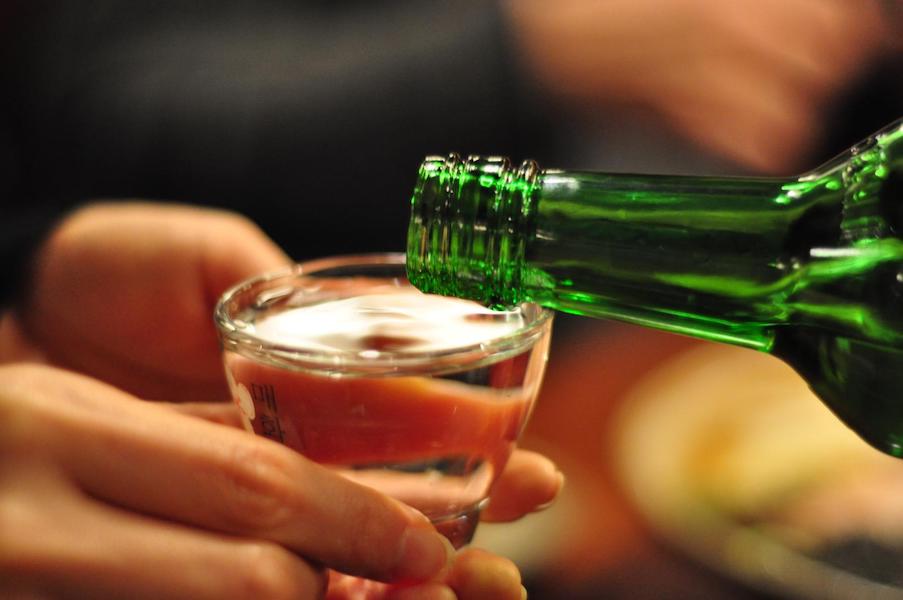 While consuming with a meal, you can drink soju at room temperature. You can have it hot or cold, depending on the weather. It's best when served warm in winter and chilled in summer.
Even the serving traditions are important when it comes to soju. South Korea is quite big on the following customs. In a restaurant, people consuming soju do not serve themselves. The whole process is interactive as it is like 'you pour for me, and I pour for you, then we toast and drink, and then do it all over again.' And if you are out with someone who is elder, then they pour the shot, and as a sign of respect, you must drink it without placing it on the table.
Read More: Best Korean Ramen Noodles
Popular Ways of Consuming
Along with the traditional way of soju consumption, other ways are quite popular with the younger crowd.
You can take it directly (neat), or you can mix it to make cocktails.
It is taken directly with food, or it can also be mixed to make cocktails.
'Somaek' is another option where a shot of soju is dropped in a glass of beer, making it a delicious tasty combo.
In Korean convenience stores, you can also find fruit-flavored options like – grapefruit, strawberry, green grape, peach, and even yogurt-flavor soju.
Watermelon soju is another refreshing and popular way of drinking it. Here, soju is poured in a bowl made from watermelon. It masks the taste of alcohol and adds a sweet flavor to the drink.
How Is It Prepared?
Conventionally, it was made from distilling and fermenting rice. During the Korean War and after (from the 1960s), the shortages led to the government banning the use of rice to make liquor.
So, people came up with alternative sources of starch, such as wheat, tapioca, and sweet potatoes. Even though the ban was lifted in the 1990s, many companies still use alternative starch sources. If you are looking to get drunk, then you can't go wrong with the commercially available green-bottle soju.
Where Can You Buy Soju in South Korea?
Bars and pubs are definite choices to enjoy the drink in South Korea. Along with those and restaurants, you can also have a pocket-friendly soju drinking experience.
Check out: A Complete Guide to Nightlife in Seoul, South Korea
Korean Convenience Stores
Your trip to South Korea won't be complete unless you experience drinking soju just outside a convenience store! It's the ultimate budget-friendly experience as you only pay around $1.5 for a 335 ml soju bottle.
Pojangmachas
For another wallet-friendly soju drinking experience, you can enjoy it on a street vendor tent (Pojangmachas). You can drink it with some hearty street food options like pajeon or tteokbokki.
You can also buy soju online.
Read More: 20 Must Eat Korean Street Food in Korea
Our editors independently select all products featured on KoreaTravelPost. However, we may earn an affiliate commission when you buy something through our retail links.
Love it? Pin it!