Discover the refreshing world of popular Korean beverages in any convenience store, from fizzy yogurt drinks to traditional rice punch.
People often discuss Korean food and beauty products, yet Korean drinks remain a largely underrated and underappreciated topic. Koreans have a wide range of unique beverages that are perfect for every taste! If you are in South Korea, you should check out the Korean convenience store and grab Korean drinks for a quick bout of refreshment.
Traditionally, Korean drinks fall into two categories – alcoholic and non-alcoholic. Among alcoholic beverages, soju stands out as the national drink of Korea.. 200 other types of non-alcoholic drinks can be associated with Korean culture, including traditional tea, juices, soft drinks, grain-based drinks, and many more. 
Here is our list of 10 Korean beverages you can easily purchase from any convenience store in a South Korean city or town.
Banana milk is a popular Korean drink, especially amongst K-Pop idols, making it a fan favorite. You can see your favorite idols drinking on their shows and event broadcasts. Out of all the different flavors – banana, strawberry, and melon – banana milk is the most loved Korean beverage. The drink has sweet and savory notes, making it quite refreshing at any time and available as one of the best Korean convenience store drinks. 
"Banana milk has evolved into a popular souvenir for tourists visiting Korea, thanks largely to its whimsically designed bottle—short, stout, and uniquely shaped, perfect for hands of all sizes. While it serves as a fun novelty for visitors, it's more than just a beverage for Koreans. It's a nostalgic trip down memory lane, resonating with both children and adults alike. This sweet, but not overly so, drink was initially introduced in 1974 as part of a governmental initiative aimed at encouraging South Koreans to increase their milk intake. Using bananas—a luxury fruit in Korea then—to flavor the milk was a strategic move to grab attention. The result? A simple, sweet, and irresistibly addictive drink that quickly wove its way into the fabric of Korean life, becoming a cherished part of many Koreans' childhood memories. It's no wonder that almost a million bottles of banana milk are sold daily, a figure only boosted by its frequent appearances in popular K-dramas.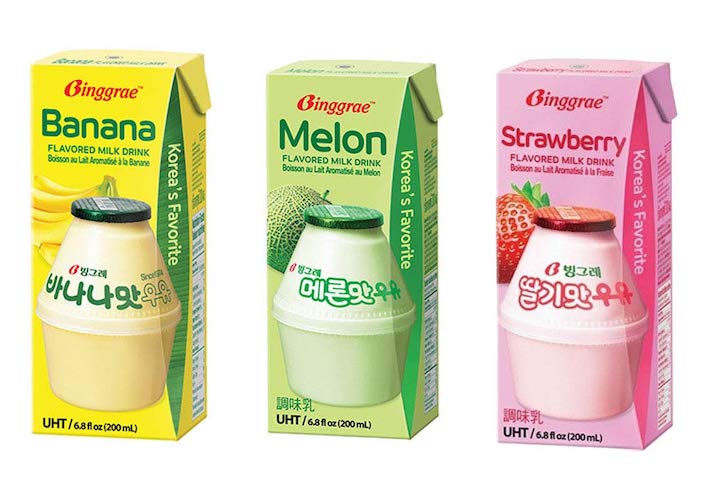 Another popular Korean beverage is Milkis, essentially a fizzy yogurt drink, another one of the Korean convenience store drinks. It is fizzy and sweet like soda, but it's also milk. Despite that, it sounds a bit weird; it's surprisingly good! Milkis comes in different flavors that include melon, strawberry, and banana. This unique beverage is crafted by Lotte Chilsung, a prominent South Korean beverage company. Its tagline, "New feeling of soda beverage," captures its novel experience, skillfully combining traditional soda elements like sugar and carbonated water with milk for a rich, creamy flavor. For a truly invigorating refreshment, consider Milkis as your go-to choice.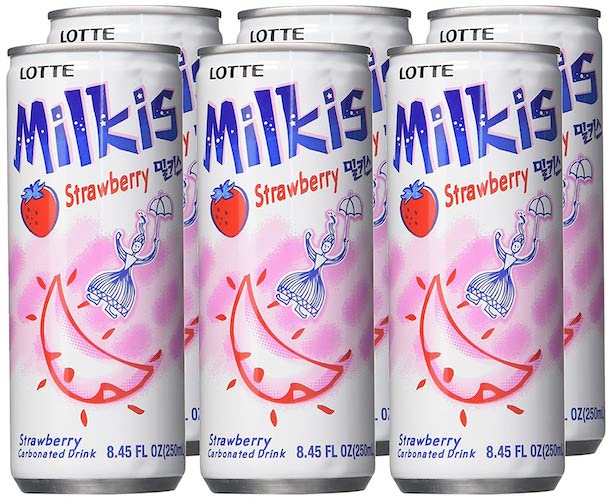 This is the #1 selling energy drink in Korea, one of the most popular Korean beverages. A perfect energy-boosting option for when you are feeling drained, and coffee didn't hit the spot! It is often compared to the Red Bull of Korea. It is mainly water, sugar, high fructose corn syrup, taurine (Red Bull magic ingredient), and other ingredients. Originally introduced in 1963 by the pharmaceutical company Dong-A, Bacchus emerged as a hangover remedy. Today, it is marketed and sold as an energy supplement, offering a potent blend of ingredients to invigorate and recharge when needed.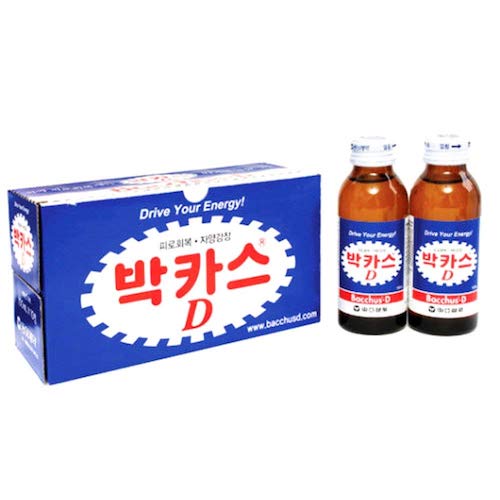 It's a regular grape pulp juice from Korea. The pulp provides an intense and refreshing grape flavor in every sip! Lotte Sac Sac Grape Drink is a popular Korean grape drink that is made with real grape juice and pulp. It is a refreshing and flavorful drink that is perfect for a hot day. The drink is made with a blend of grape juice and pulp, which gives it a thick and creamy texture. It is also sweetened with sugar, but it is not too sweet. The drink has a tart and refreshing grape flavor that is not too overwhelming.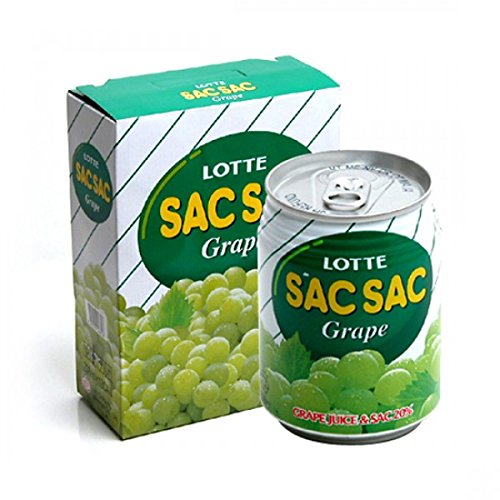 Sikhye is a traditional Korean rice drink, one of the popular Korean beverages. It's a sweet drink that people generally enjoy after meals, like a dessert. The drink contains cooked rice and malt water giving it a distinctive flavor. While we typically don't associate beverages with varying textures, certain Korean drinks, such as Sikhye, challenge this notion with their unique characteristics. This delightful dessert beverage comprises grains of rice, barley, pine nuts, malt powder, and sugar. It leaves a residue of cooked rice at the bottom of your glass, indicative of its authentic, grainy nature. Primarily consumed at significant Korean festivals like the Lunar New Year (Seollal), Sikhye also serves as a revitalizing post-sauna or post-meal refreshment. 
Believed to aid in digestion due to its dietary fiber and antioxidant content, Sikhye is a testament to Korean culinary tradition and is widely available in bottles or cans at most Korean supermarkets and stores.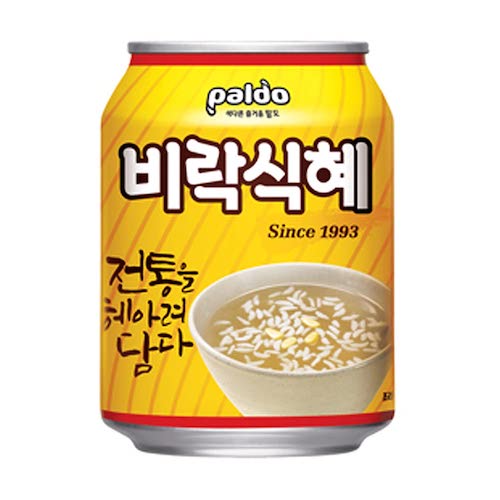 It's a drink for coffee lovers all over the world. Although it is an instant coffee, it has a great flavor and aroma. It contains coffee, sugar, and non-dairy creamer. If you are looking for an instant boost of energy and have a long day ahead of you, it's a perfect Korean beverage of choice!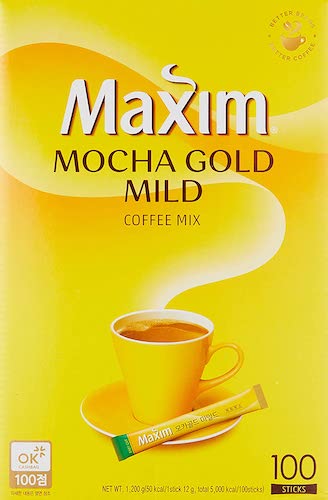 Another pulpy drink for those who don't like the grape flavor. You will get a refreshing explosion of sweetness and crispy freshness of oranges whenever you bite into the pulpy bits! Lotte Sac Sac Orange Drink is a good source of vitamin C and other nutrients. It is also low in calories and fat, making it a healthy choice for people who are looking for a refreshing drink.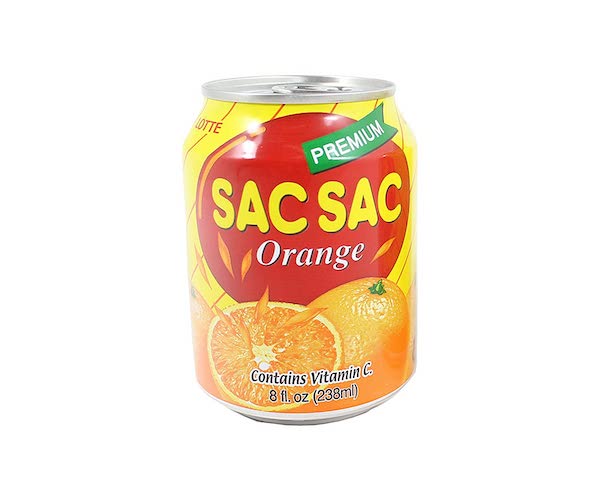 Pororo Fruit Drinks are a line of non-carbonated fruit juice drinks that are popular in Korea. Pororo Fruit Drinks come in four different flavors – strawberry, tropical apple, milk, and green grape. However, it is a kid's centric drink, it's perfect for anyone of any age. 
The drinks are named after the popular Korean cartoon character Pororo, a penguin who is known for his love of adventure. The drinks are packaged in brightly colored bottles that feature images of Pororo and his friends. Pororo Fruit Drinks are a popular choice for children, but they are also enjoyed by adults. They are a refreshing and healthy way to quench your thirst, and they are also a good source of nutrients.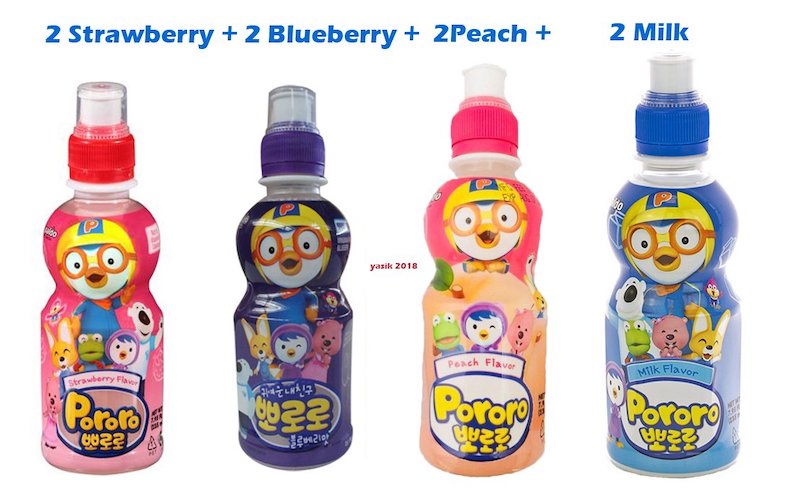 It's often referred to as "Korea's Sprite," another one of the Korean convenience store drinks. The cider is well known for its green packaging and lemon-lime flavor. It's a drink of choice whenever you are looking for some refreshment! 
If you are looking for a refreshing soda? Look no further than Chilsung Cider, Korea's original carbonated beverage. With its lemon-lime flavor, Chilsung Cider is a popular choice for people of all ages, especially after a workout. Chilsung Cider is made with pure, clear water and is caffeine-free. It was first introduced in 1950, making it one of Korea's oldest carbonated soft drinks.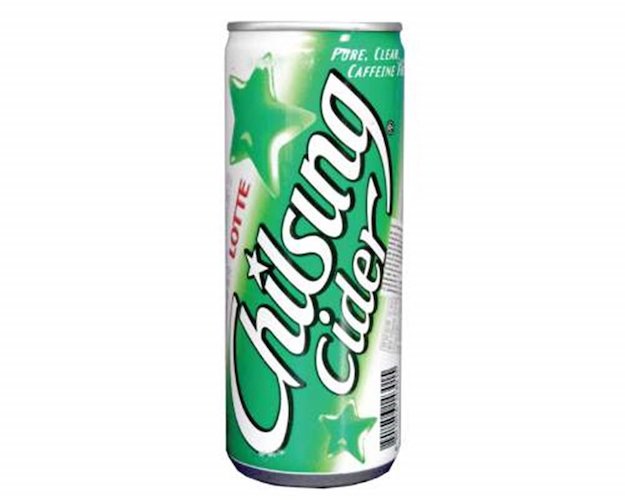 It is a concentrated drink in three tasty sweet and tart mixes – pomegranate, pineapple, and green grape. All the flavors of these popular Korean beverages are fruity, tangy, sweet, and refreshing. It is a popular drink in Korea, and it is often served as a dessert or a light snack. Korean fruit vinegar drink is a good source of vitamins, minerals, and antioxidants. It is also a good source of probiotics, which are beneficial bacteria that can help to improve gut health.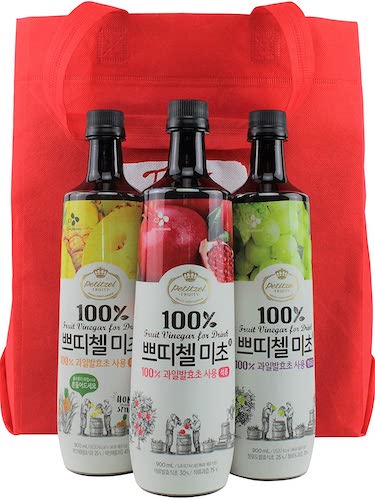 Dalgona Coffee
Do you remember when the pandemic hit in 2020 and made the whole world stop? Dalgona coffee rose to popularity around that time, and almost everyone joined the trend and made their own version at home. This trendy Korean drink is perfect for enjoying at home because it is easy to make, delicious, and served cold. The word "dalgona" comes from traditional Korean street food that tastes similar to honeycomb toffee. Dalgona is made in a similar style to whipped coffee; hence it was given that name by a TV personality.
McCol
If you're looking for a refreshing and unique soft drink, look no further than McCol. This Korean barley-flavored drink is made with β-glucan, a dietary fiber that has been shown to have a number of health benefits. McCol has a rich, malty flavor that is both refreshing and satisfying. It's also a great source of vitamins and minerals, making it a healthy choice for people of all ages.
McCol was first introduced in South Korea in 1982, and it quickly became a national favorite. The drink's unique flavor and health benefits have since made it popular around the world. McCol is now available in over 30 countries, and it's showing no signs of slowing down.
Makgeolli
Makgeolli is a traditional Korean rice wine that has been enjoyed for centuries and is one of the popular Korean beverages. It is made by fermenting rice with a type of yeast called nuruk, which gives it a milky appearance and a slightly sweet taste. Makgeolli is often served in stainless steel bowls and has a low alcohol content, typically around 6% ABV. 
Makgeolli was originally a drink of the working class, but it has become increasingly popular in recent years. It is now available in bottles and cans, and it is often featured in Korean dramas. One of the reasons for Makgeolli's recent popularity is its health benefits. Makgeolli is a good source of vitamins and minerals, and it is also said to have anti-aging properties. Additionally, Makgeolli is lower in calories than many other alcoholic beverages.
Wrapping up
These are some of the best Korean drinks you must try once traveling to South Korea. And if you cannot travel right now, you can get them from Amazon and experience a bit of Korean culture right at your home! 
Which of these is your favorite, or do you like some other Korean drink? Let us know in the comments below!
Our editors independently select all products featured on KoreaTravelPost. However, we may earn an affiliate commission when you buy something through our retail links.
Related Posts