When it comes to instant Korean food, noodles, particularly ramen, definitely top the list. And since the release of the Academy Award-winning film, Parasite and other K-dramas featuring noodles in Korea, instant Korean ramen has gained popularity, even among non-foodies.
Imagine you've been roaming around all day in a South Korean city with a detailed itinerary. But hunger strikes, and you are too far from any café and restaurant! What to do now? You can go to a Korean convenience store and grab Korean instant ramen! Did you know that convenience stores have boiling hot water? Add cups of hot water to easily prepare and eat your favorite ramen at the store. It is very convenient and, at the same time, cheap, delicious, and instant! 
If you are in a hurry and want to grab a quick lunch, going to the ramen aisle in a Korean convenience store is bound to get overwhelming. Choosing among the rows and rows of flavored and spicy instant ramen noodles with so many flavor options is difficult.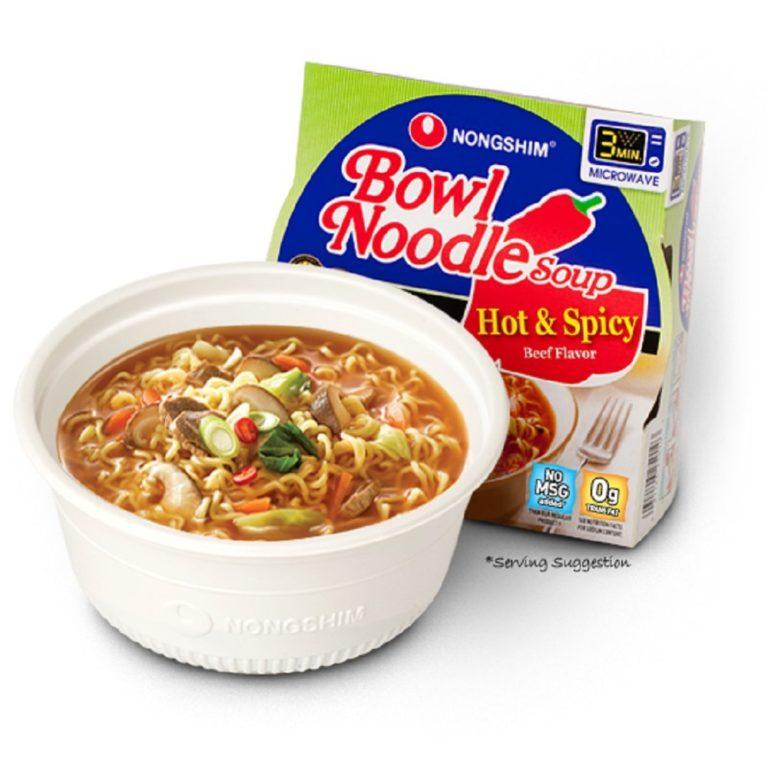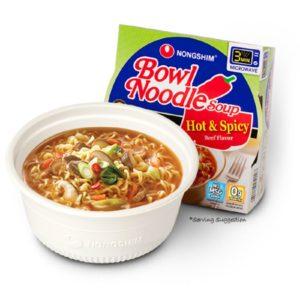 Use this 'Ultimate Instant Korean Ramen Guide' to navigate the instant ramen aisles and find your favorite flavor!
You can eat instant noodles as is, or transform them into a gourmet Korean dish by frying the noodles, and adding ingredients such as soy sauce and protein. The sesame oil flavor works well in most of these ramen noodle soups.
Don't forget to scroll to the bottom to learn more about 'ram-don' noodles, made famous in the film Parasite. You can easily find the top ten South Korean ramen and noodles popular in Korea on Amazon.
Korean instant ramen can be categorized into ten primary flavors from different noodles brands.
| | | | | |
| --- | --- | --- | --- | --- |
| Kimchi | Cheese | Beef | Chicken | Seafood |
| Vegetarian | Mild | Spicy | Jjajangmyun | Ddeok-Bokki |
A Multitude of Flavors of Korean Instant Ramen
---
Kimchi
It is an excellent choice if you love kimchi's spiciness but don't want soggy pieces of kimchi floating in your ramen. The thin noodles come with a spicy kimchi flavor broth with little bits of kimchi inside for seasoning.
You can check out Nongshim Bowl Noodle Soup, Kimchi, to try out the authentic kimchi flavor in a convenient on-the-go meal. Nongshim Bowl Noodle, Kimchi is an instant noodle soup that is seasoned with real fried kimchi. It is a convenient and delicious way to enjoy the traditional flavors of Korea. The soup has a little heat to it, but it is not too spicy. It is made with a variety of ingredients, including noodles, kimchi, vegetables, and a soup base.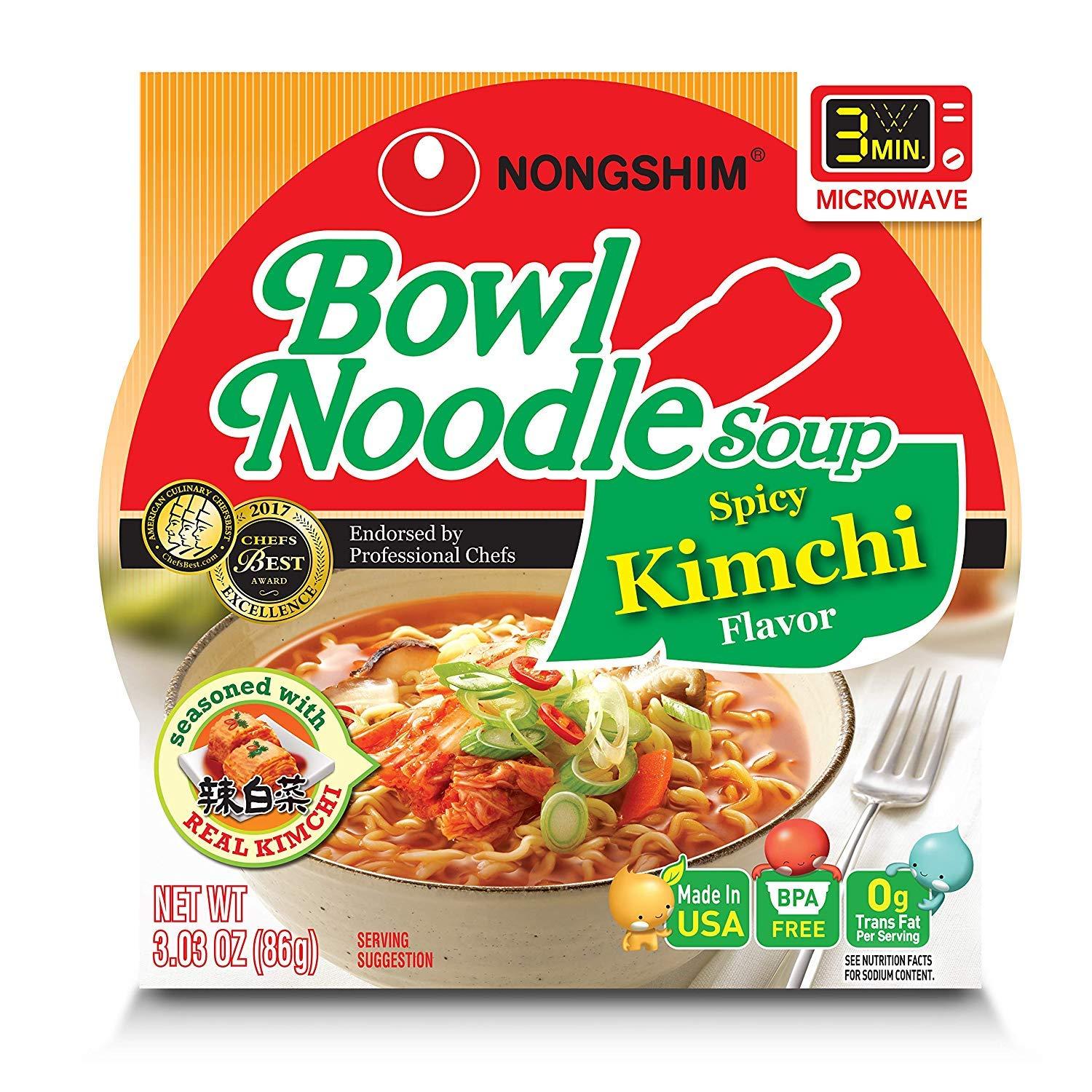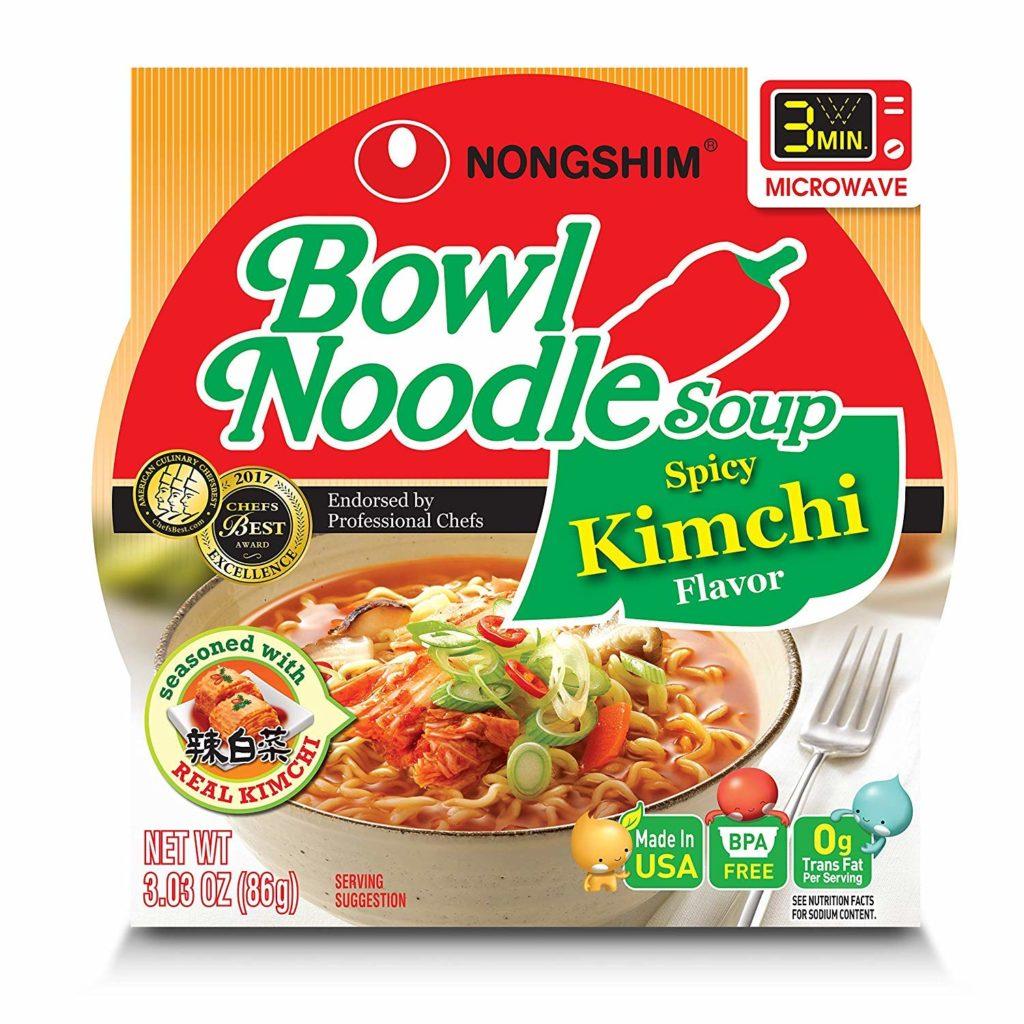 ---
Cheese
Generally, when you think of cheese, ramen is not what comes to mind. The Korean instant ramen breaks that pasta-cheese default combination and offers something delicious for cheese-lovers.
Paldo Cheese / Fromage Ramyun comes with a separate cheese and spice packet to control the spiciness and cheesiness levels. Paldo Cheese / Fromage Ramyun is a Korean-style instant noodle soup that is made with a creamy cheese sauce. The noodles are made from wheat flour and are cooked in a flavorful broth. The cheese sauce is made from cheddar cheese, milk, and spices.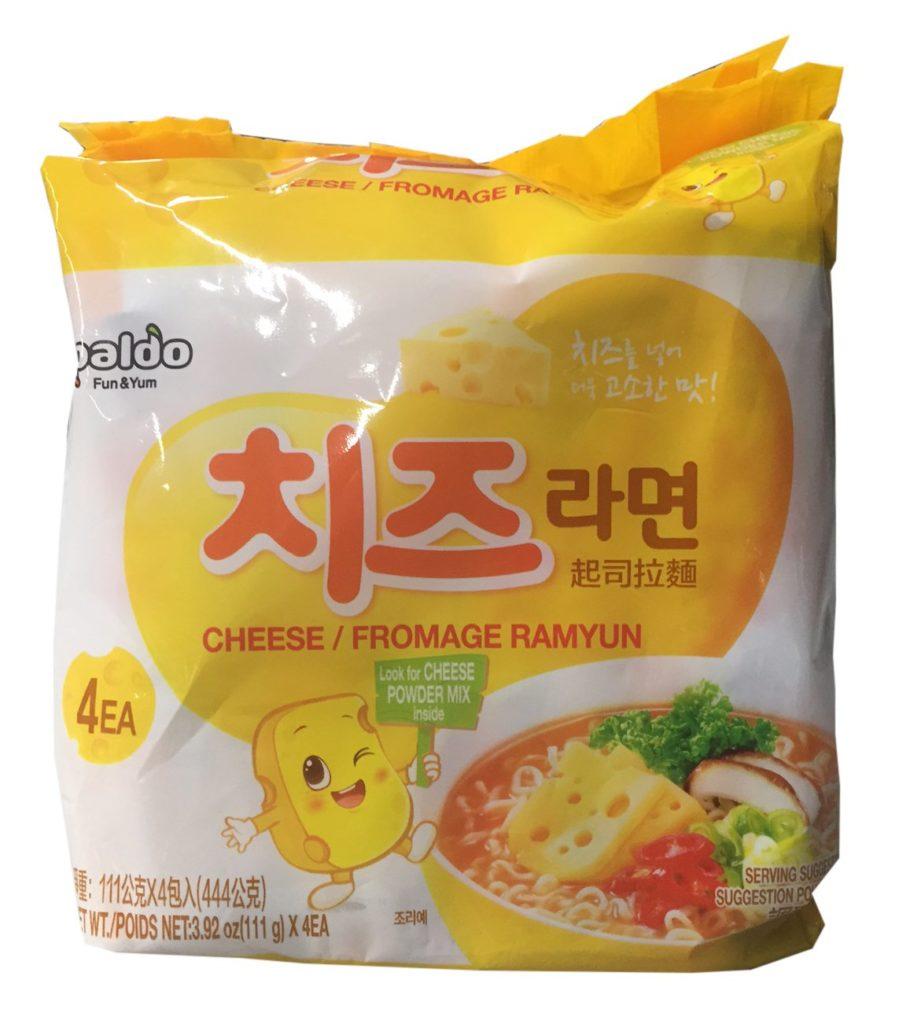 ---
Beef
For beef lovers, you can enjoy Korean ramen in beef flavors. It has a spicy broth with little bits of dehydrated meat.
Nongshim Bowl Noodle Soup, Beef, has a zesty flavor of onion combined with the savory flavor of beef. It has a mild flavor of beef, which everyone can enjoy! Nongshim Bowl Noodle Soup, Beef is a popular instant noodle soup in Korea. It is often served as a quick and easy meal or as a snack. The soup is also popular among tourists, who enjoy the unique flavor of the beef broth.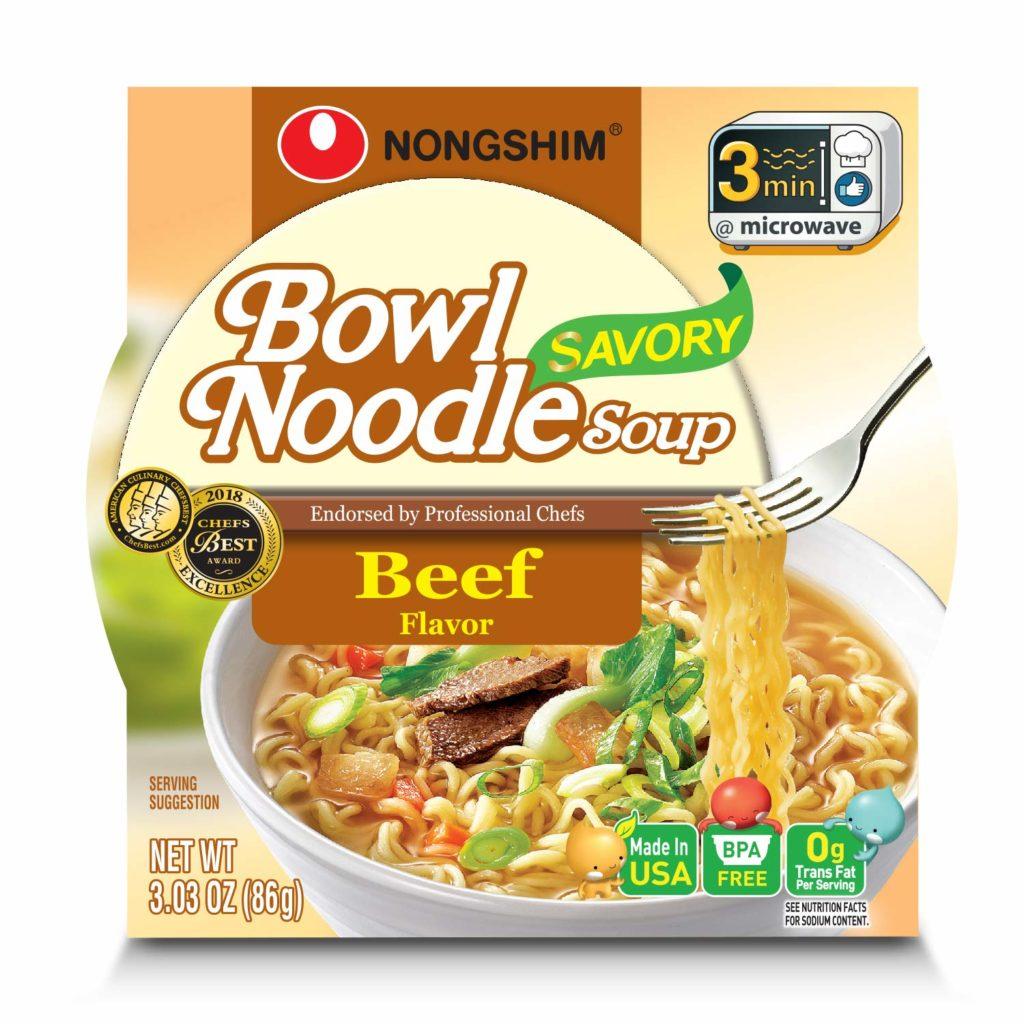 ---
Chicken
Who doesn't love classic chicken-flavored noodles in Korea? It comes in different levels of spiciness, so there's something for everyone. You can have extra spicy to not spicy at all!
Nongshim Bowl Noodle Soup, Chicken, is a Korean-style chicken noodle soup that meets the classic comfort of American chicken soup. It has a delicate aroma of rich chicken broth and a touch of curry flavor. It also contains mushrooms and Bok choy for additional flavoring. And the best part, it is not spicy but has a savory flavor. Overall, Nongshim Bowl Noodle Soup, Chicken is a good option for a quick and easy meal. It is flavorful and nutritious, and it is a good way to enjoy the flavors of Korea.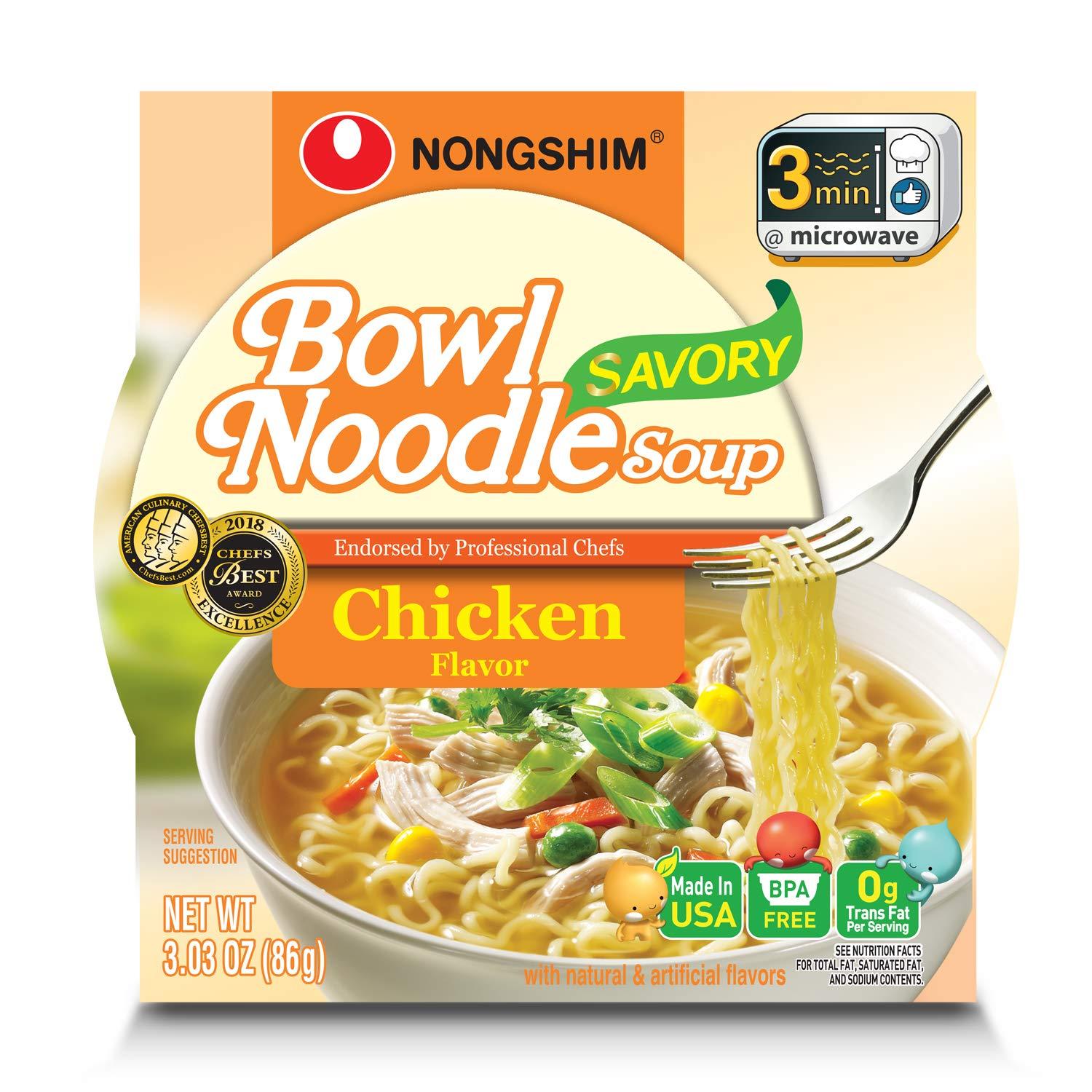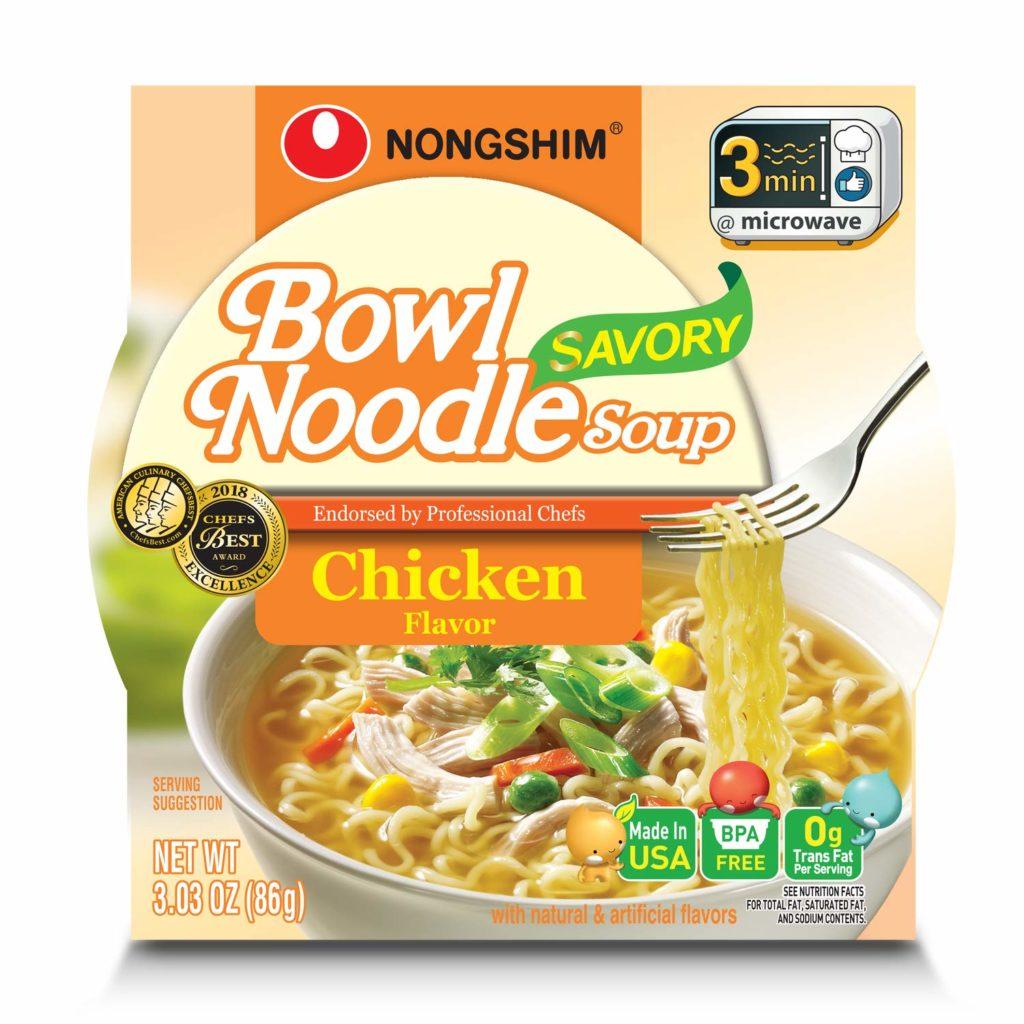 ---
Vegetarian
Just as the name suggests. There are not many options for vegetarian Korean ramen. But sometimes, you can get a kimchi flavor that is completely vegetarian-friendly.
Nongshim Soon Veggie Noodle Soup is Korean ramen without any meat or non-vegan ingredients. It is one of the sole veggie options available in the market. With a delicious and mild vegetable broth, the noodles contain more vegetables than most veggie ramen, including carrots, corn, mushrooms, and green onions. The noodles are made from wheat flour and are cooked in the broth. The soup is also flavored with a mild chili pepper sauce, giving it a kick. It has a simple savory broth and some hearty flavors that even meat lovers will enjoy!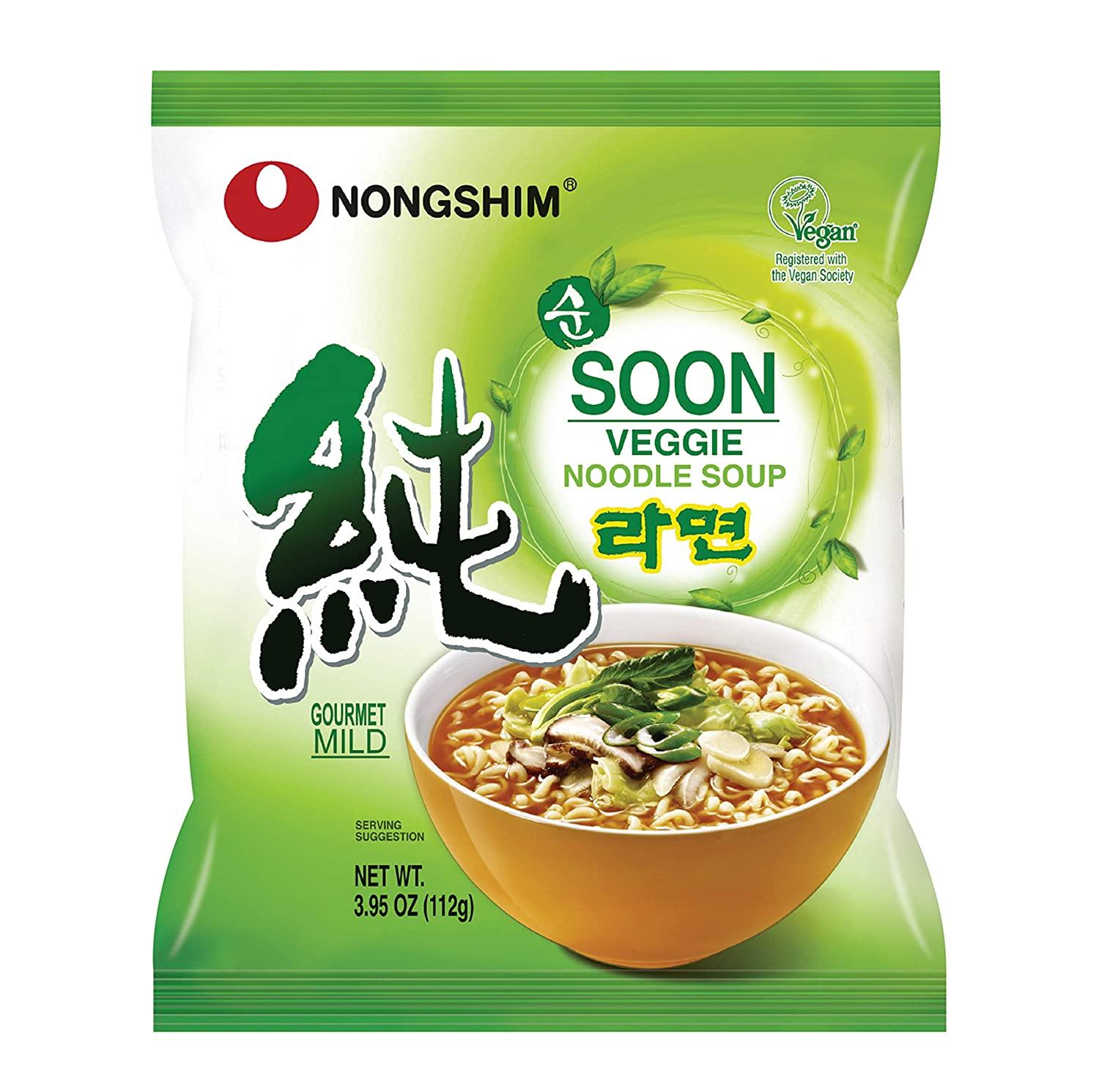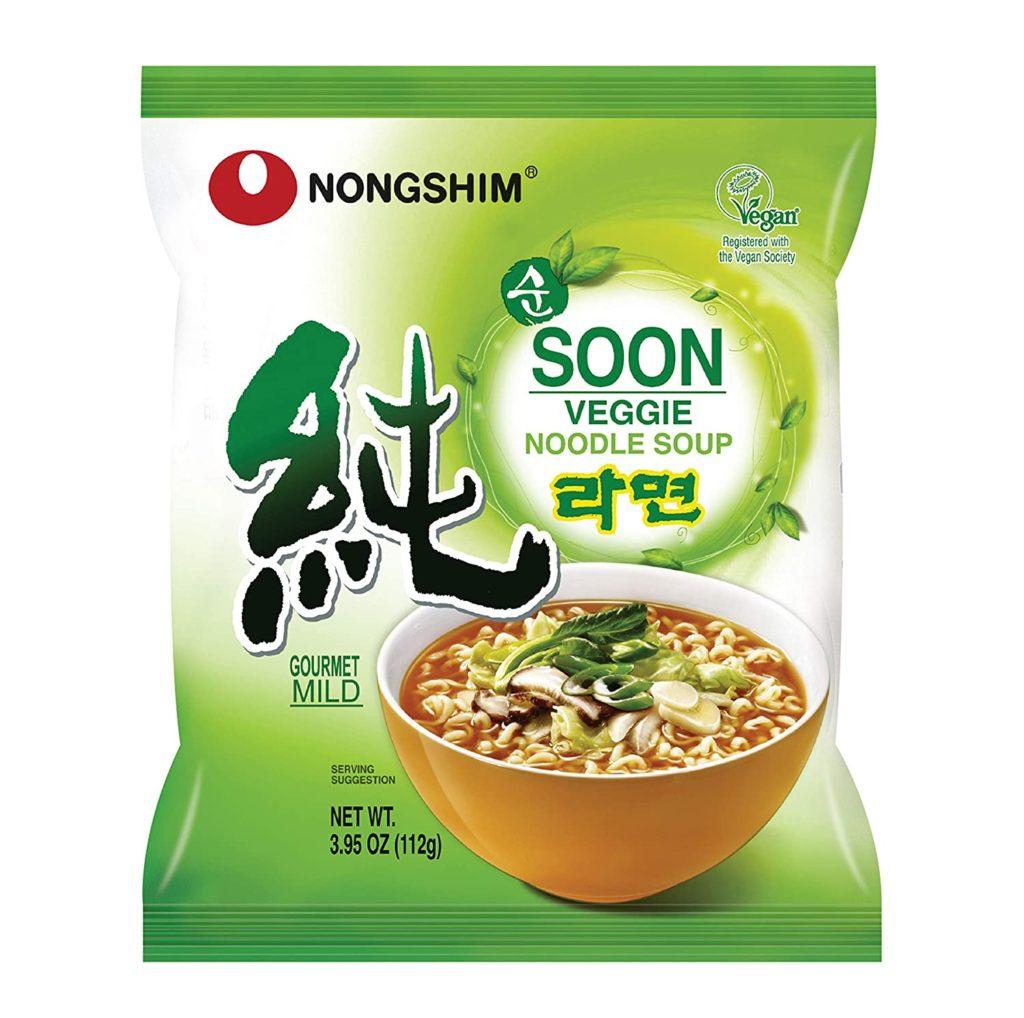 ---
Mild
For the ones who don't really like their food too spicy.
Ottogi Jin Ramen (Mild Taste) is an Asian-style instant cup noodle where you can enjoy the harmony of chewy noodles, beef bone stock, and aged mild spicy taste. The beef broth is seasoned with a variety of spices, including garlic, ginger, and chili peppers. It is flavorful and rich, which will definitely take care of your hunger pangs.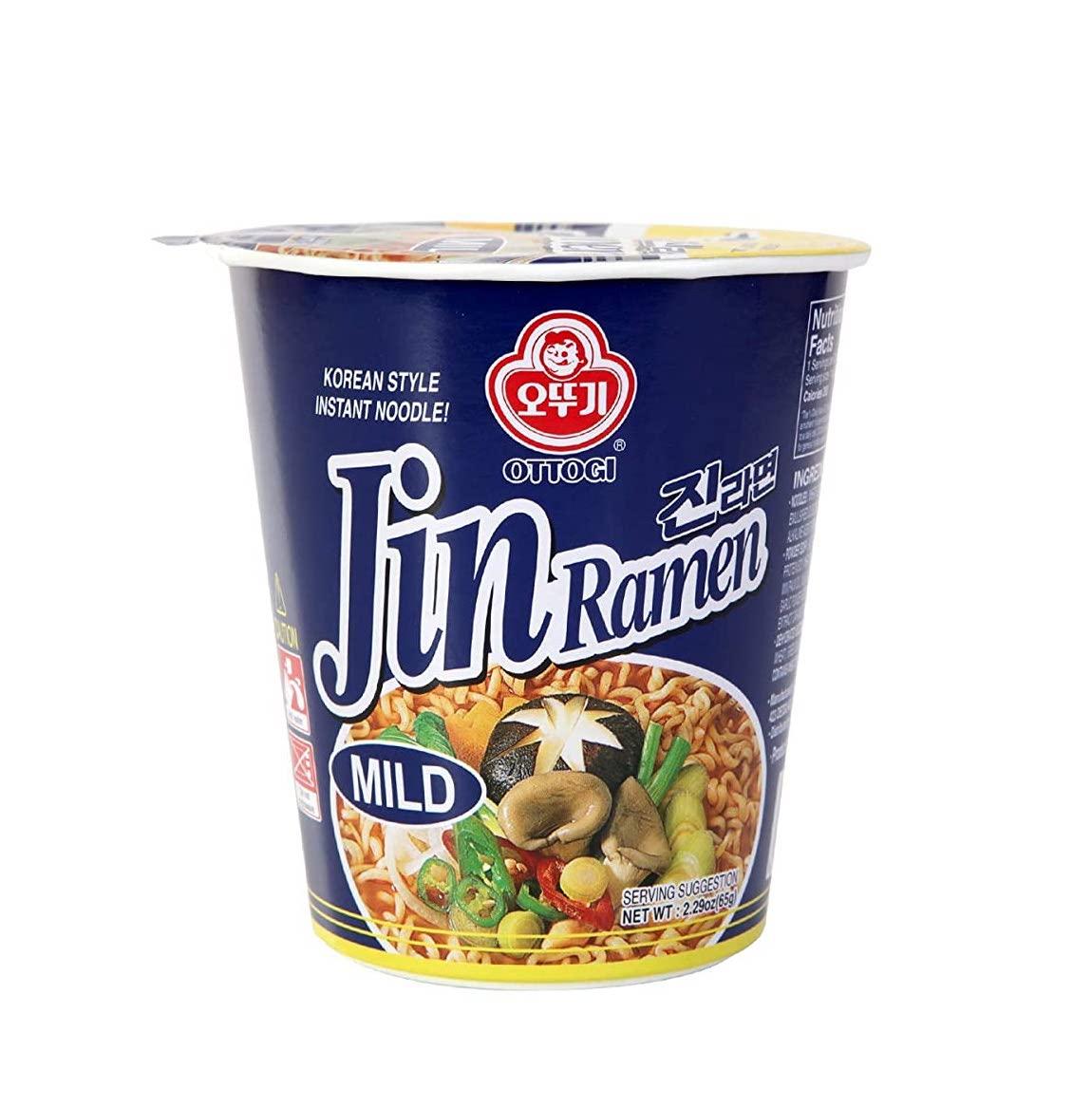 ---
Seafood
There are a lot of seafood varieties of Korean noodles, including bits of dried squid, oyster flavor, shrimp flavor with tiny shrimp pieces, and many more. Ultimately, all of them have a prominent taste of refreshing seafood flavor.
Nongshim Noodle Cup, Spicy Shrimp, is one example of seafood instant ramen that you can try. This type of noodles in Korea is hot and has spicy noodle soup in broth, and it contains real shrimp and unique spices for added flavors. Nongshim Noodle Cup, Spicy Shrimp is a quick and easy meal that can be enjoyed at home or on the go. It is also a good source of nutrients, as it contains protein, carbohydrates, and fiber.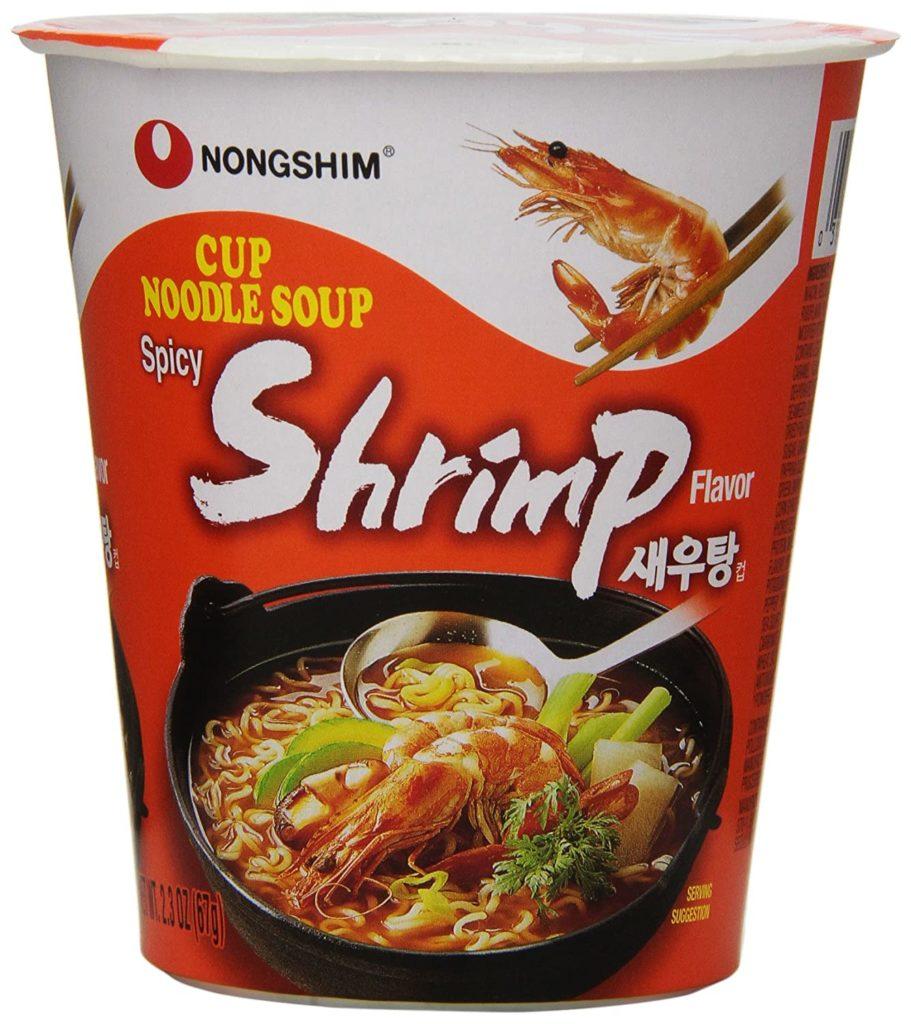 ---
Spicy
As the name suggests, a bowl or cup full of spicy noodles. Locals generally have a preference for spicy flavors, and you can find spicy taste combined with others like chicken, seafood, and others.
Nongshim Shin Bowl Noodle Soup is a premium quality noodle with a spicy flavor cooked with beef, mushrooms, and carrots. The world's finest peppers inspire the taste of noodles. Soft, chewy noodles are combined with a spicy beef broth. The beef is tender and flavorful, and the vegetables, such as carrots and green onions, add a touch of freshness. The soup base is made from various spices, including garlic, ginger, and chili peppers.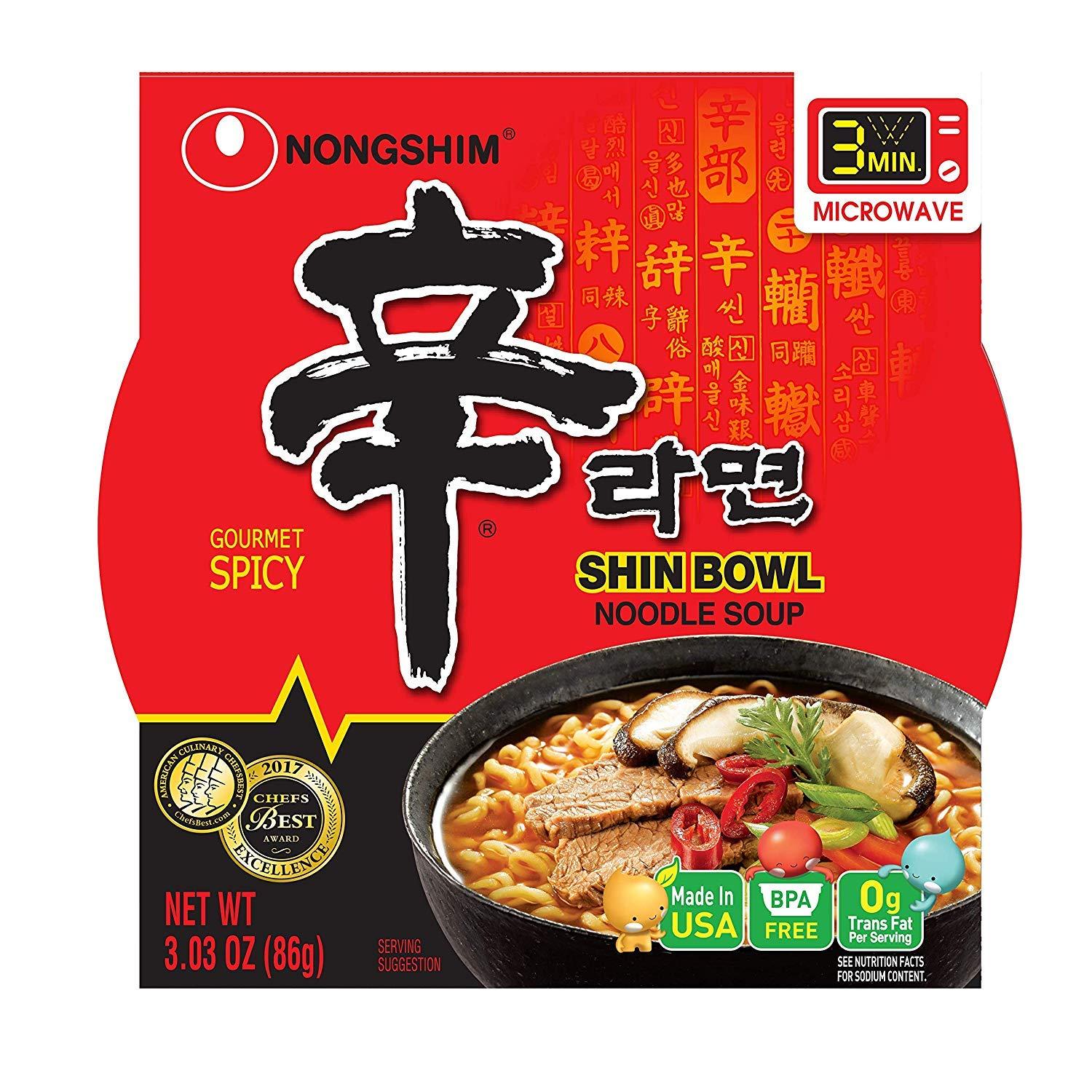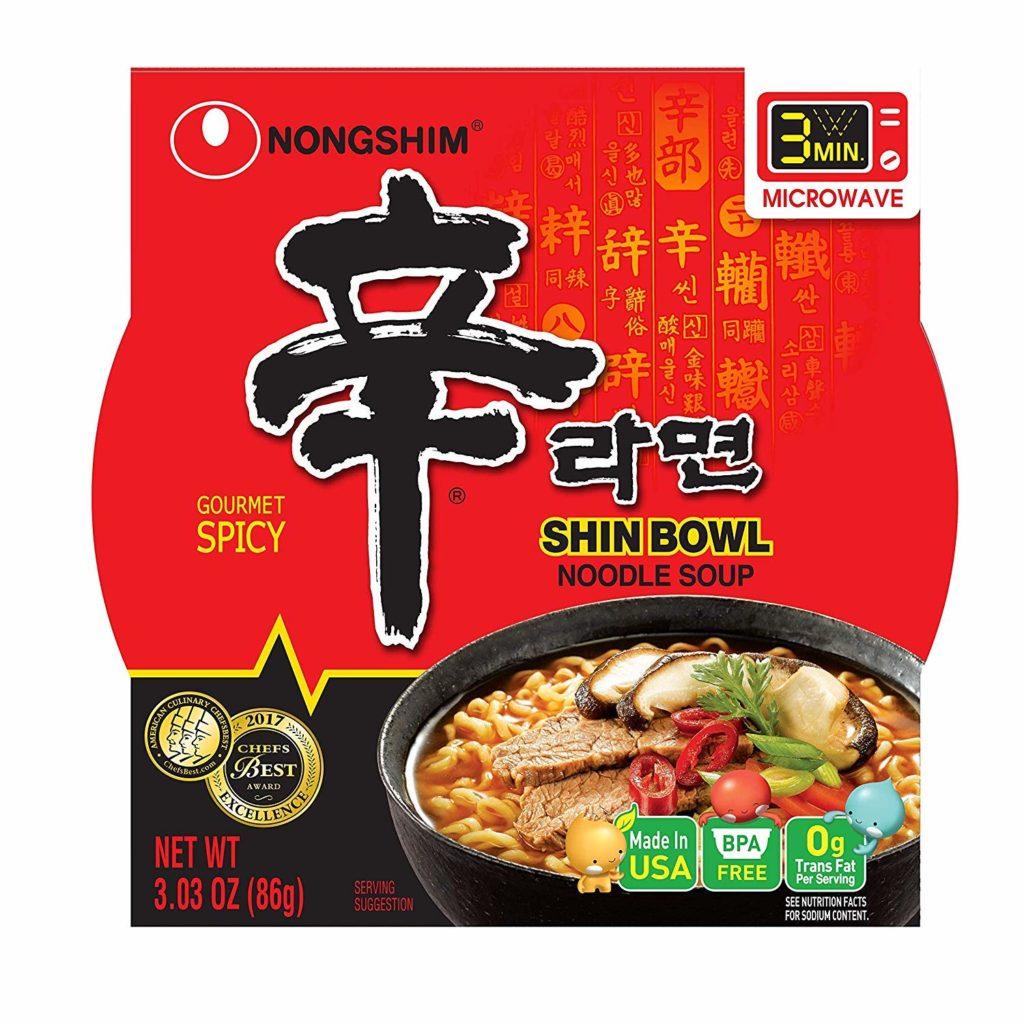 ---
Jjajangmyun
It is essentially noodles in black bean sauce. Jjajangmyun is a Korean-style Chinese noodle dish topped with a thick chajang (black bean) sauce.
Paldo Jjajangmen Chajang Noodles are thick, chewy noodles in black bean sauce in Korea. It is made with a unique blend of spices, dehydrated carrots, onions, and ground bean grains. It's a fusion of East meets West, where spaghetti-style noodles are prepared in secret chajang sauce. It is a truly special dish. It is a delicious and flavorful meal that is sure to please even the most discerning palate. If you want a truly authentic Korean noodle experience, Paldo Jjajangmen Chajang Noodles is the dish for you.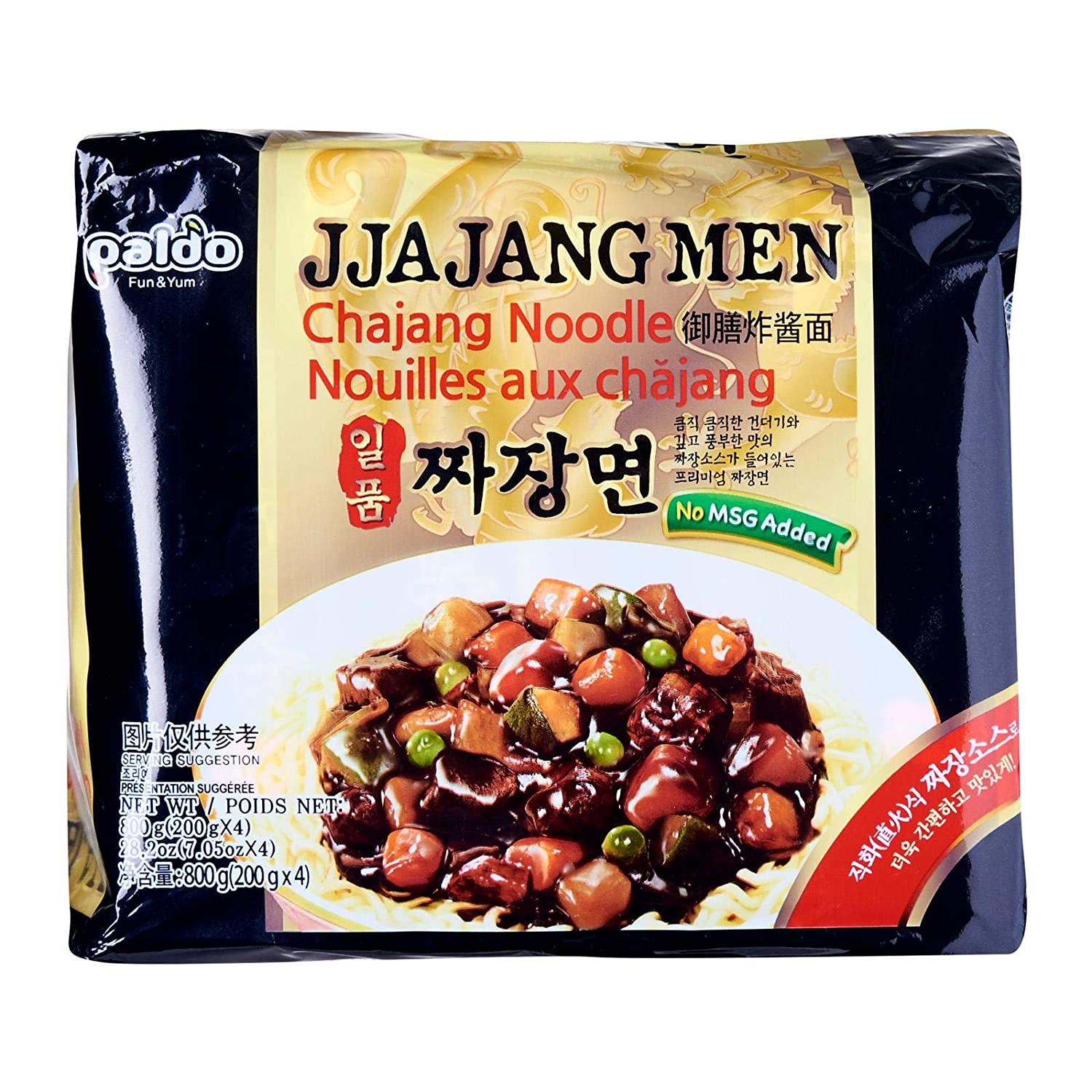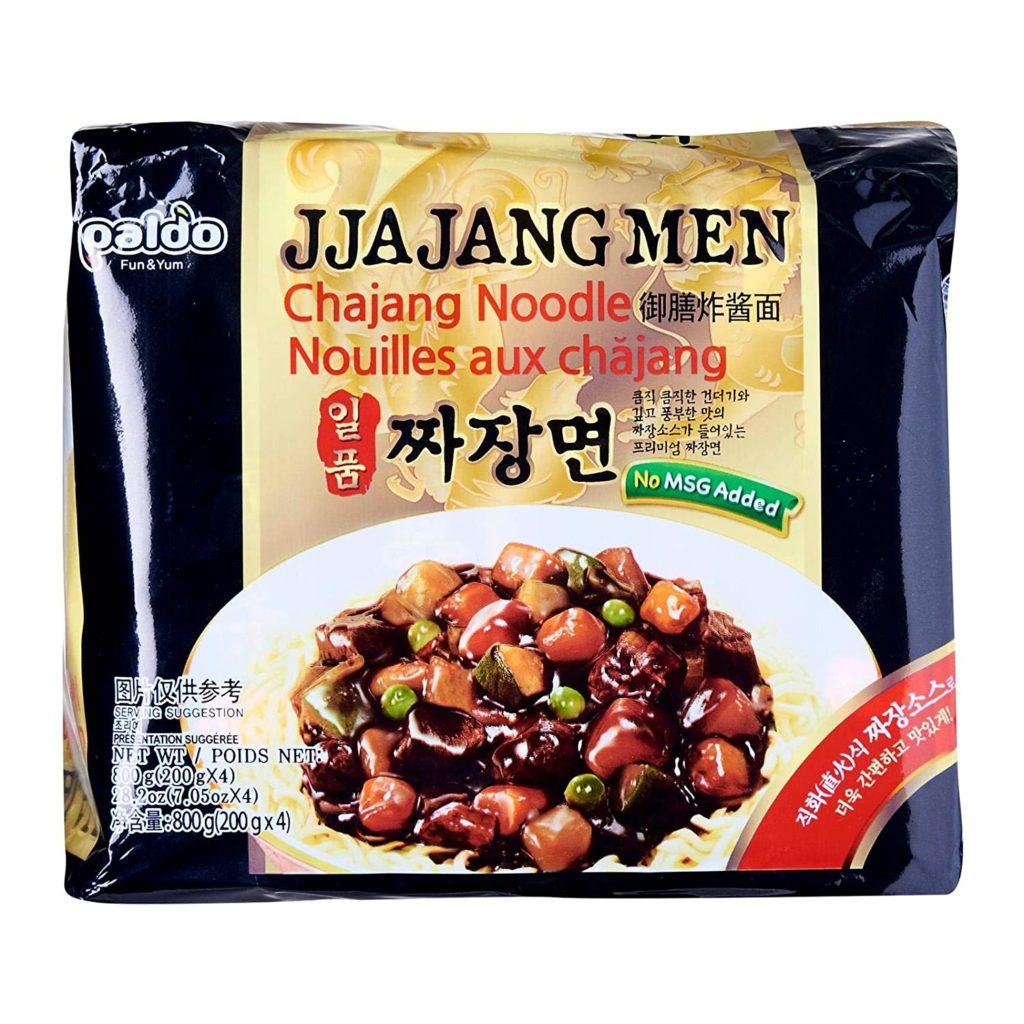 ---
Ddeok-Bokki
It combines two Korean favorite foods – ramen and tteokbokki (ddeokbokki) into one dish.
Samyang Carbo Ra-bokki brings the perfect harmony of tteokbokki, ramen, and carbo bulldark spicy chicken roasted sauce. The overall texture is very smooth and blends with the cheese's soft taste. So next time you're feeling down, reach for a pack of Samyang Carbo Ra-bokki. It might just be the thing to lift your spirits.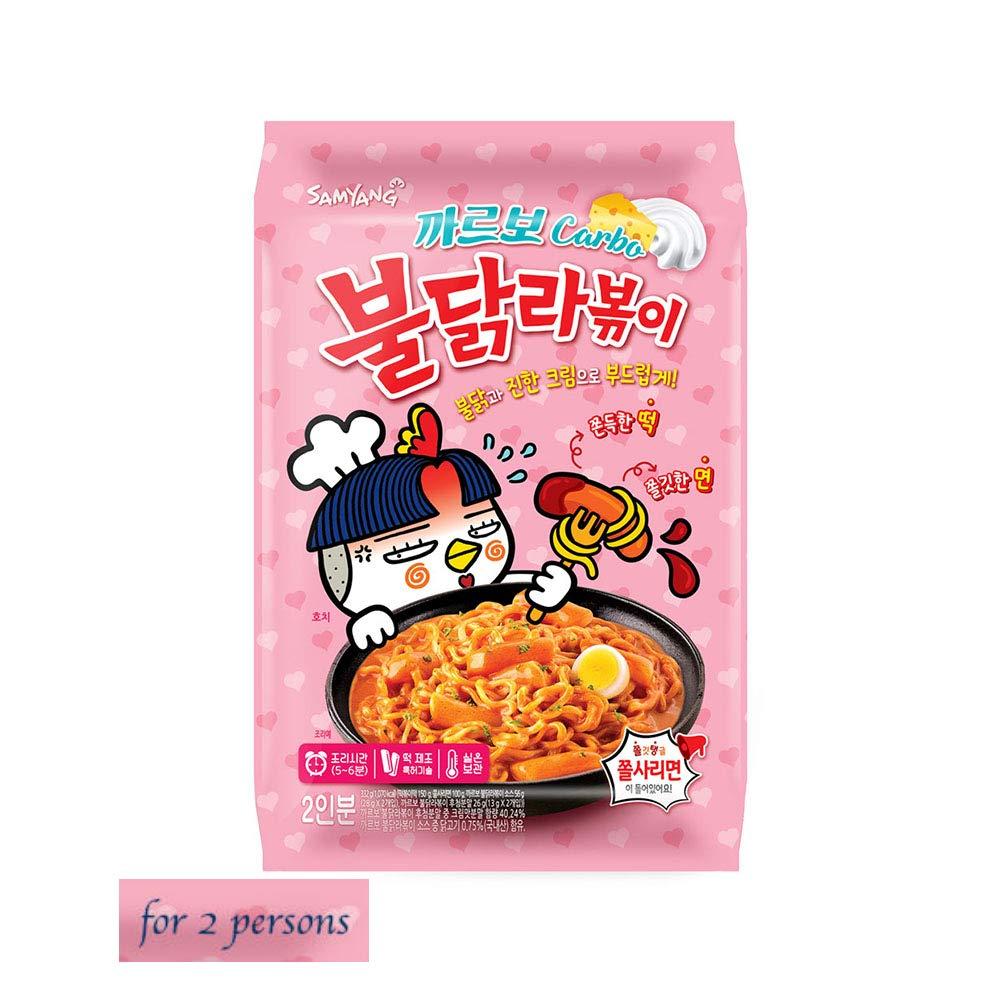 ---
Parasite's Ram-Don (Jjapaguri)
After the Parasite movie won the Oscars, 'how to ram-don' noodles were trending on YouTube. Ram-don noodles are mentioned in the movie when the mistress of the house (Cho Yeo Jeong) calls her newly-hired housekeeper (Jang Hye Jin), instructing her to get a warming pot of "ram-don" going with premium Hanwoo beef. The housekeeper then asks, "What the hell is 'ram-don' noodles?" our attention was captured! And the best part, 'Ram-don,' is virtually invented by the movie's subtitle translator Darcy Paquet because it was too difficult to translate the Korean word, jjapaguri, into English.
Watching the sequence certainly stimulated our taste buds irrespective of its origins, and the internet exploded with people asking for the dish's recipe.
If you look up jjapaguri, it is basically mixing two instant noodles packages together, Jjapaghetti and Neoguri. Jjapaghetti is an instant version of Korean black bean noodles and is served dry (Jjajangmyun). Neoguri is an instant version of udon – a slightly thicker version with a bit more chew – noodles served in a spicy soup with a bit more umami. And although instant noodles in Korea are food for the masses, it was made premium by adding Hanwoo, a premium and expensive Korean beef.
If you are a Parasite movie fan, you can also check out the iconic Parasite neighborhood in Seoul.
Instant Ramen Noodles in K-dramas
Korean ramen instant noodles have not just gained popularity from Parasite. Some or the other variety of noodles feature in most of the popular K-drama series. "What's Wrong with Secretary Kim", "The Uncanny Counter", "Crash Landing on You", and "Mystic Pop-up Bar" are some of the popular K-dramas featuring a bowl of instant ramen.
Phrases like "Do you want to eat ramyeon?" or "Do you want to eat ramyeon before you leave?" share parallels with the contemporary idiom, "Netflix and chill." This dual entendre can be traced back to the 2001 film, 'One Fine Spring Day,' and has since made its way into numerous K-dramas, including popular recent ones such as 'What's Wrong with Secretary Kim,' 'Crash Landing on You,' and 'Run On.' You can see the latest mention of ramen in the recent most-watched Netflix series from Korea, "The Glory," where Joo Yeo-jong introduces himself as the hospital CEO's son, who is a fan of ramen noodles.
Also, if you wish to know more about instant ramen noodles from Korea, check out the Top 10 South Korean instant noodles.
Photo credits: Amazon
Related Posts