Korean ramen noodles have been gaining their much-deserved popularity. Readily available, easy to make, and delectable to taste, it is easily a crowd favorite. Originally hailing from Japan, it is called Ramyun or Ramyeon in Korea. There is a great variety of tempting flavors in Korean ramen noodles. Even if you aren't planning to visit South Korea, you can still enjoy the best Korean ramen noodles on Amazon.com and treat yourself! 
The kimchi flavored ramyeon is very popular. These are usually enjoyed with vegetables like green onions, carrots, meat, beef, and eggs. The occasional cheese, tteok, and dumplings are also well-liked.
The first Korean instant ramen brand was Samyang Food Industrial Co. Ltd, founded in 1961. Their Samyang Foods Paegaejang Ramen has been a bestseller and classic. Nongshim's Shin Ramyun has been one of the highest-selling Korean ramen noodles for a long time. Exported to over 100 countries, it is known for its spicy, intensely savory flavor.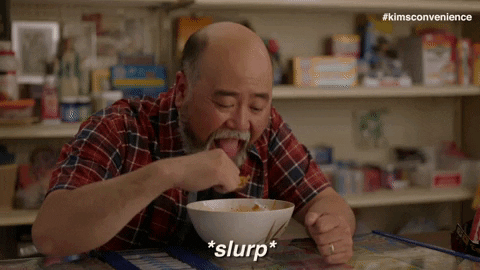 In South Korea, ramen noodles are considered to be staple as well as a gourmet delicacy. Just like several other countries, Korea has added its touch of native originality to ramen over the years. It is available in a variety of flavors like kimchi, cheese, seafood, beef, and chicken. 
Check out the best Korean ramen noodles that you can get from Amazon.
---
---
A spicier version of the classic ramyun, it is prized for its tangy taste. With a beef bone broth or miso base, the rich, spicy taste is a boon. The chewy noodles perfectly complement the delectable flavor.
It is well-liked Korean ramen mainly because of the tangier taste, more ingredients like mushrooms, bigger beef chunks, bok choy, peppers, and more quantity of the flavoring powder. The Nongshim Shin Ramyun Black is a hot seller in South Korea.
---
---
The kimchi ramen is a classic example of native Korean ramen. Highly cherished by vegetarian consumers, it is easy to cook and less time-consuming. You can find pieces of kimchi along with vegetables like mushroom and bok choy.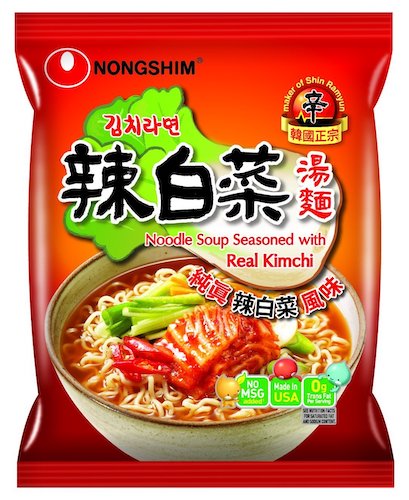 The tiny bits of kimchi adds flavor and health, and you don't need to compromise with taste. The thin noodles and richly flavorful broth make it one of the best ramen noodle flavors popular in Korea.
There are choices available by many brands if you don't like to taste the soggy kimchi in their noodles. The NongShim Kimchi noodles are a good pick then.
---
---
Cheese Korean ramen noodle is for people who like to customize their ramen according to their taste and moods. These noodles come with a hot soup base packet, cheese powder, and spices. You can balance your spice level accordingly.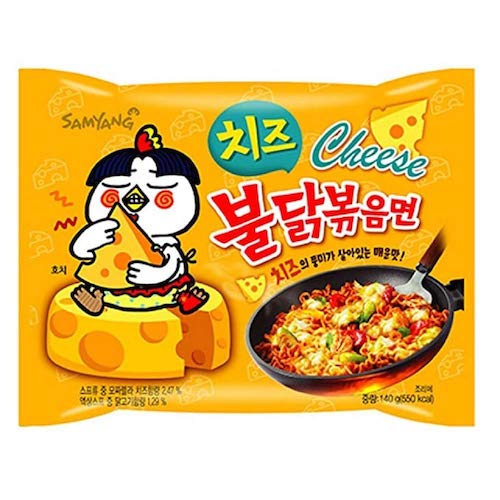 The texture of this ramen is very smooth and creamy. The chewy and springy noodles are an added treat. The added spices and sauce prevent it from becoming bland and monotonous. The cheesy taste levels down the spiciness if you are not a big fan of such a palate.
The Samyang Cheese Hot Chicken flavor ramen is a perfect non-vegetarian delight! The combination of chicken and cheese together create a perfect bowl for all your cravings.
---
---
It is one of the best, most filling, and nutritious ramen flavors. The seafood ingredients in it make it high in protein content.
Various types of seafood are used in this ramen, like dried kelp, squid, shrimp, etc. along with dried vegetables. The ramen comes with a packet of the soup sauce and ramen oil. The noodles are wheat-based, block, and thick.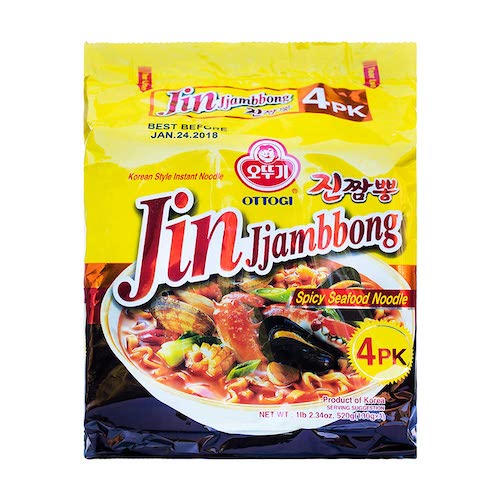 The broth also has a grilled seafood flavor and added with the spicy kick of the oil, and it is the ideal seafood ramen, a cult favorite.
---
---
Nongshim Hot and Spicy Bowl beef ramen are some of the best ramen noodle flavors. It is based on a broth called Yukgaejang, a spicy beef soup with vegetables like scallions and bean sprouts. It is a variation of the gomguk, which is a soup served in the ancient Korean royal court.
You can choose the taste of your beef ramen and customize it according to your liking. The variety of vegetables and seasonings used in this ramen is very refreshing and delicious.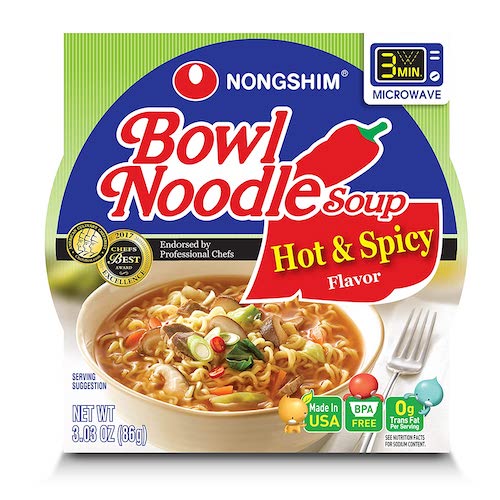 You can make your own add-ons in this ramen, and no, it will not destroy its actual flavor. Add vegetables like red and green onions, a soft poached egg, cheese slices to tone that spiciness down. You can also cook it with tuna for a clear and lighter bowl of ramyun.
The ramen comes in a microwavable bowl with low sodium and no added BPA. Could it get any better?
---
---
Tteokbokki or ddukbokki is a touch of home in Korean ramen noodles. A famous Korean street food, tteokbokki, is a stir-fried rice cake made with scallions, eggs, etc.
Ramen with tteok is called rabokki. This is like the perfect combination of Korean favorites in a bowl. This makes the whole dish much more exciting and delicious. Many prefer their rabokki in cream sauce or the western chili sauce preparation against the Korean gochujang or chili paste.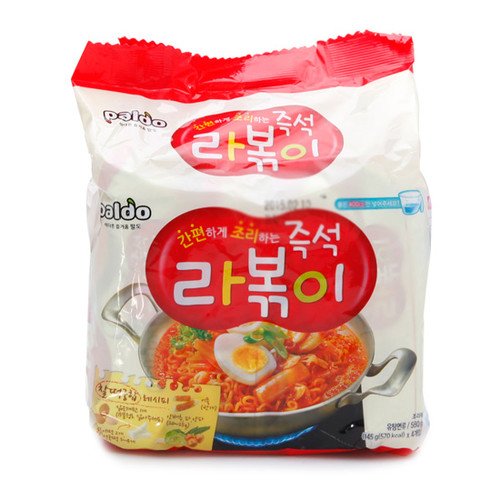 This dish is closely associated with the Korean royal court of the Joseon dynasty. It can be enjoyed with instant dumplings and deep-fried seaweed spring rolls.
The ramen seasoning powder and a slice of cheese can add that extra kick to this already delectable dish. The Paldo rabokki noodles come with a thick red sauce that adds a sweet and spicy taste to your bowl.
---
Korea rightfully boasts of the best ramen noodle flavors. These delicacies make your experience in South Korea top notch. So, don't wait. Splurge!
Love it?
Pin it and save it for later!