It's time to celebrate and enjoy the festivities as it is Lunar New Year's Day, or Seollal, in South Korea!
Seollal (설날)
Seollal or Lunar New Year's Day (or the first day of the Lunar calendar), is one of Korea's most celebrated festivals. Soellal is the time when Koreans return to their families and hometown to pay respect to their ancestors. They spend time with family, perform ancestral rites, play games, and enjoy traditional Korean foods.
This year, in 2023, Seollal falls on January 22nd, with January 23rd scheduled as an official holiday.
Seollal isn't just a New Year celebration; it is also the day when people celebrate another year of growing older. It's like a giant birthday celebration for the whole country.
Read on ahead to find out how Koreans celebrate Seollal.
Preparation Time
In South Korea, people start getting ready for Seollal days ahead. They start buying gifts for the family, and food preparations begin. And, for those who are not in their hometowns, making travel plans also becomes a priority.
Traveling during the Seollal holidays can be a pain as there's a mad rush of people rushing back to their hometowns.
Travel Tip: If you do end up making plans to do touristy things during this time, most likely, you won't find many travel options as all of it is booked by locals.
How To Celebrate Seollal?
During Seollal, the whole country celebrates for three days – a day before, the day of, and a day after. There are many different ways in which it is celebrated but what remains constant is family.
Travel Tip: During these three days, most of the restaurants and shops will be closed, especially on the official day of Seollal. If you are planning anything simultaneously, keep that in mind.
Family Time
On the day of Seollal, family members gather in their special clothing for Seollal, seolbim, for performing the ancestral rite, charye. This ritual expresses respect and gratitude to one's ancestors. After the rite is completed, the family sits together and eats the ritual food.
Traditional Festive Food
As Seollal is a family celebration, it means that it's a big family feast time. There are all kinds of Korean dishes included in the feast.
The main dish of the traditional foods is tteokguk (떡국). It is a traditional soup made with the main ingredients of sliced rice cakes, egg, beef, and vegetables.
The dish is symbolic of starting the year with a clean mind and body. These are reflected by the clear broth and the white rice cakes in tteokbuk. The soup also represents longevity, new beginnings, and fortune.
Another common Korean dish that you'll find during the festive celebrations is Jeon (전) or buchimgae (부침개). It is a savory pancake made with vegetables. There are many varieties, and many of them are served during the feast.
Other staple dishes of the day include traditional dishes like japchae (잡채), stir-fried noodles with meat and vegetables, and galbi-jjim (갈비찜), braised short ribs.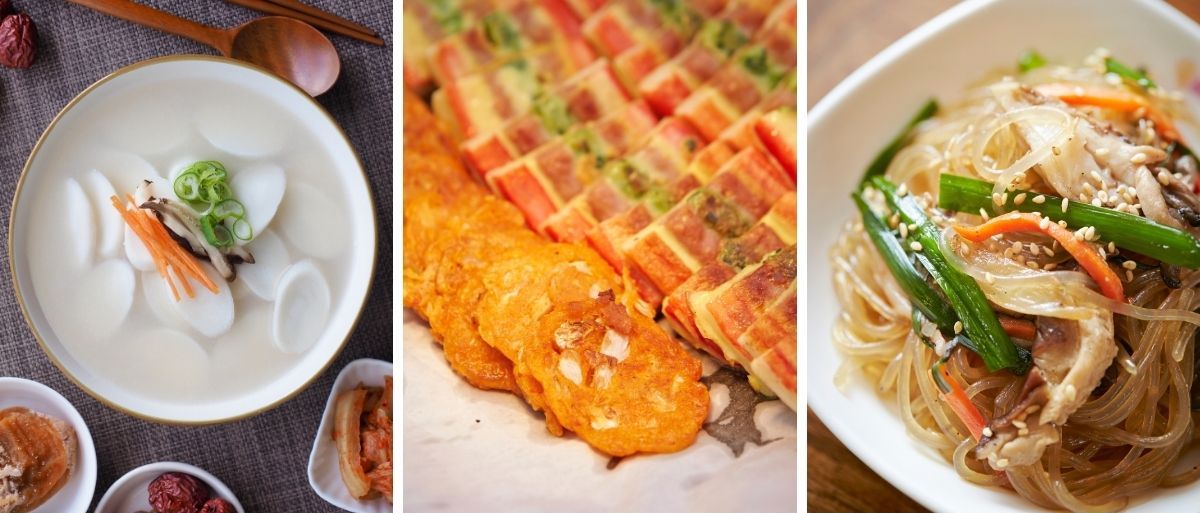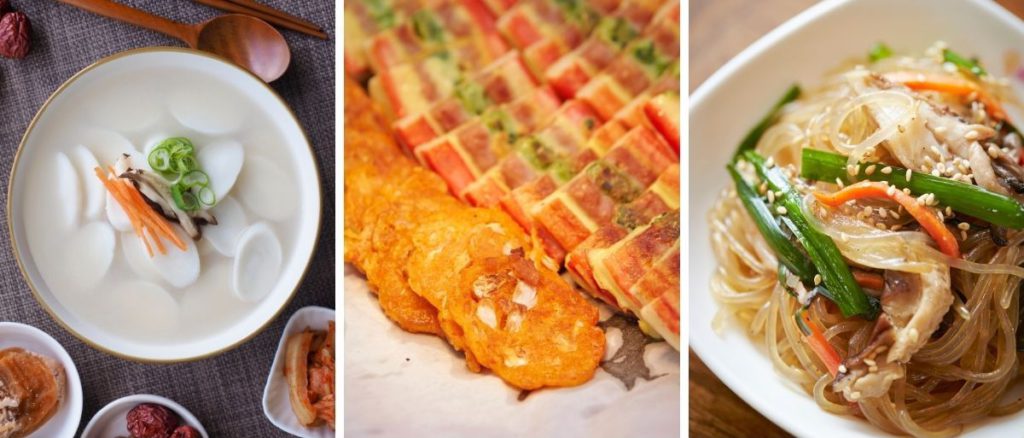 Sujeonggwa (수정과), cinnamon and ginger punch-like drink, and sikhye (식혜), rice drink, are common accompanying beverages with the food.
Gift Giving and Sebae
After eating traditional Korean foods, the younger generations pay respect to the elders in the family through sebae (세배). The younger generation people a deep bow to grandparents and other older relatives.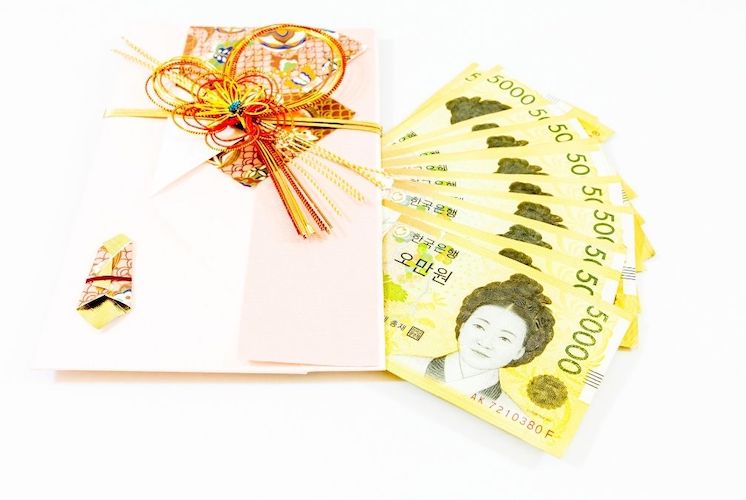 Elders offer their blessings and wishes for a prosperous year after sebae. Younger children get sebaetdon (세뱃돈) as a Seollal gift.
Fun and Games
After all the traditional activities, it is time for the family to partake in several traditional games.
The most popular and common traditional Korean game is yutnori (윷놀이). You can get it from any supermarket or Korean convenience store. The game is easy to learn, and regardless of age, anyone can play the game. It involves throwing of four sticks and moving your board markers around depending on the number of upwards-facing sticks. It's a team game, and each team has four board markers. The first team that gets all of their markers around the board wins.
Jegichagi (제기차기), a game similar to playing footbag, paengi (팽이), spinning tops, and flying kites are also common during the holiday.
Holiday Clothing
As it is a traditional celebration, people wear their hanbok (한복) or other traditional clothing attire. Seolbim (설빔) is nothing but a special set of hanbok. Seolbim means New Year clothes, so it means that the hanbok is made specifically for Seollal.
New Year Greetings in Korean
As the younger generation performs sebae, they also greet their elders by saying aehae bok mani badeuseyo (새해 복 많이 받으세요). It translates to "many you have a lot of fortune in the new year." It is also the most common way that people wish each other a happy new year in the Korean language.
Another Korean greeting that you will hear during Seollal is haengbokan saehae doeseyo (행복한 새해 되세요). It translates to "have a happy new year."
Recommended Seollal Gifts
Seollal gifts vary annually depending on the economic situation and the latest trends. But, the most common Seollal gifts are cash and department store gift cards.
Seollal Lunar New Year's Day gifts for parents generally include honey, health products, ginseng, toiletry gift sets. Other popular gift sets include items like canned tuna or Spam and cosmetic products.
Lunar New Year 2023 – The Year of The Rabbit
Every year is represented by one of the twelve zodiac signs, the guardian animal deities collectively known as Sibijisin. Every year, the signs change, and the cycle rotates, repeating over a 12-year cycle.
In earlier times, it was believed that Sibijisin had influence over a person's fate and character.
The year 2023 is the Year of the Rabbit.
Travel Tip: Traveling before Seollal will be difficult, but the bustling Korean cities will be relatively quiet and peaceful during the holiday. Many restaurants and shops will be closed, but recreational and cultural facilities will be open. You can visit amusement parks, national parks, palaces, etc., as they stay open.
Seollal is a huge festival and holiday in Korea that visitors must try to experience once at some point. How about you plan your next trip to South Korea and see the wonders and magnificence of Seollal, the Lunar New Year in Korea?
Check out other interesting articles from KoreaTravelPost: