The annual Seoul Lantern Festival (서울빛초롱축제) is a colorful festival of lights in South Korea that is one of the most popular festivals across Seoul. It is one festival celebrated in Seoul that you must see to experience the amazing sights!
What is the Seoul Lantern Festival?
Since its inception in 2009, it has become one of the iconic festivals of Seoul that takes place every November. The festival's theme is different every year, but the one thing that remains constant is a large number of paper lanterns and LED sculptures along the Cheonggyecheon Stream.
You will see lanterns on the 1.3-kilometer-long path that runs along the Cheonggyecheon Stream. There are many other things to see along the way, from Cheonggye Plaza to Supyogyo Bridge. And every year, about 3 million visitors come to see and enjoy the Seoul Lantern Festival.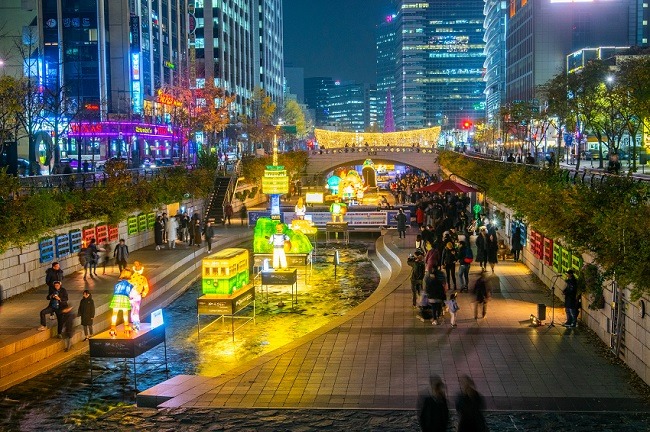 Many other countries also display their lantern decorations in this festival, including the USA and China. The lanterns follow the annual theme, stories from Korean lore, and many others. Even people launch their paper lanterns from a small section of the stream.
Best Lantern Festival Experience
As the Seoul Lantern festival spans about a 1-kilometer section of the Cheonggyecheon Stream, the best way to enjoy it is to take a walk between Cheonggye Plaza and the Supyo Bridge. If you plan to take the subway, the best exits are the Euljiro-1 or Jonggak near the Cheonggye Plaza or Euljiro-3 or Jongno 3-ga on the opposite side of Supyo Bridge. From these exits, it's just a few minutes walk, and then you can enjoy all the enchanting lanterns!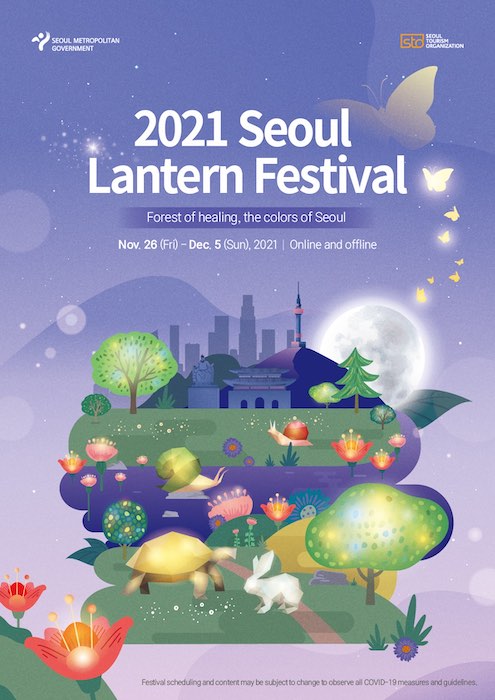 Seoul Lantern Festival 2021
The Seoul Lantern Festival 2021 started on November 26 and will continue until December 5, 2021. The theme "Forest of Healing, colors of the Seoul" is perfect for the year after the coronavirus pandemic, especially when the citizens are tired and looking for some hope. It aims to heal and give peace to all who are suffering from the after-effects of the global pandemic.
You will be able to enjoy the lights along the Cheonggyecheon stream from November 26 to December 5 between 05:00 to 09:00 in the evening.
Along with offline participation, there is an online event for those who cannot be present and join in the festival physically. There will be ten different kinds of AR Lanterns that will feature in the online exhibition. It will also include the winning entry from the 2021 Seoul Lantern Festival 'Hanji Lantern Design Contest'.
Seoul Lantern Festival 2021 – Where to Watch Online?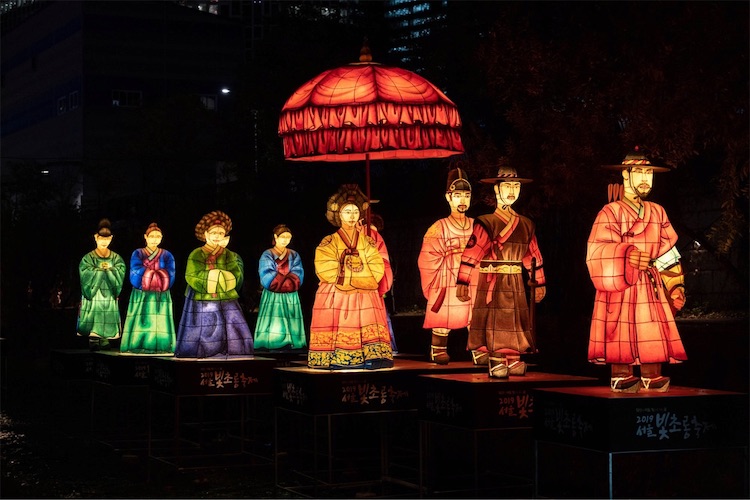 More Info:
Website: https://english.visitseoul.net/seoullantern
Price: All the events are free for admission
Performance Timing: 17:00 – 21:00
Overall the Seoul Lantern Festival is an amazing event. If you are planning a visit to Seoul in the month of November, then this is a must-visit event in the city, even if you have to take a little detour!
Read more interesting travel articles from KoreaTravelPost: