Nami Island (남이섬) is one of the most popular tourist destinations near Seoul. Here are our top 4 picks about what to do while you're on Nami Island! 
Nami Island is a half-moon-shaped island that boasts of awe-inspiring beauty. It has some of the most calming and wonderful walking paths that are worth visiting, no matter the season. These tranquil walking trails are a must addition to your itinerary even if you are not a nature-lover. 
You can also spend the day enjoying some finger-licking local cuisine to make the most of your trip. 
What's so special about Nami Island?
The island's popularity can be attributed to the several K-dramas which used the island's beauty for shooting locations. No wonder the peaceful island is loved by a lot of international travelers and local people in Korea. 
Top 4 Things to Do on Nami Island
It is picturesque no matter rain or shine or snow! What makes it more popular amongst tourists is that it's only a few hour's drive away from Seoul – a perfect destination for a day trip!
Photo Ops with the Winter Sonata sculptures
While Nami Island has been featured in several K-dramas, it is most famous for being a shooting location of the 2002 hit K-drama Winter Sonata. Many visitors head to the island for photo ops with the Winter Sonata (K-drama) sculptures of the main characters played by Bae Yong-Joon and Choi Ji-woo.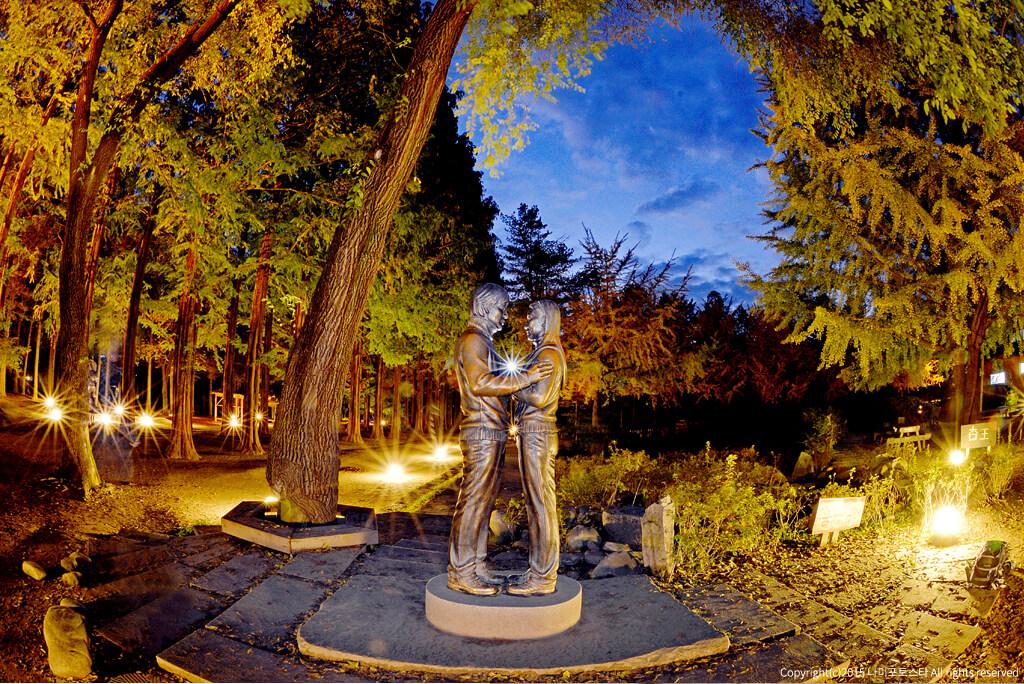 You can also find replicas of snowmen from the iconic kissing scene, 'Snowmen Kiss.' In this scene, the male lead character builds two snowmen, makes them kiss, and steals a kiss from the female lead. Recreate the scene with your partner while you enjoy the natural beauty. To recapture the moment, you can visit the Gongsaengwon Garden.
Forest Adventure on Bike
A bike is the best way to see the island, and it takes about one hour to ride around the circumference of the island. You can leisurely tour around the major attractions on a rented bike. The Bike Center is located in the center of the island between UNICEF Hall and Unchi Garden.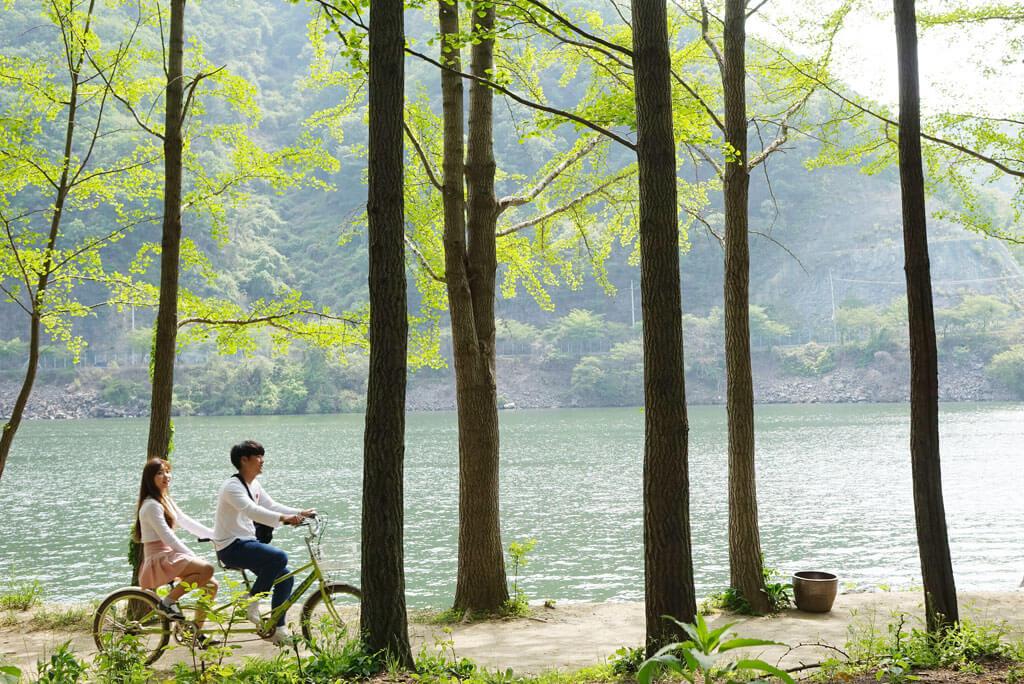 You can also hop on an electric tour car for a quicker tour around the island.
Take a selfie with Nami Island's Superstar Ostrich
On Nami Island, all animals roam freely, including ostriches. They are one of the animals you can find on the island, and sometimes they are roaming around outside their pen. Don't be afraid to take a picture, but don't get too close! You can find the ostrich pen on the left of the Central Korean Pine Tree Lane.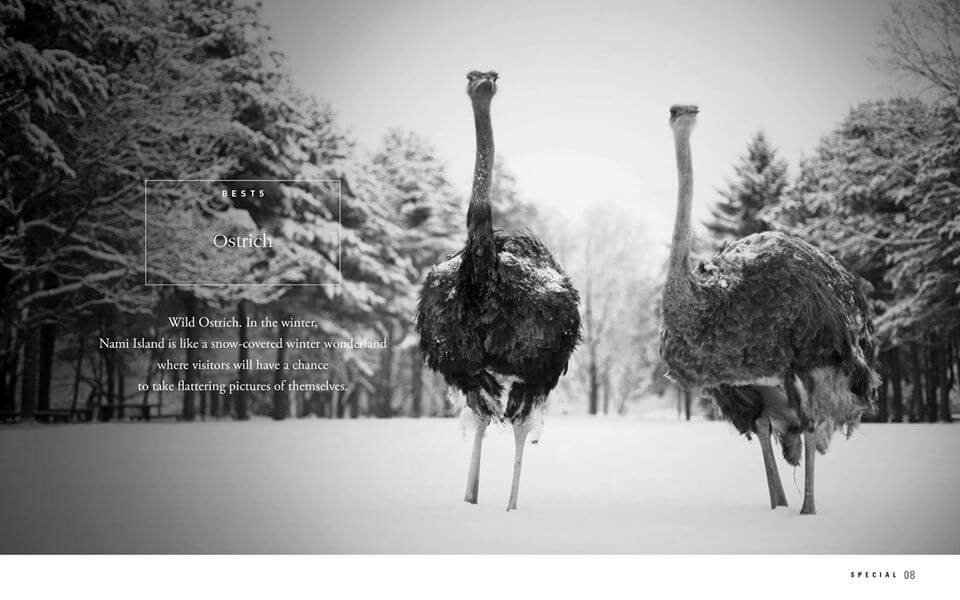 Many curious squirrels wander around the island. Countless animals like birds, rabbits, moles, and even the black woodpecker are common. 
Enjoy Picnic in Gardens
The island has many beautiful gardens perfect for taking a break or enjoying a picnic under the Cherry Blossoms at White Birch Cove and Namipingwon Garden. This particular garden serves as a tree nursery where maple trees are planted.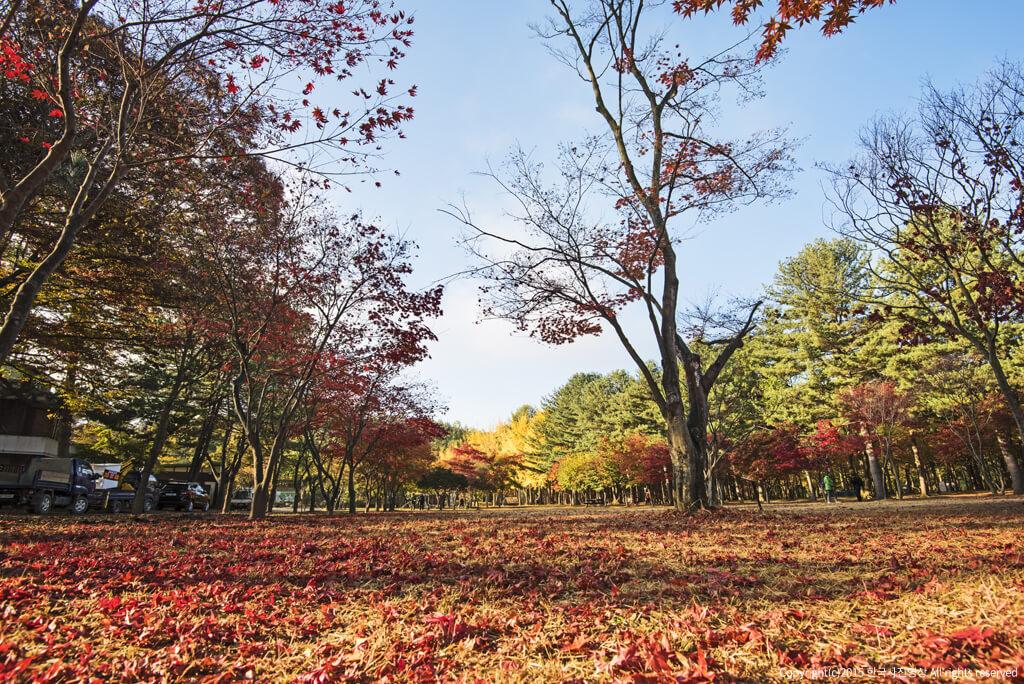 The island is also a great place to visit during the Seollal holidays (Seollal is the Lunar New Year's Day in Korea). It hosts its own series of fun and exciting Seollal events for visitors of all ages to enjoy together!
Nami Souvenirs
Don't forget to visit the Nami Gift Shop before you leave the island to buy a souvenir. You can find a variety of accessories, including rings, bracelets, bookmarks, key chains, and many more, all of which are designed with the iconic "snowman."
So, make time for a getaway to Nami Island and be enchanted by the wonders of this island!
Check out our other Nami Island guides.
Photo Credits: Nami Island Official Website