Kakao Friends are popular characters from South Korea based on the KakaoTalk emoticons. Each cartoon character has a unique personality, and they have become a huge part of merchandise in South Korea! You can find them on everything from credit cards to yogurt! Not just Kakao merch, you can also find Kakao Friends Stores and theme cafes all across the country.
So, what is KakaoTalk?
It's a social chat platform from South Korean company Kakao that was launched in 2010. It is South Korea's mainstream messaging app, just like WhatsApp and Facebook.
Where do Kakao Friends come from then?
These cartoon characters were created as emoticons for the messaging platform in 2012. The sole motive was to make the conversation easier for people and make it more emotive. The characters were designed by Kwon Soon-ho (pen name Hozo) to make the KakaoTalk experience more interactive for users.
Who are the Friends?
Kakao Friends not only gives users an easy way to express emotions, but each of them has a unique backstory and characteristics. All the stories are universally relatable and are kept a bit sparse for that reason. They do have a common theme; each of the characters is insecure about some aspect of their looks or background.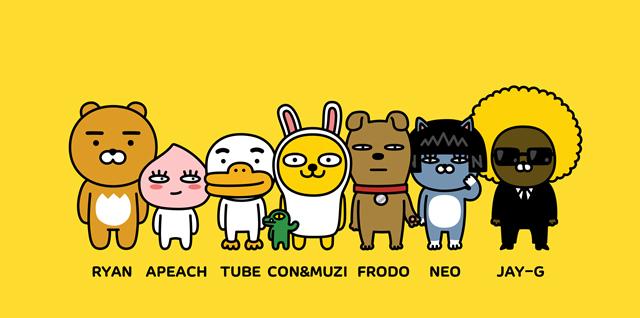 Because they are relatable, they became instantly popular amongst the masses. It has led to their adoption by many products and marketing campaigns in order to attract people.
There are three series of characters, Muzi, Frodo, and Ryan. Here is a little cheat sheet for you to know about the Kakao Friends before you take a trip to South Korea and see 'em everywhere.
Muzi (무지) – looks like a rabbit and is curious and playful
Muzi is a piece of danmuji, a pickled radish, in rabbit clothes, and is very playful and curious. He was brought to life by the mysterious Con, another Kakao Friends characters. The character was created to be Kakao's mascot, so he sports the brand colors of yellow and brown.
Con (콘) – looks like a tiny crocodile who raised Muzi
Con is a tiny crocodile with lots and lots of secrets, including how he brought Muzi to life from a piece of pickled radish.
Apeach (어피치) – a pink peach with a playful and flirty personality
Apeach is the most playful and risqué character amongst the Friends. Her character is an adolescent in her late teens, which makes her personality slightly flirty. She is a sentient peach who came to life through genetic modification.
You can check out an Apeach themed café in Busan.
Jay-G (제이지) – big fan of rap artist Jay-Z and a mole in disguise
Jay-G is a huge fan of the rap artist Jay-Z, and so he named himself after the artist. He is a spy who is assigned to bring back a rabbit's liver. For this, the secret agent character chases after Muzi for his liver.
Frodo (프로도) – a big city dog with mixed breeding heritage
Frodo is a dog from a big city with lots of influence and money. His mixed-breed legacy is a point of insecurity that he tries to hide, which keeps him from becoming too spoilt even though he is living the high life. Frodo is dating Neo, the cat character, and they are officially a couple.
Neo (네오) – a cat character who's all about style and looks
Neo: The lover of Frodo, Neo, is the uber-fashionable cat character. She always has perfectly coiffed hair and quite stylish. She is fiercely loyal to Neo but can be a little snooty around other people.
Tube (튜브) – a duck who transforms into a green monster when he's angry
Tube is the most simple character amongst the Kakao Friends. He is like the 'Hulk' of the group and transforms into a sharp-toothed green monster when he's angry. Despite the rage issues, he is somewhat cowardly and insecure about his tiny feet.
Ryan (라이언) – a lion without mane or tail and looks like a bear
Ryan is the latest character from the artist and was created to lead the other characters in 2016. Since the launch, the character has become the favorite by a wide margin. He looks like a teddy bear, but actually, he is a lion without a mane or a tail. Born to be a king of Dung Dung island, he ran away, looking for freedom leaving the throne. Ryan has an expressionless face, which makes it common for other Friends to misunderstand him. But, despite that, he is entirely trustworthy has lots of emotions.
Gangnam Flagship Store
The store offers a whole range of products featuring the eight Kakao Friends characters. It's one of the biggest ones in the country in the heart of Gangnam. It's a huge store covering three floors of Friends merchandise, and it's just 10 minutes' walk away from exit 10 of the station. The Gangnam Flagship Store is dedicated to Ryan, the lovable lion. It also houses a Ryan Café on the 3rd floor where you can enjoy some Ryan specialties.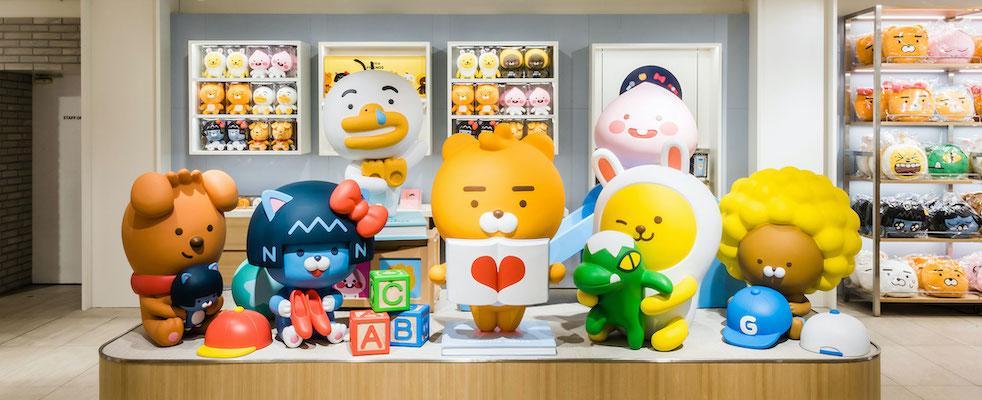 Hongdae Flagship Store
It's a super cute store with lots of merchandise, including inventive home and office supplies, writing supplies, kitchenware, toys, and much more. The store has a Concept Museum within along with a Ryan Café on the 3rd floor to keep your hunger at bay!
Busan Flagship Store
Just like the other flagship stores, its essentially a cuteness overload! In the Busan store, you can enjoy drinks and snacks at the Apeach Café on the 4th floor.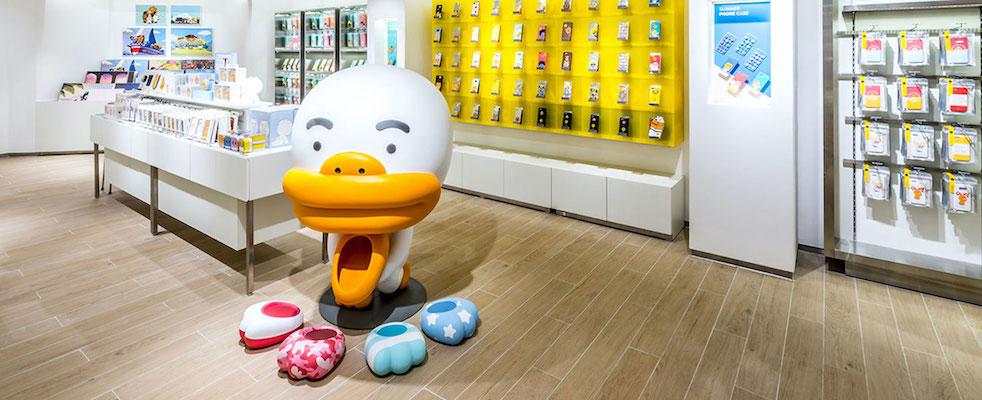 Any of these stores is definitely a must-visit on your trip to South Korea, as you will be missing out on something awesome if you don't include it in your itinerary!
And if you are not traveling to South Korea any time soon, you can get yourself some Kakao merch from their online store. It offers global shipping on many of the products. 
Love it? Pin it!