Milmyeon, the iconic cold noodles from Busan, are taking the culinary world by storm with a history steeped in tradition thanks to the Michelin nod.
Milmyeon, a savory cold noodle dish, has made the port city of Busan, South Korea, the latest culinary sensation. The dish's captivating history, with roots in the Korean War, and a recent Michelin nod has intensified the spotlight on milmyeon. Michelin, a prestigious restaurant guide, recently announced that the southern port city will be featured for the first time in its 2024 edition, set to be released in February 2024.
A Taste of History
The vibrant food scene of Busan is deeply rooted in history. The city's signature dish, milmyeon, is a bowl of cold wheat noodles served in a chilled broth. Its origins trace back to the Korean War (1950-1953). Many North Korean refugees who settled in Busan started cooking naengmyeon, a cold buckwheat noodle soup from North Korea. However, with limited access to buckwheat due to the war, the refugees began using wheat flour, an abundant war supply provided by the US army stationed in Busan, to make their noodles. As a result, North Korean naengmyeon transformed into South Korean milmyeon.
Milmyeon Cold Noodles Flavor Profile
Milmyeon noodles have a pleasant, chewy texture and are made from wheat flour. These noodles are typically served with cold beef or pork broth poured over them. They are topped with fresh cucumber strips, lightly salted radish, and half a boiled egg. A scoop of spicy sauce made with gochugaru (ground Korean chili powder) is an essential addition. Some variations include fried egg strips or using spring water from local mountains to make the broth.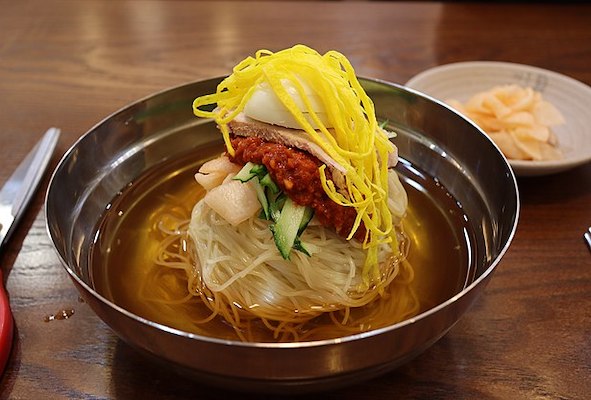 There are two variations of the dish, water milmyeon, or noodles in water, and bibimmyeon (spicy noodles), or noodles mixed with gochujang (red pepper paste). The ingredients of the basic dish remain the same, but there are some differences.
Where to Eat?
The milmyeon cold noodles are becoming increasingly popular in Busan, South Korea, thanks to its excellent public transportation system and many famous tourist attractions. The dish is also more affordable than its buckwheat noodle counterpart, naengmyeon, due to the use of wheat flour. Adding condiments from Gyeongsangnam-do Province has further enriched the flavor of milmyeon. A quick online search will reveal the top three to five milmyeon restaurants in Busan, each with its unique taste. This variety adds to the fun and mystery of milmyeon.
Naeho Naengmyeon, Busan's first milmyeon restaurant, is located in a back alley that can be difficult to find, even for locals. This is because the restaurant's founder, Jeong Han-geum, wrote in her will that the restaurant should not be relocated. The name "Naeho" contains the word "naengmyeon," so the milmyeon served here is closer to Pyeongyang naengmyeon and has a milder flavor than other dish variations.
Other milmyeon restaurants in Busan use medicinal herbs or add a lot of sugar to their dishes in the style of the 1980s. Gukje Milmyeon has spicier and cleaner condiments than other restaurants specializing in the dish.
No matter where you go in Busan, you will find a delicious bowl of milmyeon cold noodles that suits your taste. So next time you are in the city, try this popular dish.
The Iconic Naeho Naengmyeon
One of the most well-known milmyeon establishments is Naeho Naengmyeon in Busan's Nam-gu neighborhood. Chef and owner Yoo Jae-woo is the fourth generation of his family to run the restaurant, which was originally founded by his great-grandparents in 1919 in North Korea's Naeho village in Hameung province.
After fleeing from North Korea to Busan during the war, Yoo's great-grandparents opened what they thought would be a temporary outpost of Naeho Naengmyeon in 1953, selling North-Korean style naengmyeon. They named the restaurant "Naeho" after their home village to continue the legacy of their family business. However, in 1953, the border between North and South Korea was closed, and they couldn't return. In 1956, their children took over the business and modified the noodle recipe, using a combination of wheat flour and sweet potato starch, which were easier to obtain and considerably less expensive.
The milmyeon served at Naeho today is unique, made with 70% wheat flour and 30% sweet potato starch. These thicker and chewier noodles are a nod to the restaurant's rich history.
A Culinary Sensation
With Michelin's recent recognition, the popularity of milmyeon is skyrocketing. Restaurants are getting their menus translated into various languages to cater to the growing number of international visitors. Locals and ex-pats alike are on the hunt to find their favorite milmyeon as the global community turns its attention to Busan, the newest culinary hotspot.
Busan's culinary scene, including milmyeon, is set to shine in the global spotlight with Michelin's recent announcement of including the city in their 2024 guide. As the world turns its gaze to Busan's culinary gem, milmyeon, it's time to discover this dish and experience a taste of history made in Busan.
So, the next time you find yourself craving a delicious, comforting bowl of noodles, why not take a culinary journey through history with milmyeon? The magic of Busan's iconic noodles awaits you.
Related Posts
298 total views, 8 views today