Chimaek, Samgyetang, Dwaeji Gukbap, Haemul Panjeon, and Milmyeon are some of the best local dishes in Nampodong, Busan, that you must try at least once!
Any trip to South Korea would be incomplete without food. You stay in a good mood when you have a happy tummy, making traveling even more fun. As a result, your trip to Nampodong should be no different.
You may not be familiar with Busan cuisine, but if you enjoy trying new things, you will not be disappointed. Nampodong, also known as the old downtown, offers a diverse choice of delicacies to its guests, and we have hand-picked some of the best foods for you to sample while admiring the magnificent Nampodong.
Dwaeji Gukbap
The first dish that we suggest you try is a pork soup dish called Dwaeji Gukbap. This is comfort food and is enjoyed by locals and tourists alike. The best part about this recipe is that it is light and is often given to sick and weak individuals; therefore, if you want to stay healthy on your trip by avoiding oily-rich foods, you may try this yummy, nutritious soup.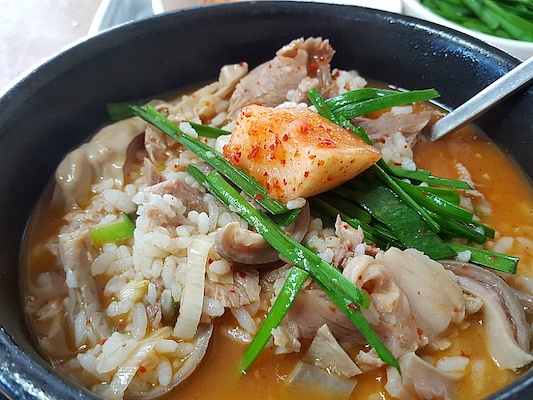 In this dish, you will get pork belly in scallion broth. In some restaurants, shrimps are also added. It comes with steamed rice and a variety of side dishes that vary in each location.
Now, the dish from Nampodong may sound simple, but it takes hours to prepare, and chefs in Busan prepare it with a lot of love.
Where to eat Dwaeji Gukbap in Nampodong – Bukwang Dwaeji Gukbap
This pork soup restaurant is a favorite among locals thanks to their amazing Dwaeji Gukbap at a reasonable price. Not to mention, it was featured in Top 3 Chef King of Baek Jong Won.
The serving size is generous, with plenty of meat. The broth is light and flavorful, and it pairs well with kimchi making it one of the best dishes to try in Busan's Nampodong.
Milmyeon
Do you love noodles? Well, then Milmyeon is for you. It is a dish consisting of cold wheat noodles that are paired with meat, slices of pear, and cucumber. The dish is then finished with sliced hard-boiled egg and gochujang, a spicy condiment. The toppings, however, may vary depending on the restaurant you are visiting.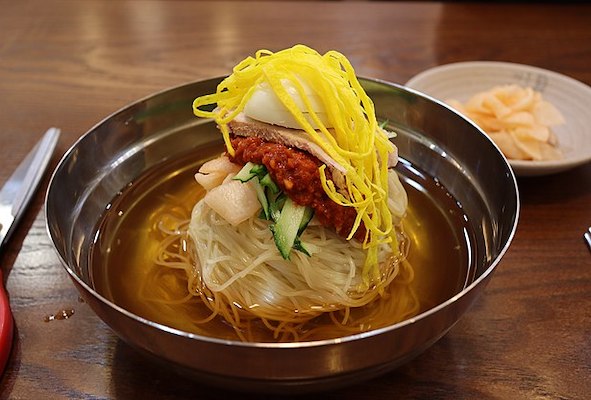 This meal has a strong emotional attachment among the inhabitants. This is because it has been a part of their culture since the Korean War, when they utilized wheat instead of buckwheat to create noodles in order to conserve money. The noodles are also prepared with starches like sweet potatoes. This is a hearty meal and must-try during your trip to Nampodong.
Where to eat Milmyeon in Nampodong
Choryang Milmyeon
If you want to try out Milmyeon at affordable rates, this is one restaurant that you should consider. The staff is efficient and courteous, along with a good ambiance to spend time with friends and family. The location is ideal for travel because it is close to the station.
Halmae Gaya Milmyeon
Another cold noodle restaurant that is highly popular is Haldae Gaya Milmyeon. If you love spicy noodles, then you will love the Milmyeon of this eatery. The serving portion is huge, so order as per the capacity of your stomach to avoid wasting food.
Haemul Pajeon
This is a delicious pancake dish. Scallions, rice flour, meat/seafood, and several veggies are used to make this. When it comes to seafood items, the combinations may differ from one restaurant to another.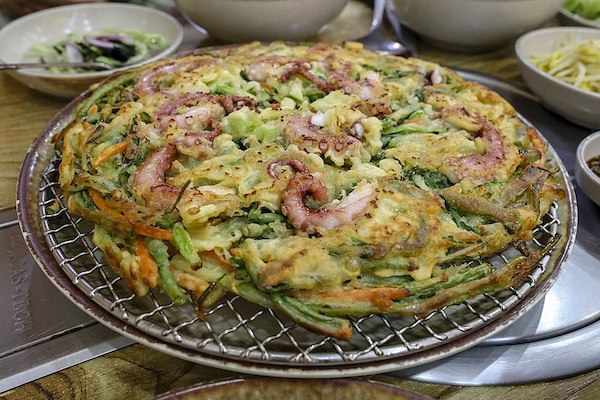 This dish is made by first frying the scallions in a hot skillet, then mixing the batter and seafood components. The pancakes are cooked until they are golden brown.
Where to eat Haemul Pajeon in Nampodong – Jacky's Seafood
Haemul Pajeon is a popular street snack that can be found in nearly every stall near the Jagalchi Fish Market.
However, if you are seeking a seafood restaurant to enjoy this delicacy, we recommend Jacky's Seafood. It is situated close to the Jagalchi market and has the reputation of serving one of the best scallion pancakes in Korea. The restaurant menu also features several other seafood dishes which you can try. Jacky and his staff are very friendly, so we are sure you will have a nice experience in this restaurant.
Chimaek
If you are a chicken and beer person, Chimaek is tailor-made for you. The name has derived from the terms "chickin' (chicken) and "maekju" (beer).
In the early days, people used chicken only to prepare stews, but after the Korean War, fried chicken became popular. It spread from the United States military to the neighborhoods of Korea.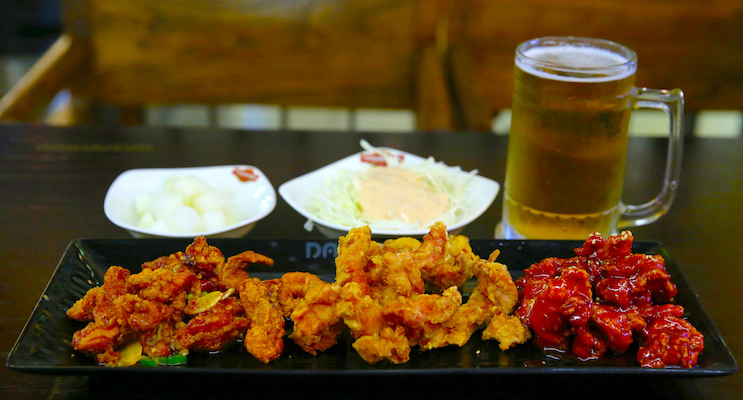 When it comes to creating Chimaek, most restaurants stick to the simple conventional method of frying the chicken twice and adding salt and pepper seasoning to uplift the flavor profile. Some have tweaked the recipe and added their own twist to make their dish stand out.
Where to try Chimaek in Nampodong – Geoin Tongdak (Giant Chicken)
This restaurant is well-known for its succulent chicken and large beer quantities at reasonable costs. The flavor is similar to that of traditional Taiwanese chicken, and it pairs nicely with the spicy sauce they provide.
Samgyetang
Samgyetang is a classic ginseng chicken soup dish in Korea and one of the best dishes that you can find in Nampodong. A whole chicken is stuffed with rice, garlic, ginseng, and jujube, making the protein highly flavorful. As for the broth, it is tasty, filling, and nourishing. Although some restaurants make minor changes to the original recipe, the essence of the dish remains the same throughout Busan. It's typically consumed during hot summer days, so if you're planning a trip to Nampodong this summer, give it a try.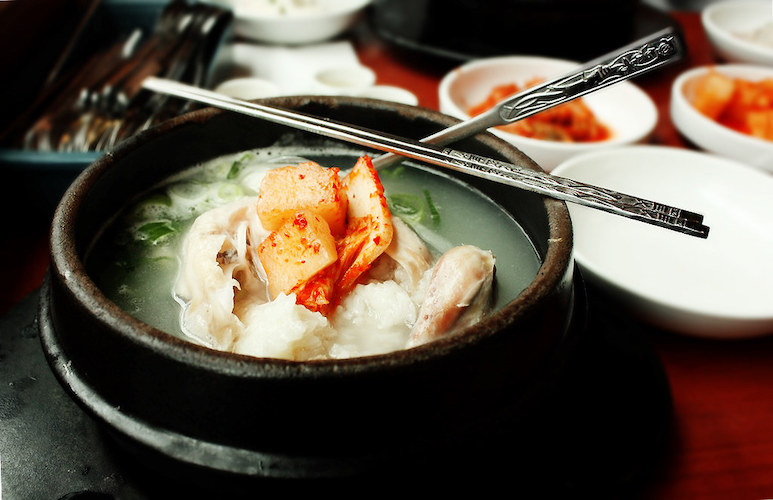 Where to eat Samgyetang in Nampodong – Nampo Samgyetang
You may find Samgyetang in several locations, but we recommend trying out this restaurant. The main reason is that they offer a great traditional Samgyetang on their menu, but they also have a spicy chicken soup alternative for people who don't want the light version. You will also get fried chicken here.
As for the prices, they have kept their rates fairly low so that people of all sections can enjoy delicious chicken delicacies.
There are a lot of food varieties available in Nampodong, but the above-mentioned dishes are Busan specialties and worth trying.
3,174 total views, 3 views today