Anseong Farmland in Gyeonggi is the largest experiential amusement ranch in Korea with a combination of many activities and interacting with livestock.
Anseong Farmland is a big park located in Southern Seoul. It is a popular destination for families looking to spend their day relaxing amidst farm animals and beautiful flowers. You get to see many farm-raised animals like bulls, cattle, sheep, donkeys, bunnies and geese. As for the flowers, the farmland has a diverse assortment which includes lotus, rapeseed, pink muhly, roses, pampas, cosmos and rye.
The city Anseong is owned by the esteemed Korean bank Nonghyup. It was a farm before it became a well-known tourist spot.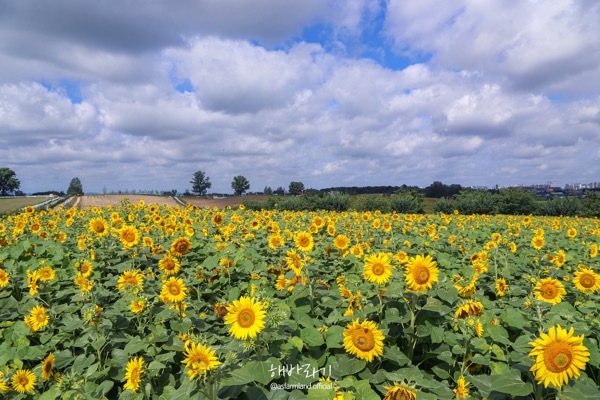 The popularity of the place manifolded after it got featured in different Korean dramas. To name a few, Ex-Boyfriend (2015), Bridal Mask (2012), Your Honor (2018), My Fair Lady (2009), My Spring Days (2014) and many more.
Let's delve more to discover how to get the most from your trip to Anseong Farmland.
Things to Do in Anseong Farmland
You can enjoy the park in any way you want without causing any harm to the animals and the flowers. Here are some best ways to make your trip to Anseong Farmland enjoyable:
Feed the animals
One of the nicest things to do on the farmland is to feed the animals. There are many food shops nearby, and each serving costs about 1,000 KRW. Except for the bird feeding stations, cash and credit cards are accepted by everyone.
The fact that the animals are so amiable makes this encounter enjoyable. The weekends and major holidays are the busiest times, so, if possible, try to avoid them.
Animal shows
There are several animal shows which you can watch, the most popular of which is the dog show where two trained dogs perform amazing tricks. Check the timings of the shows from the official website before planning your trip.
Ride horses
Another well-liked pastime at Anseong Farmland is horseback riding. The finest option out of all is the quick horseback ride. It costs around 8,000 KRW, and you can ride a horse in the equestrian center. A guide is there to accompany you. This ride is great for kids.
If you want to learn about horse riding, attend the event where they teach the basics. The 45-minute presentation requires registration in advance. However, the only language used for communication is Korean.
Dog Playground
Let your dog enjoy running around Dog paradise. The playfield is meant for dogs, and the minimum fee is around 4,000 KRW. You need to pay extra if you want your dog to indulge in the pool.
Four-wheel bicycle ride
Explore the farmland on a four-wheel bicycle that you can hire. For a small family of 2-3 people, the cost is 12,000 KRW, but for a large family of six, the cost is 20,000 KRW.
Archery
You can experience archery for 5,000 KRW. You need to shoot from a distance of 7 meters.
Other activities
Other things to do on the farmland include several theme parks and trampolines.
How to Plan Your Visit?
If this is your first visit to Korea and you are not very fluent in Korean, it is advisable that you reserve a package tour from a reputable business.
As for the people in Korea, there are multiple public transport options to travel to Anseong Farmland.
Public Transport
If you are traveling from Seoul, reach Gongdo Bus Terminal from Seoul Nambu Bus Terminal by express bus. You then have three choices.
Use bus 50/70/50-9 to reach the Mungi bus stop. After that, use bus 1-4 to Anseong Farmland (Note that this bus service is available only four times in a day)
Hire a taxi. It will take around 9,000 KRW.
Free shuttle bus service is available from Gongdo Bus Terminal to Anseong Farmland and vice versa.
Bus schedule for visits to farmland – 12pm, 13pm, 14pm, 15pm and 16pm.
Bus Return Schedule – 12:40pm, 13:40pm, 14:40pm, 15:40pm, 16:30pm, 17:00pm, 17:30pm, 18:10pm
When to Visit the Anseong Farmland?
Spring and autumn are ideal for visiting Anseong Farmland. During this time, the temperatures are mild, and the flowers are in full bloom. Avoid winter as they are chilly and no flowers are in blossom. Also, fewer animals are visible at that time.
Additional Park Information
Operating Hours
February to November – 10 am to 6 pm
December to January – 10 am to 5 pm
Fees
Adults -12,000 KRW
Children -10,000 KRW
Instagram: https://www.instagram.com/asfarmland.official/
Facebook: https://www.facebook.com/asfarmland/
Related Posts
3,885 total views, 9 views today