Use this ultimate Udo Island travel guide to plan your itinerary so that you don't miss out on the amazing picturesque beauty of the island near Jeju-do.
Udo Island, located east of the island in Jeju, South Korea, is a stunning place. If you get the opportunity, it's a lovely little island that's well worth seeing.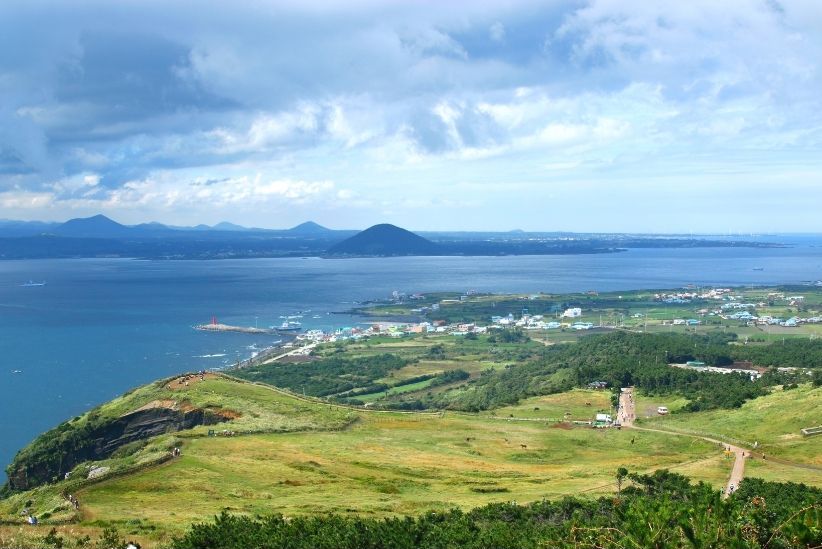 Udo Island is a popular South Korean tourist destination due to its distinctive local culture and numerous natural charms. Be enchanted by the people, delighted by the food, and amused by the many facilities available at this gorgeous location for a few days.
How to get to Udo Island?
Ferry boats are the quickest way to get to Udo Island. Jeju has two ports, while Udo has two as well. Seongsan Port and Jongdal Port are located in Jeju. Haumokdong and Cheonjin are Udo's ports. Between Seongsan and Cheonjin, the route is the most common.
The timetable is usually every hour and begins at 8 a.m. The first boat leaves at 8 a.m., and theal one goes at 5-6 p.m., depending on the season. So, make sure you check out this travel guide while planning your trip to Udo Island.
Getting Around
There are several methods to get around Udo Island. The shuttle bus is one of them. It leaves every 30 minutes and stops at four major sightseeing spots along the island's edge. Consider renting an electric vehicle, scooter, or bike to get off the beaten path or explore on your own time. Rental outlets can be found near the Udo Passenger Terminal and around the island. Remember to bring your foreign driver's license when renting one.
What to do and see on Udo Island?
Get Suntanned at Seobinbaeksa Beach
Also known as Udo Sanho Beach, Seobinbaeksa Beach is one of the most distinctive beaches on Jeju. The beach is made up of red algae fossils and is white sand. It's remarkable because the water changes hue considerably, from a somewhat turquoise blue along the coast to a deeper blue as you get further offshore. It's frequently compared to the Mediterranean Sea.
Go for a hike on Udobong Peak
Udobong Peak, at 132.5 meters (433 ft), provides a breathtaking panoramic vista of the surrounding infinite turquoise seas and verdant, lush terrain that they encompass. In the spring, yellow canola blooms cover the park, while the towering lighthouse on the peak creates a photo that looks like it's straight off a postcard.
At the entrance, there is a little outdoor cafe that sits right next to it so that you may enjoy a glass of juice after your short trek.
Take a Boat Ride from Geommeolle Beach
Geommeolle is located on the eastern side of Udo and is most known for its tiny but lovely black-sand beach that leads into a cave encircled by big boulders. Along the coast, visitors may see Jeju Island's renowned haenyeo, or female divers.
One of the great things to do is go on one of the boat tours! The journey will take you past the two caverns as well as a view of Udobong from the side.
Wander out to Biyangdo
As per our travel guide to Udo Island, the next stop after Geommeolle is Biyangdo (비양도), which serves as a gateway to Udo. This little island has its own lighthouse and fantastic views of Udobong from afar, connected to Udo by a terrestrial bridge. Go fishing with locals
Like all other people in the world, Udo Island's inhabitants have long relied on fishing as a source of food and income. Naturally, the fishing business has been an important part of their lives. Discover the secrets of the locals by taking a fishing trip with bait and rods to capture a range of species, including filefish and rockfish, all while taking in the stunning views of the island. Inquire about equipment rentals at one of the many fishing businesses located near Udo Cheonjin Port.
Udo Botanical Garden
Another hidden garden on the island, this botanical garden, was created by one of the locals who didn't want to produce peanuts like everyone else. It's a lovely location, and it's only a little walk from Seobinbaeksa.
Hagosudong Beach
Hagosudong Beach, the finest beach on the island, has fine sand rather than shell. It is perhaps the most beautiful beach on the island, with crystal clear blue waters. Because of its shallowness, it's a wonderful location for kids to swim.
Mangru Lighthouse
Mangru Lighthouse, the northernmost of the five lighthouses on the island, is a striking white light beacon. A Beacon Mound is located just in front of it, which isn't visible in many of the photos taken at the location. The Bongsoo-dae beach exemplified the military's use of smoke to communicate during the Joseon Dynasty. These mounds were a vital military communication instrument until 1895. At all hours of the day, people had to man the station in groups of five. You may walk around the pavilion and look at it from all sides.
What to Eat?
Peanut Ice Cream
Udo is recognized for its peanuts, which are said to be crunchier and more fragrant than any other peanut and are used in a variety of local dishes. Peanut ice cream is perhaps the most well-known among visitors. Sample this all-natural sweet with caution; it's highly addictive! Blanc Rocher is one the places on Udo Island where you can try this delicious ice cream!
Seafood at Howyanggwa Guksugun
The fresh and delicious seafood off the coast of Udo Island is well-known. Noodles topped with raw seafood or dolmuneo haemultang, a refreshingly spicy rock octopus and seafood stew, are among the delicious dishes available at Howyanggwa Guksugun, which is adjacent to Seobinbaeksa Beach.
Bongkkeurang
Jeju Island's renowned black pork is worth a visit no matter how many times you've been. Bongkkeurang, on the other hand, goes beyond samgyeopsal and makes a delicious savory burger using fresh meat on rainbow buns. The end product is as mouthwatering as it is Instagram-worthy.
Udo Island is a beautiful and unique place that offers visitors a variety of activities to enjoy. From hiking and exploring the island's natural scenery to fishing and swimming at its beaches, there is something for everyone to enjoy on Udo Island. Be sure to add it to your travel list and bookmark this Udo Island travel guide so that you don't miss out on anything!
4,212 total views, 9 views today