Ulleung Jukdo Island with picturesque beauty is a part of a large cluster of islands around Ulleungdo in the Eastern part of Korean peninsula.
Jukdo, previously known as Jukseodo in Korea and China, is a South Korean island in the Sea of Japan. People of Europe knew it by the name of Ou-san and Boussole Rock. The island is situated close to the highly popular Ulleungdo. Despite its small size, it is the largest island in the cluster, aside from Ulleungdo itself. Due to its incredible natural beauty, Jukdo has become a popular islet.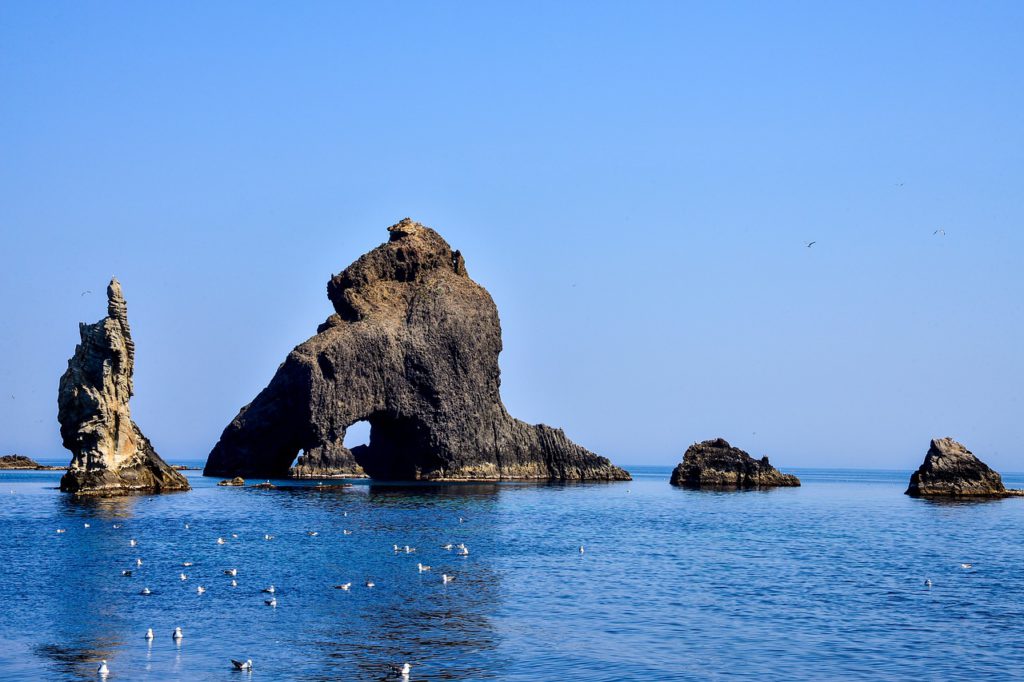 How to reach Jukdo Island?
There are no planned tours or trips to this tiny island but you can take a ferry ship from Ulleungdo and check out the Jukdo Island. It takes about 20 minutes from the main island.
Upon reaching, you will have to give an admission fee of KRW 2,000 per adult and KRW 1,000 for children.
What to see near Jukdo Island?
Jukdo falls under Gyeongsangbuk-do, and there are several nearby spots to see while visiting Jukdo island as there isn't anything much to see on the little islet. The tiny island is popular for its green cliffs and is a popular spot for camping.
There is a spiral staircase that takes you towards the top and you can see the picturesque views of Ulleungdo and the sea. Some people may find the climb to be difficult as it is quite long, around 360 steps. While roaming around the beautiful island, you will find beautiful bamboo trees which are a speciality of the region.
Bongnae Falls
Located at a distance of 5.8 km distance from Jukdo, this waterfall is worth visiting. This waterfall is the only source of drinking water supply on the Ulleungdo.
It is just 3.6 km away from Jukdo and must be added to your travel list. You can view Jukdo and the spectacular coastline of Buk-myeon from the observation deck.
Where to stay at Jukdo?
If you want to stay near Jukdo, we suggest you check Daea Ulleung Resort in Ulleung-gun. The resort provides mesmerizing ocean views with air-conditioned and WIFI-enabled rooms.
Ulleung Jukdo is a lovely island with several gorgeous locations. To get the most out of your visit, plan ahead of time.
1,819 total views, 1 views today