There are several beautiful places all across South Korea where you can enjoy the magnificent colors of the fall foliage and flowers.
Autumn is a fantastic season to visit South Korea. The scenery, which was bursting with flowers in spring and summer, becomes fiery in fall as the leaves on the trees turn red and gold with the season. The maple and ginkgo trees are especially beautiful as their leaves become scarlet and gold.
Every year around October, the royal palaces in Seoul and the surrounding area become even more gorgeous, adorned with vibrant reds, oranges, and yellows of autumn leaves. Ginkgo and maple trees in Korea turn yellow and red throughout the autumn season.
The best sites to experience Korea's autumn colors are frequently close by when you are in Seoul. Also, if you have already enjoyed the fall foliage in Seoul, there are other, lesser-known places you can visit too!
Let's take a look at the best fall foliage spots in South Korea, which are listed below.
Buckwheat Flower in Pyeongchang
The Hyoseok Culture Festival is named after modern Korean writer Lee Hyo-Seok (1907-1942), who wrote "When Buckwheat Flowers Bloom," which was published in 1936. The festival is organized to honor the author's legacy.
During the buckwheat flower field trip, the Hyoseok Culture Festival will transport you and allow you to observe the beauty portrayed by Lee Hyo-Seok in his writings. The festival includes several cultural events such as Lee Hyo-seok Literature Night, Folk Games, plays, performances and concerts, and a photo zone, among others. Every year, the buckwheat flowers blossom in full force in September.
Cosmos Flower in Olympic Park
Cosmos flowers typically bloom from September to October at Olympic Park. This lovely flower comes in a variety of vibrant colors, including white, pink, orange, and yellow.
The Olympic Park Garden is a legacy of the 1988 Olympics in Seoul. This is presently used as a recreational facility, with historic remains from the Baekje Era sharing space with state-of-the-art sports arenas, covering an area of roughly 1.45 million sq. meters within a natural setting.
It is known as a cultural art park, an eco-park, a history experience park, the world's largest sports stadium, and a resting spot. This is one of the most gorgeous parks in Seoul that few foreigners know about, especially those who are visiting Korea for the first time.
Pink Muhly Grass in Yangju Nari Park
This is a truly beautiful place to explore! Not only can you appreciate the ginkgo trees, maple trees, sliver grass, and cosmos flowers, but you can also enjoy the pink Muhly grass near Seoul. In October, Pink Muhly Grass, Purple Kochia, and Red Ganna bloom in full force in Yangju Nari Park.
It is quite rare to find so much variety and vibrancy in just one park!
You can also go to the famed Korean TV show filming location Pocheon Art Valley and choose tiny fresh apples on the apple farm.
Flower Festival in Goyang
The Goyang Autumn Flower Festival has an interior exhibition hall where visitors may fully immerse themselves in the autumn spirit with varied performances, a flower market, and traditional experiences. You can also visit here throughout the spring. To top this all off, the entrance is free!
Deoksugung Palace & Jeongdong observatory
Deoksugung Palace is located in the heart of Seoul. This is well-known for its 900-meter-long exquisite stone-wall road. In Korea, the stone wall road is known as Deoksugung Doldam-gil, also known as Jeongdong-gil.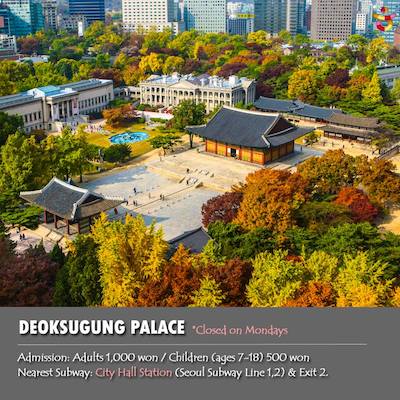 There are various traditional and modern structures along the road. The yellow ginkgo trees beside the Palace will turn color in the middle of October. You may also enjoy the lovely fall view from the Seoul City Hall observatory and admire the lovely Palace from the building's 13th floor.
Olympic Park Garden & 'Alone Tree'
Olympic Park is a legacy of the 1988 Seoul Olympics. This is a leisure facility where historic remains from the Baekje Era share space with modern state-of-the-art sports stadiums, roughly 1.45 million m2 with the natural environment – cultural art park, Eco-park, history experience Park, largest sports arena, and numerous rest spots.
This is a wonderful park in Seoul that not many foreigners know about, especially those who are visiting Korea for the first time. Do not miss out on this lovely location; come here in fall to discover the green grass field, ginkgo tree road, and flowers, among other things.
The 'Alone tree,' in particular, is an excellent location for photography. The exotic splendor of the 'Alone Tree' with Green Hill cannot be overstated.
Haneul Park
Surprisingly, this location was formerly a large waste site. In reality, when Seoul was chosen to host the 2002 World Cup, they planned to make it into a magnificent green park. In this fashion, a network of six big parks has been established on the mounds surrounding the World Cup Stadium, transforming it into a considerably more environmentally friendly area.
The Sky Park (or Haneul Park in Korean) is the highest of all the parks mentioned on this list. It has to have good observatory locations that allow tourists to take in the spectacular views of the surrounding mountains and rivers. It also allows us to appreciate the spectacular nightscape of Seoul. The Silver Grass Festival is celebrated every October when the grass is in bloom.
Hongcheon Ginkgo Forest
Hongcheon Ginkgo Forest had been closed to the public since 1985 but has been reopened to visitors since 2010. There are no other tree species in this forest, which is lined with nearly 2,000 Ginkgo trees. Beginning in mid-October, the trees' colors change to a golden yellow making it a beautiful sight to see fall foliage in South Korea. Such a massive area covered in just one type and color of tree is truly a sight to behold!
It takes roughly 2.5 hours to drive from Seoul to Hongcheon Ginkgo Forest.
Asan Gokgyo River Ginkgo Tree Road
Asan Gokgyo River Ginkgo Tree Route is a road dotted with ginkgo trees that runs alongside a river and takes around 2.5 hours to drive from Seoul. Beginning in early November, the Ginkgo trees turn a beautiful golden yellow.
Seonunsa Temple
Seonunsa Temple is the chief temple of the Jogye Order of Korean Buddhism, and it is situated on the slopes of Dosolsan Mountain in Gochang County.
This temple was founded in 577 by Seon Master Geomdan, and its name refers to the location where an ascetic devotee exercises Seon meditation with the evening cloud that resides in the brilliant crimson of the setting sun. The scenery is very lovely in the spring, summer, fall, and winter, and the peak season is between the second and third weeks of November.
Damyang Metasequoia Road
The Metasequoia Road, located near the Damyang Bamboo Garden, was named one of Korea's most beautiful roads in 2006. It has appeared in a number of Korean television series.
The boulevard's gigantic Metasequoia trees, planted in 1970, are now forming a wide canopy over the road, offering a lovely sight in all seasons and weather. Electric two or four-wheelers and bikes are provided on the Metasequoia Forest Road for youngsters or families to enjoy a quiet ride with the towering trees' fresh aroma. where you can enjoy the fall foliage in South Korea.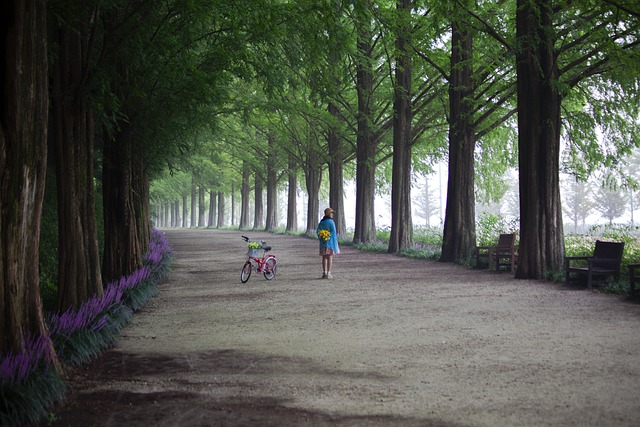 Magoksa Temple
Monk Jajangyulsa founded Magoksa Temple in 640, and it is a representative temple of the Chungcheongnam-do Province. It is situated on the slopes of Congju's Taehwasan Mountain. Ven. Bocheol Hwasang, a monk who stayed there afterward, gave the place the name Magoksa because the way people gathered to hear his Dharma discourses reminded him of hemp stalks tightly packed together. Early November is the best time to view the height of the fall leaves.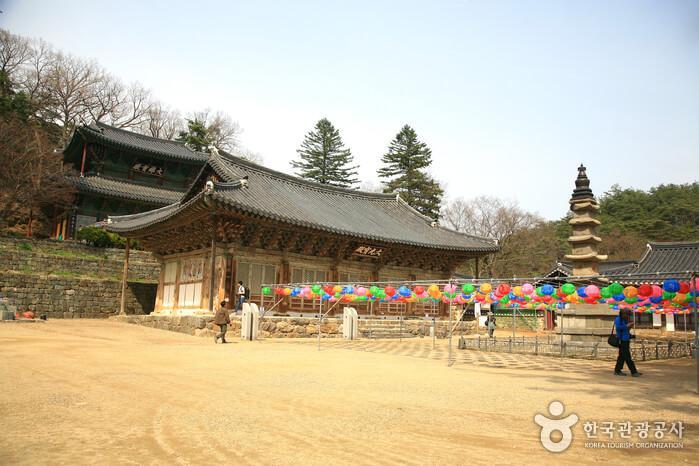 Korea National Arboretum
The Korea National Arboretum is located in Gwangneung Forest, Pocheon-si, Gyeonggi-do. Gwangneung was a royal woodland that surrounded King Sejo's mausoleum of the Chosun dynasty. The Gwangneung Arboretum was founded in 1987. Since 1999, it has been renamed as the Korea National Arboretum, and in June 2010, it was classified as a UNESCO biosphere reserve.
It is 1,157 ha in size and has 15 specialist plant gardens, a forest museum, a wildlife conservatory, a forest zoo, a herbarium and seed bank, a White-bellied Woodpecker, and 900 plant species, among other things. Visit here to take in the fresh air of the deep woodlands.
Jeonju Hyanggyo Confucian School
It is a school founded during the Joseon Dynasty at the Gyeonggijeon Shrine location in Jeonju city (1392-1910). The Second Japanese Invasion entirely destroyed the Gyeonggijeon Shrine and the Jeonju Hyanggyo in 1592, but the Jeonju Hyanggyo was relocated and reconstructed in 1603. The Jeonju Hyanggyo has 99 rooms in total.
It has appeared in the Korean dramas "Sungkyunkwan Scandal" and "Moonlight Drawn by Clouds."
Ilsan Lake Park
Ilsan Lake Park is Asia's biggest man-made park, spanning over 991.800 square meters. The large lake is surrounded by a gorgeous environment and provides guests with a variety of activities. Riverside Square, artificial islands, a bike path, playgrounds, fountains, wildflowers, and a deep forest are all part of the park, making it an ideal place for a family or even a couple to see fall foliage in South Korea!
7,285 total views, 7 views today