The Buddha's Birthday celebration is truly a sight to behold! It's a wonderous and spectacular display!
Every spring, millions of people across Korea come together to celebrate the birth of the founder of Buddhism, Siddhartha Gautama. It's a massive event in Korea, where the entire country is illuminated with colorful lanterns. The lanterns are symbolical as they convey the wisdom and compassion of the sage. Temples in South Korea hold several cultural performances and spectacular parades!
Buddha's Birthday
Buddha's Birthday, or "Seokga Tansinil" in Korean, is widely observed in many Asian countries. Different countries celebrate "Bucheonim osin nal" ("the day when the Buddha came") on different days because of the varied historical records. In South Korea, it is celebrated on the eighth day of the fourth month of the lunar calendar.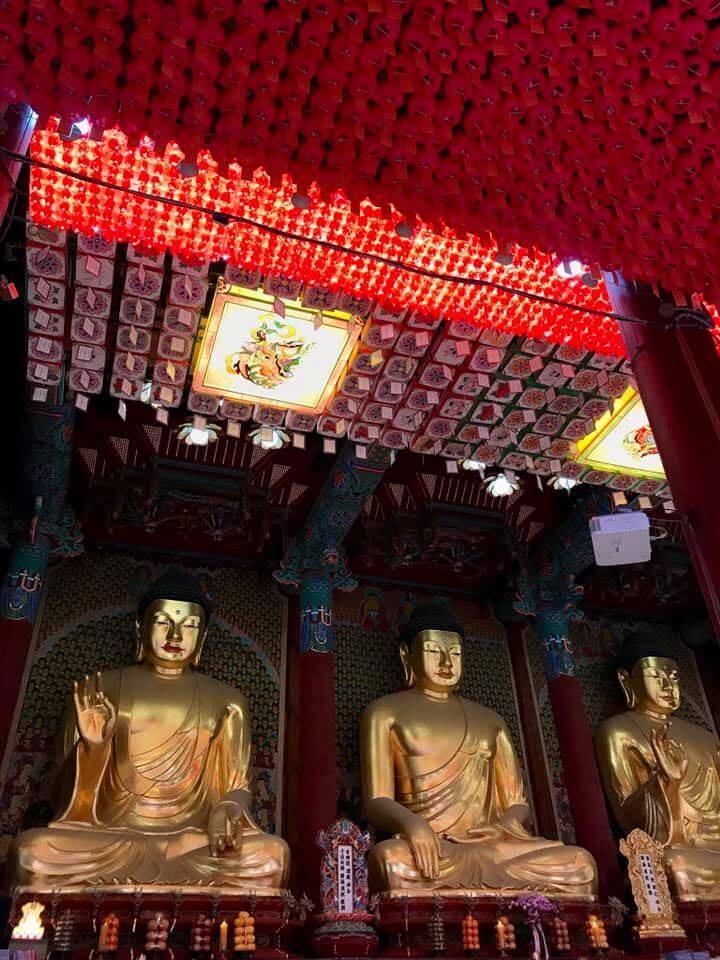 It is not only an auspicious day for practicing Buddhists, but it is also a public holiday that is celebrated across the country.
The celebration is not just limited to a single day; rather, the festivities start about a week before. Although, you will find the vibrant colored, lotus-shaped lanterns hanging throughout the country as early as a month ahead.
Buddhist Temples transform into kaleidoscopes of color. The temples also organize and host traditional games and performances like mask dances and acrobatic shows. If you make the trek to any of these temples on the day of Buddha's birth, you might be treated to a complimentary vegetarian meal like sanchae bibimbap and local tea.
You can make a small donation and hang your own paper lantern in the temple complex. A small paper tag is attached to the lantern, and people write their name and a wish on the card.
The Buddha's Birthday Dharma Ceremony and the largest lantern festival is going to be held on May 30 in every Buddhist Temple and all around Korea.
Lotus Lantern Festival
The Lotus Lantern Festival or the Yeon Deung Hoe (연등회) is the highlight of these celebrations. Lotus Lantern Festival is a thousand-year-old Korean folk festival. The tradition originated in the Silla period more than 1200 years ago. Since then, it has been carried through Goryeo and Joseon dynasties, and it still remains a vital custom today.
The festival features a show-stopping lantern parade in cities like Seoul and Busan. Even Buddhist monks join in on this parade with the general public. The parade features magnificent lantern displays, including animated dragons and replicas of Buddha himself. The celebration offers an opportunity where participants can reflect on Buddhist virtues, teachings, principles, and life in general.
2020 Lotus Lantern Festival
This year's festivities have taken a more somber tone as the world struggles with the pandemic of coronavirus.
Because of coronavirus pandemic, the 2020 Lotus Lantern Festival is rescheduled to May 23 and May 24. The Lantern Parade will be held on May 23 and a traditional cultural event on May 24. You can see the exhibition of traditional lanterns from May 19 to May 30 at Jogyesa Temple.
Jogyesa Temple is the main temple of Jogye order and the center of Korean Buddhism.
Hoehyang Hanmadang (post-parade celebration), traditional cultural events, cultural performances, and Yeondeungnori (final celebration) are canceled due to coronavirus outbreak.
---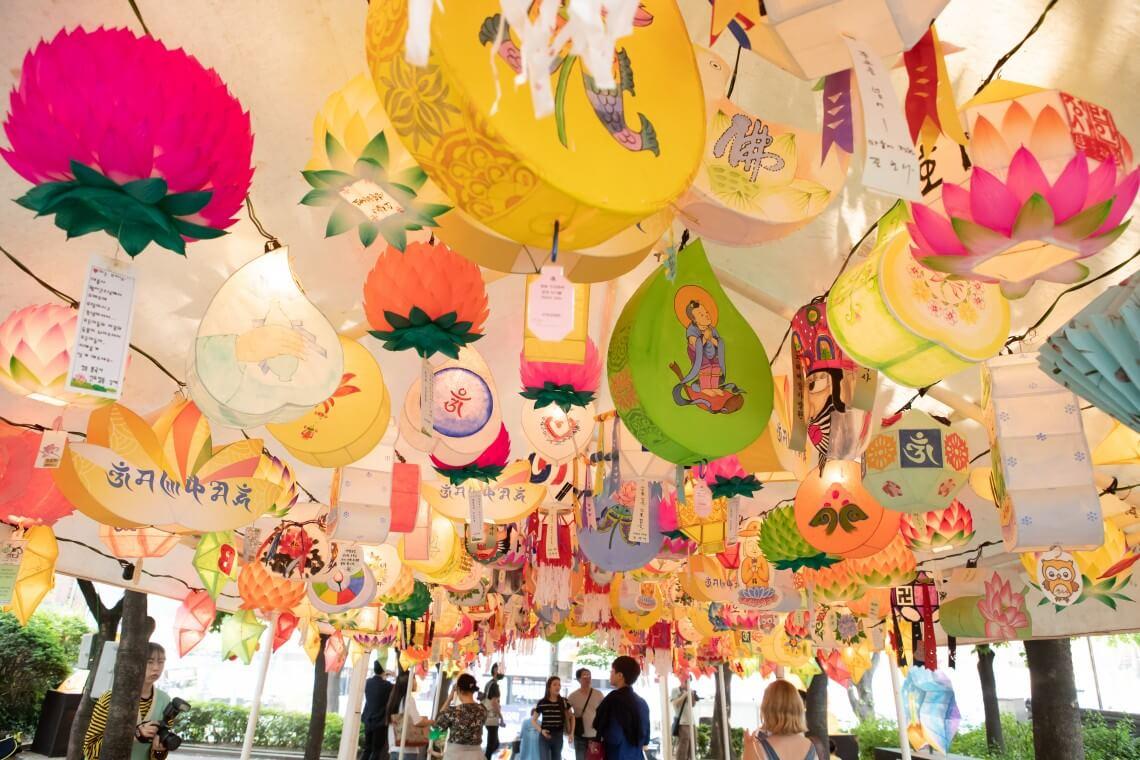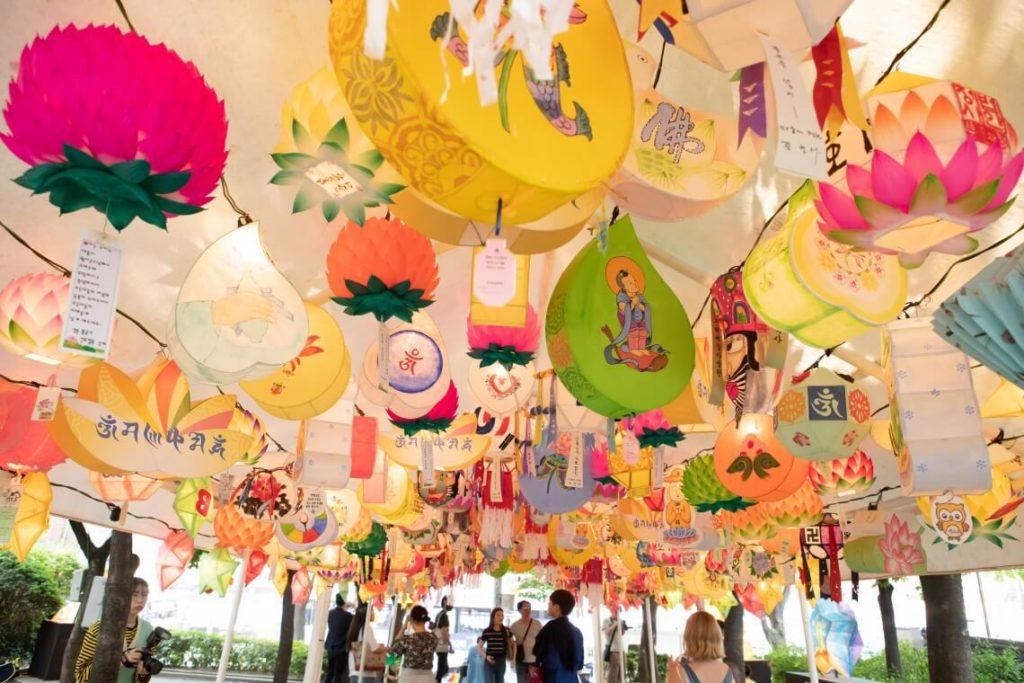 Traditional Lanterns
The lanterns are made from the traditional Korean paper, hanji. They can be made with a variety of colors of light. The lanterns are symbolic of illuminating the mind with wisdom and spreading warmth into the world.
---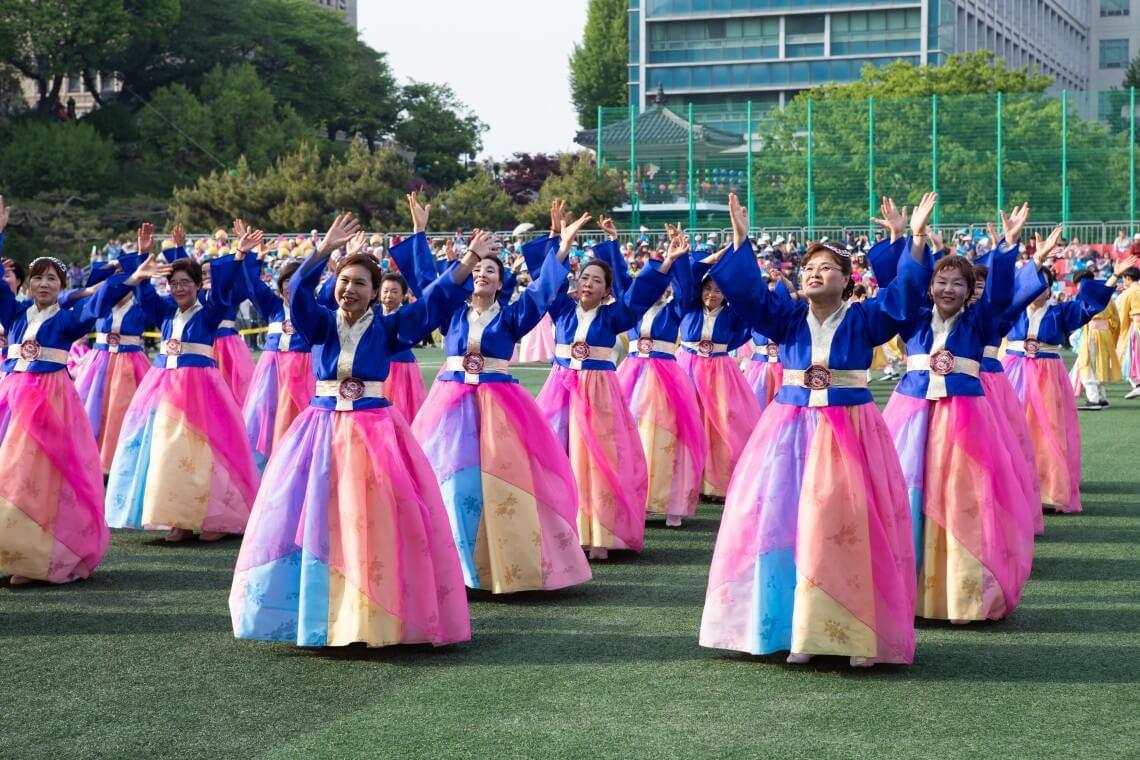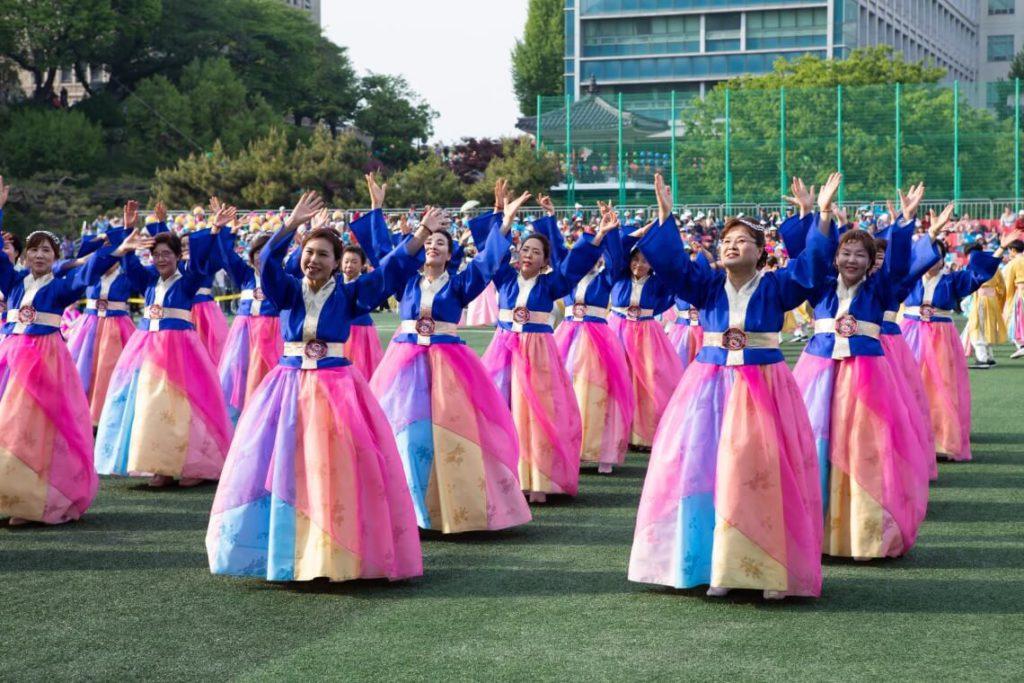 Eoulim Madang (Buddhist Cheer Rally)
The Lotus Lantern Parade is kicked off with the Buddhist Cheer Rally. It opens with electrifying energy, joining the spirits of one another. Before the parade, Gwanbul ritual will be performed where water is sprinkled on baby Buddha. The 2020 Eoulim Madang is scheduled for May 23 at Dongguk University Stadium.
---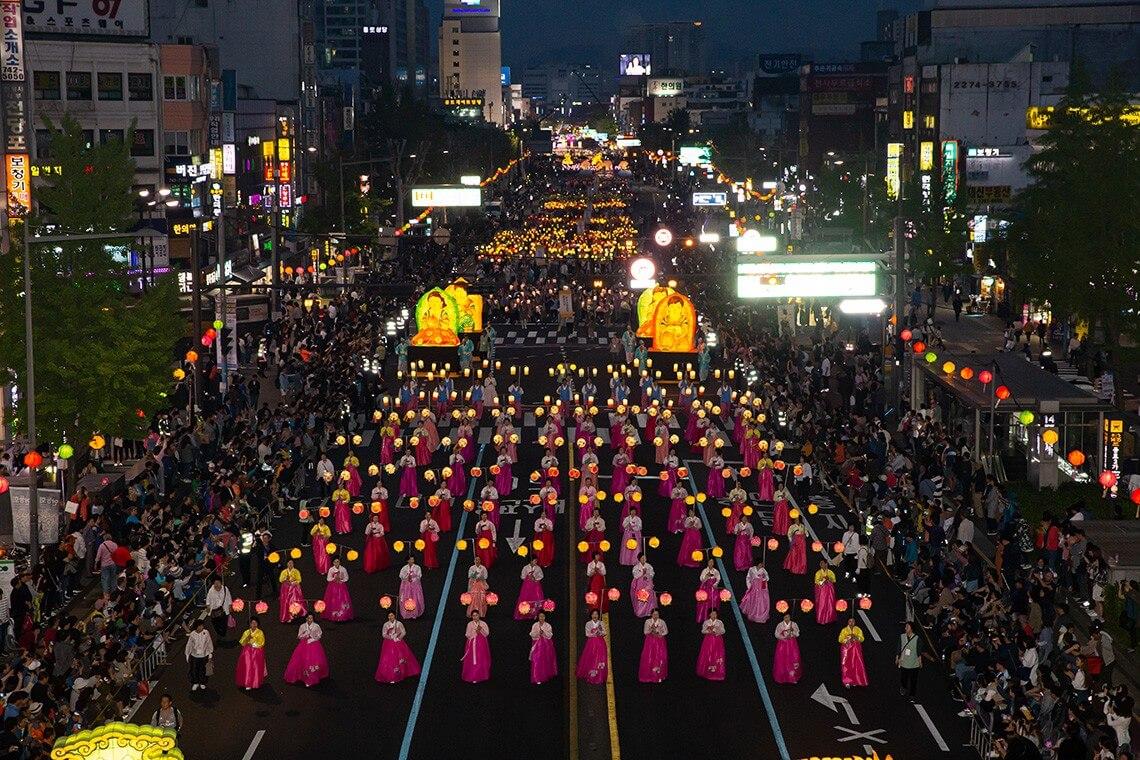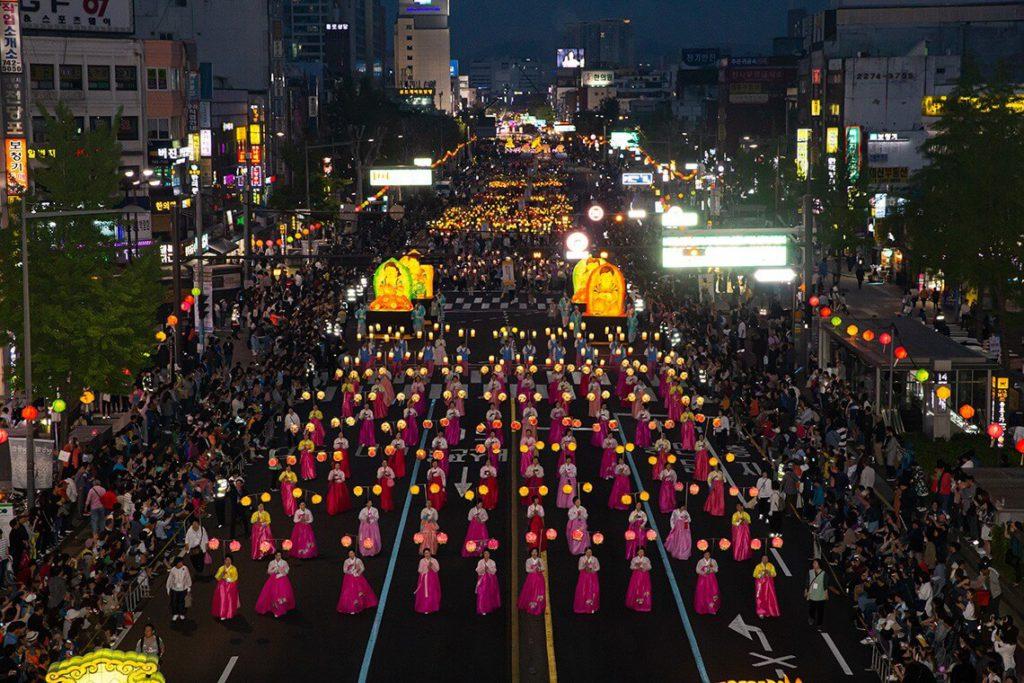 Lantern Parade
The Lantern Parade is symbolic of the light of wisdom, compassion, happiness, peace, prayer, and hope. The parade is organized along Jongno street on May 23.
---
Suggested Itinerary – One Day Itinerary for May 23, 2020
You can see the Exhibition of Traditional Lanterns at 2 pm at Jogyesa Temple, Bongeunsa Temple, and Cheonggye-cheon area. Enjoy a delicious dinner meal of Korean food anywhere around Insa-dong at 5 pm. Head out to Jongno Street at 7 pm to enjoy the Lotus Lantern Parade. The post-parade celebration will be held at Jonggak Intersection, and they will be finished around 11 pm.
KTX – Train arrives at Seoul or Yongsan Station, then take Subway Line 1 to Jonggak Station.
Express Bus – Arrive at Express Bus Terminal, then take Subway Line 3 to Anguk Station.
Car – Park your vehicle at Sejongno Parking Lot or Gyeongbok Palace Parking Lot.
Picture Credits: Korea Tourism Organization – VisitKorea
6,650 total views, 6 views today