Cherry blossom in Korea are just as popular as the famous blossom festivals of Japan.
As we welcome spring, you can see plants blooming all around, creating a sweet scent in the air. With the change in season, you can see beautiful cherry blossoms, forsythias, and azaleas. As the country transforms from winter to spring, a wide array of events are organized to celebrate the season throughout the country. The return of warmer weather allows families to get together and enjoy various activities. If you want to discover a different side of South Korea, visit some of the following festivals and parks to enjoy blossoming spring flowers.
Types of Cherry Blossoms in South Korea
Yoshino Cherry Blossoms – The Yoshino cherry trees (소메이요시노) are the most common in Korea. These blossoms are a light, delicate pink color (almost white).
King Cherry Blossoms – The King Cherry Tree (왕벚 나무) originates on Jeju Island. Their flowers are distinctively pinker and bigger. They are much rarer than the Yoshino ones.
Maehwa Blossoms – The plum blossoms (매화) are even more delicate and whiter than Yoshino cherry blossoms. The maesil trees originate from China, which isn't very common in Korea.
Azaleas – There are two types of azaleas in Korea – 진달래 (jindalrae) and철쭉 (cheoljjuk). Both are purple-pink colored.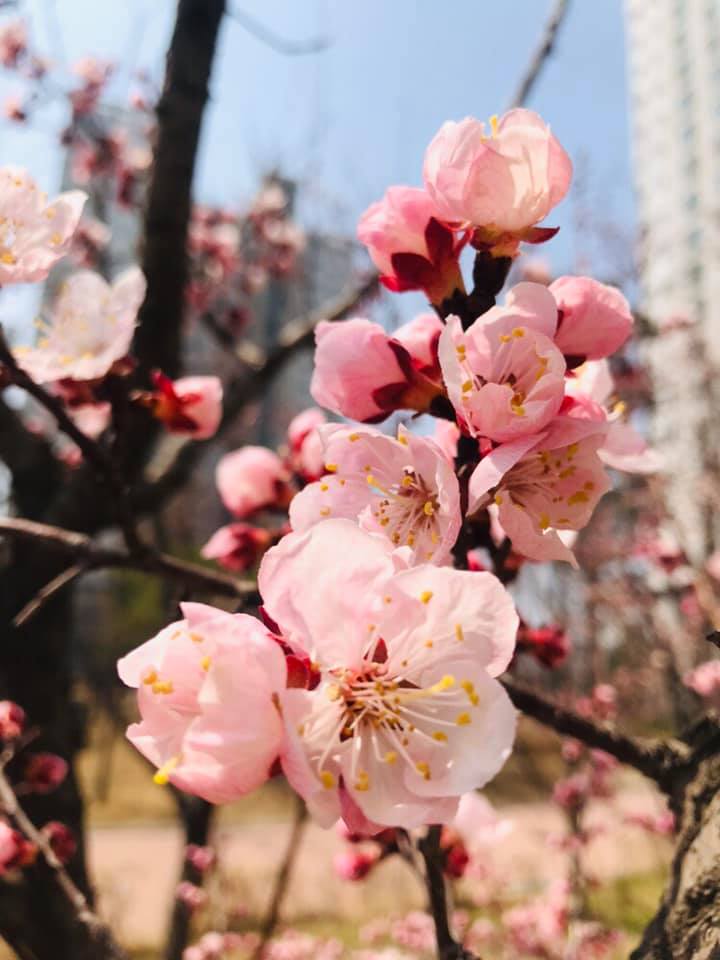 Forecast Guide
Overall, the order of blooming in South Korea during spring goes like this:
Maehwa
Azaleas (but they last longer)
Yoshino Cherry Blossoms
King Cherry Blossoms
Best Places to See and Festivals to Enjoy During the Cherry Blossoms in Korea
Seokchon Lake Cherry Blossom Festival (Seoul)
Seokchon Lake boasts a splendid view of around 300,000 cherry blossom trees and wildflowers every spring. You can see Lotte World in the middle of the lake, and it looks magical and very fairytale-like. The annual Seokchon Lake Cherry Blossom Festival is also organized around this lake. During the festival, you can view the cherry blossoms at night too. The lake is also a popular spot for photographers who want to capture shots of cherry blossoms with their reflection in the lake.
Seokchon-dong, Seoul, South Korea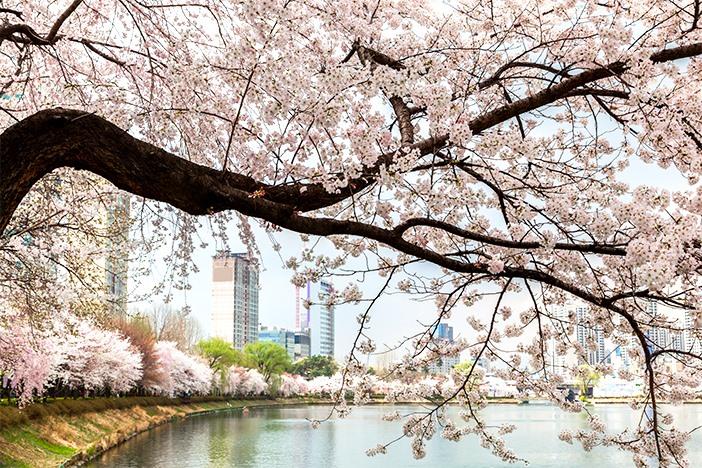 Jinhae Gunhangje Festival (Jinhae)
Jinhae is one of the most popular places to see cherry blossoms in all their spectacular glory. You can see the flowers in a small military port of Jinhae near Korea's south coast. Jinhae Gunhangje Festival is South Korea's largest and most famous cherry blossom festival. The many cherry blossom trees create fantastic tunnels to walk through. The cherry blossom petals falling like pink snow will transport you to a dream-like world!
Jinhae-gu, Gyeongsangnam-do, South Korea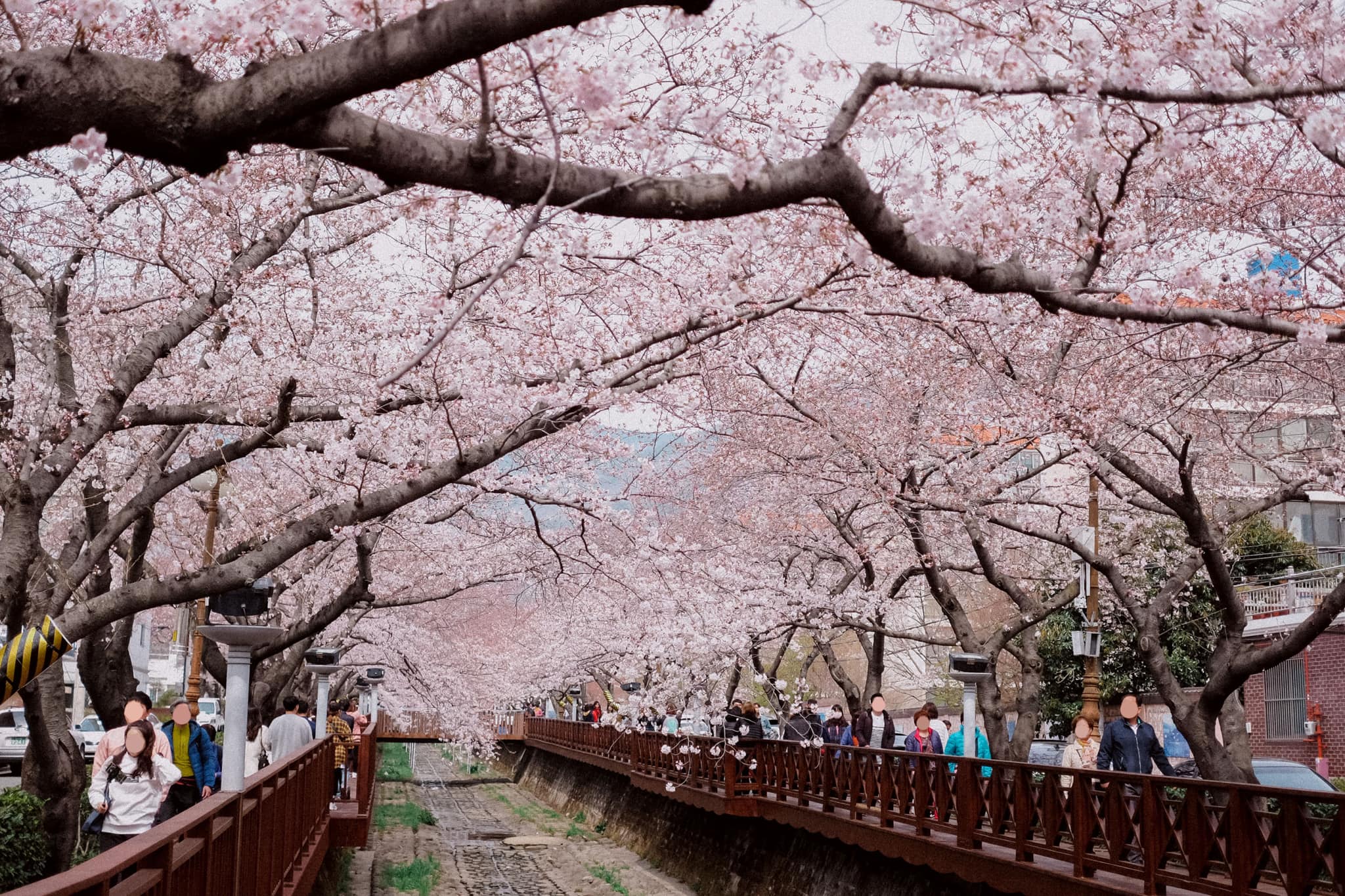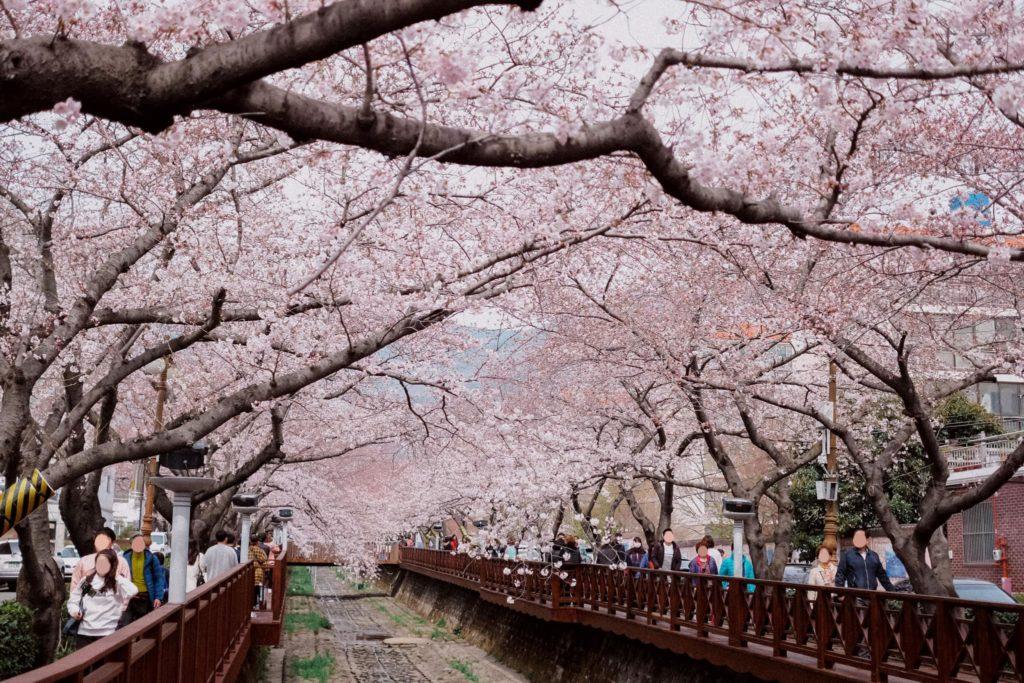 Hwagae Cherry Blossom Festival (Hwagae)
Hwagae is situated in the foothills of Jiri Mountain. Snow of white and soft pink blankets the region with the arrival of spring. The highlight of the festival is the '10ri Cherry Blossom Road.' It's an idyllic four kilometers long stretch of cherry blossom trees. Locals also refer to it as 'Marriage Road.'
15 Ssanggye-ro, Hwagae-myeon, Hadong-gun, Gyeongsangnam-do, South Korea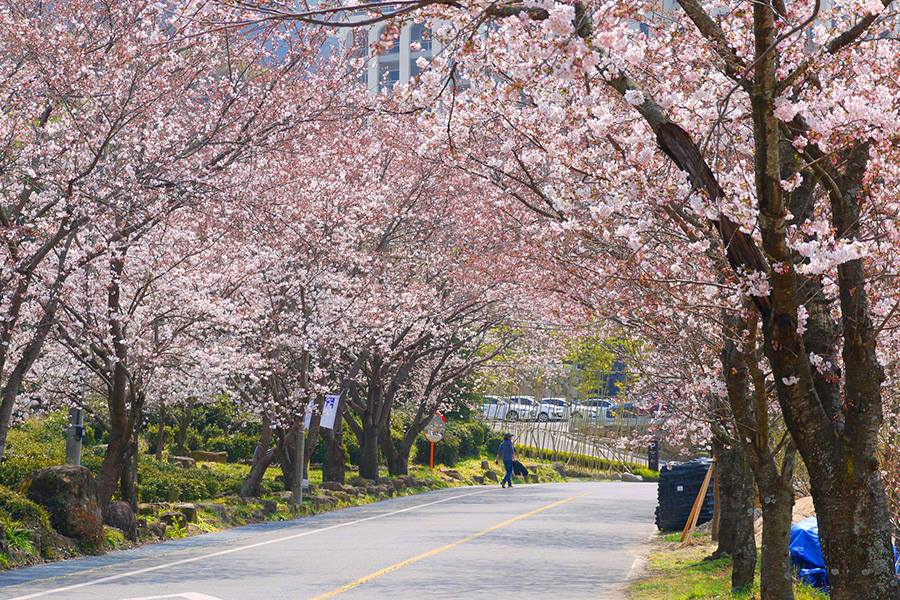 Yeouido Spring Flower Festival (Seoul)
Yeouido, an island situated on the Han River, is another site in Seoul where you can enjoy the cherry blossoms. There are more than 1,400 cherry blossom trees in bloom, and you can enjoy a variety of street performances, food vendors, and exhibits.
330 Yeouidong-ro, Yeoeuido-dong, Yeongdeungpo-gu, 서울특별시 South Korea
Jeju Cherry Blossom Festival (Seogwipo)
The Korean cherry trees are the ones to bloom first in the country because of Jeju Island's slightly warmer climate. Visitors from all over the country flock to Seogwipo's downtown area. It is home to the trees with some of the country's largest and most luxurious blossom petals. During the festival, Jeonnong-ro Street is closed to all vehicular traffic so you can walk around safely.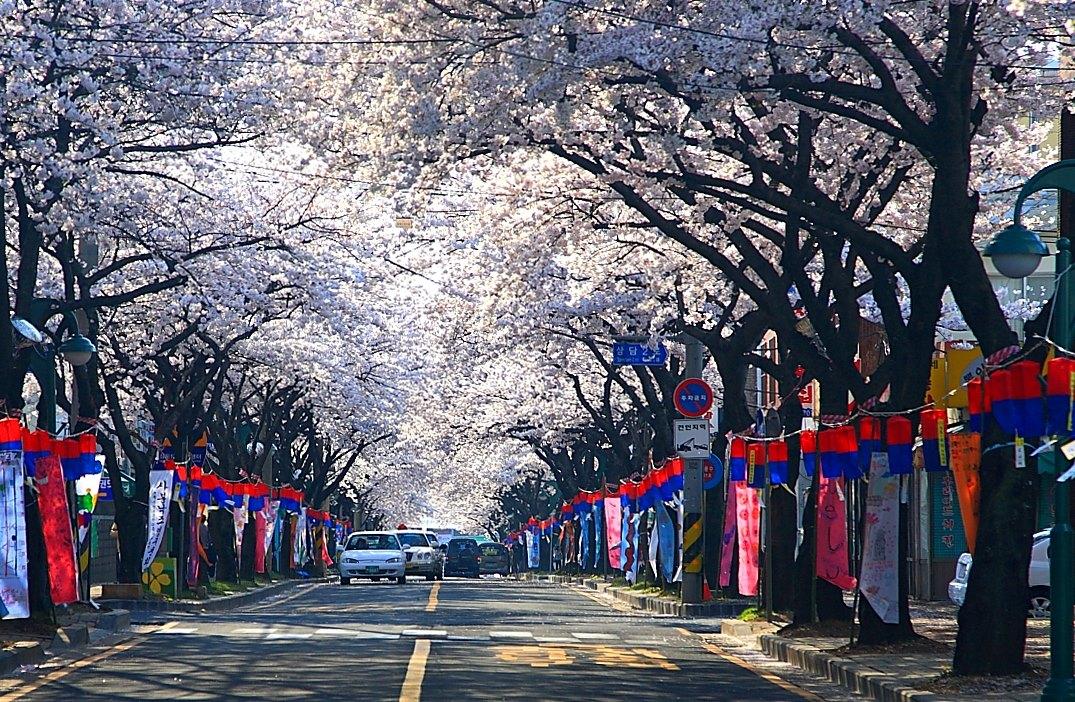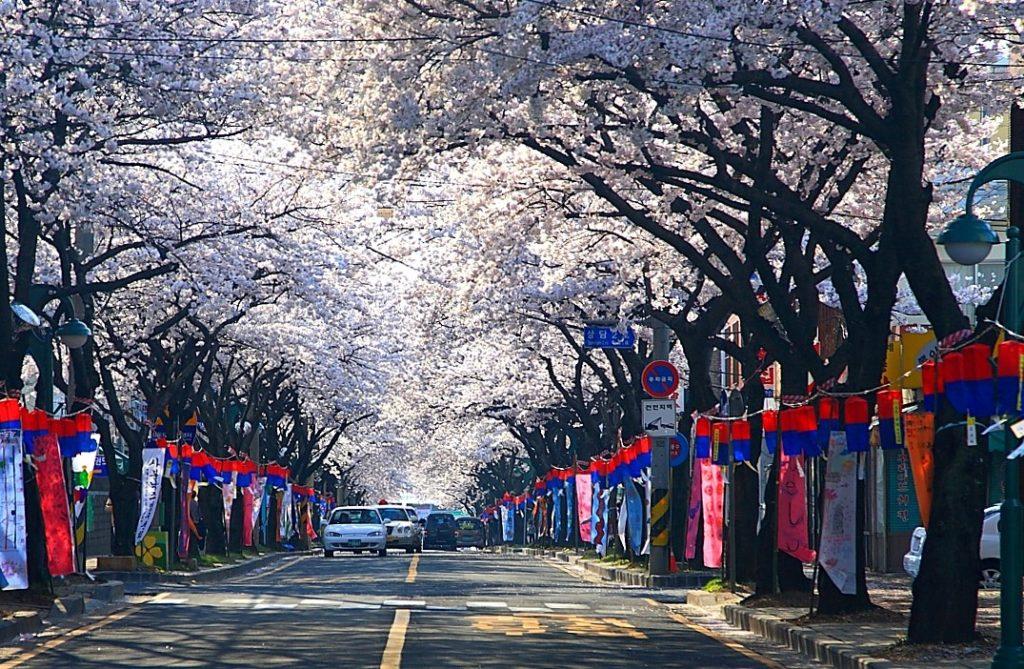 Gyeongpo Cherry Blossom Festival (Gangneung)
Gyeongpo, on Korea's east coast, is popular for its beaches, lakes, and various festivals. Numerous cherry blossom trees in Korea create a canopy over the path around the Gyeongpoho Lake.
Jeo-dong, Gangneung-si, Kangwon, South Korea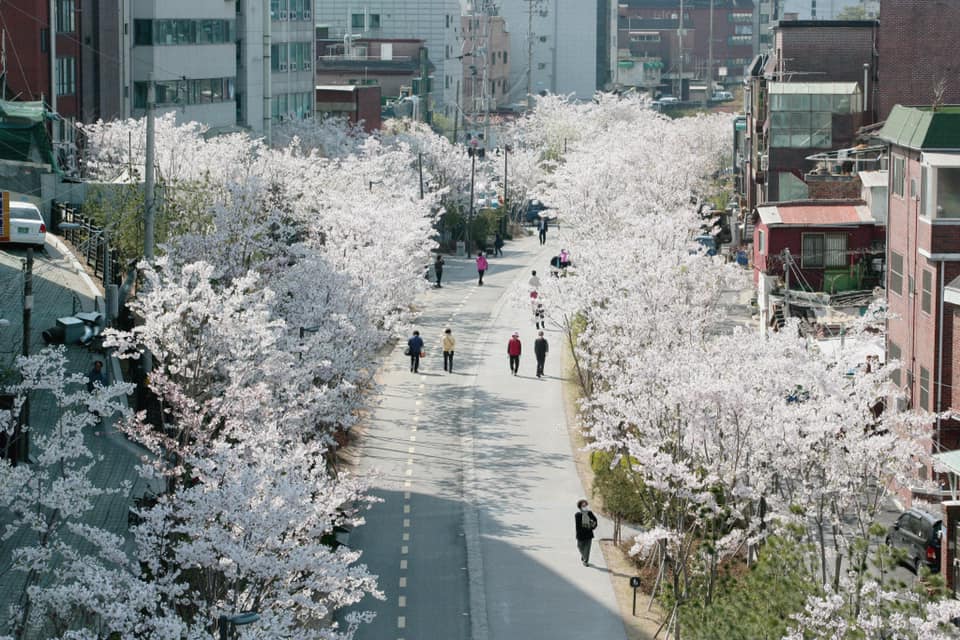 Related Posts