Jeju Island, the southernmost part of Korea and a paradise in its own right, greets you with breathtaking beaches, towering cliffs, and balmy weather. But it's during springtime that Jeju Island, a South Korean gem, truly shines – as an exuberant palette of colors paints small corners while nature plays alive around you.
Jeju Island's vibrant spring is known worldwide for its stunning cherry blossoms and canola flowers. This blissful destination also hosts several festivals during this season, making it an ideal place for anyone seeking a refreshing getaway! In this blog post, we will explore some of the best activities you can do in Jeju Island while visiting during springtime, from admiring the magnificence of nature to participating in thrilling festivities.
Popular Springtime Festivals
Cherry Blossom Festivals: A Pink Wonderland
As springtime rolls in, the captivating allure of Jeju Island's magnificent cherry blossom festivals entices scores of visitors to marvel at its stunning beauty. The vast array of parks and regions known for their abundance of pink flowering trees is a breathtaking sight, especially that of Jeju National University, where over 700 blossoming branches create an ethereal wonderland. You can meander amongst the petals, capture unforgettable photos and even picnic beneath these exquisite blooms.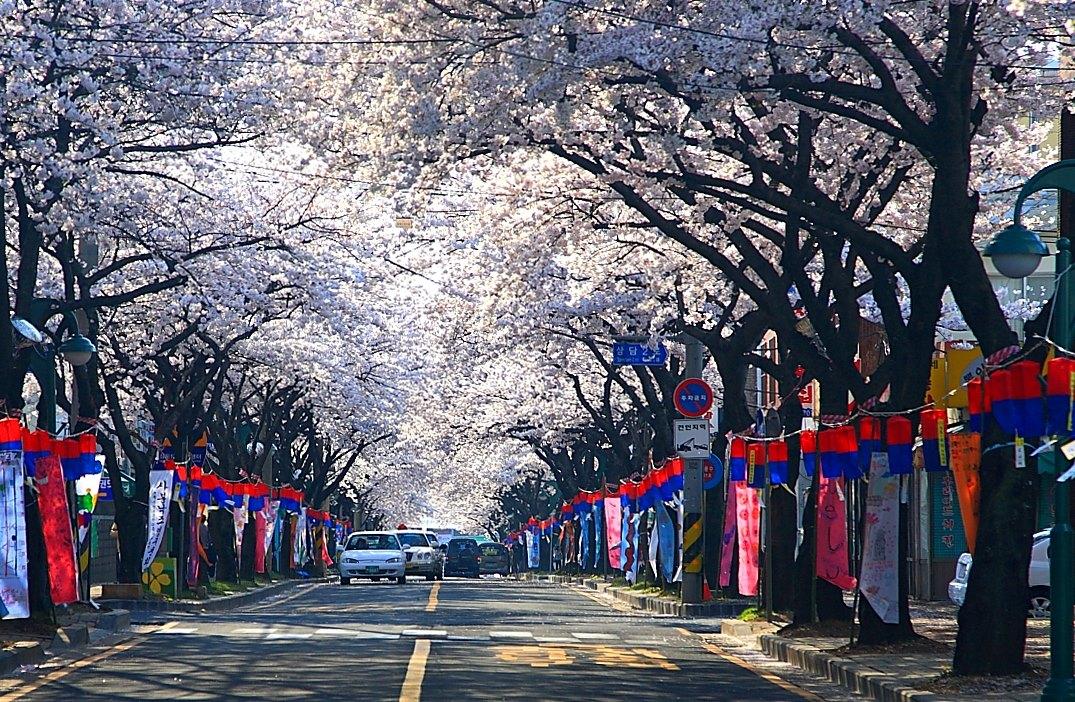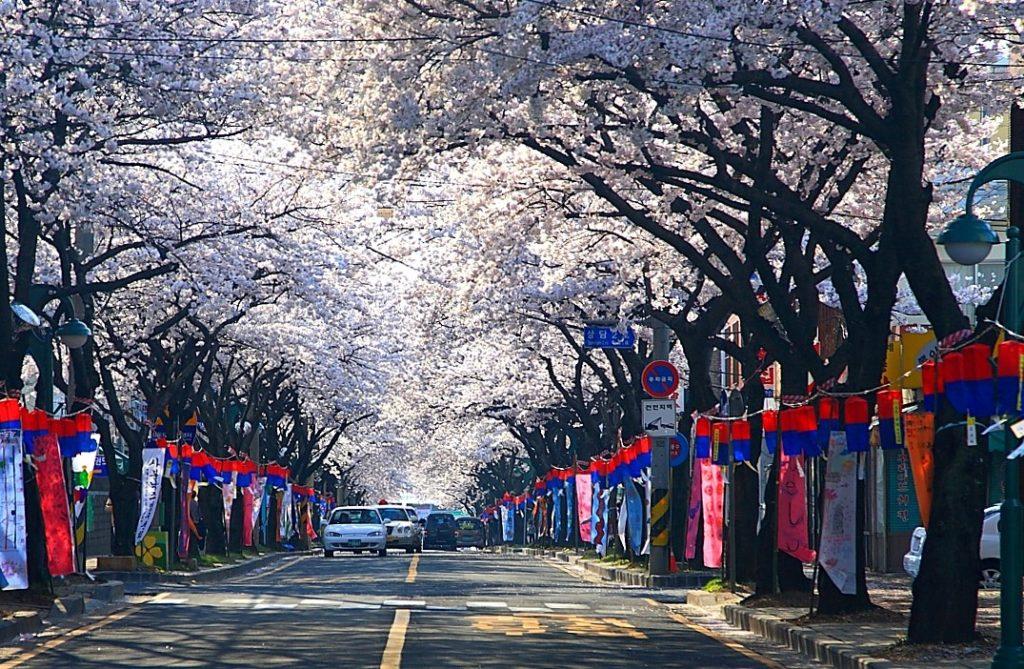 Canola Flower Festival: A Golden Beauty
Witness Jeju's most stunning sight this spring – the brilliant canola flowers in full glory. The vivid petals of these sunshine-yellow blooms, crystal clear sky, and wispy white clouds make for awe-inspiring photographs. Don't miss out on the annual Jeju Canola Festival from 12 to 13 April 2023 at Keunsaseumie Oreum Volcanic Cone, where concerts and exhibitions will be held to celebrate this captivating flower.
Jeju Fire Festival: A Fiery Tradition
Every March, come experience the vibrant culture of Jeju Island at their annual Fire Festival! Held in Saebyeol Oreum village, it's an explosion of fire and music as locals light up huge bonfires while they perform traditional dances and songs. Truly invigorating, this is your chance to witness Jeju Island's deep-rooted heritage first-hand – you won't want to miss out on such a remarkable event.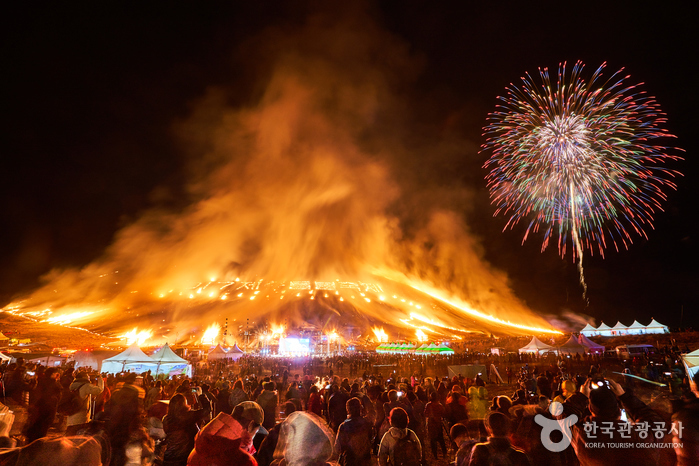 Popular Springtime Flower Spots
Sanbangsan
At the start of spring, a blanket of vibrant yellow canola flowers unfurls at Sanbangsan's base. This majestic lava dome mountain is situated on Yeongmori Coast and is one of Jeju's most picturesque places to witness these stunning blooms.
Feel the awe-inspiring power of rolling waves crashing against the shore at the foot of Sanbangsan while you take in all that spring has to offer. When you reach its summit, be mesmerized by the stunning views of Jeju's beaches, valleys, towns and sea.
Make the most of your Jeju Island springtime vacation and head to Udo Island for a rustic getaway. With just a 15-minute ferry ride from Seongsan Harbour, departing every 30 minutes, you will be surrounded by breathtaking canola fields in full bloom this season.
Nestled between a dazzling array of canola fields lies an untouched paradise, filled with breathtaking sea caves and stunning beaches. One such treasured beach is Seobinbaeksa, presenting beautiful white sand shorelines that capture the eye in captivating turquoise waters until they gradually transition into mesmerizing deep blues as one voyage further away from land.
Eco Land Theme Park
Nestled within the ancient Gotjawal Forest, Eco Land Theme Park is a tranquil oasis to experience Jeju Island spring in all its glory. Climb aboard their charming vintage train as it winds through the peaceful forest, carrying you towards idyllic gardens of lavender, green tea and roses.
This stunning European-style garden is a flower lover's paradise, where lush fields of roses, herbs and lavender await. At the end of your excursion through this picturesque park, you can recharge with delicious fresh fruit juice at the snack bar.
Hallim Park
Hallim Park, located on Jeju's western shoreline, is a gorgeous botanical garden with all varieties blooming throughout the year. For those visiting in late March, Yoshino cherry blossoms grace the park – their delicate pale pink hue making them both captivating and brief.
April is the month when this park takes on a magical, vibrant atmosphere as multicolored tulips bloom over its grounds. May brings with it an eclectic display of wildflowers and bougainvillea in bright colors. Jeju's best springtime attraction awaits you from March to May, brimming with colorful blooms that promise wondrous visual feasts for all who visit!
Camellia Hill
Camellia Hill in Jeju is the perfect destination to restore peace of mind and replenish your soul. In every corner of this healing garden, visitors can find inspiring messages that evoke a sense of calmness and tranquil resting spots that will remind you to appreciate life's beauty. Regardless of the season, this garden remains a popular spot where many seek solace.
No matter the season, you can find beauty and serenity in this iconic garden. In winter, red camellias bloom gracefully, with a few remaining into early spring – but even if they have faded by your visit, the cherry blossoms, tulips and azaleas will still provide an unforgettable experience! As you admire everything around the garden, don't forget to stop at their cafe for some calming camellia tea or browse through their store filled with locally made products inspired by these enchanting flowers.
Jeonnong-ro
Jeonnong-ro is a picturesque cherry blossom street in the heart of Jeju City, just 10 minutes from Jeju International Airport. Lined with 1.3km of captivating cherry trees illuminated by the night sky, it's no surprise why this road has become so renowned amongst travelers and locals alike! Along its path lies an array of cafes and restaurants perfect for appreciating the beauty while indulging in a delightful meal.
Final Thoughts
Embrace the allure of Jeju Island this springtime! Revel in its vivid flowers, festivities and magnificent scenery. With cherry blossom festivals to fields blanketed in canola blooms, your senses will be captivated by Jeju's beauty. Whether you're searching for culture, cuisine or natural marvels – there is something for everyone here during springtime! So don't wait – take a trip to enchanting Jeju Island today and embark on an unforgettable journey that awaits you!
Related Posts
1,488 total views, 7 views today