Daejeon, the fifth-largest city in South Korea, is famous for its vibrant food culture, offering a diverse range of local and international cuisines. The city's central location makes it a hub for travelers and locals alike, providing easy access to many popular restaurants. In this article, we will highlight five of the best restaurants in Daejeon, all located in or near the city center, that will satisfy any food lover's cravings. From traditional Korean dishes to modern fusion cuisine, these restaurants offer a unique culinary experience that showcases the rich flavors and culture of Daejeon. 
Vesta Buffet is a popular restaurant located in the city of Daejeon, South Korea. The restaurant is well-known for its high-quality buffet-style dining experience, offering a wide range of Korean, Japanese, and Western dishes.
The interior of Vesta Buffet is modern and spacious, with comfortable seating arrangements for individuals and groups. The restaurant has an open kitchen concept, allowing customers to see the chefs prepare and cook fresh food.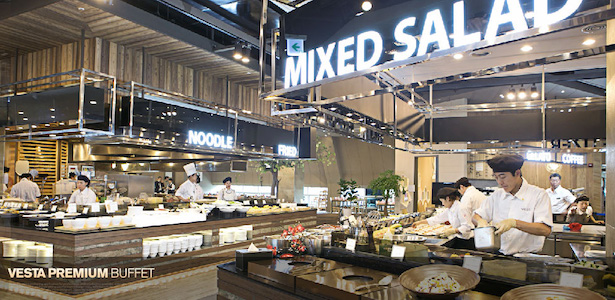 One of the standout features of Vesta Buffet is its wide variety of dishes available, including fresh seafood, sushi, grilled meats, salads, soups, and desserts. There are also options for vegetarians and those with dietary restrictions, making it an inclusive dining destination for all.
The restaurant is popular for its attentive and friendly staff, who provide excellent customer service and help customers navigate the buffet selection. Vesta Buffet is popular for family gatherings, business meetings, and special occasions.
Masil is a popular restaurant chain in South Korea that specializes in traditional Korean cuisine. The restaurant has multiple locations throughout the country, including in the city of Daejeon, near the city center.
One of Masil's most famous dishes is its samgyeopsal, grilled pork belly often served with various side dishes, such as kimchi and lettuce leaves. The restaurant is also famous for its other meat dishes, including galbi (marinated beef short ribs) and bulgogi (marinated beef or pork).
Masil Daejeon prides itself on using high-quality ingredients and traditional cooking methods to create authentic Korean flavors. The restaurant's interior is often designed to resemble a traditional Korean home, with wooden tables and chairs and a warm, welcoming atmosphere.
Ildang Haejangguk Gamjatang is a popular Korean restaurant popular for serving delicious haejangguk and gamjatang dishes. Haejangguk, which translates to "hangover soup," is a spicy, savory soup traditionally consumed as a cure for hangovers. Gamjatang, conversely, is a hearty pork bone soup simmered for hours with potatoes and other vegetables, resulting in a rich, flavorful broth.
Located in Daejeon, South Korea, Ildang Haejangguk Gamjatang has become a go-to destination for locals and tourists alike looking for an authentic Korean dining experience. The restaurant's interior is cozy and inviting, with a rustic decor that reflects the traditional roots of the dishes on offer.
The menu at Ildang Haejangguk Gamjatang is simple yet satisfying, focusing on these two signature dishes, making it one of the best restaurants in Daejeon. The haejangguk is made with beef broth and various ingredients, such as bean sprouts, cabbage, and beef tripe, while the gamjatang is prepared with pork bones, potatoes, and other vegetables. Both dishes are served piping hot and are perfect for warming up on a chilly day.
Daeseon Kalguksu
Daeseon Kalguksu is a popular Korean restaurant famous for its delicious and authentic Korean cuisine, especially its signature dish, Kalguksu. The restaurant is located in the bustling city of Daejeon, South Korea, and has been serving customers for many years.
Kalguksu is a traditional Korean noodle dish made from handmade, knife-cut wheat noodles in a hot broth with various toppings such as vegetables, seafood, and meat. Daeseon Kalguksu is famous for its flavorful and hearty kalguksu, made using high-quality ingredients and a secret recipe passed down through generations.
Apart from kalguksu, the restaurant also offers a wide range of other Korean dishes, such as bibimbap, bulgogi, and kimchi. The menu has reasonable pricing, making it a popular spot for both locals and tourists.
The Kingdom Buffet is a popular restaurant famous for its diverse range of delicious cuisine options. Located in the heart of Daejeon city, it has been a go-to spot for locals and tourists alike who are looking for a satisfying meal that won't break the bank.
One of the standout features of The Kingdom Buffet is its impressive selection of dishes from around the world. From Asian stir-fries to Italian pasta dishes, there is something for everyone to enjoy. The restaurant offers many gluten-free and vegetarian options, making it a great choice for those with dietary restrictions.
The restaurant's interior is bright and welcoming, with plenty of seating available for large groups or families. The staff is friendly and attentive, always ready to assist with any special requests or dietary concerns.
Conclusion
Daejeon has a plethora of best restaurants options to choose from, particularly in the city center. The five restaurants highlighted in this discussion offer diverse cuisine and atmospheres for different preferences. 
Related Posts
1,755 total views, 5 views today