Festivals are celebrated in South Korea throughout the year with festive events happening every month, in one or other part of "The Land of Festivals."
These Korean festivals are celebrated to pay tributes to their rich history and culture. Most festivals are scheduled based on the lunar almanac.
A fair number of Korean festivals are commercial and promote the local industry like "salted seafood industry." There are festive celebrations for unique activities and events or just about everything! Chopail, Seollal, or Dano are some of the examples.
Here are some of the famed festivals of South Korea and their unique ways of celebrating them! The festivals are grouped according to the seasons below.
Famous Spring Festival of Korea (April–June)
Most Korean festivals are during spring and autumn, but celebrations are throughout the year. 
Cherry Blossom Festivals
Spring cherry blossoms are famous in many countries, and South Korea too has countless locations to witness cherry blossoms splendor in early April. The cherry blossoms make stunning South Korea still better. There are many festive events related to cherry blossom all across the country.
Read more: Cherry Blossoms in Korea – Where to Go for The Most Beautiful Places?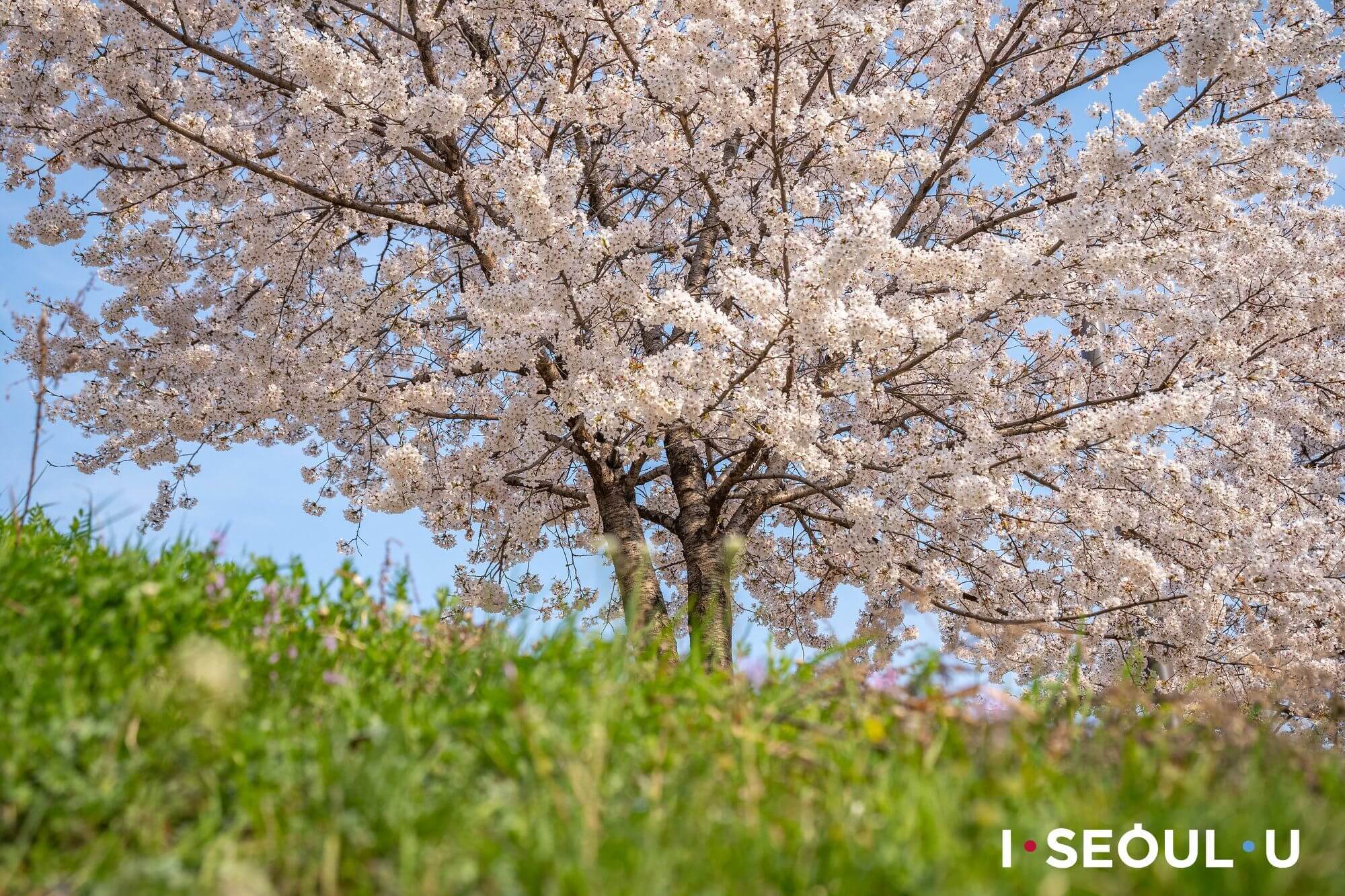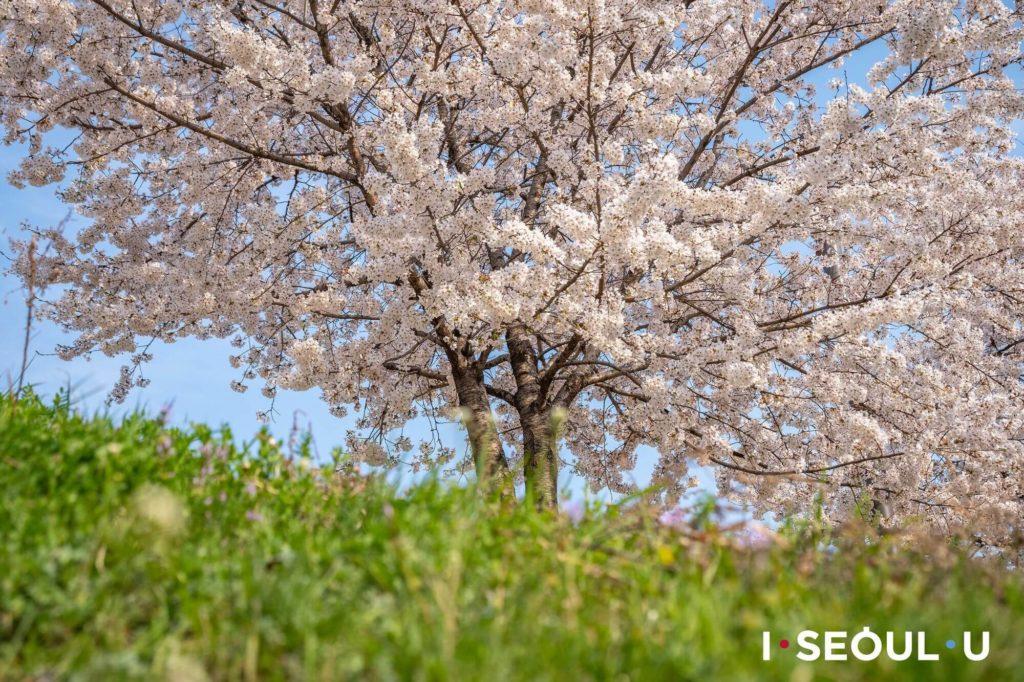 Korean families and friends gather at parks or riverbanks and have drinks, barbeque, games, and other cherished fun events. There are small markets, spectacular shows, and performances at the cherry blossom area. You can find these at locations like Bomun Lake, Yeojwacheon (Romance Bridge), Gyeonghwa Station, Bulguksa Temple, the Tumuli Park.
Read further about A Juicy Guide to Strawberry Picking in South Korea – One of the Best Ways to Enjoy Spring in Korea
Gyeongju cherry blossom festival is a weeklong festival held from the end of March to the start of April at the coastal city Gyeongju. Another famous Korean festival is the Jinhae Cherry Blossom Festival. It is held in April at Jinhae, south of South Korea, and is famous for cherry blossom tourism. 
Goyang Spring Flower Festival
Coinciding with the spring flowering season, the city of Goyang organizes the biggest international flower exhibition just outside Seoul.
Over 300 organizations from all over the world gather to showcase their exotic plants, creations from flowers, flower sculptures, and other products made using flowers. Several indoor and outdoor stage performances and other events are also a part of the festival.
Jindo Sea Parting Festival
A fantastic natural miracle happens in the sea at the start of spring, generally at the end of March. Around Jindo in South Jeolla province, in the southwestern part of the country, the sea parts to reveal a 2.8 km long path between the mainland and the Jindo Island. People can walk to a nearby island on this pathway.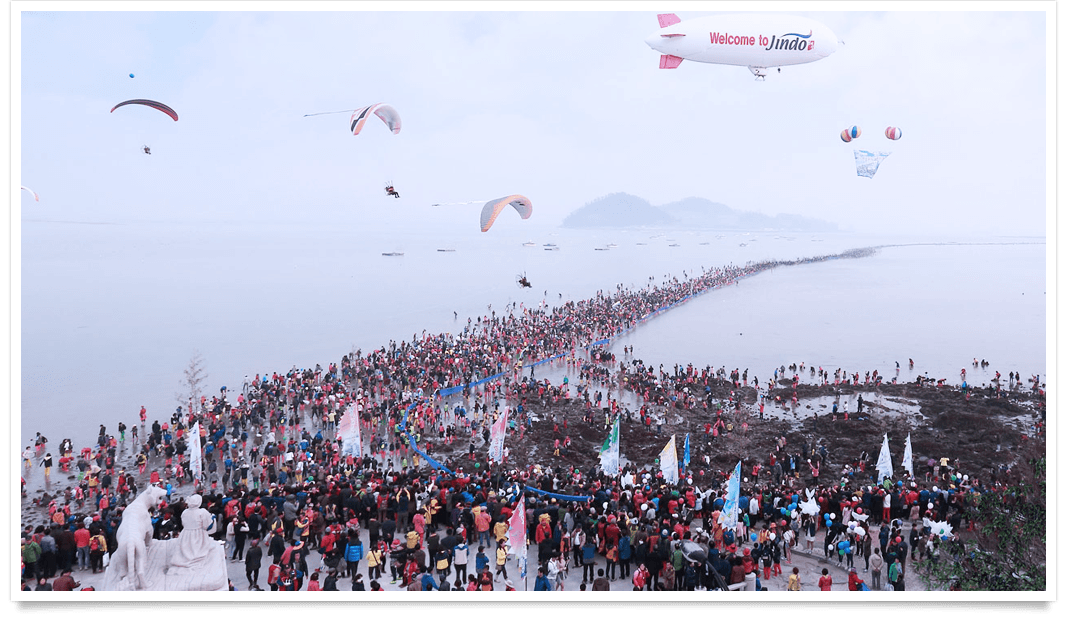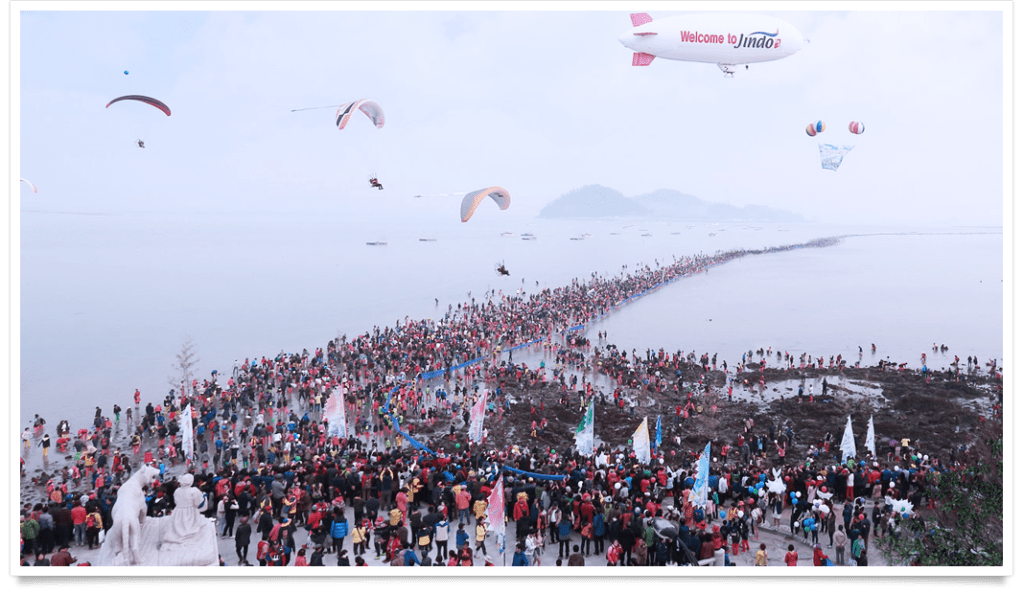 On the first day of spring, the three-day Jindo Sea parting Korean festival takes place in which, in addition to experiencing the unique natural event, people also enjoy local cuisine, concerts, and cultural performances.
Boseong Green Tea Festival
The small town Boseong has stunning green tea plantations and is the largest producer of green tea in the country. Boseong hosts the annual Green Tea Festival in the green tea fields. Visitors enjoy hands-on experiences like green tea picking, tea making, moonlight tea party, and much more! Other events during the Green Tea festival include a giant tea ceremony, a tea exhibition, and various cultural performances.
Buddha's Birthday Festival
In late May, on the 8th day of the fourth lunar month, comes the Buddha's birthday or Chopail. It is a public holiday and celebrated as an aesthetically beautiful custom involving hanging lanterns and temple visits. It is also called as "Lantern Festival" because downtown and streets to the temple are decorated with stunning colorful paper lanterns, even in shapes of animals, dragons, and replicas of the Buddha himself.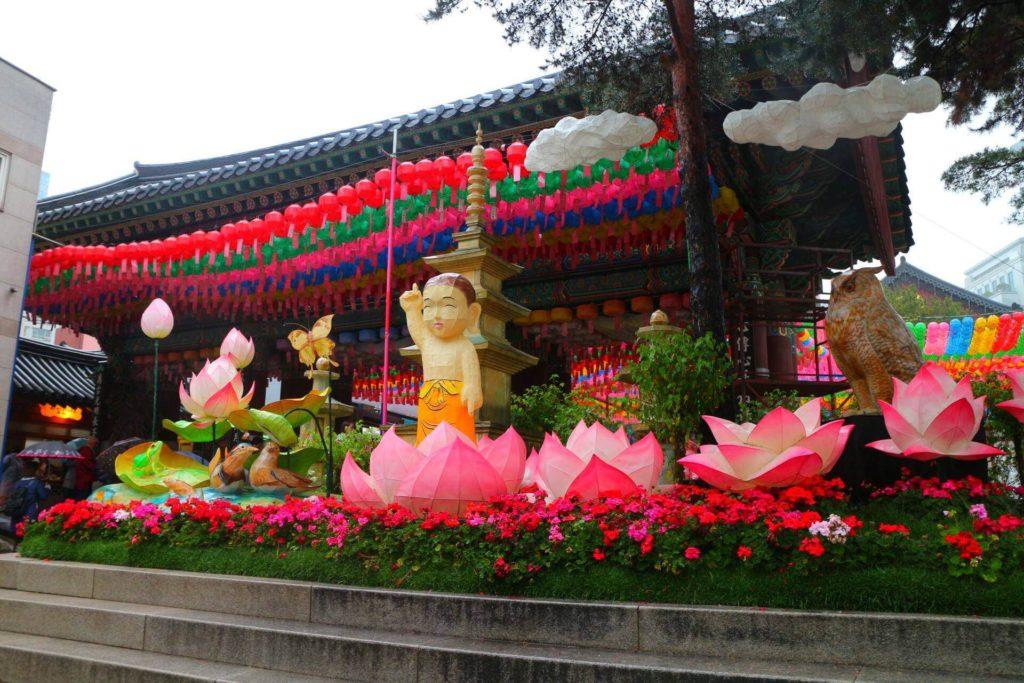 Read more: Buddha's Birthday Celebrations and the Lotus Lantern Festival in South Korea
To celebrate the Korean festival, peope light hundreds of lanterns to give a breath-taking illumination to the city.Buddhist monks, along with members of the community, walk to the temple through the illuminated route. 
Dano Festival 
Dano is a traditional festival in South Korea, which falls on the fifth day of the fifth month according to the lunar calendar (usually June). The literal meaning of Dano is "Day of God. The Gangneung Dano Festival of South Korea has been declared as a "Masterpiece of the Oral and Intangible Heritage of Humanity" by UNESCO. On this day, women wash their hair with Changpo,and men participate in circus acts, traditional ssireum wrestling games, jump games, and many more.
Summer Korean Festival (July–August)
Summer season is hot and humidity in South Korea, but festive celebrations continue.
Boryeong Mud Festival
In late July, Boryeong Mud Festival is an annual unique favorite festival that attracts millions of international visitors. The first festival was held in 1998 to promote cosmetic products that use Boryeong's mud as an ingredient since this mud is rich in germanium and bentonite minerals that improve skin. The festival happens at Daecheon Beach with swimming in a giant mud bath, mud sliding, mud wrestling, and all kinds of muck-related fun. After sunset, the party and fireworks start on the beach.
Pohang Fireworks Festival
Pohang Fireworks Festival is another annual summertime festival at Yeongilbae Beach at the end of July. The fun events during the festival include international fireworks competition, hot air balloon rides, water gun survival games, a parade of light, performances, squid & beer party.
Muju Firefly Festival 
Another unique natural event in South Korea, like the Jindo sea parting festival, is the illumination of the summer night sky by the fireflies. In August, when the sun sets over the mountainous town of Muju in North Jeolla Province, you can see thousands of fireflies (glow-worm) and their magical natural glow. The lovers and saviors of nature celebrate this festival for the firefly insect and mother nature. Other than nighttime firefly viewing, activities include donning a firefly costume and fishing.
Famous Autumn Korean Festival (September–November)
Autumn is a beautiful season to visit South Korea as the country turns into a golden paradise of golden leaves. 
Read more: South Korea Travel Guide – Best Time of Year to Visit South Korea
Andong Mask Dance Festival 
Mask Dance is an ancient tradition in Korea. Andong and other cities celebrate this annual Korean festival in late September or early October. In some villages in eastern Korea, traditional mask dances are still very much a part of everyday life.
There's a legend that if a person doesn't attend mask dance festival in a lifetime, one cannot get into heaven. 
For the weeklong anonymous dancing, performed by the best troupes at the Andong Mask Dance Festival, tourists from all over the world travel to watch mask dances. They also enjoy the unique "fire-rain" created by fireworks. Other events at the Korean festival include hands-on activities and more.
You can even get hahoe masks from Amazon.
Busan International Film Festival 
The weeklong cinematic fun, Busan International Film Festival, occurs annually in Busan in October. It is one of the biggest and well-known film festivals in Asia. The event draws and features hundreds of movies from all over the world in a broad spectrum of genres.
Another smaller film festival, the Jeonju International Film Festival, happens in the last week of April, every year.
Goyang Autumn Flower Festival
Along with cherry blossom festival, Goyang also is the city for Autumn Flower Festival in the first week of October. In this festival, over 300 organizations and companies showcase their beautiful flower creations and sculptures. The Korean festival takes place along the riverside, which is super gorgeous during autumn due to the leaves turning golden.
Famous Winter Festivals
Harsh winter with sub-zero temperatures doesn't stop South Koreans from enjoying the choices offered by winter.
Hwacheon Ice Festival
In winter, the river in the sleepy town of Hwacheon in Gangwon Province gets a layer of 40-centimeter thick ice. The three weeklong Hwacheon Ice Festival takes place on the frozen river in January. It is one of the biggest winter festivals of South Korea.
The festival attracts over a million people from all over the country. People come to the frozen river to try their hand at ice fishing, to catch fresh trout! Many other fun ice events, like sleigh riding, ice soccer, and a homemade sled race, are part of the festivity.
Seollal Festival
The beginning of the new year is one of the most celebrated events in any country. The Korean new year begins on the first day of the lunar calendar, which generally falls in January-February. The New Year celebrations are the Seollal Festival that lasts for three days.
It is a special occasion for performing ancestral rites and catching up with family members. During Seollal, playing folk games, eating traditional foods, listening to stories, and other events take place in families.
To celebrate and share happiness, people exchange gifts, traditional dresses, food, and alcohol. Young members of the family bow to the elders to seek blessings.
Gwangyang International Maehwa Festival
Gwangyang International Maehwa Festival celebrates the onset of spring season in early March. In the Maehwa village, the plum trees start blooming earlier than other trees. It transforms the village into a stunning pink paradise, announcing the coming spring.
South Korea celebrates many more festivals along with these. You can check out some more of them here.