Korea is laden with rich culture and heritage, and it has been growing since ancient times. Korean music is popularly known as Gugak music. It consists of all forms of music like court music, folk music, poetic music, and religious music, mostly of Buddhist traditions. 
Also, you might not know, but 'Gugak' literally means 'national.
What is Gugak Music?
Just like K-Pop, K-dramas, and Korean skin care routines, Korean music also has loads of gravity in it. All the different genres of Gugak music have different exciting traditional names.
Dang-ak: a fusion of Korean and Chinese Court music
Hyang-ak: proper Korean music
P'ansori: vocal folk music
Sanjo: instrumental folk music
Jeong-ak: instrumental and vocal folk music
Nongak: farmers' music, drumming, dancing, and singing
Shinawi: Shamanistic music
Salpuri: Salman rituals related to dance
Newer experimental genres are coming up like Chanjal-gugak and Shin-gugak, that are a type of Korean fusion music.
Gugak Music Instruments
Just like the music, the gugak instruments are also unique. 
The most interesting thing about Gugak music is that it gives immense freedom to the master musician. He or she can improvise and experiment with the traditional melodies and symphonies at any point in time. Gugak music makes good use of many popular instruments in Korea like plucked zither gayageum, fiddle haegeum, bamboo flute daegeum, hourglass-shaped drum janggu, etc. It is all about using traditional instruments in Korea. 
Gugak Music Rythm
Their rhythm is also very different from any other famous regular western music culture. The Korean folk music is mainly composed in keeping with the Jangdan rhythm. These unique beat waves create a very different sillage that has supreme capacities of getting you carried away. Korean traditional music has a typical local vibe that makes the whole atmosphere. To get a loose idea of how a piece of Gugak music feels like, you can always put on a pair of earphones and listen to the Arirang song, which is the country's unofficial anthem. To understand it more deeply, you can also search for the Arirang song meaning in English. 
Enjoy Traditional Gugak Music in Korea
You can go enjoy an evening filled with Gugak Music when you are in Korea to get the truest vibe of Korea in the most melodious way possible. There are some popular venues in Korea where you can go grab a bite of authentic Gugak music and enjoy Korean instruments. 
If you are in the heart city of Korea, i.e., Seoul, then you go for a live session of Gugak music by a music maestro at either the National Gugak Centre or National Theatre Of Korea. You can get the tickets online from their website.
 The website of Gugak FM also broadcasts almost daily for its regular audience.
The universities around Korea that have their own Gugak Culture department also host shows very frequently for their students and other audiences. 
Gugak Sarang is a music studio and workshop dedicated to gugak in Bukchon Hanok Village. Visitors can learn to play various traditional musical instruments or attend gugak concerts.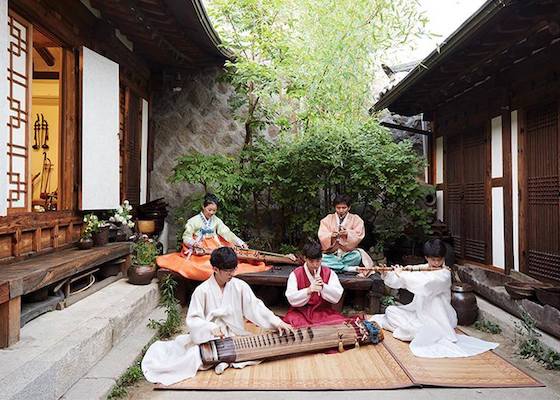 The Very Famous Korean Pansori (판소리)
In the year 2003, P'ansori received global recognition from none other than the established UNESCO as intangible heritage. Korean music started gaining fame worldwide right after this. It is a genre of musical storytelling.
A solo artist, sorikkun, performs P'ansori with a drummer, soru. It was formerly branded as a form of lower-class entertainment until it received patronage from the upper class as popular P'ansori.
There are five subtypes of P'ansori – Chunhyangga, Simcheongga, Heungbugga, Sungungga, and Jeokbyeokka. All five Pansori have different stories to tell. Each has a legend that they have been passing on since time immemorial. 
Traditionally, singing a P'ansori entirely needs a full day! Presently, master singers perform parts of Pansori in celebrations and banquets, which take up at least three to eight hours with little breaks. 
Another very unique aspect of Pansori performances is the interactive sessions with its audience.
You can cheer for the singer by indulging in some quick Chuimsae (encouragement). If you want to shower some love on the performers in a traditional way, then your go-to words should be 'eolshigu' and 'joota.' 
If you get confused with the story that they try to narrate to you, then you might as well just clap after the performance ends and show your love to these lovely performers.
Gugak music is not just limited to traditional folk or court music, but it also has a few fusion branches presently. These are equally melodious and fresh tunes. Catch all these brilliant hues of Gugak music live when in Korea. We can bet that you will have a lifetime experience. 
Read other interesting articles from KoreaTravelPost: