Staying in a hanok while visiting Korea is the closest you can get to experience life like a Korean in olden days. The accommodation has decoration of bits and pieces reminiscent of life in Korea. You will feel like you've been transported back hundreds of years.
When you stay in a hanok, you get a well-equipped room, share traditional toilets, dine on simple meals, and basically live a simple lifestyle like an ancient Korean. It is a rewarding and humbling experience that you won't be able to get enough of!
The ambiance in the hanoks is always peaceful, quiet, and calming. It's a place to relax and nurture your mind, feel the balance in your body with the environment around you. Appreciate the Korean culture and come out rested at the end of your stay.
Hanok – A Traditional Korean House
We may have started talking all about hanok and staying in one. For those who are still wondering, a hanok is a traditional Korean house. The original design structure stems from the 14th century during the Joseon Dynasty. It is quite unique with its timber framing, ondol flooring, and curved roofs.
Hanok construction was based on the idea of maintaining harmony between the building, topology, and the environment. It takes into account where the lakes are, where mountains reside, where the land contours, etc.
In a traditional hanok, windows, doors, and interior surfaces are covered with hanji, a robust translucent paper made from the mulberry tree. From the outside, the hanoks are left natural and undecorated, unlike the grand palaces of South Korea. The neutral hues of wood blend well with the natural surroundings.
Many hanoks were destroyed in 1970s and only small clusters remain in larger cities of South Korea. You can even find hanoks in your favorite K-drama series like 'Hwarang: The Poet Warrior Youth' (starring Park Hyun Sik and Park Seo Joon), 'Sungkyunkwan Scandal' (staring Park Yoo Chun), and 'Moon Lovers: Scarlet Heart Ryeo' (staring Lee Joon-Ki and IU).
Bukchon Hanok Village
It is home to hundreds of hanoks that date back to the Joseon Dynasty. The village is near Gyeongbokgung Palace, Changdeokgung Palace, and Jongmyo Shrine. High-ranking government officials and their families resided in the village initially. The name Bukchon, which literally translates to "northern village," came about as the neighborhood lies north of two significant Seoul landmarks, Cheonggyecheon Stream and Jongno.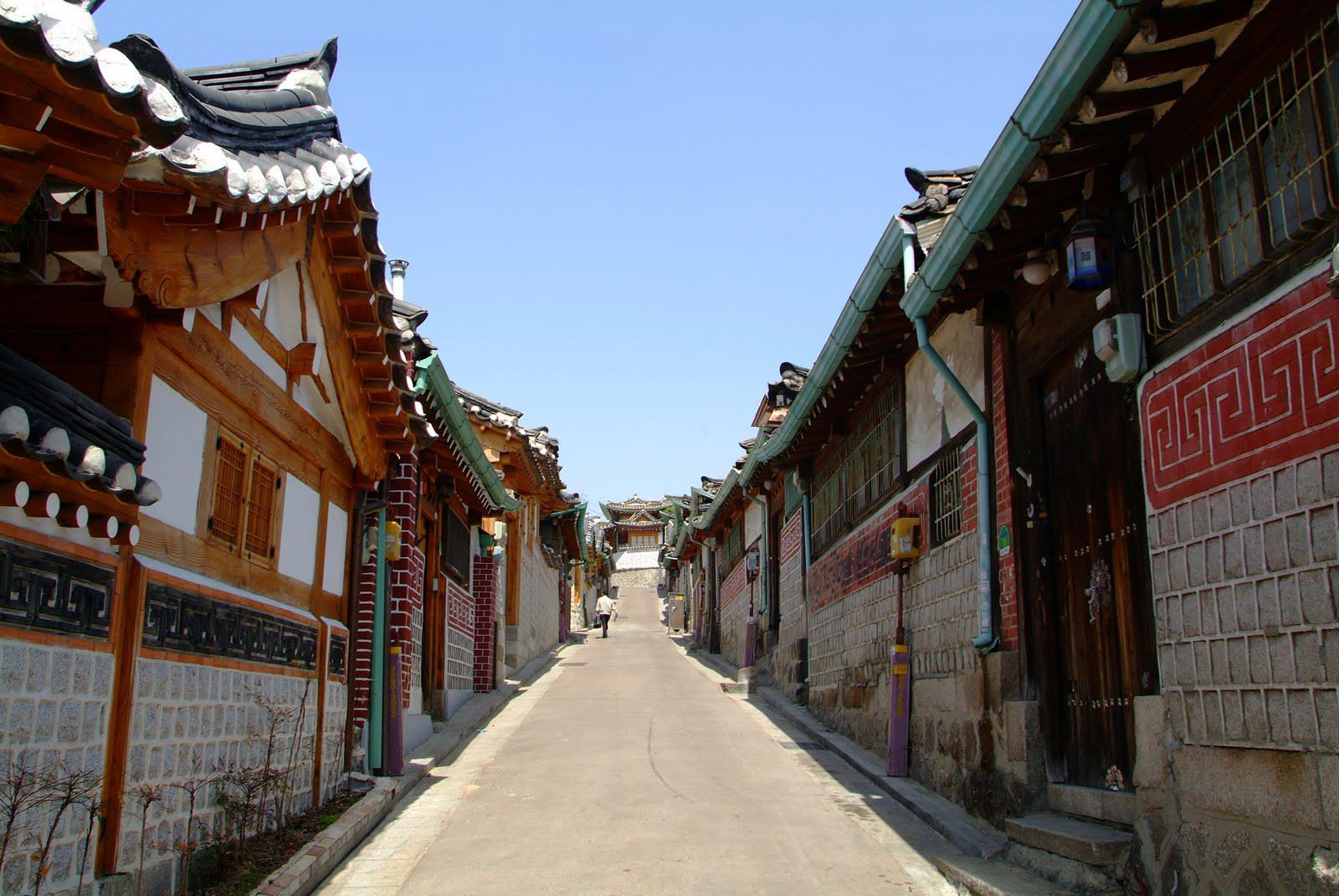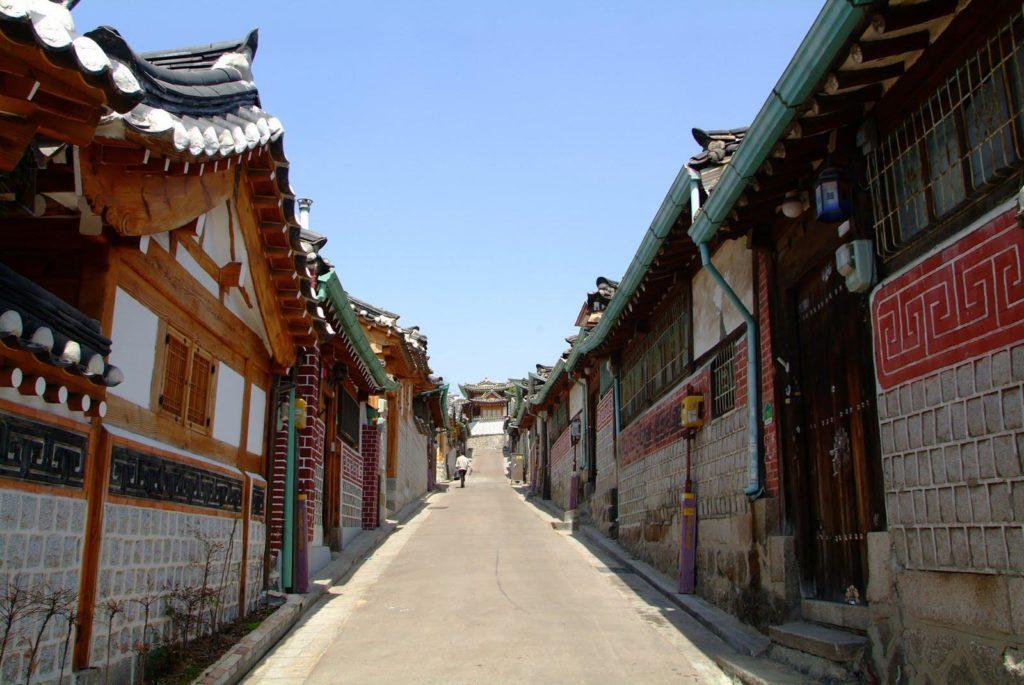 Over the past decade, Bukchon Hanok Village has become a favorite attraction. Tourists come here to take pictures against a beautiful backdrop of the village for their Instagram feeds. 
There are renovations in many hanoks and they house exciting art galleries, guesthouses, restaurants, and tea houses. They provide visitors with an opportunity to experience, learn, and immerse themselves in traditional Korean culture. Some hanoks have also been repurposed as cultural museums and workshops for artisans. They practice traditional crafts and helps in preserving the district's rich history.
Bukchon Hanok Village is a real residential area with around 900 hanoks. And much of the residents have chosen to retain their traditional lifestyle. You can see children playing hide and seek, peeking around the corners of the narrow streets. Walking around, you will notice many women strolling around in their hanbok (Korean traditional outfit). The alleys of Bukchon provide an interesting look into the lives of ordinary Koreans.
How to get to Bukchon Hanok Village? 
Bukchon Hanok Village is close to Samcheongdong street and located between the Gyeongbokgung Palace and Changdeokgung Palace. You can get to the Bukchon Hanok Village in Seoul by taking the subway to the Anguk Station (Seoul Subway Line 3). Take exit 3 and head to your right. After about 200 meters, you will see large information signs that begin the Bukchon Village Walking Tour.
Hanok Stays
The houses available for hanok stays are decades to hundreds of years old. The hanoks have undergone renovation for the convenience and safety of its guests, but the traditional Korean style and sentiment are still retained. Old furniture, paper-pasted windows, and props like soy jars add to the traditional ambiance.
Most hanok stays have electronic goods, including a TV set, and Western-style toilets, but some still have traditional bathrooms. If you prefer a Western-style toilet, you should make reservations in advance. You can even get simple meals in some houses for an extra charge.
Chiwoonjung – A Hanok Stay
Chiwoonjung in Seoul's Bukchon Hanok Village is a hybrid of traditional and contemporary hanok architecture. It offers tourists a glimpse of the past without compromising on modern living conveniences. The décor includes traditional paintings, sculptures, and ceramics by renowned Korean artists.
The courtyard garden has a gorgeous landscape that blends in well with the overall theme. The bathroom has modern elements, a wooden tub, and natural elements that blend in harmoniously with the home's surroundings. You can even sample Joseon-era cuisine here.
There are many hanok stays all over Korea, and whichever city you are in, you can find one to relax and recharge. You can find other hanok stays in South Korea on VisitKorea website and consider various factors when choosing one, such as the room rate and nearby tourist attractions.
Love it?
Pin it and save it for later!