In a modern city like Seoul, life moves at a very fast pace, and people are always under stress. Meditation is a proven healthy practice that has a definite impact on health and wellbeing. It is the process of unwinding and discovering yourself, which helps you calm down too. Many meditation retreats have popped up in Seoul where people can get a break from the stressful life and relax.
In Korea, where nearly half the population believes in Buddhism, there are plenty of Buddha temples. Meditation, in some form or other, is an integral part of Buddhism. It is practiced in most of the Buddha temples and in many meditation retreats across South Korea.
Here, we have listed down the top ten meditation retreats across Seoul.
Bongeunsa Temple
Bongeunsa is the Buddhist temple located on the slope of Sudo Mountain, in Samseong-dong, Gangnam-gu in Seoul. It has a long history of over 1,200 years. Today, it is a major center for the Zen sect of Buddhism. The Seon (meditation) legacy of Korean Buddhism, was produced right here.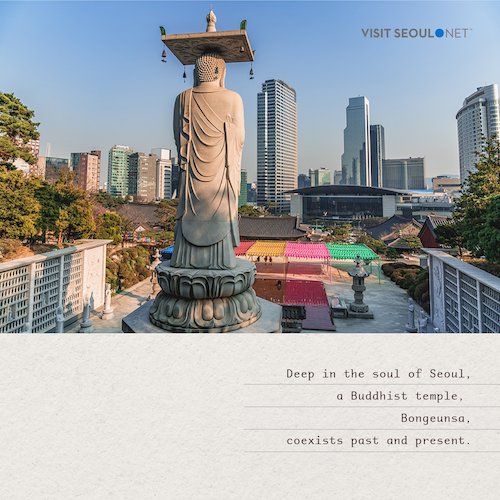 Bongeunsa maintains its place as an important sizable temple which contributes to the public welfare. It spreads Korean Buddhism and Korean culture, not only at home but also around the world. Bongeunsa has the most popular temple stay programs in the country. There are many vegan and vegetarian restaurants in the vicinity of this temple in Gangnam.
Website: http://temple.bongeunsa.org/public_html_en/intro/buddhist.asp
Jogyesa Temple
Jogyesa temple is one of Korea's major Buddhist temples and is the headquarters of the Jogye Order of Korean Buddhism. This temple is located in one of the most popular cultural streets in central Seoul, near the Gyeongbokgung Palace in Jongno–gu. This beautiful and colorful temple is the center of Zen Buddhism in Korea. It plays a leading role in the current state of Seon Buddhism in South Korea.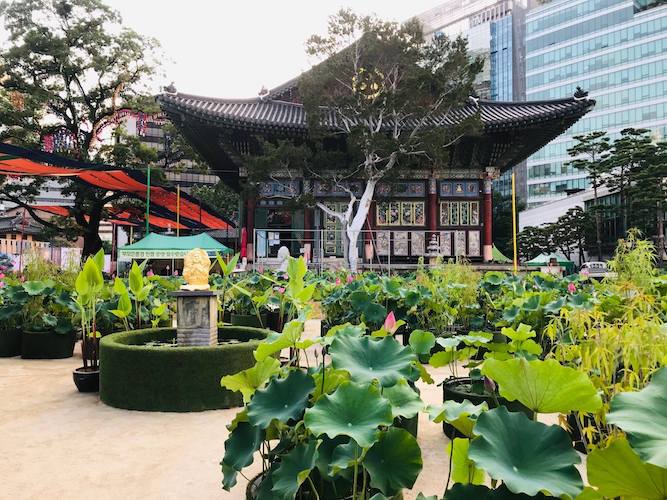 Huge numbers of tourists visit the temple to experience Buddhist culture. They can learn about Buddhism, and practice Seon meditation in the serenity and festival atmosphere. Jogyesa Temple's Dharma Hall serves as the main venue for several Buddhist events, rituals, lectures, ceremonies, and other activities. The temple's courtyard is filled with vibrant lanterns, and the annual lantern festival is celebrated on Buddha's birthday at this temple. The temple also hosts the temple stay program, meditation retreats, and offers tranquility amid the chaos in the world.
Website: http://jogyesa.kr/
The Seoul International Zen Center
Seon Master Seung Sahn founded the Seoul International Zen Center as a place where people from all over the world can practice and find peace and explore themselves. The beautiful Hwa Gye Sa temple on Sam Gak mountain in the North of Seoul is the home for the Zen Center and offers astonishing views of the city.
People can stay at the Zen Center to practice meditation away from hectic city life. The Zen Center also offers, to everyone, meditation classes year-round as meditation retreats. It includes meditation instructions, sitting, walking, and a Dharma Talk and questions-answers session.
Website: http://www.seoulzen.org
Seoul Shambhala Meditation Group
Visiting Seoul and looking for some meditation! The Seoul Shambhala Buddhist Meditation Group is there. Guided meditation practice sessions and motivating Buddhist books' discussions, specifically on the Tibetan Buddhist and Shambhala teachings, are regular features.
The Shambhala view is that every human being has a fundamental nature of goodness, warmth, and intelligence, and one can cultivate this nature through meditation. The group welcomes everyone interested to test the waters as well as new members. The Seoul Shambhala Buddhist Meditation Group meets regularly in Sadang, Seoul.
Website: https://seoul.shambhala.info/
Naksan Myogaksa
Myogaksa temple stands on the edge of the Naksan mountain in the heart of downtown Seoul, in the Jongro District. It is a Korean Buddhist temple and the administrative headquarters of the Gwaneum Order of Korean Buddhism, is located here.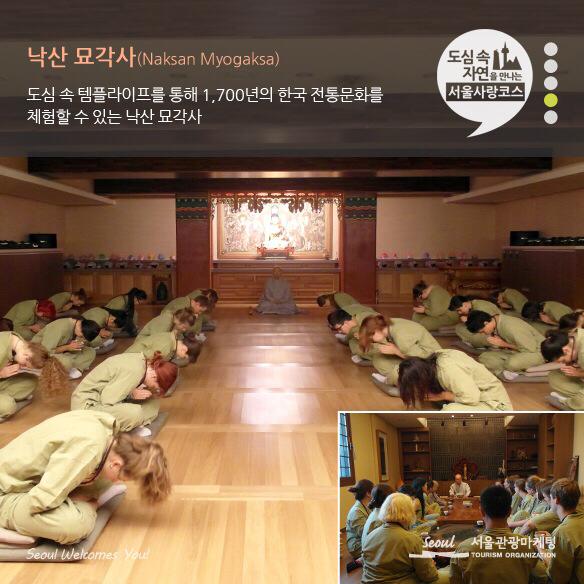 Their temple stay program gives great insight into Buddhism. The Templestay consists of pray bead making, meditation with a Zen Master followed by a tea ceremony, delicious vegetarian breakfast, and dinner.
Through meditation sessions, visitors are led through 1,700 years of Korean Buddhist culture. The temple stay program focuses on the 108 prostrations, a practice that will help you find peace of your mind.
Website: Facebook Group
Also read: Disconnect from social media and go offline in the sanctuaries of Seoul
Buddhist English Library of Seoul
The Buddhist Library of Seoul is a place to study publications on spirituality, meditation, and Buddhism, and listen to lectures. In addition to regular library services of borrow and study at the library, the unique thing here is that it offers classes on meditation and Buddhism, in both English and Korean.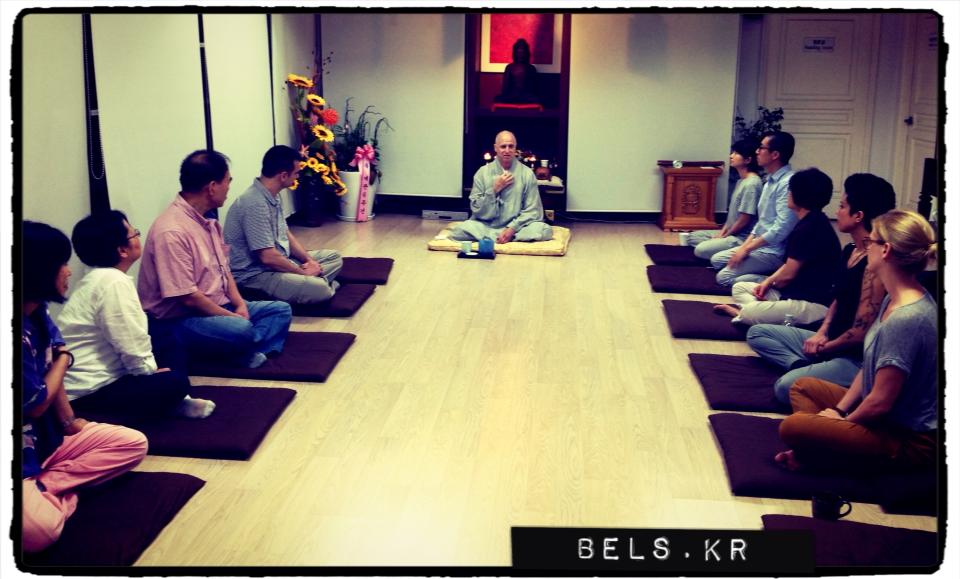 It is a good option for those who do not want to go to a Buddhist temple for meditation. The Buddhist English Library of Seoul offers programs in English and also provides a space for the cultural exchanges for Sangha members in Korea or visiting Korea.
Website: http://www.bels.kr/
Meditation Arui Seon
Located in central Seoul near Anguk Station, Insadong, Meditation Arui Seon offers meditation practices to put all your worries and anxieties to rest. Anyone can just step in and meditate freely without any prerequisites. Here, you get away from the maddening rush of city life to completely detox yourself and learn the magic of meditation work wonders for people practicing it.
Different types of meditation tools like Walking Meditation, Palm Meditation, Herb Meditation, Visual Meditation, Music Meditation, Water Meditation, and Stone/Rock Meditation are available.
Seoul Meditation Circle
Seoul Meditation Circle, is the part of founded in 1920 by Paramahansa Yogananda, is a worldwide organization and fellowship devoted to the discovery of peace, joy, and prosperity in everyday life through communion with God. Their Self-Realization Fellowship (SRF) is helping people to appreciate and express the beauty, nobility, and divinity of the human soul and humanity.
It is believed that meditation is a science, and those who practice meditation techniques distill tangible peace, love, wisdom, and joy from the divine into their own inner consciousness. SRF is also present in Daegu City, as Daegu Meditation Circle.
Website: https://yogananda.org/pt/locations/seoul-meditation-circle
Lotus Lantern International Meditation Center
Lotus Lantern International Meditation Center is located on the outskirts of Seoul on a quiescent island in the mountain areas surrounded by beautiful scenery and serene ambiance. Buddhist monks' practice Seon meditation here.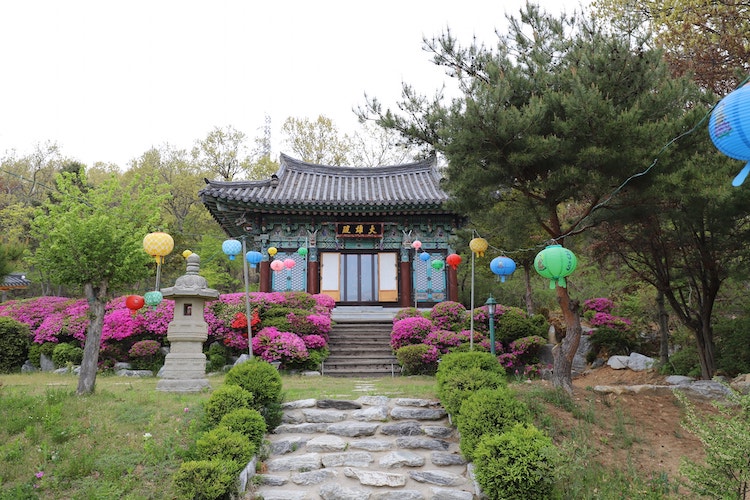 According to legend, the lotus is the Buddhism's most recognizable symbols of enlightenment. In the Buddhist tradition, there is a high importance of meditation and concentration. Through their Templestay program, people of different countries and Korea are provided an explanation of Korean Zen Buddhism in English, Russian, and Korean languages. Participants learn Zen meditation and get authentic monastic experiences and realization of the true self.
Website: http://www.lotuslantern.net/
Ritamville
Mutae Seo, the founder of Ritamville Meditation plus Yoga Center in Seoul, South Korea, created meditation retreat programs such as Ritamville Yoga, Meditation, mind control, and mew meditation methods called Cradle Meditation.
Their total wellbeing programs are designed for people who are looking for their authentic selves with deep connection and liberation. Ritamville Meditation reduces the level of stress hormone and frees from unreasoned anxiety, lethargy, and fear, and reduces the stress
Website: https://www.ritamville.com/en/greeting/