Insadong in Seoul takes you back to ancient Korea. Here you can see the ideal combination of old Korea meeting the modern one. Insadong is abode to several ancient temples, historical buildings, modern architecture, and a network of alleys. With so many activities and attractions, there are many things to do in Insadong that will make your trip worthwhile!
Within the alleys, you will come across various traditional restaurants, art galleries, antique shops, and a bunch of teahouses. Here at Insadong, a busy and lively district in Seoul, you can do plenty of things.
To help you explore both the ancient and contemporary side of Insadong, we have made of list of top exciting things to do while in Insadong.
Top 10 things to do in Insadong
Start From Bukchon Hanok Village
The Bukchon Hanok Village takes you on a traditional ride and is hardly at a 1km distance from the main town, Insadong. The whole village is connected through a network of alleys. You can explore the residential area and see the traditional big Korean houses (called hanok), small shops, tea houses, cultural centers, and cafes around.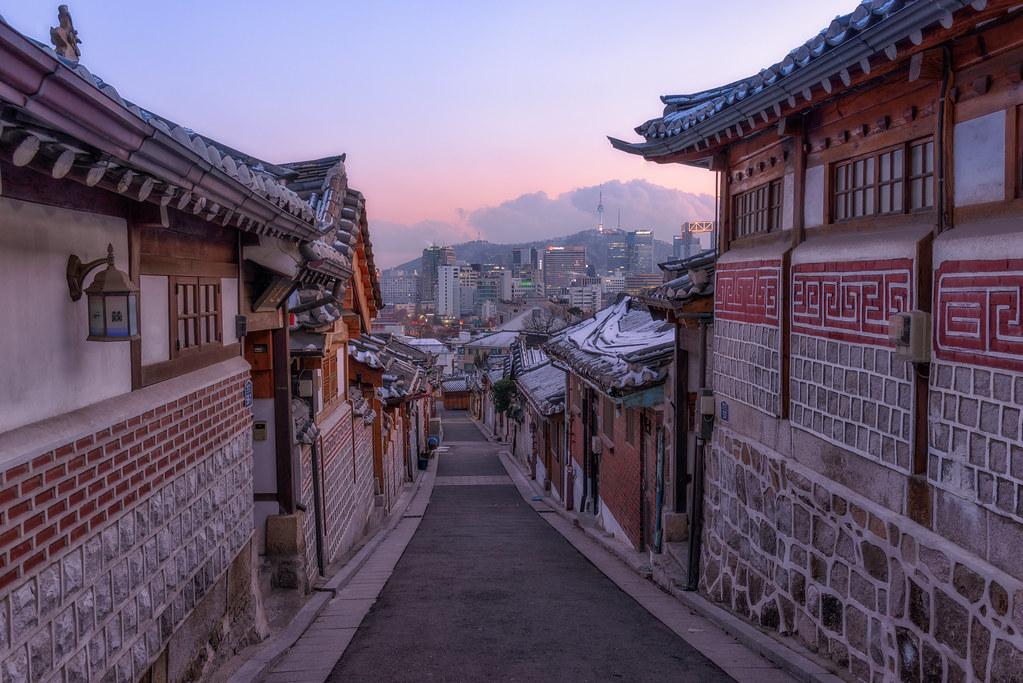 Bukchon Hanok Village is quite popular among the locals and foreigners. You can witness the magnificence of the Joseon Dynasty and experience the historic vibe in the village. There are several tea houses with cozy interiors and friendly hosts. It's a busy tourist hub, so plan your visit accordingly!
To feel like locals, you can try their traditional garb in the village, called hanboks, by paying a little fee. These clothes are available in a variety of colors for both adults and kids. Take some pictures against the beautiful backdrop of the Bukchon Hanok Village to take back with you some sweet memories.
Munch Something Scrumptious Here
Insadong is regarded as one of the best places to have tasty Korean street food. At Insadong Street, there are many stalls selling a variety of food with different flavors. Some of the tasty options range from sizzling dumplings to corn cookies to hottoek to gooey pancakes to plenty of deserts!
Also, don't forget to check the local restaurants to relish the famous Korean BBQ and other traditional dishes. If you need a break while exploring Insadong, munch on something in popular restaurants of the region. Some of the popular restaurants are Bukchon Mandu, Sanchon, Korean BBQ, Brew 3.14, Sulbing, Cha Iyagi, Insodong Sujebi, and Jirisan.
Shop at Insadong Street
Begin your shopping spree from the famous Insadong Street; the whole place is packed with several antique shops and historical art galleries. You can buy unique and beautiful items to take back home from the Art Street Market. If you wander around on foot, you will be able to purchase tourist souvenirs, antiques, pottery, handicrafts, and art.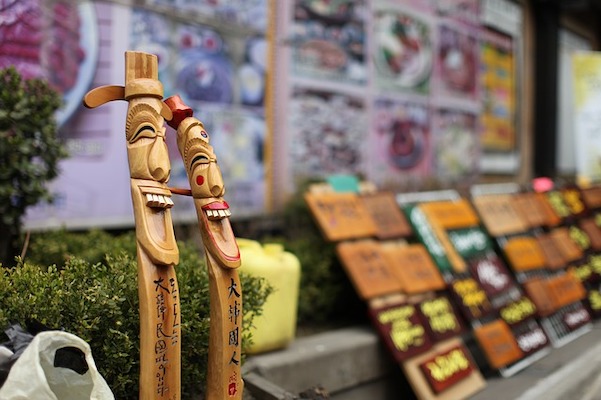 Explore the Famous Ssamzie-gil
If you don't want to shop around in the crowded streets of Myeongdong, then visit Ssamzie-gil, the shopper's paradise. Ssamzie-gil is a four-floor shopping mall with an artistic and historical appeal. Overall, the mall has 70 stores having almost every sought-after item.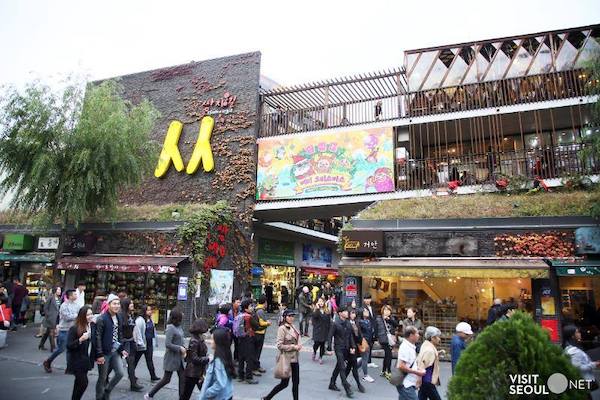 The spiral walkway in the mall leads you to the middle floor that contains restaurants, workshops, art galleries, cultural attractions, etc. In recent times, it has become one of the favorite shopping places for travelers in Insadong.
Spend Time at Tapgol Park
Also called Pagoda Park, it is a historical cum modern park situated in Insadong. The name comes from the ten-story pagoda located in the park. Tapgol Park has several historical monuments, pavilion, and other national treasures. It is also a crucial part of the Korean Independence Movement as the famous March 1st Movement of 1919 was initiated in this park. The park holds a historical importance amongst locals and is one of the most visitied places in Seoul.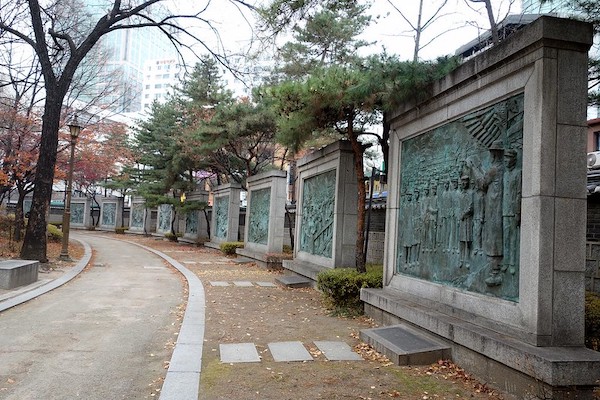 Relax at Huwon Secret Garden
Another place to unwind and relax amidst the peaceful surroundings is Huwon Secret Garden. You can reach this beautifully laid lush green garden through the Changdeokgung Palace.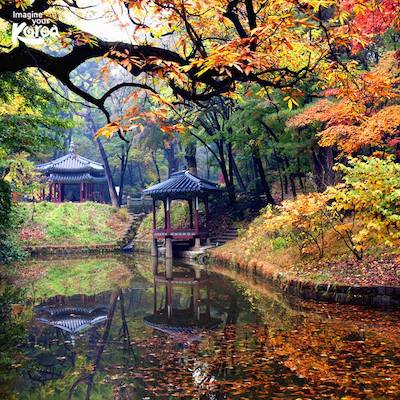 To explore the whole place, you need around a 90 minutes tour, and it's certainly worth it! Some major attractions to see here is a small pond, ancient trees that are nearly 300 years old, and photo-friendly pavilions. If you visit the Huwon Secret Garden during the autumn season, you will be able to witness its true beauty and different colors of the fall.
Experience Thrill at the Alive Museum
Would you like to click some amazing shots in Korea's 4D museum? This amazing and tricky museum opened for the people in 2014. Unlike other similar museums, the Alive Museum exhibits parallax effects, and various optical illusions to attract visitors' attention. This museum has around 100 exhibitions that let you immerse in the amazing 4D artwork. So, get a picture of an an exciting scene with chomping but enticing Marilyn Monroe or fighting with a monster!
You can also visit the Dynamic Maze, an amazing course full of challenging obstacles that test your both mind as well as body for a thrilling experience.
Sip Tea at The Beautiful Tea Museum
Enjoying tea at the Beautiful Tea Museum is one of the best things to do in Insadong. As the name suggests, it has everything to do with tea. There are ceramic mugs, saucers, and teas from different Asian countries and a whole lot of different flavors of tea. After exploring the whole museum, you can sit, relax, and sip on any tea out of the 130 different varieties available. From an Indian masala tea to herbal teas, you will find almost every flavor to satiate your teaholic side.
Pay Obeisance at Jogyesa Temple
The Jogyesa Temple is an ancient 14th-century temple situated in Insadong and is nestled amidst the huge buildings. Visit this charming temple to witness the stunning architecture and lush green gardens. Although it doesn't hold major religious importance, the Jogyesa Temple is a site of Korean Buddhism and is still considered an significant landmark.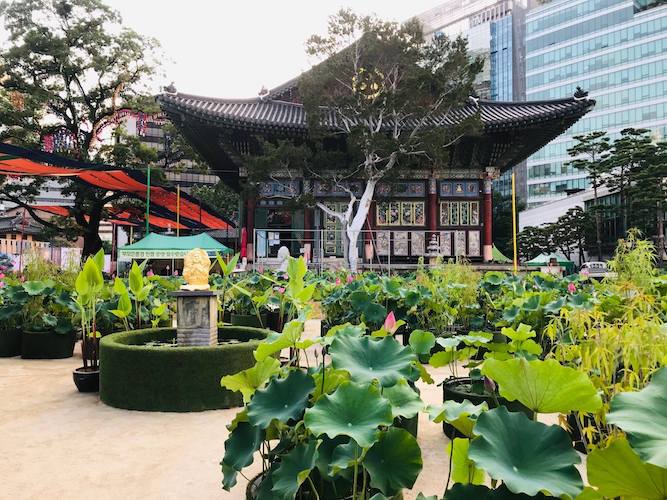 Inside the temple, you can catch sight of the big three Buddha statues in golden color. Its garden looks breathtakingly beautiful during the spring season.
In May, the month of Buddha's birthday, you can visit the temple and participate in different festivals, especially Lotus Lantern Parade. In this Korean festival, thousands of people come to Seoul to celebrate the occasion by making masks, lanterns, paper animals, and huge floats.
Final Words
Plan your trip to the famous Insadong with these exciting things to do and places to visit. Insadong is bursting with culture, modernization, history, art, restaurants, teahouses, luxurious museums, crowded street markets, and more, making it a place worth visiting.
Love it? Pin it!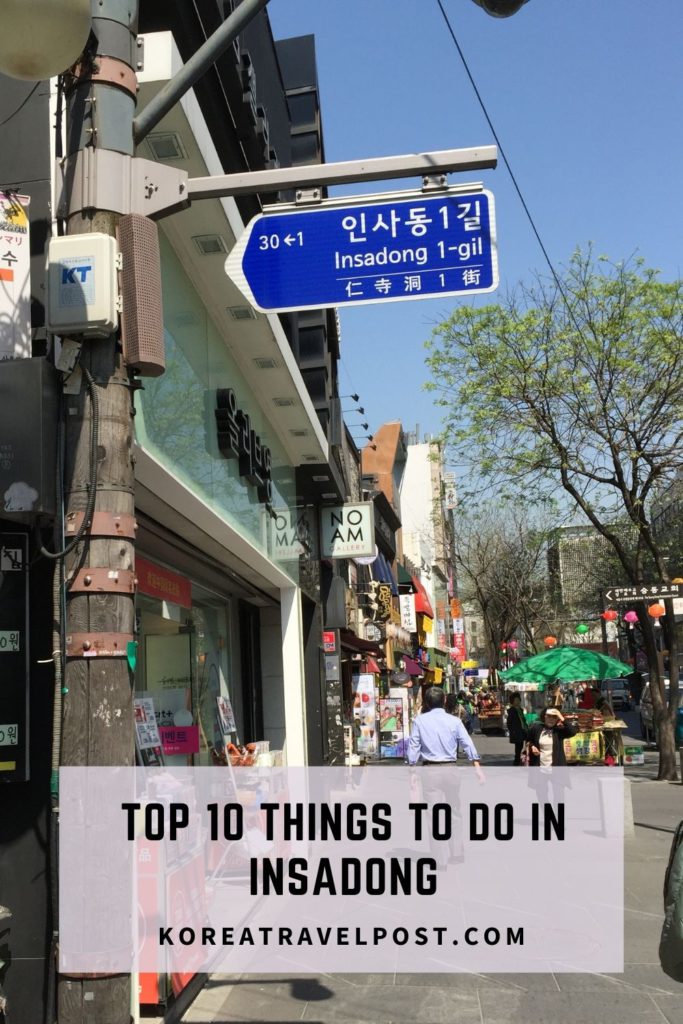 5,771 total views, 7 views today